Lightning Cobalt Putnam 451
Trade Mark Lightning
Putnam 451
Henry W. Putnam, Bennington, Vermont and New York, N.Y.

Medium Cobalt Blue Pint
Provenance: Darrell Plank Collection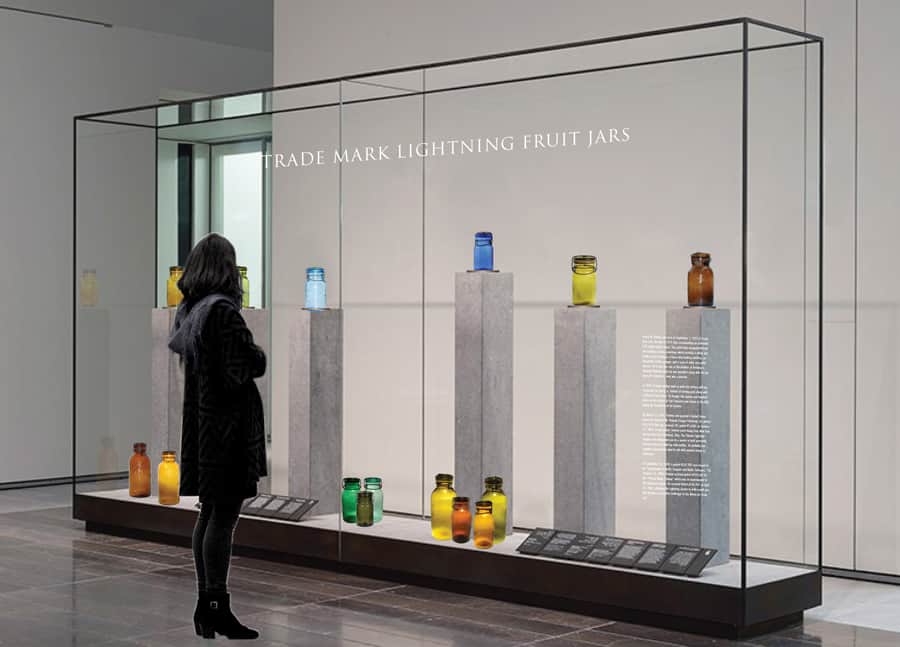 Trade Mark Lightning jars are popular with collectors for a number of reasons such as availability, glass color range, history, design, and name. The jars are typically embossed on the front with 'TRADE MARK' in an arch with 'LIGHTNING' embossed in a straight line below. The jar closes with a top seal using a straddle lip glass lid on an old-style neck with a full wire bail. The glass lids are found with four different embossed patent copy layouts.
The jar patentees were Charles DeQuillfeldt of New York City, New York in 1875. There is an 1877 patent associated with this jar which was a reissue of the 1875 patent. Charles DeQuillfeldt assigned it to Karl Hutter of New York City, New York. The jars were made for the jobber Henry W. Putnam of New York City, New York, and Bennington, Vermont. The jars were made from the early 1880s to the 1910s by various glasshouses.
We've seen some wonderful collections of just this brand of jars that were made in pints, quarts, and half-gallons. The glass colors run the spectrum from clear to aqua to every possible shade of amber. Light yellow-amber to deep red and almost black-amber. Then you get to the greens like citron, emerald, shades of olive, and teal. Eventually, you come to the rare blues like cornflower and this museum example of an extraordinary medium cobalt blue Trade Mark Lightning pint.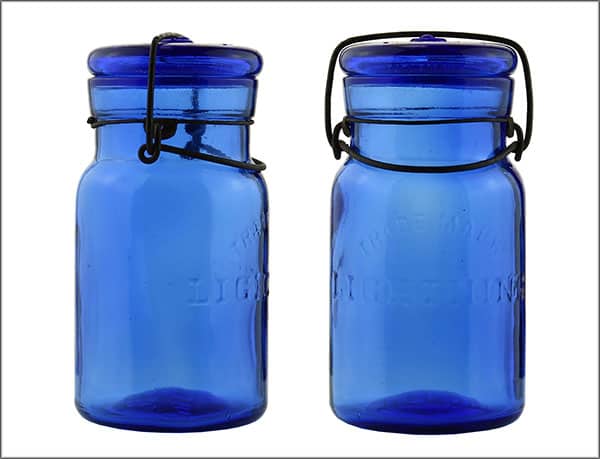 This pint example has 'PUTNAM 451' embossed on the base. The lid has 'LIGHTNING PATD APR 25 82' embossed lightly. Collectors want the original closure and glass top. Very few examples exist in this condition.
Henry W. Putnam
Henry W. Putnam was born on September 1, 1825, in Essex, New York. He died in 1915 after accumulating an estimated $50 million dollar estate. This estate had accumulated from the royalties on wire inventions which included a safety pin, bottle and jar fasteners, a fence wire barbing machine, an adjustable clothes wringer, and a score of other successful devices. He is was also one of the builders of Brooklyn's elevated railroad where he was president along with his son Henry W. Putnam Jr., who was a director.
In 1849, Putnam headed west to make his fortune with his 4-year-old son Henry, Jr. Instead of hunting gold with California "forty-niners" he bought two springs and supplied water to the citizens of San Francisco and miners in the hills, laying the foundation of his fortune.
On March 15, 1859, Putnam was granted a United States patent for the Henry W. Putnam Stopper Fastening (US patent #23,263) that was reissued (US patent #1,606) on January 19, 1864. In this patent, Putnam notes being from New York but formally from Cleveland, Ohio. The Putnam Lightning Stopper saw widespread use as a means to hold externally inserted corks into blob top soda bottles. He probably put together mechanically what he did with manual strings in California.
On September 10, 1878, a patent #207,982 was issued for an "Improvement in Bottle Stoppers and Bottle Fasteners." On February 10, 1880, Putnam received patent #224,304 for the "Putnam Magic Stopper" which was an improvement to the Lightning Stopper. He received patent #256,857 on April 25, 1882, adapting the Lightning closure to wide-mouth jars. This became a successful challenger to the Mason jar screw cap.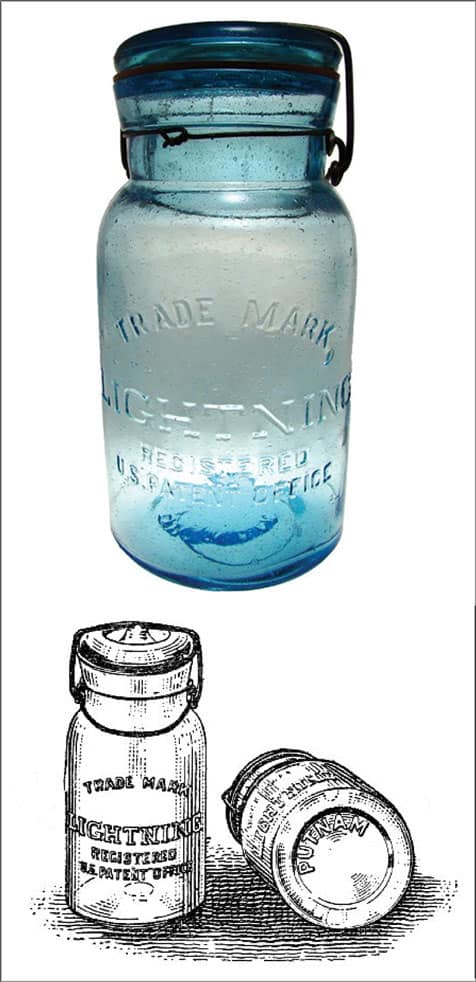 Primary Image: Lightning Fruit Jar imaged on location by the FOHBC Virtual Museum midwest studio led by Alan DeMaison.
Support: Reference to Henry W. Putnam and the Lightning Fastener by Bill Lockhart, Beau Schriever, Bill Lindsey, and Carol Serr
Support: Reference to Fruit Jar Annual 2020 – The Guide to Collecting Fruit Jars by Jerome J. McCann
Support: Reference to Red Book #11, the Collector's Guide to Old Fruit Jars by Douglas M. Leybourne, Jr.
Support Images: Various jars from Jeff Wichmann, American Bottle Auctions