Phillips & Hampson – Salford
Phillips & Hampson
Makers
Duncan St SaLford

Manchester, England

Perseverance Glass Works, Charles Phillips & Frederick Hampson

Dark Cobalt Blue Bottle
Provenance: Ex: Ralph Finch Collection, American Glass Gallery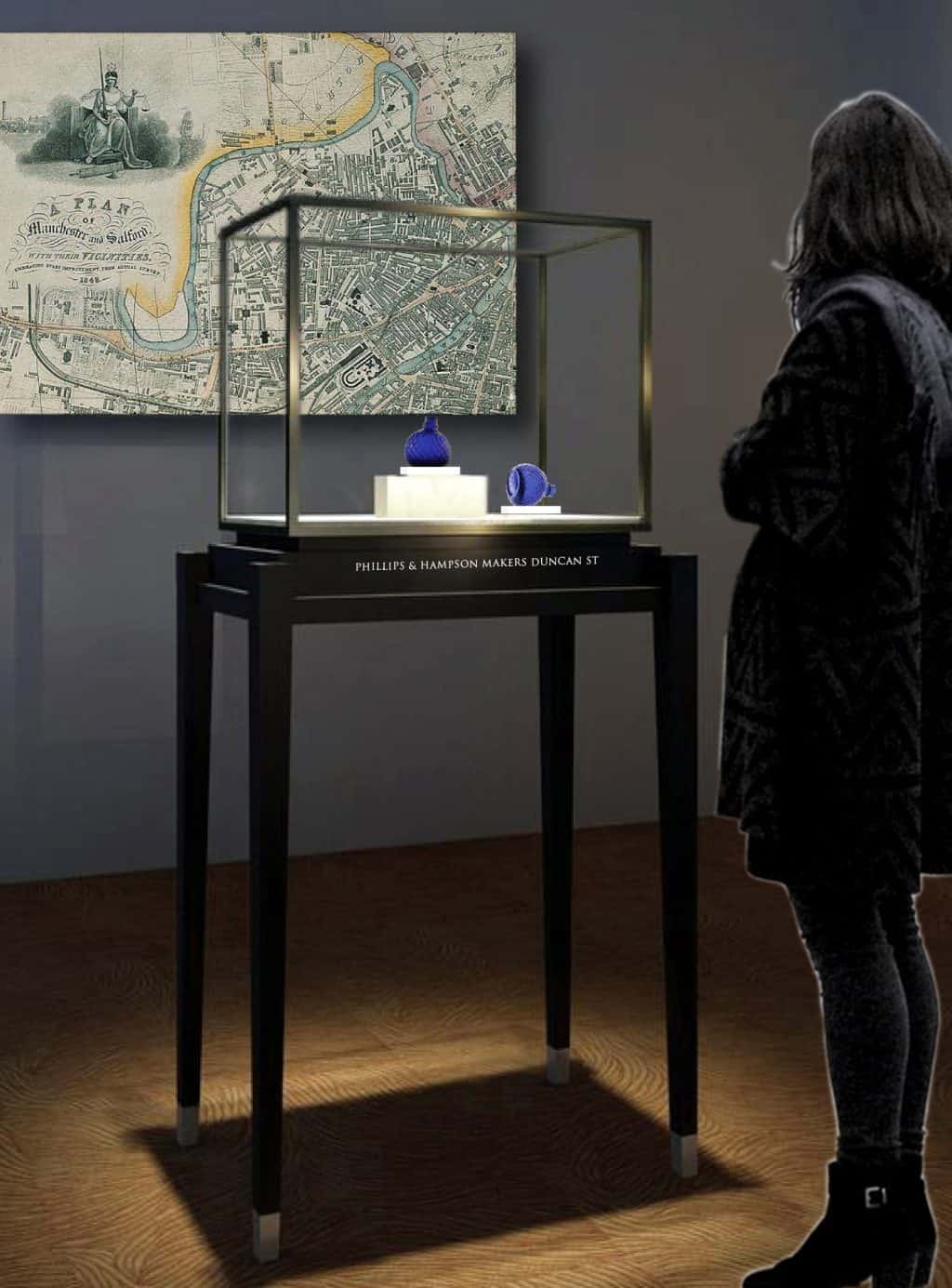 When this oddly shaped piece was last auctioned in the six-part Ralph Finch Collection of Target Balls, Traps, and Ephemera, in 2017-2019 the lot write-up said; "Little is known about the maker which adds to its mystique." There is doubt that this is actually a "target ball."
Our specimen is embossed very lightly on the base, 'PHILLIPS & HAMPSON' and 'MAKERS' and 'DUNCAN ST' 'SALFORD.' It is reported to be English and made from 1875 to 1900. It is believed to be unique.
The 2-5/8″ diameter flattened cylindrical bottle was made using a deep cobalt blue glass with a quilted diamond pattern. It is a 2-piece mold and has a neck with a molded ring and a rough sheared mouth.
We believe that there may be an error and that the auction write-up embossed copy reading 'SANFORD' should be 'SALFORD.' Salford is an area within Greater Manchester, England, directly west of Manchester city center in a meander of the River Irwell, which forms part of its boundary with Manchester. Our story starts here in 1851.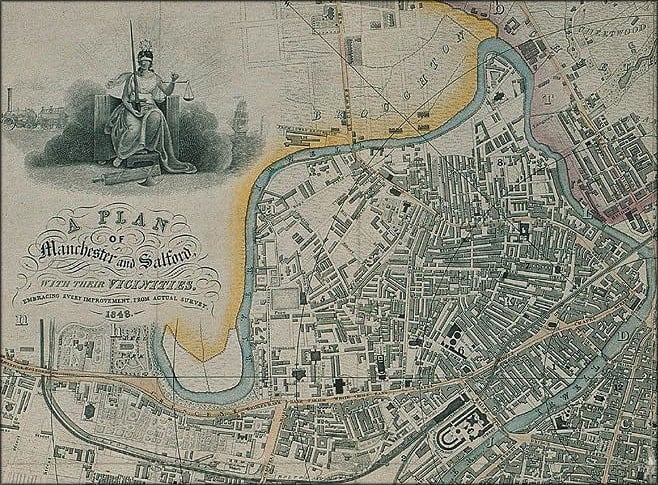 New research reveals that the last names embossed on the ball are Charles Phillips and Frederick Hampson who were both in the glass manufacturing business on Duncan Street in Salford. All of these components are embossed on the ball.
Frederick Hampson was born on July 29, 1861, in Manchester, Lancashire, England. He started working at the early age of seven and when he was 11 years old, he became an apprentice at the Perseverance Glass Works located on Duncan Street. This glasshouse was established in 1851 and was initiated by Charles Phillips. The glassworks had one gas-fired regenerative furnace that was fueled by coal. At the age of 19, Hampson is listed in the 1881 England Census as a glassblower.
Frederick Hampson left for a few years and explored other work options but returned to the glassworks at the age of 24. The Perseverance Glassworks ownership soon changed to Phillips and Hampson, and subsequently, the whole business was taken over by Frederick Hampson who went by Frederick Hampson, Ltd.
The Perseverance Glass Works covered a large area of Salford and consisted of various detached buildings and sheds that were lighted from the roof. The front block on Duncan Street was two stories tall and contained a suite of offices, warehouses, and stock rooms, as well as a large and handsomely appointed showroom. This display area presented a choice collection of the various articles manufactured by the glasshouse.
The property and concern had grinding mills, several capacious furnaces, and large annealing ovens. They were doing an extensive trade in the manufacture of all kinds of bottles for drysalters, druggists' sundrymen, ink and gum makers, pickle and sauce manufacturers, spice, and confectionery jars (with lids to fit), medical bottles, spirit flasks, lubricators, cane and steam gauges, paraffin chimneys, fireproof chimneys, glass stoppers for sauces, vinegar, and gin, and all kinds of finished vials.
With this new knowledge, one now has to ask if this is really a target ball or one of the house specialties noted above like a poison, gum, or ink bottle?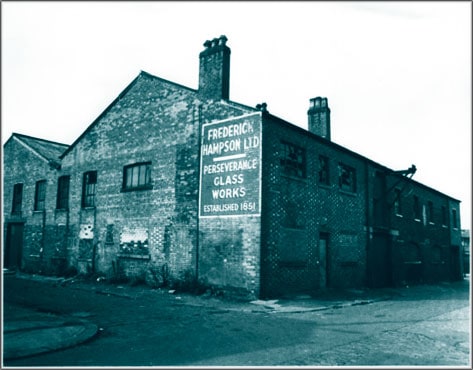 Frederick Hampson, Ltd. extended to every part of the United Kingdom and they did a considerable export trade with Australia and the colonies. They were also agents for the French and German capsule manufacturers. Forty hands were continually employed day and night at Perseverance Glass Works.
Mary and Frederick Hampson had four children. In November 1920, Hampson had the distinction of being the only man in the country who, in the short space of one week, became the Mayor, alderman, and justice of the peace.
Frederick Hampson would die on December 6, 1930, at 67 years old. Along with the target ball, there are many known glass pieces marked with the Perseverance Glass House initials.
Primary Image: The Phillips & Hampson bottle imaged on location by the FOHBC Virtual Museum midwest studio led by Alan DeMaison.
Support: Auction Lot 727: "PHILLIPS & HAMPSON / MAKERS / DUNCAN ST / SANFORD" Target Ball, England, 1875 – 1900. Deep cobalt blue, cylindrical with flat base, quilted diamond pattern, 2-piece mold, neck with molded ring and rough sheared mouth, dia. 2 5/8", near mint; (just a touch of spotty, very light dullness on the exterior, otherwise perfect). An extremely rare target ball, and somewhat unique with the flat base. Little is known about the maker which adds to its mystique. – American Glass Gallery, The Ralph Finch Collection of Target Balls, Traps and Ephemera, An Absentee Auction in Six Parts – 2017-2019
Support: The Century's Progress – Lancashire. The London Printing and Engraving Co., 1892
Support: Lancashire: Biographies, Rolls of Honour, R. J. James, 1917