G. Ebberwein, Savannah, Geo Ginger Ale
G. Ebberwein
Savannah, Geo
Ginger Ale
George Ebberwein, Savannah, Georgia
Yellow Olive Ginger Ale Form
Provenance: Mike Newman Collection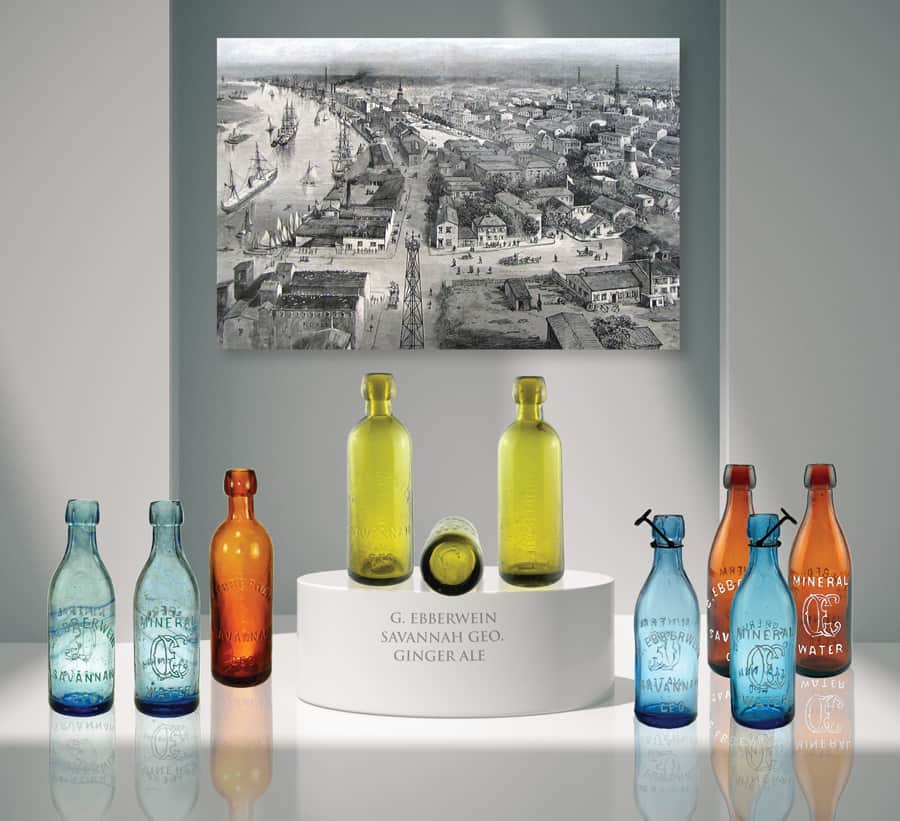 George Eberwein was a well-known and established Savannah, Georgia, grocer, soda water bottler, and manufacturer. There are five different embossed bottles listed in Early Georgia Sodas. Our feature Ginger Ale bottle is an outstanding example in a chartreuse glass color.
The front of the ginger ale form bottle is embossed in a sans serif typestyle 'G. EBBERWEIN' in a strong convex arch over a straight-line 'SAVANNAH' on the second line. 'GEO.' is on the third line. The reverse of the bottle is embossed 'GINGER ALE' in one line from shoulder to base on the bottom two-thirds of the bottle. The bottle measures 7 ¾ x 2 ¼ inches, has a rounded tapered collar, a smooth base with an embossed decorative 'E,' and can be found in aqua, various ambers, olive, and chartreuse glass which is extremely rare.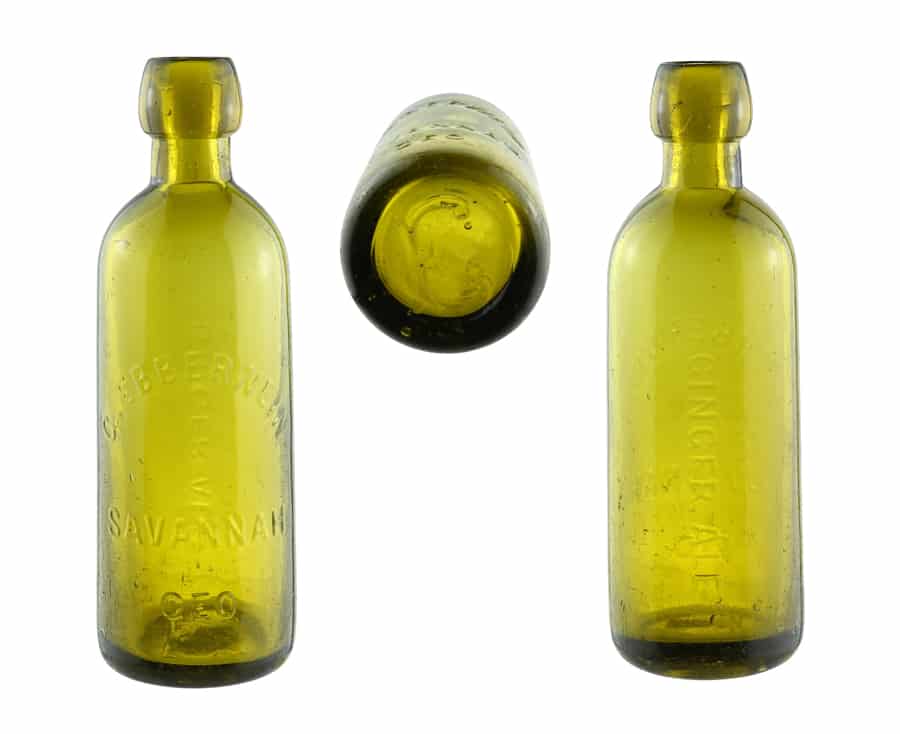 The consignor adds the following: "I can only recall seeing two examples of the Ebberwein Ginger Ale in this off-color. I could be wrong, but seem to remember the late dealer Peyton Youmans of Savannah having one on his table at a show many years ago. Although I needed the color for my collection, I didn't feel that the condition of his example warranted the price that he was asking. I am pretty sure that he sold it to the late Rusty Frye, as they did many transactions over the years. I just checked Bobby Hinely's book on the Frye auction and did not see the soda listed. I remember that at some point Rusty sold off several of the ginger ales and other high-shouldered sodas that he didn't think were early or crude enough for his changing tastes. I don't know who ended up with that example. I was pleased to acquire my fine example from Joe Price Williams at a Savannah, Georgia bottle show in 2014. It gives me a nice run of four colors in this mold—chartreuse, medium amber, honey amber, and very deep red amber."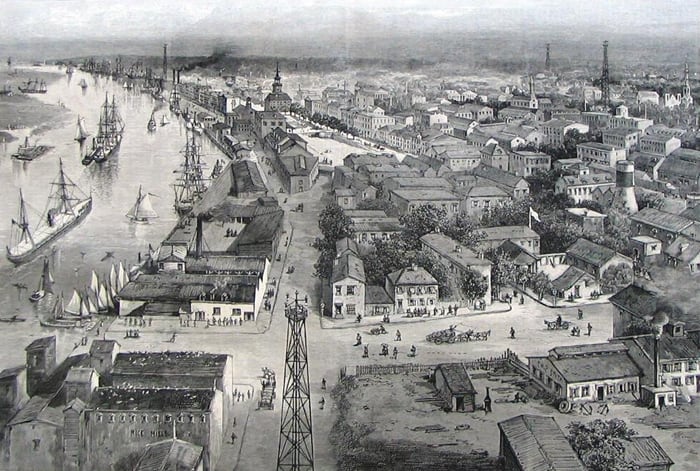 George Ebberwein
George Ebberwein was born in 1853 in Germany. In 1867, when Ebberwein was only 14, he emigrated to the United States and settled in Savannah, Georgia. From 1876 to 1879, Ebberwein was employed as a grocery clerk and formed a co-partnership with H. Schroder, known as H. Schroder & Co. The firm dissolved on June 3, 1880. In 1880, Ebberwein established his own grocery business on West Broad Street.
In 1882, Ebberwein formed another co-partnership with Frederick Meincke in a soda water manufacturing business at 110 and 112 Broughton Street. Frederick Meincke had bought the old Ryan Excelsior Soda Works factory and had short-lived co-partnerships with James Ray and John Ryan.
The Meincke & Ebberwein firm would be the third try for Frederick Meincke. Advertisements for Meincke & Ebberwein note that they sold "soda and mineral water, Belfast ginger ale, syrups, cordials, etc." Another advertisement announced their selling, "New Cider," by the gallon or barrel. The Meincke and Ebberwein firm kept at least two wagons to deliver soda water to businesses and crowds at local festivals. The Meincke & Ebberwein firm lasted until 1883, when it was dissolved.
The following year on October 22, 1884, Ebberwein married Mary O'Brian in Savannah. The couple would later be the parents of four children, Stella Marie and Mete L. Ebberwein. The two other children are unknown.
Ebberwein continued as a grocer at 232 Bay Street in the city. Early in 1893, George Ebberwein and four others, H. Precht, G. Campsen, H. Sulter, and C. Seeman, formed a new soda water manufacturing business called the Consolidated Bottling Company. Like Meincke, this was Ebberweins third shot in a partnership. Ebberwein stayed in this partnership even though he suffered from heart trouble.
A couple of interesting horse-related incidents were reported in local newsprint while Ebberwein was working to distribute soda water in the city. Ebberwein's horse took fright near the corner of Bay and Jefferson Streets with the coupling pole of the wagon still attached. The runaway horse miraculously missed striking three little girls and others in a crowd before it was captured. Another time, Ebberwein was driving his wagon along Jefferson Street when his horse dropped dead at the corner of York Street Lane. The matter was reported to the scavenger department, and the animal was removed.
On June 14, 1899, at 45 years of age, Ebberwein had a heart attack and died suddenly while sitting in his chair at home at 309 Bolton Street. Ebberwein was buried in Bonaventure Cemetery. The German Volunteers attended the funeral of which he was a former member.
Primary Image: G. Ebberwein Ginger Ale imaged on location by Alan DeMaison, FOHBC Virtual Museum Midwest Studio.
Support: Reference to Early Georgia Sodas, The Bottles & Proprietors, Atlanta, Augusta, Columbus, Macon, Savannah & Valdosta by David Kyle Rakes and Ferdinand Meyer V, September 2021.
Support Image: The City and Harbor of Savannah, Georgia. A wood engraving drawn by J. O. Davidson and published by Harper's Weekly, November 1883.
Support Images: Jim Hagenbuch, Glass Works Auctions
Support: Reference to Soda & Beer Bottles of North America, Tod von Mechow
Join the FOHBC: The Virtual Museum is a project of the Federation of Historical Bottle Collectors (FOHBC). To become a member.