H. Gottke & J. Born Mineral Water
H. Gottke & J. Born
Mineral Water
Cincinnati
G
This Bottle Is Never Sold
Henry Getker & Jacob Born, Cincinnati, Ohio
Blue-Green Aquamarine Soda
Provenance: Doug Shutler Collection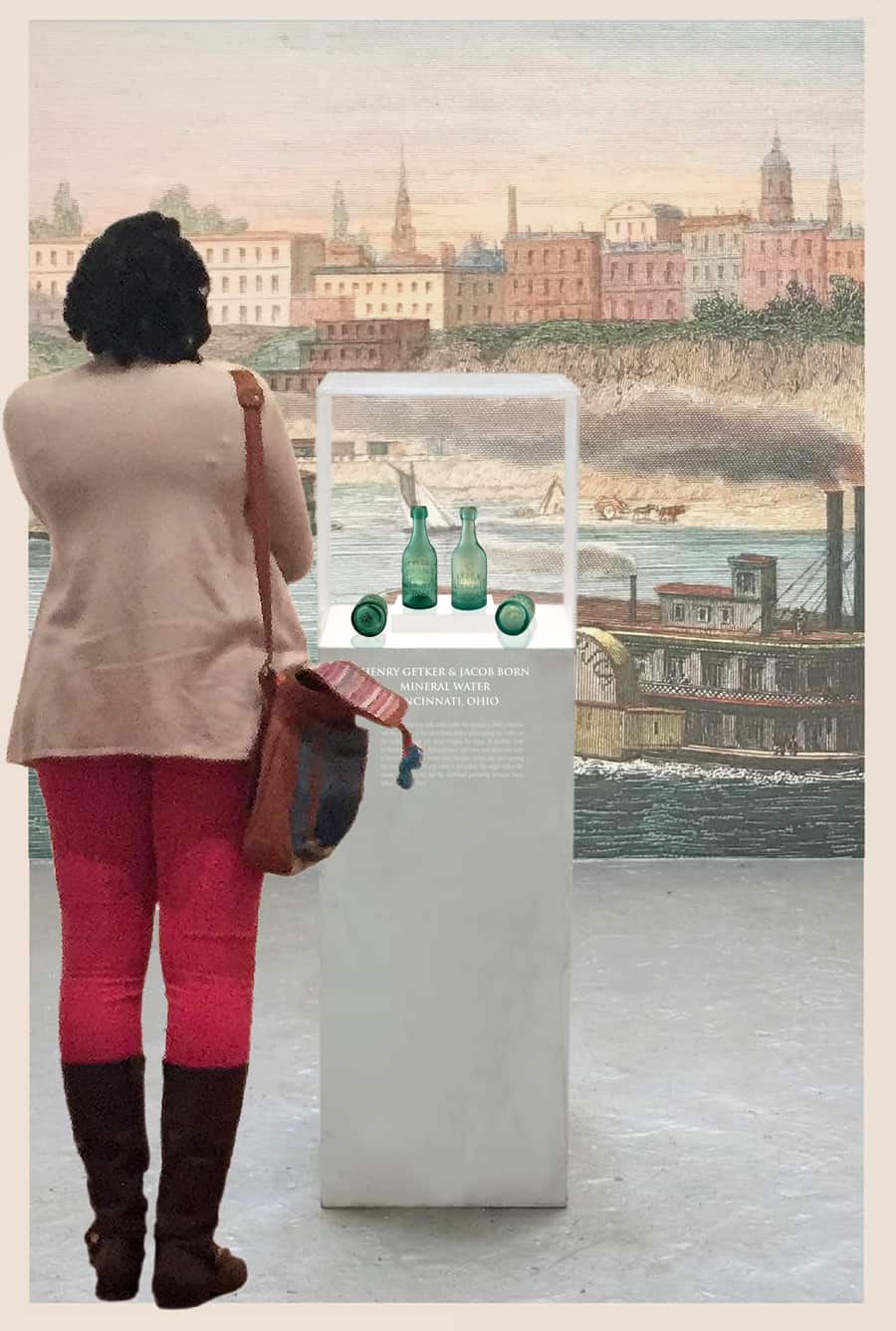 Here is an exciting soda water bottle that appears to have a mistake with the spelling of Henry Getker, which appears as Gottke on the bottle. You can imagine the range of emotions from excitement to surprise, disappointment, and being mad when your order of long-awaited bottles arrives from the glass factory. Upon opening the crates, you see that your name is misspelled. This situation might explain the rareness of this bottle and the short-lived partnership between Henry Getker and Jacob Born.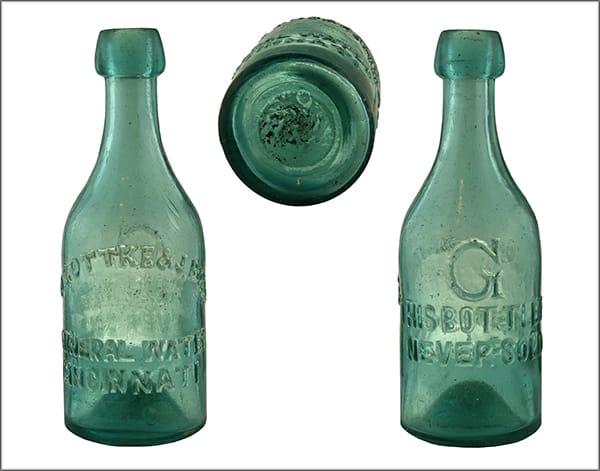 Our cylindrical 7 5/8″ tall bottle was made in a two-leaf mold, has a rounded tapered applied mouth, and an iron pontil. The face of the medium blue-green aquamarine bottle has embossed copy in an arc that reads, 'H. GOTTKE' over a second straight line embossed 'MINERAL WATER' set over a third straight line embossed 'CINCINNATI.'
The reverse of the bottle has a 1″ tall embossed serifed 'G' for the last name Gottke or, more correctly, Getker. Beneath this character, in two lines, is the embossed copy, 'THIS BOTTLE IS NEVER SOLD.' Many soda water bottles have an extensive base and side wear as soda water bottles were the property of the soda bottler and were sometimes marked like our example, "This Bottle is Never Sold" or similar embossed copy to that effect.
Jacob Born was born in Bavaria in 1829 and came to Cincinnati, Ohio as a young man looking for a better life. Nearly 6 million Germans came to the United States between 1820 and the onset of World War I in 1914. The largest wave arrived after the Revolutions of 1848, in which the 39 German states sought democracy and increased political freedoms. Nicknamed the "Forty-Eighters," these immigrants were typically professionals, journalists, and politicians. They came to the United States with money—an advantage over most European immigrants of the 19th century, which gave them the option to migrate further west. While some remained on the East Coast, many chose to settle on farms in the Midwest, where they hoped to return to a more simple life. By 1900, the cities of Milwaukee, Cincinnati, and St. Louis boasted high numbers of German Americans. A number of these German started breweries and mineral water concerns.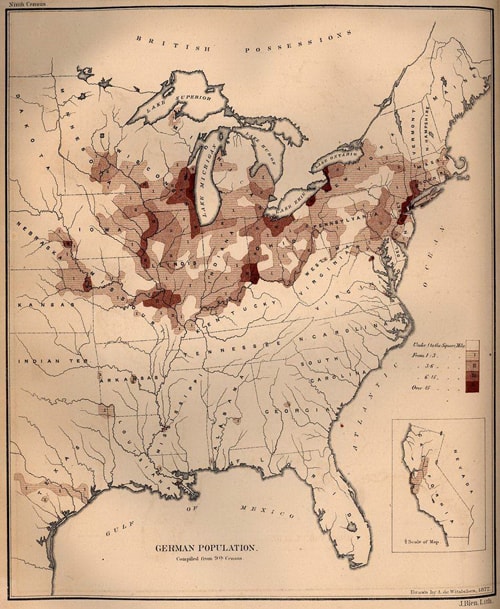 By 1851, the mineral water business was very competitive in Cincinnati as the city was host to eight mineral water factories with 64 employees who produced over $100,000 in annual output. This period is about when we first see Jacob Born as he was the proprietor of a coffee house. By 1855, Born was listed as the proprietor of a mineral water factory located at 56 W. 13th Street in Cincinnati.
The difference between "soda water" and "mineral water" during the 19th century was often vague. Soda water was generally considered flavored artificial mineral water with the purposeful addition of carbonation and various compounds and flavoring. Mineral or spring water, as it was also called, would generally be natural waters from spring sources that were typically highly mineralized with carbonates like alkaline, sulfurous compounds, and or various salts, which often carbonated naturally. The confusion sometimes arises when mineral water was used as a generic term applied to various natural and artificially carbonated, non-artificially flavored waters, including many used for their perceived medicinal qualities. Please visit the museum Spring & Mineral Water Gallery.
In 1855, Jacob Born would form a partnership with Henry Getker, making ale and mineral water addressing at the same 56 W. 13th Street address. This is where it gets interesting as our subject museum bottle is embossed 'H. GOTTKE & J. BORN MINERAL WATER.' Henry's last name Getker is misspelled Gottke on the bottle.
Besides Getker & Born, other Mineral Water Manufactures listed in the 1855 Cincinnati City Directory that year were C. B. Owen & Co., H. & J. Alwes, Fred Goosmann, Hartwell & Baker, A. Ritter, and G. Mulhauser.
The bottle embossing mistake probably caused quite a row. The following year Henry Getker was absent from the business leaving Jacob Born to continue with the mineral water business alone. In 1857, Jacob Born would partner with Louis Bebbinger to make mineral water. During this period, he had his own bottles embossed 'J. BORN MINERAL WATER CINCINNATI.'
See the museum example of a J. Born Mineral Water Cincinnati.
Sometime around 1860, Jacob Born moved his operations to 530 Walnut Street, and from 1862 to 1865, his business was renamed Born & Greiwe, which consisted of partners Jacob Born and Christoph Greiwe. By 1866, Jacob Born was alone again making and bottling his mineral water which would last up into the 1870s when he would incorporate as Jacob Born & Co.
Primary Image: H. Gottke & J. Born Mineral Water Cincinnati and J. Born Mineral Water Cincinnati bottle imaged on location by Alan DeMaison, FOHBC Virtual Museum Midwest Studio
Support: Reference to The American Pontiled Soda Database Project, Tod von Mechow
Support: Reference to Soda & Beer Bottles of North America, Tod von Mechow
Support Image: Museum example of a J. Born Mineral Water Cincinnati from the Doug Shutler collection.
Support Image: Second H. Gottke & J. Born Mineral Water example courtesy Jim Hagenbuch, Glass Works Auctions.
Join the FOHBC: The Virtual Museum is a project of the Federation of Historical Bottle Collectors (FOHBC). To become a member.