C. Alf's Soda Water Charleston SC
C. Alfs
Soda Water
Charleston
This Bottle To Be Returned
Christian Alfs, Charleston, South Carolina
Dark Olive Green Sided Soda Water
Provenance: Mike Newman Collection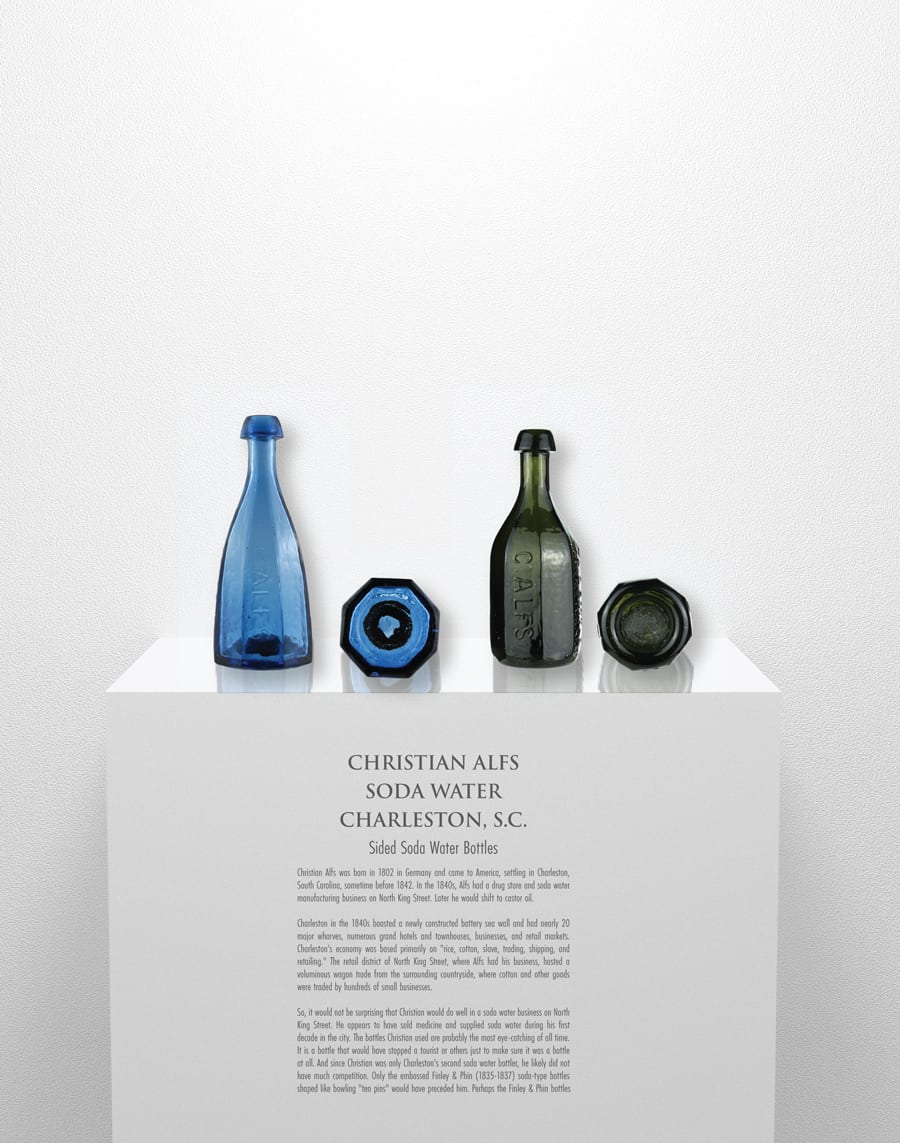 Christian Alfs was born in 1802 in Germany and came to America, settling in Charleston, South Carolina, sometime before 1842. In the 1840s, Alfs was the proprietor of a drug store and soda water manufacturing business on North King Street. In the following years, he would shift to selling castor oil.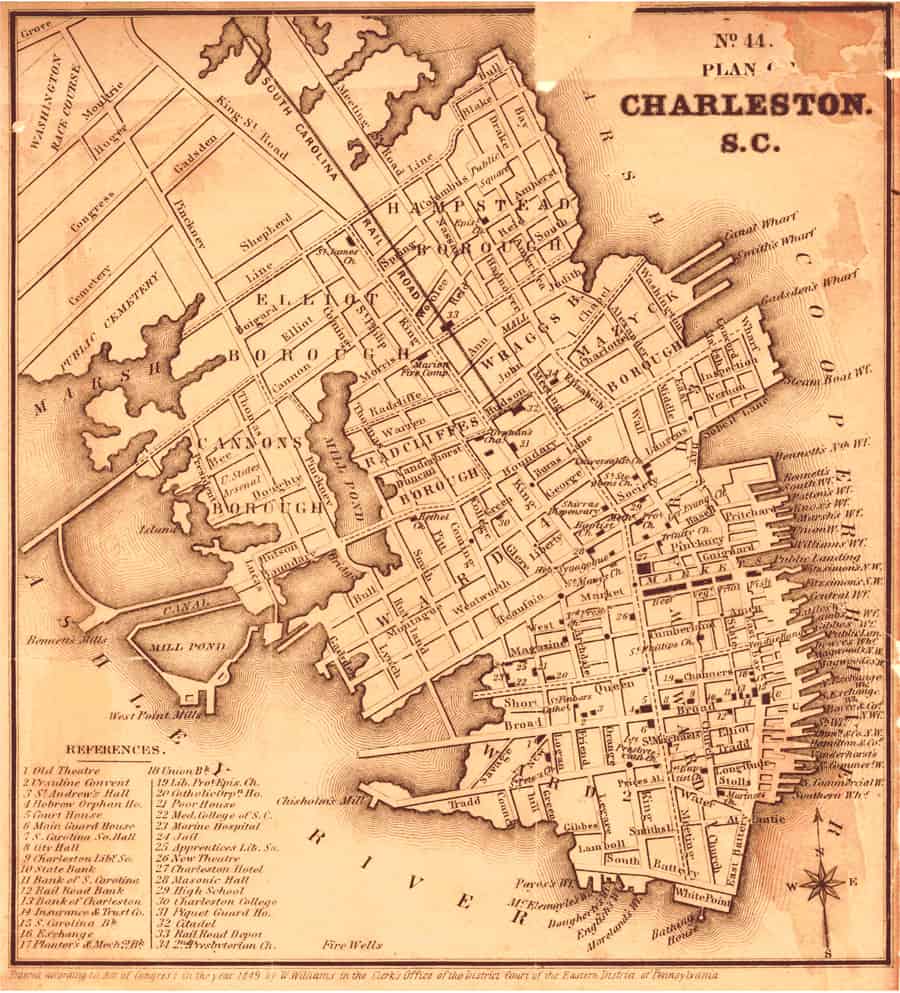 Charleston in the 1840s boasted a newly constructed battery sea wall and had nearly 20 major wharves, numerous grand hotels and townhouses, businesses, and retail markets. Charleston's economy was based primarily on rice, cotton, slaves, trading, shipping, and retailing. The retail district of North King Street, where Alfs had his business, hosted a voluminous wagon trade from the surrounding countryside, where cotton and other goods were traded by hundreds of small businesses.
Christian Alfs was one of two Charleston soda water bottlers at the time, so he likely did not have much competition. Only the embossed Finley & Phin (1835-1837) oval ten-pin soda water bottles would have preceded him. The extremely rare Finley & Phin bottles probably influenced Christian Alfs to have his bottles uniquely shaped. Both the Finley & Phin and two Alfs bottles are highly prized by collectors.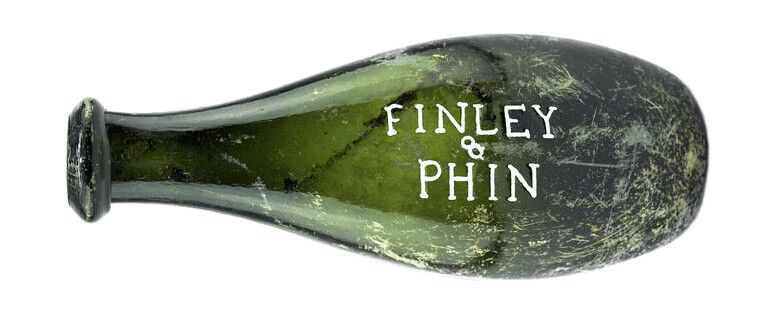 Christian Alfs first iron-pontiled bottle was molded with eight sides or panels in blue glass and shaped like a teepee. The bottle is around 8 inches tall, has a 3-inch-wide base, and is embossed vertically on four sides, shoulder to base, in a sans serif typestyle. The first copy panel reads 'C. ALFS,' panel three, 'SODA WATER,' panel five, 'CHARLESTON, S.C.' and panel seven, 'THIS BOTTLE TO BE RETURNED' in two lines. All separating panels are blank. The bottle could have been blown in Baltimore and is extremely rare, with only one to ten examples reported in collections. The glass is thinner than other soda water bottles, especially at the top, so it likely did not hold up well for reusing and filling. The unusual bottle has a graceful tapering neck with a bold applied tapered mouth that would have received a cork.
See the spinning Museum example of the tapered eight-sided "teepee" C. Alfs Charleston Soda Water bottle in medium blue glass.
Christian Alfs second bottle was much thicker, so he must have learned from the fragile teepee-shaped bottles. This bottle is also embossed vertically, has eight sides, and is found in medium and dark yellow-olive green glass. The bottle is embossed in a sans serif typestyle 'C. ALFS' on the first panel, 'SODA WATER' on the third panel, 'CHARLESTON' on the fifth panel, and 'THIS BOTTLE TO BE RETURNED' on the seventh panel in two lines. This bottle also has an applied tapered mouth that would have received a cork. All separating panels are blank. Many soda water bottles have extensive base and side wear as soda water bottles were the property of the soda bottler and were sometimes marked like our example, "This Bottle To Be Returned" or similar embossing to that effect. The extremely rare bottle can be found in a lighter shade of yellow-olive-green glass.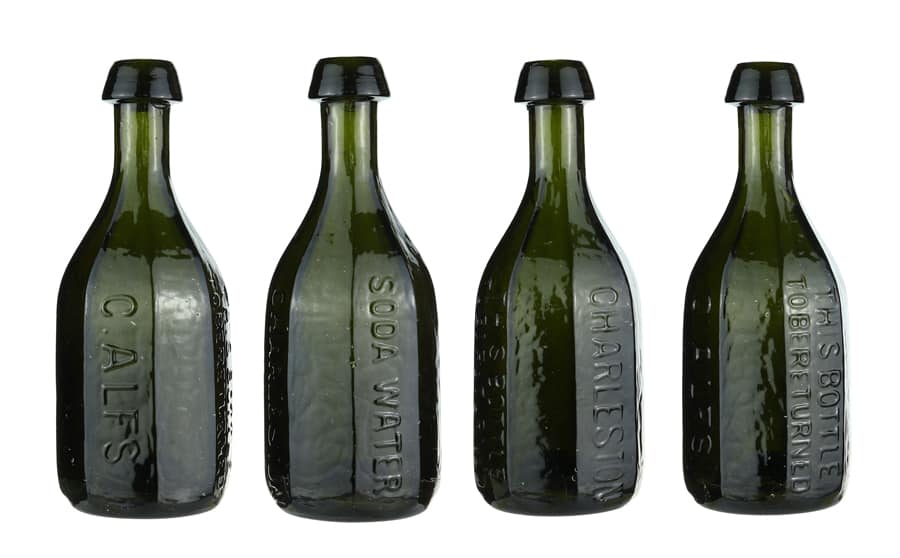 By 1850 Christian Alfs shifted to manufacturing and selling castor oil. His residence was in St. Michael and St. Phillip Parish of Charleston. The United States Federal Census Return for that year shows Christian Alfs listed as the head of household, 55 years old from Germany, followed by Eliza Alfs, age 33, Bertha Alfs, age 19, and Frederick Alfs, age 9. Also recorded in the same home is Ali Severs, boarder, age 30; Adam Marerer, age 24, employed as an oil manufacturer from Germany; and Shaw Lelanthal, age 23, an oil manufacturer from Germany. The adult males likely worked for Alfs in his castor oil business.
Christian Alfs most likely ended his soda water bottling and druggist business when he moved to castor oil. In 1851 and 1852, Alfs placed regional newspaper advertisements to attract planters for his castor oil operation. A typical advertisement read, "TO PLANTERS – Gentlemen who are desirous of raising CASTOR OIL PLANTS, can have seed gratis, by calling at C. ALFS Castor Oil Factory, King Street, Charleston, S.C." He paid them two dollars per bushel and even supplied his best seeds to willing growers. It was reported that "seed planted at Mr. Steinmeyer's place in St. Andrews Parish yielded nearly thirty bushels to the acre." By October 1850, Alfs was exporting his superior-quality castor oil to Baltimore. His business on King Street—probably the same location as his previous soda water business—was equipped with a hydraulic press capable of eight hundred tons of pressure and pressing over a thousand barrels a year. A later inventory of Alfs operation showed that along with the hydraulic press were two wooden tanks, an apparatus press, and two large kettles. The castor bean vegetable oil was probably sold for a laxative cure and other medicinal reasons.
In 1851, the Daily Constitutionalist in Augusta, Ga. wrote a column on Christian Alfs Castor Oil Factory, claiming he had "the honor of having founded the first castor oil factory in Charleston. His factory is situated on King Street, a few doors above John Street, immediately in the rear of Wm. Hummell's Drug Store," suggesting that C. Alfs had sold the drug business but not the building.
Church records revealed that Christian Alfs, aged 49-50, died on September 18, 1852, from "neverfieber," the German word for typhoid fever. Typhoid is a serious infection caused by salmonella in food or water. Alfs was buried in the Hampstead Cemetery, one of the city's earliest German Church burial grounds, founded in 1841. Anna Marie Alfs, believed to have been Christian's wife, was also buried in Hampstead Cemetery. Anna was born in 1790 in Dorum, Germany, and died September 18, 1856, at age 65 or 66. Church records say she was a widow and died of yellow fever.
Hampstead Cemetery was used for St. Matthew's German Evangelical Lutheran Church members. The yellow fever epidemics of 1849, 1852 and 1856 killed so many Charleston Germans that in 1860 the cemetery ran out of room and dedicated Bethany Cemetery as their new burial grounds in North Charleston. Over time, Hampstead Cemetery almost became a lost cemetery. It somehow became forgotten for over 120 years and had become an empty lot with some houses around. In 1981, the Charleston Housing Authority bought the lot to construct apartments for low-income people. The unmarked graves were discovered and delayed the construction until the graves could be moved. In 2009, the authority reinterred 437 individual remains into Bethany Cemetery, including Christian Alfs.
Primary Spinning Image: Eight-sided C. Alfs Soda Water bottle in dark olive green glass imaged on location by Alan DeMaison, FOHBC Virtual Museum Midwest Studio.
Secondary Spinning Image: Tapered eight-sided "teepee" C. Alfs Soda Water bottle in medium blue glass imaged on location by Alan DeMaison, FOHBC Virtual Museum Midwest Studio. Mike Newman collection.
Support: Reference to Early Carolina Sodas (draft edition) by David Kyle Rakes, 2023. Museum research by David Kyle Rakes.
Support: Reference to Soda & Beer Bottles of North America, Tod von Mechow
Support Image: Auction Lot 480: "C. ALFS – THIS BOTTLE TO / BE RETURNED – CHARLESTON, SC – SODA WATER", South Carolina, ca. 1840 – 1860, medium cobalt blue, 8-sided teepee form, 7 5/8"h, iron pontil, applied tapered collar mouth. Lightly cleaned but has a few very light scratches. A 3/8" by 3/16" ice pick chip is on the inside of the lip. A 3/4″ crack travels from the top of the lip down into the neck where two approximately 1/4″ inch stress cracks extend to either side of the crack. Also a tiny flake is off the edge of the base. Considered by many to be one of the most important and desirable of all southern sodas! Acquired from Bob Simmons in 1996. – Jim Hagenbuch, Glass Works Auctions, Auction #108, January 2016
Support Image: Auction Lot 105: "C. ALFS – SODA WATER – CHARLESTON – THIS BOTTLE / TO BE RETURNED", South Carolina, ca. 1840 – 1860, yellowish olive green, 8-sided, 7 1/4"h, iron pontil, applied tapered collar mouth. Lightly cleaned to about perfect condition. A rare and highly desirable bottle! Acquired from Glass Works Auctions in 1998, auction #50 lot 692. – Jim Hagenbuch, Glass Works Auctions, September 2015
Support Image: Auction Lot 77: "C. Alfs / Soda Water / Charleston SC. / This Bottle to be Returned" Soda Water Bottle, America, 1839-1860. Eight-sided pyramid shape, sapphire blue, applied sloping collared mouth – iron pontil mark, pint, ht. 7 5/8 inches, unearthed, professionally cleaned with remaining deeply etched areas throughout the exterior part of the bottle. Extremely rare, unusual form. Believed to be Charleston, South Carolina's first soda water bottle, advertised in the 1836 Charleston City Directory. – Norman Heckler Jr. & Sr., Norman C. Heckler & Company, Auction #91
Join the FOHBC: The Virtual Museum is a project of the Federation of Historical Bottle Collectors (FOHBC). To become a member.