american life bitters
American life Bitters
P. E. Iler
Manufacturer
Tiffin, Ohio
A – 49

Peter Iler & Company, Tiffin Ohio and Omaha, Nebraska

Yellow with Olive Tone Figural Cabin
Provenance: Sandor P. Fuss Collection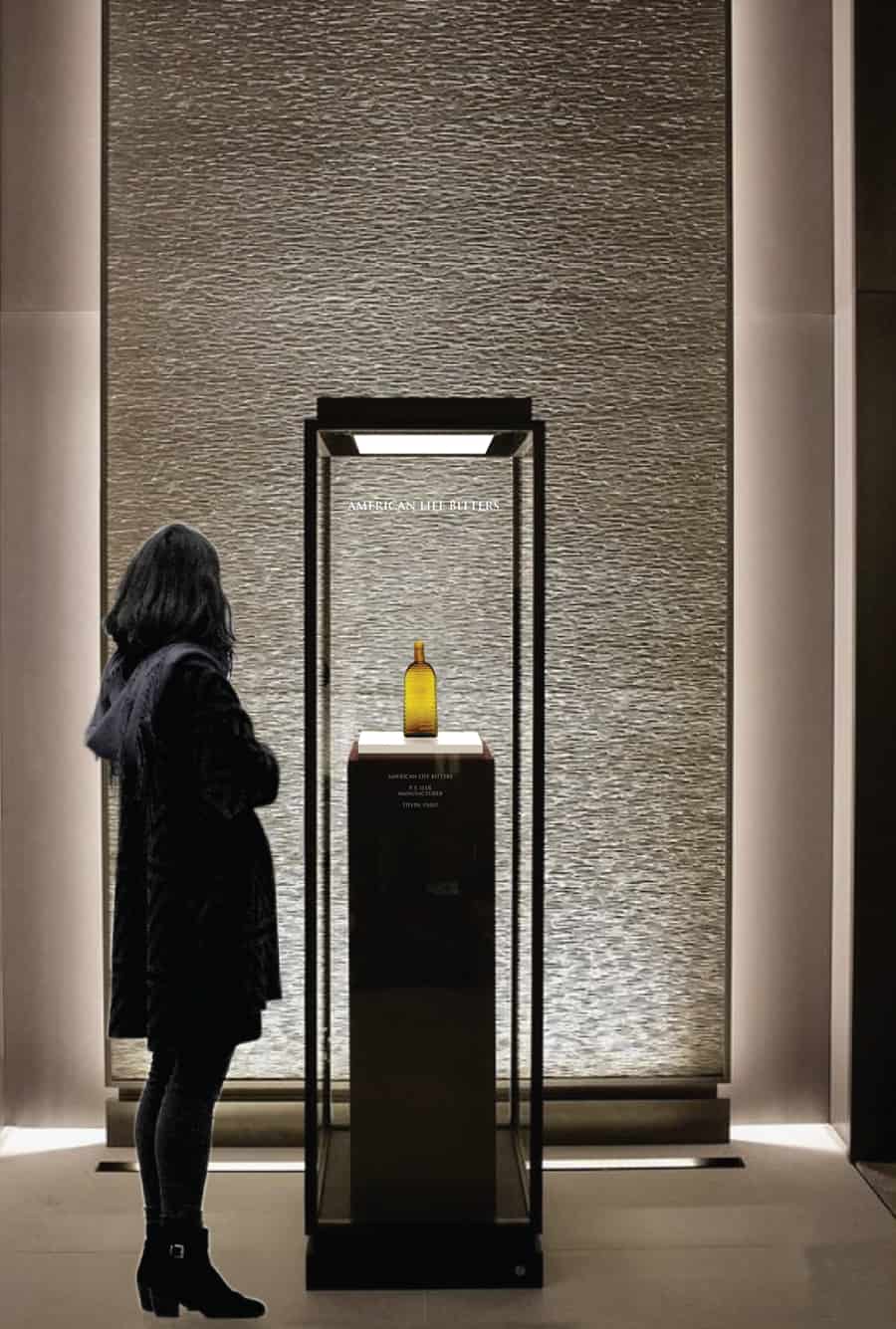 On display is one of the great figural cabin bitters that has a curved roof rather than an angular roof like most cabin bitters. The American Life Bitters is pretty tough to obtain in either the Tiffin, Ohio, or Omaha, Nebraska variants. Our Tiffin, Ohio museum example is one of a few examples known in this striking yellow glass color. A second similar colored example is pictured further below. Overall, the bottles embossed Omaha, Nebraska are rarer.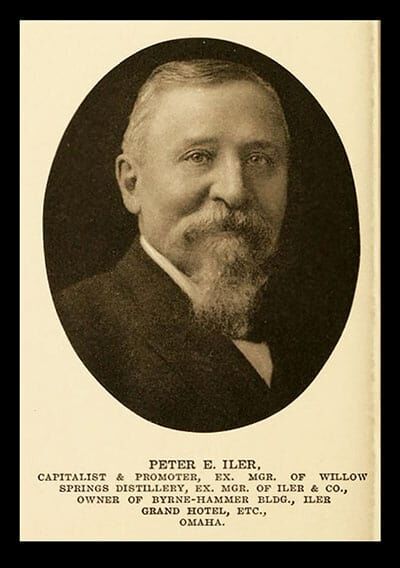 Peter E. Eiler
Peter E. Iler was born in Wooster, Ohio, in 1840. As a young man, he moved to Tiffin, Ohio, with his brother Joseph, where he worked first in a bank, then as a commission agent, a cigar manufacturer, and a warehouse operator. While operating as a wagon peddler, he discovered the magic of bitters, which he advertised "as a cure for dyspepsia and all diseases of the stomach and bowels," at a dollar a bottle. It was in 1865 that we first see advertisements for American Life Bitters in Tiffin, Ohio newspapers.

As an adjunct to the sale of bitters, the Iler's created a distillery and a wholesale liquor business. In the spring of 1865, the Ilers bought and prepaid for a shipment of bourbon from Kentucky. Through an unexplained stroke of luck, the federal tax on alcohol changed while the bourbon was in transit, which somehow magically increased the value of the shipment by a breathtaking $36,000, instantly making Peter Iler a wealthy man.
Meanwhile, in 1866, the short-lived Willow Springs Distillery of Council Bluffs, Iowa was closed by the federal government for nonpayment of taxes. Iler, along with James Megeath and John McCormick, bought Willow Springs at auction and moved it across the Missouri River to Omaha to 209 Hickory Street, making it the first distillery in Nebraska. The Iler brothers moved to Omaha the next year, set up their offices at 233 Farnam Street, and by 1871 were making 6,000 to 7,000 gallons of alcohol per day or 1,250,000 gallons a year. In 1868, we see the first advertising for American Life Bitters using the Omaha, Nebraska locale.
Peter Iler eventually became a multi-millionaire who built the nation's third-largest pre-prohibition distillery as well as financed other major business enterprises. His Omaha building was described as follows:
"Mr. P. E. Iler has erected a very handsome four-story brick block, sixty-six feet front and 182 feet, on the north side of Harney street, nearly opposite the Millard Block, between Eleventh and Twelfth streets. The front is of cut stone and pressed brick, the architectural appearance of which is very handsome. The building has water connections throughout and is supplied with hydraulic elevators. It was built especially for wholesale business, the west twenty-two feet being occupied as a wholesale liquor establishment, and the east forty-four feet being occupied by a wholesale hardware firm. Each is provided with commodious and elegant business offices. The cost of the building was $40,000. The firm of Iler & Co. is now composed of Peter E. Iler and Joseph D. Iler."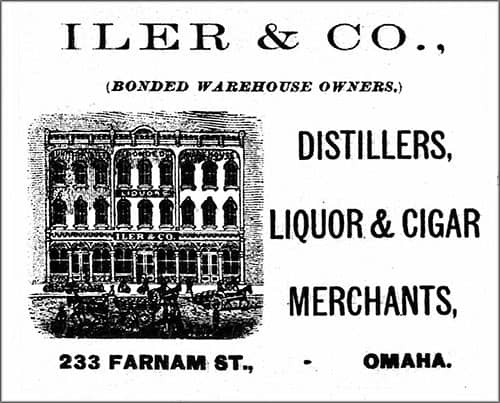 The Carlyn Ring and W.C. Ham listing in Bitters Bottles is as follows: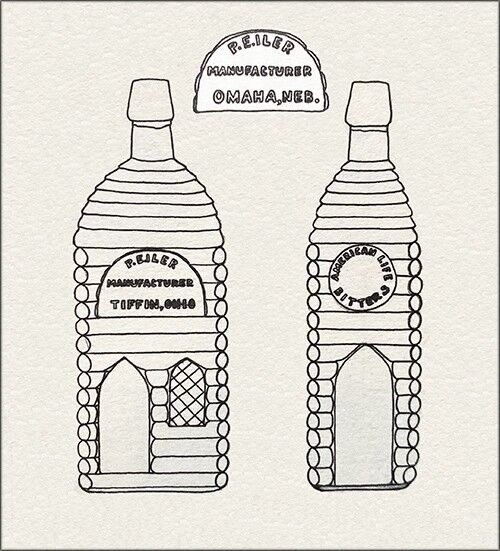 A 48 AMERICAN LIFE ( au ) / BITTERS ( ad ) // P.E. ILER ( au ) / MANUFACTURER / OMAHA, NEB. // AMERICAN LIFE / BITTERS // f //
8 7/8 x 3 1/8 x 2 ½ (5 ¾)
Rectangular cabin, Amber, LTC, Applied mouth, Extremely rare
Example dug in Mineral Hill, Nevada, 1981
A 49 AMERICAN LIFE ( au ) / BITTERS ( ad ) // P.E. ILER ( au ) / MANUFACTURER / TIFFIN, OHIO // AMERICAN LIFE / BITTERS // f //
8 7/8 x 3 1/8 x 2 ½ (5 ¾)
Rectangular cabin, LTC, Applied mouth, Amber; rare, Yellow with olive tone, Extremely rare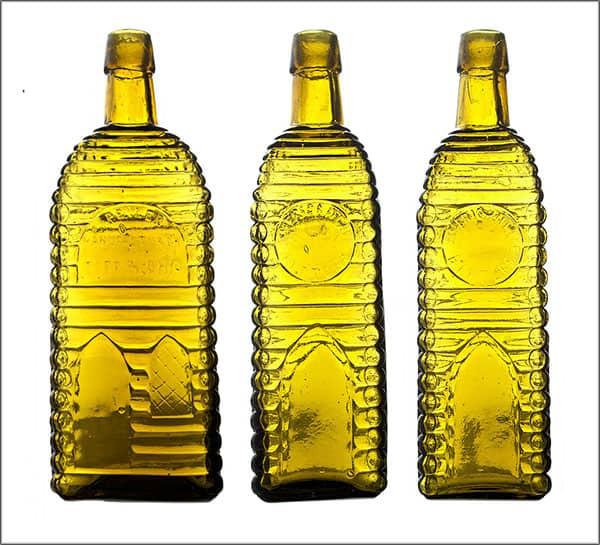 Primary Image: American Life Bitters bottle imaged by the FOHBC Virtual Museum Midwest studio by Alan DeMaison.
Support Image: Auction Lot 13: "AMERICAN / LIFE BITTERS – P.E. ILER / MANUFACTURER / TIFFIN, OHIO – AMERICAN / LIFE BITTERS", (Ring/Ham, A-49), Ohio, ca. 1865 – 1875, light to medium yellow with olive tone cabin, 9 1/8"h, smooth base, applied tapered mouth. About perfect (a tiny spot of roughness is on the tip of a lower log). A rarely offered bottle in amber, but one of only a very few known to exist in this coloration! For those lucky enough to own an amber example, imagine this one sitting on a shelf next to it! Mary Ballentine Collection. – Jim Hagenbuch, Glass Works Auctions | Auction #143
Support: Reference to Bitters Bottles by Carlyn Ring and W. C. Ham. Use of Bitters illustration courtesy Bill Ham
Support: Reference to Peter Iler: "The Restless Mind of a Capitalist"
Read More: Log Cabin Series – American Life Bitters at Peachridge Glass
Join the FOHBC: The Virtual Museum is a project of the Federation of Historical Bottle Collectors (FOHBC). To become a member.