G K Mustard
G K Mustard

Aquamarine Barrel
Provenance: Lou Pellegrini Collection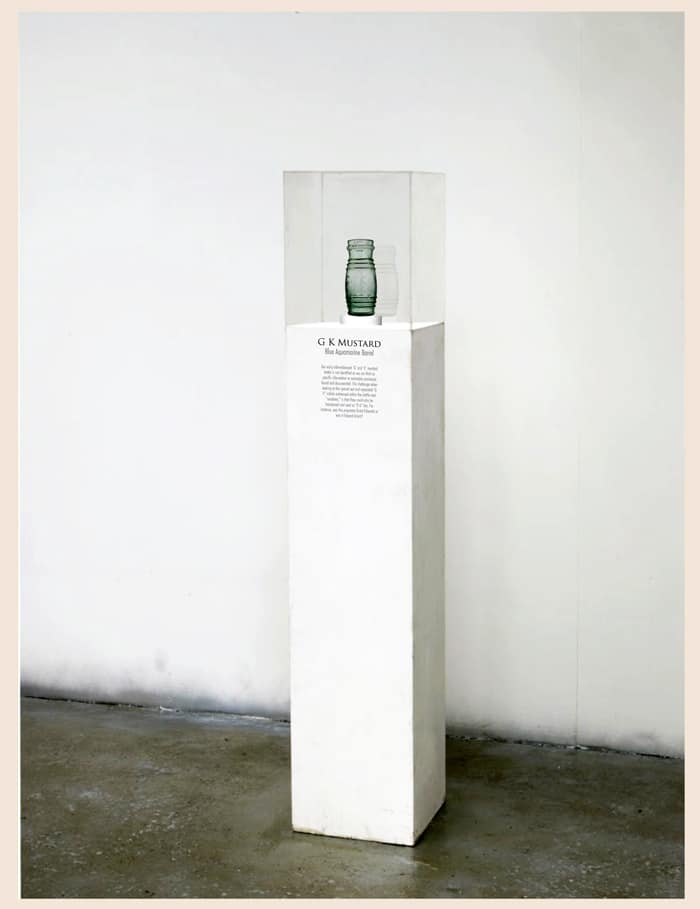 We are looking at an outstanding example of a small figural barrel form mustard bottle with a pronounced uppercase or capital embossed 'G' and 'K' on the face. There is quite a bit of space between the two letters that are placed on the same line. The aqua bottle is extremely crude, full of air bubbles, and has six pronounced rings on the barrel form and a seventh ring on the flared neck near the wide mouth. An eighth ring is on the base. The bottle has a finished pontil and measures 4-7/8″ tall x 2-1/8" wide at the GK embossed section. The top and base measure 1-3/4″ wide. A cork would have been used to seal the bottle.
We do not know very much about this bottle as far as what the initials stand for and where it was made though most believe the initials stand for the last names of two proprietors who operated out of the midwest.
The owner of the museum piece says that it was dug in San Francisco, California years ago with other 1850 period bottles from St. Louis, Missouri. Another west coast collector notes that he dug a G K mustard bottle in Sacramento and another in St. Louis, Missouri. This leads us to believe that the bottles are from a Saint Louis concern as the glass looks similar to the Western Spice Mills and Wm. Schotten Bro. St. Louis mustard barrels that have the same sheared tops.
It is interesting to note that Western Spice Mills was a St. Louis firm that, being at the gateway to the rapidly opening West, did a lot of business on the upper Missouri River as well as downstream along the Mississippi River. They also shipped their products such as sauces and mustards to California, among other places. There were many other small food suppliers in St. Louis during the 1850s to 1870s era as this was a very busy city that specialized in exporting food and spice products.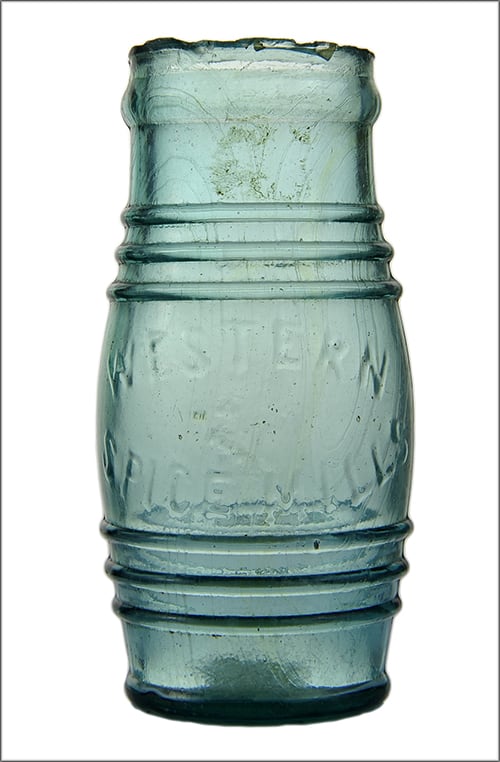 Gothic-style pepper sauce bottles with the embossed Western Spice Mills name were found on the Steamship Bertrand (1865) and on the Steamboat Arabia which sank in the Missouri River in 1856. Although early information on the company is sparse they obviously date as far back as 1856 and they are known to have continued in business until at least 1877.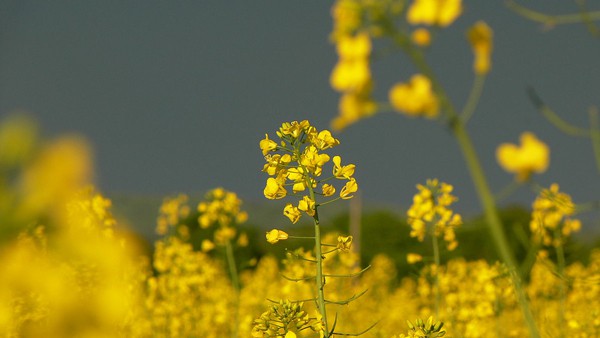 In the United States, mustard, both dry and prepared, was most commonly packaged in stylized wide mouth, squatty barrel-shaped bottles from the mid-19th until well into the 20th century.
Mustard was a culinary requirement during the 19th century to spice up otherwise bland dishes and to cover up the off-flavors of foods in the age before refrigeration and other effective food preservation techniques. Mustard was also thought to be a cure for ailments ranging from congestion to hysteria, snakebite to bubonic plague.
The barrel mustard bottles typically have three molded rings or bands above and below the central label area. Other conformations ranging from two to at least six rings have also been noted as well as some with vertical staves. Most examples have rings that are separated by a distinct space, as opposed to figural bitters barrels that use tight rings.
Primary Image: G K Mustard bottle imaged by the FOHBC Virtual Museum west coast studio by Gina Pellegrini.
Support: Reference to Bottle Typing/Diagnostic Shapes – sha.org
Support: Reference to Ketchup Pickles Sauces – 19th Century Food in Glass by Betty Zumwalt
Support Image: G K Mustard with painted initials – Steve Kehrer collection.