J.H. Cutter Old Bourbon (Circle)
J. H. Cutter Old Bourbon
(Circle & Embossed Crown)
A. P. Hotaling & Co
Sole Agents

John Hastings Cutter, Louisville, Kentucky
Anson Parsons Hotaling, San Francisco, California
Olive Amber Cylinder Fifth
Provenance: Stephen Hubbell Collection
Here is an interesting fifth that was a featured competition bottle at the FOHBC 2012 Reno National Bottle Show Shootout. See: FOHBC Reno Expo Shootout Pictures
This is our second J. H. Cutter Old Bourbon bottle in the museum. The first being a J. H. Cutter Old Bourbon (non-crown shoulder). There are eighteen or so different embossed Cutter bottles. Each has a story that fits into the linear history and timeline of the J. H. Cutter Bourbon brand. There is even a well-known J. F. Cutter bottle. John Francis Cutter was a son of John Hastings Cutter.
There are five (5) so-called "Circle Cutter" variants according to John L. Thomas. They are very similar and four have an "A No 1" embossed on the reverse shoulder, among some minor typography and shape of crown variations. Our museum example does not have the shoulder embossing and is considered the oldest variant, circa 1873 to 1877. It is a four-piece mold and can be found in shades of amber which is common, yellow which is rare and green tones which are extremely rare.
A. P. Hotaling & Co, San Francisco, was probably the largest liquor house on the west coast. They would get their whiskey from Kentucky and were initially the sole agents for the J. H. Cutter Bourbon brand, again named after John Hastings Cutter.
John H. Cutter was born in Hollis, New Hampshire on August 16, 1807. He would follow his brothers to Louisville, Kentucky, and enter the liquor business. In 1831 he formed a partnership with his brother to manufacture Bourbon Whiskey. By 1850, John was a wealthy man and returned back to New Hampshire with his family. Now a gentleman farmer, he sold to rights of his brand and died shortly thereafter.
By this time, the J. H. Cutter brand had achieved a following, especially in the west where a series of owners and agents would grow the brand many times over, well into the 20th century.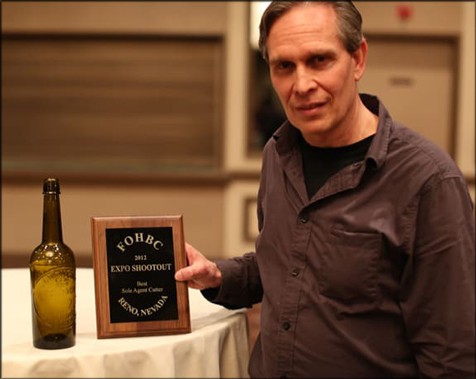 Primary Image: The circle embossed J. H. Cutter Old Bourbon bottle imaged by the FOHBC Virtual Museum midwest studio by Alan DeMaison.
Read: C. P. Moorman and the Cutter Connection at Those Pre-Pro Whiskey Men! by Jack Sullivan
Support: Detail image from 1846 Vue de San Francisco from the French publication with the series Ports de mer d'Amerique, no. 64 – "Seaports of America."
Support: Whiskey Bottles of the Old West by John L. Thomas, 2002