SChafer & Ebling Mineral Water Hamilton O
SChafer & Ebling
Mineral Water
Hamilton O
This Bottle is Never Sold
John Schafer and Fred Ebling, Hamilton, Ohio
Dark Green Aquamarine Soda
Provenance: Doug Shutler Collection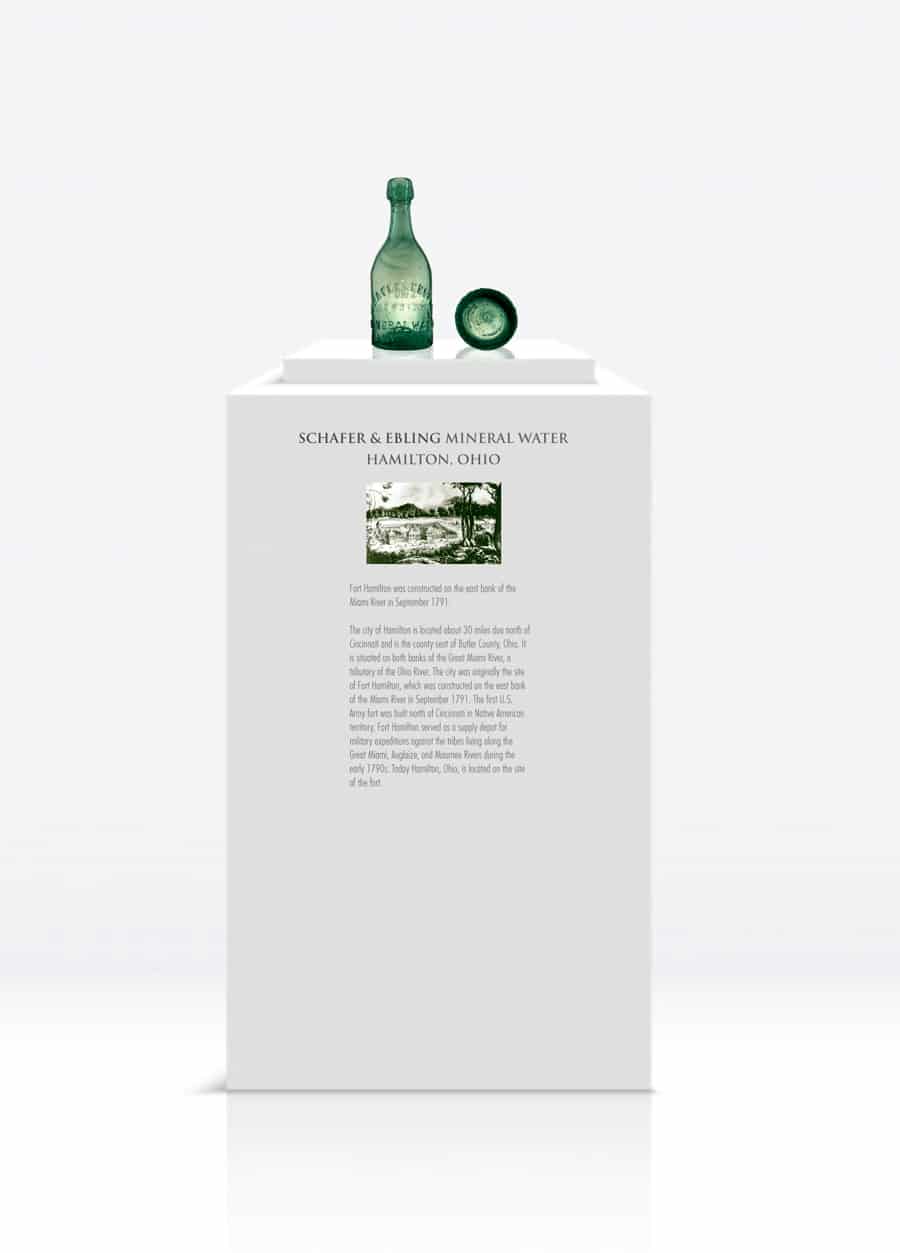 Our museum example of a Schafer & Ebling Mineral Water bottle from Hamilton, Ohio, is considered very rare. So rare that we could not find any other examples or variants to compare or present.
The dark green aquamarine cylindrical blob top soda is 7 ½" tall and has an iron pontil. The front of the bottle is embossed, 'SCHAFER & EBLING' in a strong arc over horizontal straight line embossed copy reading 'MINERAL WATER.' Beneath this copy, at the bottle of the bottle, is embossed 'HAMILTON O', also in a straight horizontal line. All copy is in a bold serifed typestyle.
The difference between "soda water" and "mineral water" during the 19th century was often vague. Soda water was generally considered flavored artificial mineral water with the purposeful addition of carbonation and various compounds and flavoring. Mineral or spring water, as it was also called, would generally be natural waters from spring sources that were typically highly mineralized with carbonates like alkaline, sulfurous compounds, and or various salts, which often carbonated naturally. The confusion sometimes arises when mineral water is used as a generic term applied to various natural and artificially carbonated, non-artificially flavored waters, including many utilized for their perceived medicinal qualities. Please visit the museum Spring & Mineral Water Gallery.
The reverse of the Schafer & Ebling bottle is embossed 'THIS BOTTLE IS NEVER SOLD' in two straight horizontal lines. The typestyle is the same. Many soda water bottles have extensive base and side wear as soda water bottles were the soda bottler's property and were often marked and embossed like our example.
What is extraordinary about this bottle are the darker green swirls or striations of color in the shoulder of the glass bottle that lead up to the sloppy applied blob top mouth.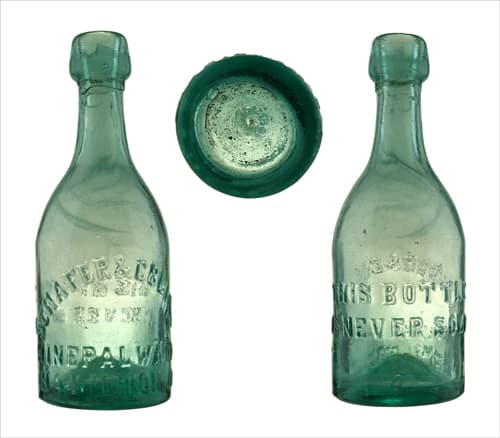 Schafer & Ebling
When referencing the 1861-1862 William's Hamilton City Directory, we see a listing for Schafer & Ebling, mineral water manufacturers located on the south side of High Street between 5th and 7th Streets, Hamilton, Ohio. The partners were John Schafer and Frederick Ebling. 
When looking at an 1860 United Stated Federal Census, we see that John Schafer was 35 years old and born about 1825 in Oldenburg, Germany. His occupation was listed as a grocer in Cincinnati. This is most likely our Schafer name embossed on the bottle. That same census year, Fredrick Epling was 31 years old and born about 1829 in Germany. He lived in Hamilton, and his occupation was listed as "mineral water manufacturer."
Hamilton, Ohio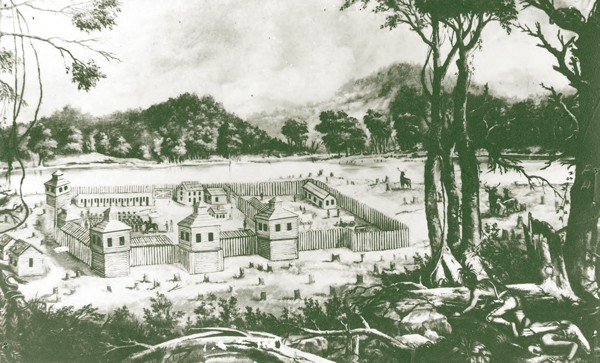 The city of Hamilton is located about 30 miles due north of Cincinnati and is the county seat of Butler County, Ohio. It is situated on both banks of the Great Miami River, a tributary of the Ohio River. The city was originally the site of Fort Hamilton, which was constructed on the east bank of the Miami River in September 1791. The first U.S. Army fort was built north of Cincinnati in Native American territory. Fort Hamilton served as a supply depot for military expeditions against the tribes living along the Great Miami, Auglaize, and Maumee Rivers during the early 1790s. Today Hamilton, Ohio, is located on the site of the fort.
By 1794, a town had grown up around the fort. Founded as Fairfield, the town's name was changed to Hamilton in honor of Secretary of the Treasury Alexander Hamilton.
Hamilton reached a population of 1,409 people by 1840. Six years later, the town included seven churches, a women's academy, two newspapers, three cotton mills, three flour mills, two machine shops, and sixteen retail stores. This is just a few years before John Schafer, and Fred Ebling would start their mineral water works.
Located on two railroad lines and the Miami and Erie Canal, Hamilton flourished in the nineteenth century with many new residents from Germany, Ireland, and other European countries. In 1880, the city's population reached 12,122 residents. By 1886, the town consisted of five newspaper offices, one dozen churches, and two banks. Over one-third of the people were school-age children. Numerous businesses flourished in Hamilton. Manufacturing establishments produced canned goods, steam pumps, tools, paper, tile, sawmill machinery, iron castings, and countless other products. One brewing company in Hamilton produced more than thirty thousand barrels of beer per year. The city's largest manufacturing firm was A. Fisher Manufacturing Company, with 255 employees.
Primary Image: Schafer & Ebling Mineral Water, Hamilton, Ohio bottle imaged on location by Alan DeMaison, FOHBC Virtual Museum Midwest Studio
Support: Reference to The American Pontiled Soda Database Project, Tod von Mechow
Support Image: Fort Hamilton circa 1790s, Hamilton, Butler County, Ohio.
Support: Reference to Soda & Beer Bottles of North America, Tod von Mechow
Join the FOHBC: The Virtual Museum is a project of the Federation of Historical Bottle Collectors (FOHBC). To become a member.