Mastodon T A Evans & Co Pittsburgh Pa A
Mastodon
T A Evans & Co
Pittsburgh Pa
Thomas A. Evans & Co., Pittsburgh, Pennsylvania
Aquamarine Quart Wax Sealer
Provenance: Ron Hands Collection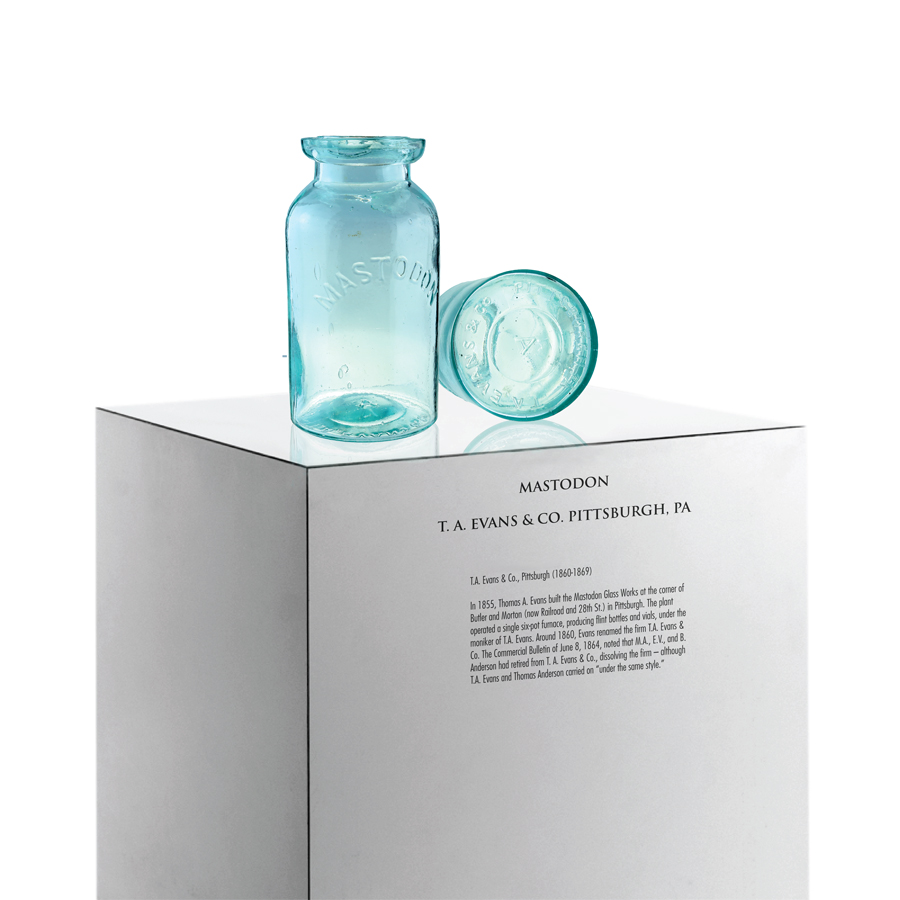 This rare aquamarine quart is a hand-blown, tooled applied lip, wax sealer jar with a grooved ring for a metal cap and wire clamp. The jar is embossed 'MASTODON' in an arc on the face. The Mastodon was made by T. A. Evans & Co. in the early 1860s in Pittsburgh, Pennsylvania. The jar is base embossed in a circle comprised of a convex and concave arc reading 'T A EVANS & CO' and 'PITTSBURGH PA.' There is an embossed 'A' in the center of the base.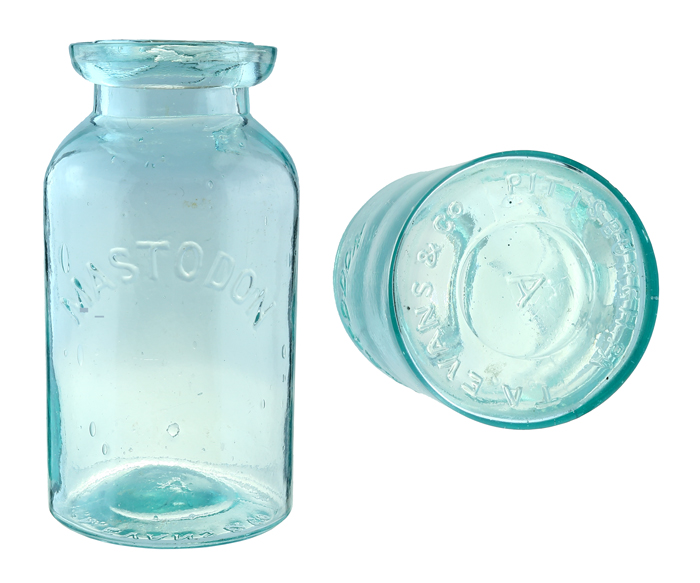 In 1855, Thomas A. Evans built the Mastodon Glass Works at the corner of Butler and Morton (now Railroad and 28th Streets) in Pittsburgh, Pennsylvania. The plant operated a single six-pot furnace, producing flint bottles and vials, under the company name T. A. Evans. Around 1860, Evans renamed the glass company T. A. Evans & Co., with a directory listing indicating Flint Glass Manufacturers. That year, Thomas resided at the Girard Hotel with D. A. Evans, also listed as a glass manufacturer. The 1860 Industrial Census showed that Evans had a capital of $16,000.
The Commercial Bulletin of June 8, 1864, noted that M. A., E. V., and B. Anderson had retired from T. A. Evans & Co., dissolving the firm— although T. A. Evans and Thomas Anderson carried on "under the same style." Evans advertised "all kinds of flint glass, prescription, vials, tinctures, salt mouths, and fancy cologne bottles in 1866.
Evans sold the glasshouse to William McCully in 1869.
Primary Image: Mastodon jar imaged on location by Alan DeMaison, FOHBC Virtual Museum Midwest Studio
Support Image: Auction Lot 54: MASTODON Wax Sealer TA EVANS PITTSBURGH Quart. Aquamarine, applied grooved ring wax sealer mouth finish, light haze, no damage including a nearly perfect applied lip (a few pinpoint nix) which is rare to find for this jar. Embossing strong. Base: "TA EVANS & Co PITTSBURGH PA" Late 1800s, rare, and note that the overall haze can be removed easily with a standard pro-cleaning. – Greg Spurgeon, North American Glass, November 2020
Support: Reference to Other T Marks by Bill Lockhart, Beau Schriever, Bill Lindsey, Carol Serr, and Bob Brown
Support: Reference to Fruit Jar Annual 2020 – The Guide to Collecting Fruit Jars by Jerome J. McCann
Support: Reference to Red Book #11, the Collector's Guide to Old Fruit Jars by Douglas M. Leybourne, Jr.
Join the FOHBC: The Virtual Museum is a project of the Federation of Historical Bottle Collectors (FOHBC). To become a member.