Old Man's Stomach Bitters
Old Man's Stomach Bitters
Marcus Sass
O 42

Marcus Heinrich Sass
San Francisco, California
Medium Amber
Provenance: Steven Hubbel Collection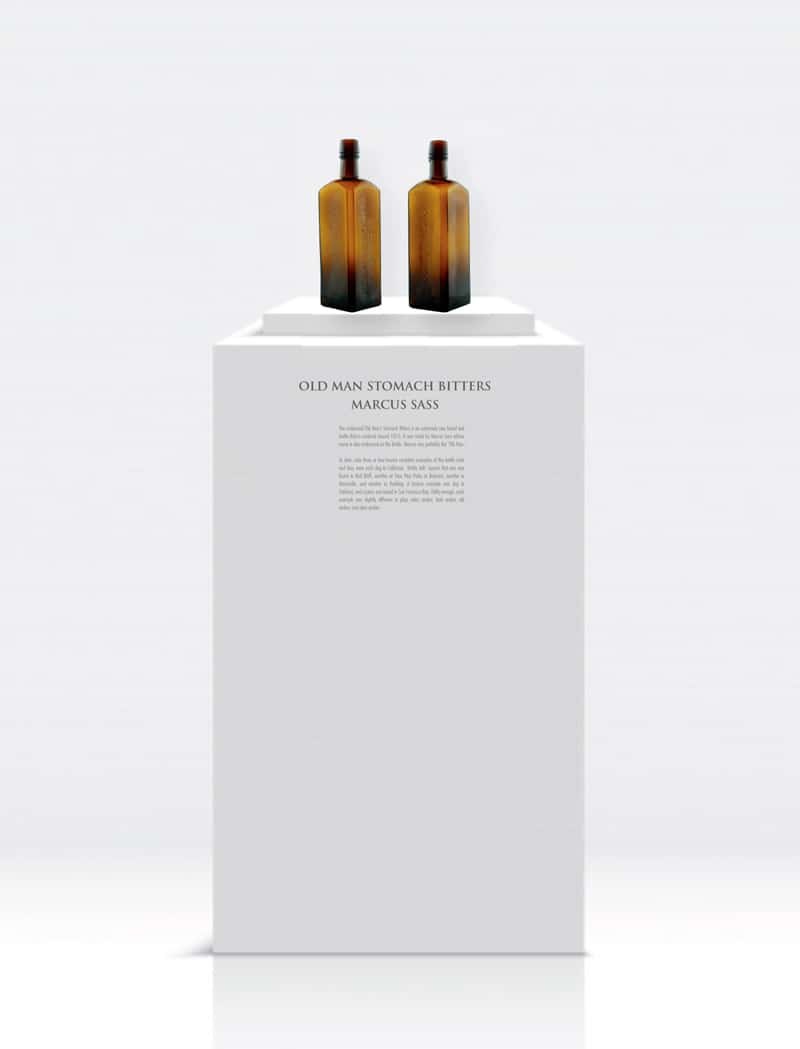 The embossed Old Man's Stomach Bitters is an extremely rare brand and bottle that is centered around 1876. It was made by Marcus Sass whose name is also embossed on the bottle. Marcus was probably the 'Old Man.'
To date, only three or four known complete examples of the bottle exist and they were each dug in California. 'Bottle talk' reports that one was found in Red Bluff, another at Twin Pine Parks in Belmont, another in Marysville, and another in Redding. A broken example was dug in Oakland, and a piece was found in San Francisco Bay. Oddly enough, each example was slightly different in glass color; amber, dark amber, old amber, and olive amber.
The bottle is also represented on the 2012 Western Bitters Survey which was an attempt to list the top 20-25 western bitters.
This bottle was unknown in an embossed form until a dark amber example was discovered in the Red Bluff, California area in the late 1980s. Prior to this discovery, it was believed that this brand was a 'label-only' bitters.
With so few surviving bottles and the examples in different shades of amber, it would indicate that only a few small orders of bottles were placed by a grocer named Marcus Sass in San Francisco, California in 1875-76.
The Carlyn Ring and W.C. Ham listing in Bitters Bottles Supplement 2 is as follows: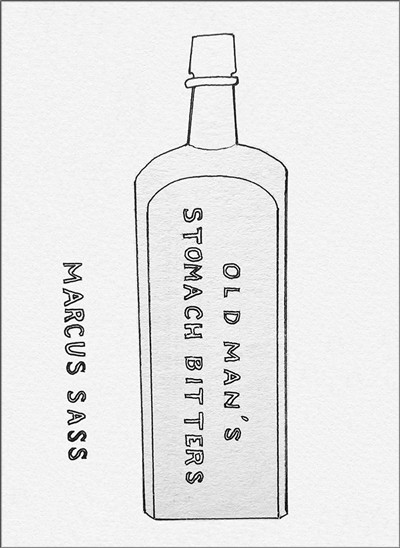 O 42 OLD MAN'S / STOMACH BITTERS // f // MARCUS SASS // f //
L … Old Man's Stomach Bitters
9 ¾ x 2 7/8 (7 3/16) 3/8
Square, Amber, Old amber and Olive-amber, LTCR, Applied mouth, Extremely rare
Three known complete examples, all dug in California. One found at Twin Pine Parks in Belmont, another in Marysville, and another in Redding. A broken example was dug in Oakland. A piece was found in San Francisco Bay.
See O 42 in Bitters Bottles
Marcus Heinrich Sass
Marcus Sass was born about 1808 in Hamburg, Germany according to an 1870 United States Federal Census report. That same year, 1870, he was living in San Francisco and was 62 years old. The report said his wife was named Johanna (Hannchen Margaretha Catharina Koops) and they had five children, Henry 32, Christian 25, Edward 24, Amandus 23, and Mary 21. All were born in Germany.
We do not know when Marcus Sass immigrated to America though we pretty much know he came through New York like many Germans escaping political oppression at home and looking for new riches in America. We actually see Marcus working as a grocer in 1860 living in Newark, New Jersey. He would leave later that year for the Golden State, on the heels of the great Gold Rush.
We next see a San Francisco directory listing for Marcus Sass in 1862 where he worked at as a handcartman, a rather common position of that day and time.
Marcus Sass would quickly get back into the grocery business during the second half of the 1860s and early 1870s. His son Edward would work with him. We see him listed for a number of years as Marcus Sass, groceries and liquors, 311 Seventh. He would be at this location through 1875.
The big year for Marcus and our bottle was 1876. We see him again listed as 'Marcus Sass.' This time he has 'proprietor Old Man's Stomach Bitters' and had a 110 Drumm address next to his name. This means he was about 70 years old, an old man, when he concocted and sold his Old Man's Stomach Bitters.

Marcus would remain a grocer through the 1880s. He was addressed at 715 Natoma in 1883 and in 1887 to 1888 was located at 216 Van Ness. A spot check in 1887 would show that four children followed Marcus to San Francisco as Amandus H. Sass was living at 24 ½ Langton, Christian Sass was a stevedore living at the rear of the corner of Greenwich and Sansome, Edward was listed working at a liquor saloon located at 118 Washington and Henry was a butcher at S.F. Packing and Provision Co. and M. Bauer (Sass) possibly listed as a dressmaker. This might have been Mary.
Marcus Sass died on June 7, 1889. He was 81 years and 6 months old.
Primary Image: Old Man's Stomach Bitters imaged on location by the FOHBC Virtual Museum midwest studio led by Alan DeMaison.
Support Image: Auction Lot 37: "OLD MAN'S / STOMACH BITTERS – MARCUS SASS", (O-42), California, ca. 1870 – 1885, medium amber, 9 7/8"h, smooth base, applied mouth. Lightly cleaned to its original luster and near-perfect condition (a few faint scratches remain). Curt Paget Collection. Extremely rare, one of only two or three known examples, all of which are in western collections. This example was dug by Curt in the Marysville dump in 1977 and is the example used in Ring/Ham, 'For Bitters Only'. – Jim Hagenbuch and Glass Works Auctions | Auction #101
Support Image: Broken and assembled "OLD MAN'S / STOMACH BITTERS / MARCUS SASS" circa 1876 only. – OldWestBottles.com
Support: Reference to Bitters Bottles by Carlyn Ring and W. C. Ham. Use of Old Man's Stomach Bitters illustration courtesy Bill Ham.