The Scranton Jar G.H.C. 2
The Scranton Jar
G. H. C.
The Scranton Jar Company, Scranton, Pennsylvania
Citron Green Quart
Provenance: Phil Smith Collection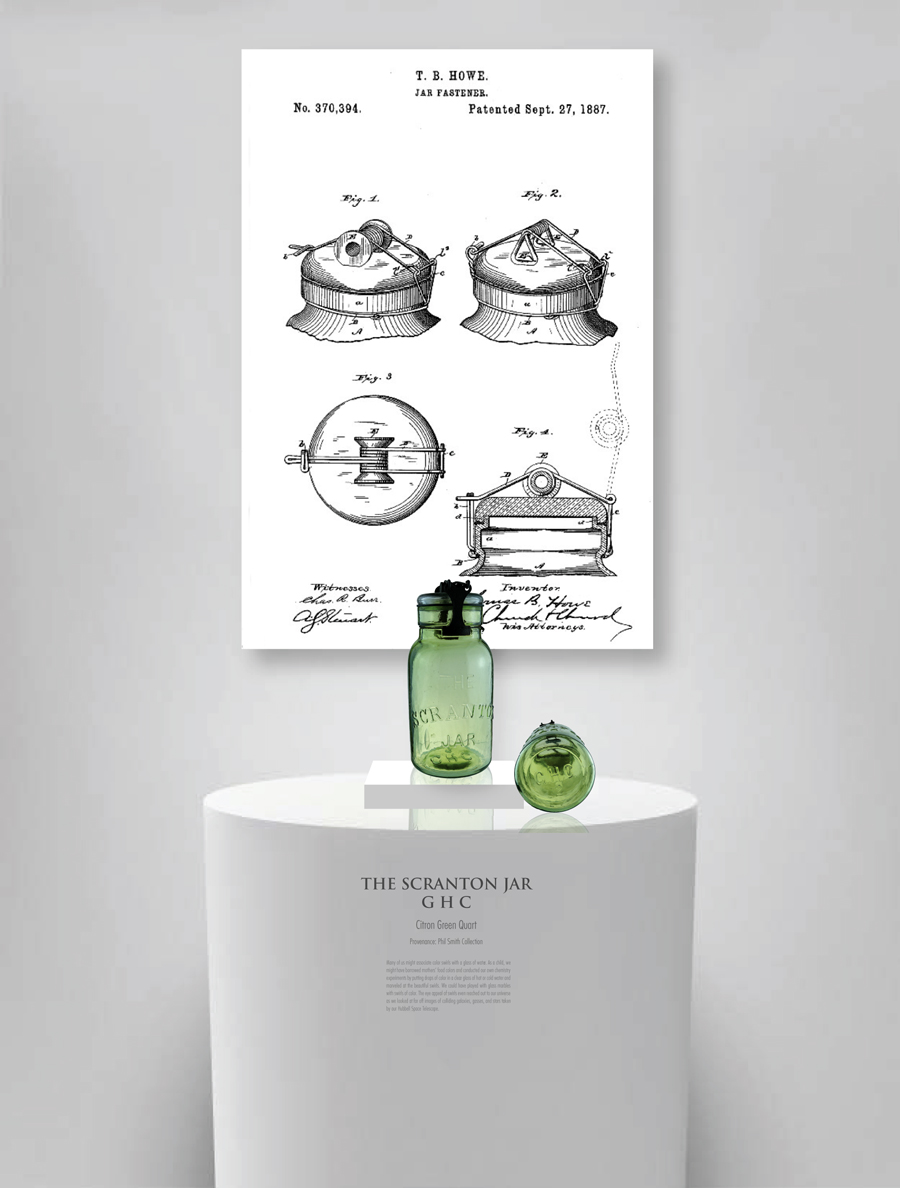 Our extraordinary citron-green quart jar is embossed 'THE SCRANTON JAR' in three lines on the face of the jar. The word "Scranton" is in an arc using a serifed typestyle, while "The" and "Jar" are in a sans-serif typestyle. The jar is base embossed 'G. H. C.' in a sans-serif type with an embossed number '2' that is serifed.
The jar is hand blown with a ground lip. The closure is a top seal using a straddle lip glass lid held down by a three-piece metal and coiled wire clamp, coil wrapped around a wooden spool to equalize pressure on the lid. There are depressions blown in the neck of the jar to hold the metal clamp. The jar, when found, is typically in an aquamarine glass pint or quart. Sometimes the base is unmarked.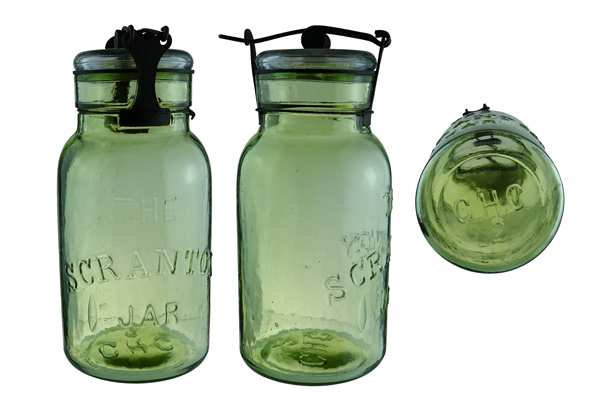 Thomas B. Howe was, for a brief time, was a prolific inventor. Between 1887 and 1890, he patented no less than seven jar or bottle-related patents. One of these was used on The Scranton Jar, and another, patented on February 28, 1888, was for the Howe Jar. The Scranton Jar was made from 1888 to 1890 by the Scranton Jar Co. of Scranton, Pennsylvania. On June 29, 1887, Howe applied for a patent for a "Jar Fastener" and received Patent No. 370,394 on September 27, 1887.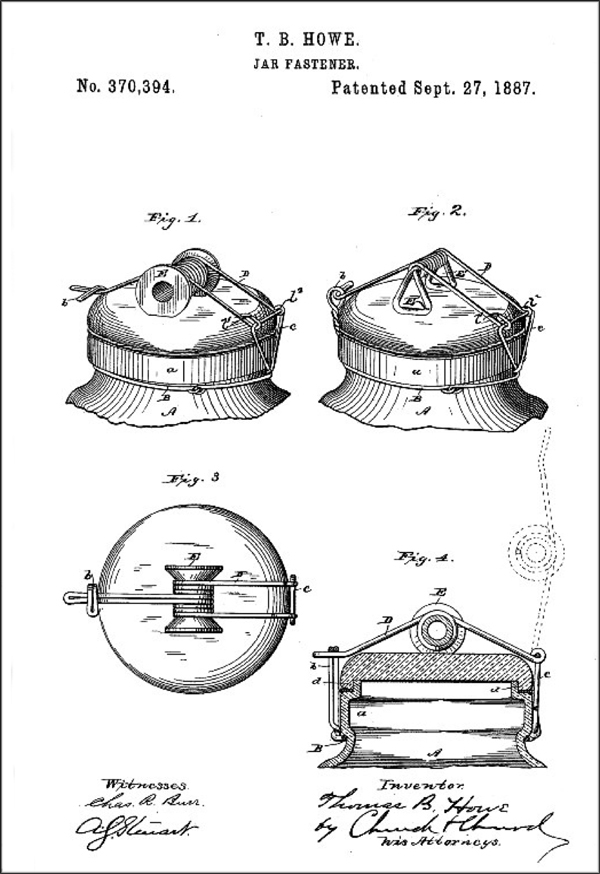 Scranton Glass Co. in Scranton, Pennsylvania, manufactured bottles and jars sold through the Scranton Jar & Stopper Co. from 1881 to 1895, possibly as late as 1900. This company was noted for the Bloeser, Howe, and Scranton jars and the Howe Milk Bottle that used the same closure as the jar.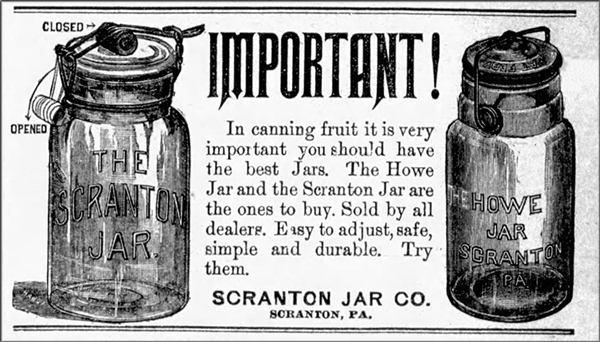 The Scranton Glass Co., Ltd. was incorporated in 1881 with a capital of $15,000. The company made green and amber glass at its factory in Green Ridge, a subdivision of Scranton. The factory was located at 301 Green Ridge St., corner of 3rd & Green Ridge, from at least 1883 to 1885, then expanded to 301-329 Green Ridge in 1885. C. P. Matthews was the president. The company reorganized with another incorporation on November 11, 1887, with a capital of $100,000, removing "Ltd." from its name. Matthews remained president with E. P. Kingsbury as vice president, Charles Henwood as secretary and treasurer, and M. A. Goodwin as general manager and superintendent.

The Scranton Jar Co. was formed in 1887, probably to market the Howe jar. That year, the concern advertised itself as "Manufactures of all kinds of Hollow Ware, Soda and Beer, Flasks and Wine Bottles also, Druggists' Ware" in the city directory and increased its capital to $150,000. Meanwhile, by at least September 22, 1888, R. Bloeser had opened the Scranton Stopper Co. in Scranton at 123 Penn Avenue—probably as a sales outlet for the Bloeser jar. The two firms merged when the Scranton Jar & Stopper Co. was incorporated on January 16, 1889. Thomas B. Howe, Rudolph Bloeser, George H. Clearwater, M. A. Goodwin, and others were the original incorporators. It is thought that the "G. H. C." initials embossed on the base of the jar might stand for M. A. Goodwin, Thomas B. Howe, and George H. Clearwater as Howe assigned two-thirds of his patent to these officers of the Scranton Glass Co. In 1889, the firm advertised "The Howe Milk Jar.
Primary Image: The Scranton Jar imaged on location by Alan DeMaison, FOHBC Virtual Museum Midwest Studio
Support Image: Apple Green THE SCRANTON JAR, Fruit Jar, A rare, odd-closure quart in a scarce apple green color. Very strongly embossed and comes with its very unique original metal and wood closure assembly. The unmarked glass lid is an exact color match (one tiny flick on the edge of the lid, very minor). The jar is in great shape with good glass character and no damage. The base has a large "G.H.C." over a backward "1″. A beautiful jar that is very rarely seen for sale, especially in this color. – Greg Spurgeon, North American Glass
Support: Reference to The Scranton Glass Firms by Bill Lockhart, Beau Schriever, Bill Lindsey, and Carol Serr
Support: Reference to Alice Creswick material (letterhead).
Support: Reference to Fruit Jar Annual 2020 – The Guide to Collecting Fruit Jars by Jerome J. McCann
Support: Reference to Red Book #11, the Collector's Guide to Old Fruit Jars by Douglas M. Leybourne, Jr.
Join the FOHBC: The Virtual Museum is a project of the Federation of Historical Bottle Collectors (FOHBC). To become a member.