F. Krueskamp & Co Mineral Water Cincinnati
F. Krueskamp & Co
Mineral Water
Cincinnati
K
This Bottle IS Never Sold
Frederick W. Krueskamp, Cincinnati, Ohio
Emerald Green Soda
Provenance: Doug Shutler Collection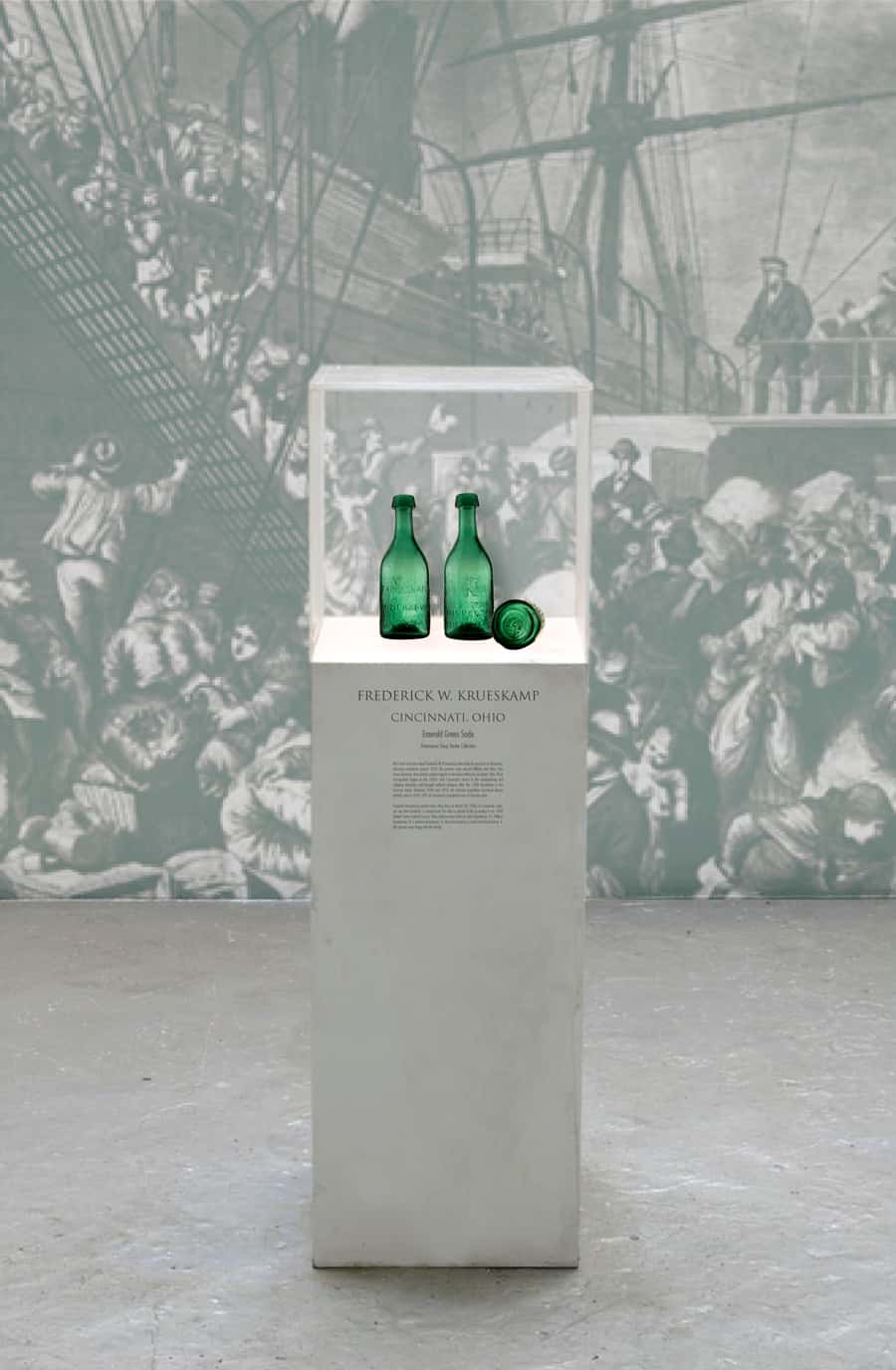 Not much is known about Frederick W. Krueskamp other than he was born in Hannover, Germany sometime around 1818. His parents were named William and Alice. Like many Germans, Krueskamp would emigrate to America settling in Cincinnati, Ohio. Mass immigration began in the 1830s with Cincinnati's boom in the meatpacking and shipping industries and brought political refugees after the 1848 Revolution in the German states. Between 1840 and 1850, the German population increased almost tenfold, and in 1860, 30% of Cincinnati's population was of German stock.
Frederick Krueskamp would marry Mary Rex on March 30, 1846, in Cincinnati. Later, we see that Frederick is married and his wife is named Emily according to an 1860 United States Federal Census. Their children were listed as John Krueskamp 13, William Krueskamp 10, Frederick Krueskamp 8, Henry Krueskamp 6, and Emma Krueskamp 4. His parents were living with the family.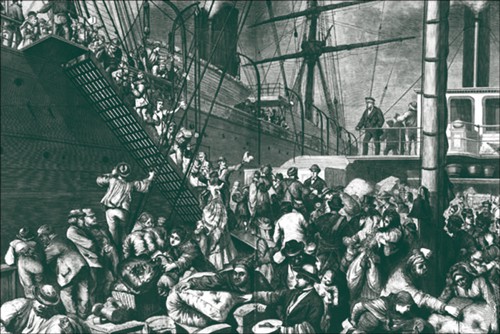 We first see a business listing for Krueskamp, Meyer & Co. in the 1853 Cincinnati Ohio City Directory. Frederick W. Krueskamp, Anthony Meyer, and John T. Knagge were partners selling wholesale wines, liquors, and cigars at 135 Camp Street. He was living across the Ohio River in Covington, Kentucky.
In 1851, the mineral water business was very competitive in Cincinnati. as the city was host to eight mineral water factories with 64 employees who produced over one $100,000 in annual output. Somewhat puzzling is that Krueskamp is never listed with the evolving and changing group of mineral water manufacturers in the 1850s or 1860s. By 1861, Krueskamp is listed as an Importer and Wholesale and Retail Dealer in Groceries and Liquors, & Manufacturer of Rectified Whisky located at the southwest corner of Lex, Pike and Craig. These types of listing would occur up to the mid-1870s.
In 1875, there were a number of newspaper notices relating to Krueskamp and other liquor dealers having their businesses seized by the government for carrying on a whiskey business without a license and without stamping their rectified goods as such. This caused quite a stir in the Cincinnati business community as the penalty was the confiscation of the whiskey, imprisonment, and steep fines. Not long after that, F. R. Krueskamp was elected Treasurer of the German Mutual Life Insurance Company so maybe the legal issues forced a change.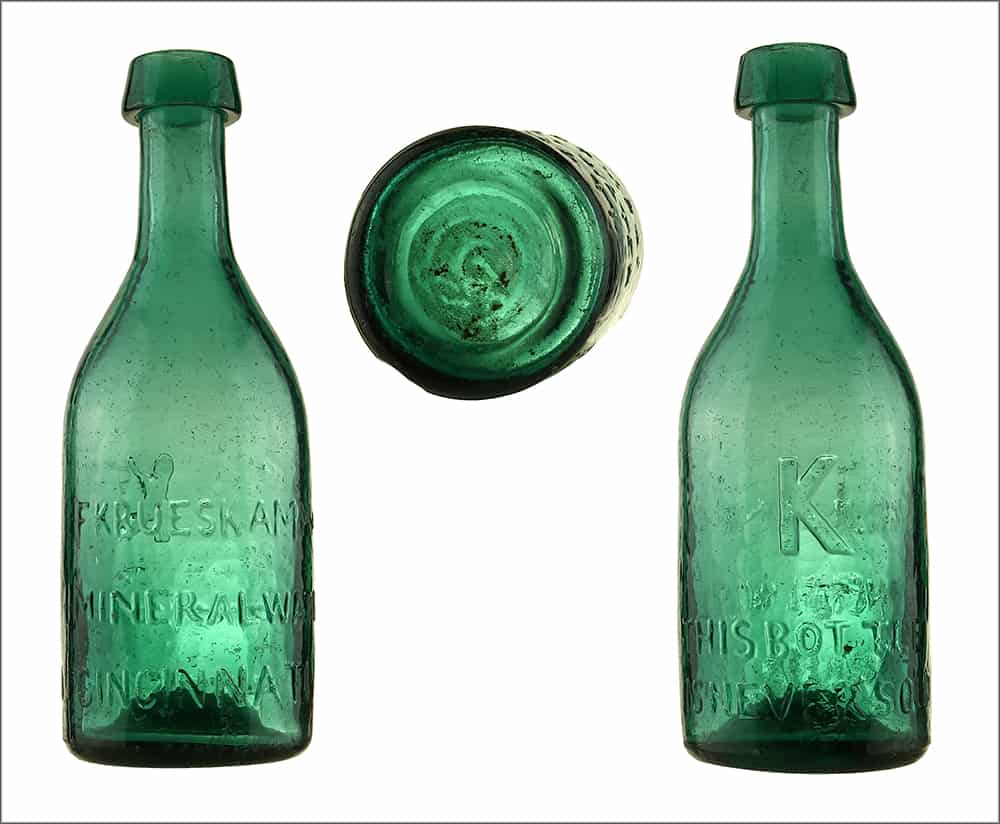 Our emerald green soda bottle is embossed on the obverse, 'F. KRUESKAMP & Co' (1st line, the 'o' is smaller, raised and a bit askew), 'MINERAL WATER' (2nd line), and 'CINCINNATI' (3rd line). The reverse has a 7/8″ tall embossed block letter style 'K' and 'THIS BOTTLE IS NEVER SOLD' in two-lines beneath. Many soda water bottles have an extensive base and side wear as soda water bottles were the property of the soda bottler and were sometimes marked like our example, 'THIS BOTTLE IS NEVER SOLD' or similar embossing to that effect. The base has an iron pontil and there is an applied tapered mouth.
The difference between 'soda water' and 'mineral water' during the 19th century was often vague. Soda water was generally considered flavored artificial mineral water with the purposeful addition of carbonation and various compounds and flavoring. Mineral or spring water as it was also called, would generally be natural waters from spring sources that were typically highly mineralized with carbonates like alkaline, sulfurous compounds, and or various salts which often carbonated naturally. The confusion sometimes arises when mineral water was used as a generic term applied to various natural and artificially carbonated, non-artificially flavored waters including many utilized for their perceived medicinal qualities. Please visit the museum Spring & Mineral Water Gallery.
Without direct evidence, we can date this bottle to the very late 1840s and early 1850s. It would seem that Frederick Krueskamp wanted to have his own brand of mineral water available to his liquor customers.
Support: Reference to The American Pontiled Soda Database Project, Tod von Mechow
Primary Image: F. Krueskamp & Co. bottle imaged on location by the FOHBC Virtual Museum midwest studio led by Alan DeMaison.
Support Image: F. Krueskamp & Co. Mineral Water bottle in teal green auctioned by Jim Hagenbuch, Glass Works Auctions.
Support Image: From the old to the new world. German emigrants for New York embarking on a Hamburg steamer. Courtesy of the Library of Congress Prints and Photographs Division, Washington, D.C.
Support: Reference to Soda & Beer Bottles of North America, Tod von Mechow