Thos. Taylor & Co. (Sixth)
Thos. Taylor & Co.
Importers
Virginia, N.
Thomas Taylor & Co., San Francisco & Virginia, Nevada

Olive Cylinder Sixth
Provenance: Steven Hubbell Collection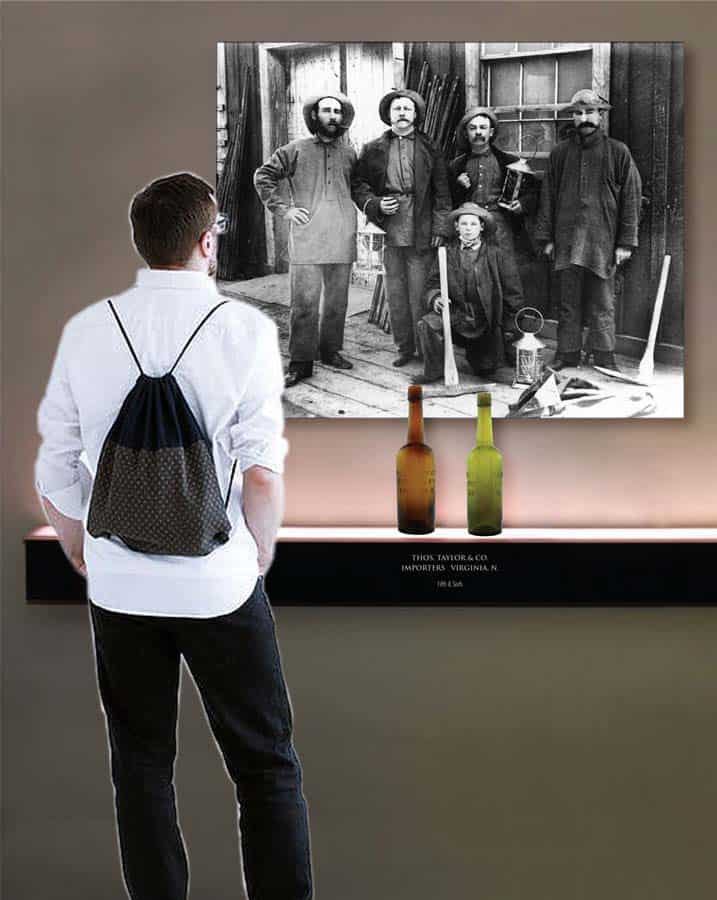 The "Thos. Taylor & Co., Importers Virginia, N." is an early applied top cylinder that is a sixth (6th) in size compared to the traditional fifth (5th) or quart (4th) bottles. In a beautiful olive green glass coloration, it pairs nicely with our museum example of an amber fifth Thos. Taylor & Co. bottle. There is also a slug plate Thos. Taylor Co. bottle that came a little bit later. Two examples are pictured above.
It is thought that the Thomas Taylor & Co., Virginia N. bottles date from the 1865 to 1874 period, and were probably used during that entire period. The sixth size bottle may date from the first half of that period, circa 1865 to 1869, and the fifth may date from the second half, circa 1870 to 1874.
Thomas Taylor began his liquor career in San Francisco during the 1850s California Gold Rush era. Taylor was born in Hamburg, Germany in 1831 and came to California, first working in Sacramento, then in San Francisco selling liquor to California and Nevada pioneers looking for new fortunes that usually related to silver and gold. By 1858, Taylor had started his own wine and liquor business at 109 Clay Street. Taylor was an astute businessman and realized that his wholesale liquor business might thrive if he became the exclusive or sole agent for popular brands of liquor. This was his method of market control. If Taylor could pick the right products, many from Kentucky distilleries, he could develop a strong business model since he was the only distributor of that product. In this manner, any saloon, grocery, or drug store that wanted a particular brand of whiskey controlled by Taylor had to come to him.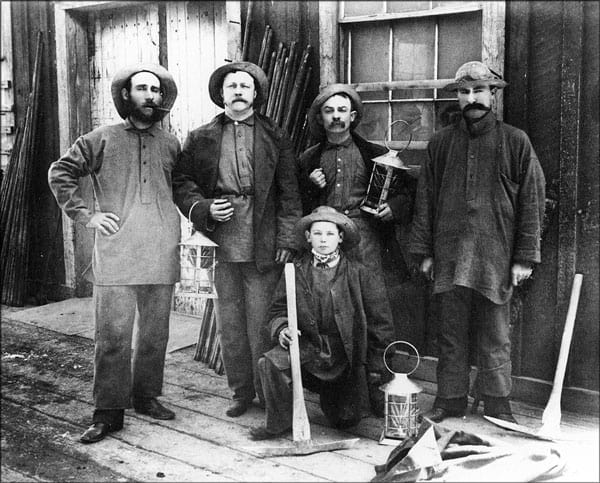 In 1861, Taylor became partners with John G. Frisch importing and dealing wines and liquor at 413 and 415 Clay Street in San Francisco. The business was known as J. G. Frisch & Co. You can see an extremely rare California Bitters in the Bitters Gallery that was put out by Frisch.
Taylor and Frisch took the tough, rugged trip to Virginia (later Virginia City), Nevada, Territory in the early 1860s. Nevada would not become a state until October 31, 1864. After the discovery of the Comstock Lode in 1859, the town developed seemingly overnight on the eastern slopes of Mount Davidson, perched at a 6,200-foot elevation. Below the town were intricate tunnels and shafts for silver mining. The Comstock Lode discovery and subsequent growth of Virginia City were unrivaled in American history.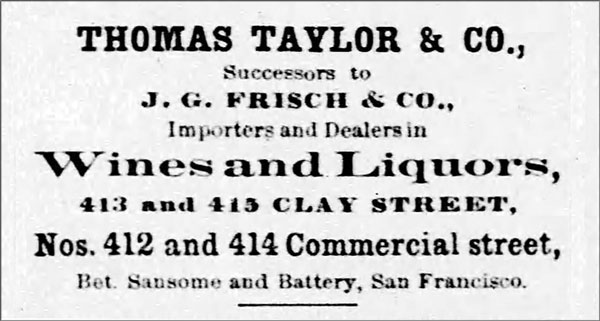 Frisch and Taylor undoubtedly recognized the need for a wholesale liquor business in burgeoning Virginia city, and the potential success if he could keep the merchants supplied. This was not an easy task for a whiskey merchant since importing barrels and kegs of whiskey meant long, difficult hauls over the Placerville-Genoa wagon road. By 1863, Virginia City was rivaling San Francisco as the financial center of the west. It was certainly the western mining center, and much of the business transacted in western mining camps went through Virginia City one way or another, including whiskey. Taylor became one of the first of the San Francisco whiskey merchants to recognize this golden opportunity. By 1864, Frisch had moved on and the business was now Thomas Taylor & Co. as you can see from the newspaper advertisement below.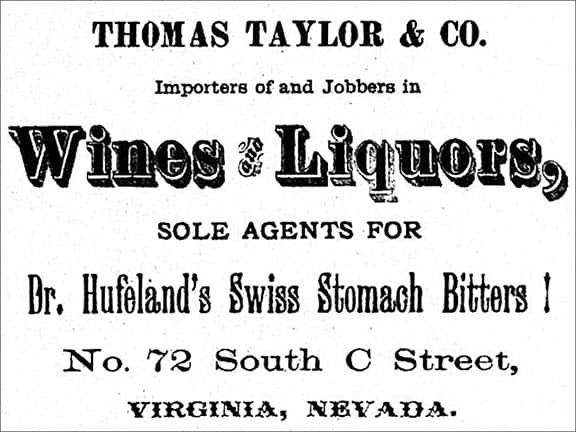 Taylor's businesses in both San Francisco and Virginia City were important to the economy of the Comstock. Not only did Taylor's liquor business supply liquor to retailers and saloons, but he also supplied liquor, empty barrels, and related hardware to the mines. It is easily understood why most of the found bottles occur in Virginia City and the surrounding areas. Thomas Taylor died suddenly on March 16, 1874, in San Francisco at the young age of 43. His name and brand would live on.
Primary Image: The Thos. Taylor & Co., Importers Virginia, N. bottle imaged on location by Alan DeMaison, FOHBC Virtual Museum Midwest Studio
Primary Support: Reference to Nevada History Through Glass, The Nevada Bottle Book by Fred N. Holabird
Support: Reference to Whiskey Bottles of the Old West by John L. Thomas, 2002
Support Image: Two (2) Thos. Taylor & Co. Sole Agents for P. Vollmers Old Bourbon, Louisville, KY applied top, slug plate bottles – Jeff Wichmann & American Bottle Auctions.
Join the FOHBC: The Virtual Museum is a project of the Federation of Historical Bottle Collectors (FOHBC). To become a member.