Agnew & Brown (Pigeon)
Agnew & Brown
(Embossed Pigeon)
Corner of 27th & Smallman Sts. Pittsburgh Pa.

Daniel Agnew and Samuel C. Brown, Pittsburgh, Pennsylvania
Golden Amber Target Ball
Provenance: Ex: Ralph Finch Collection, American Glass Gallery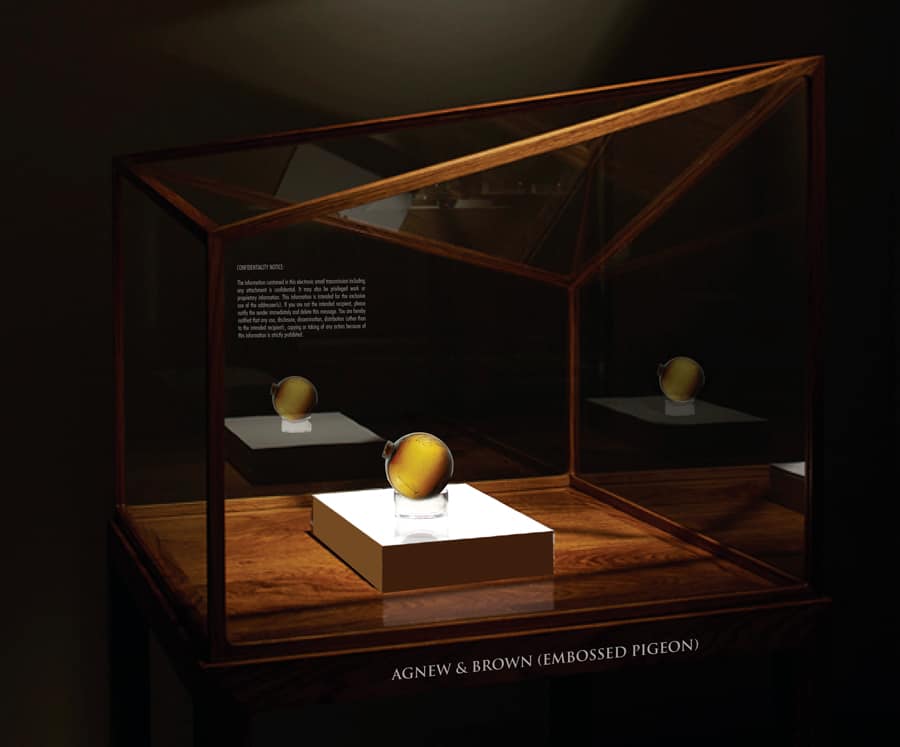 The "Pigeon Ball" represents the epitome of target ball collecting and some say it is the "Holy Grail" of target balls. So much so that many collectors put the Agnew & Brown "pigeon" at the top of their favorites list. So rare that only a few have been seen and held before by collectors. The combination of rarity, desirability, and eye-appeal, is second to none.
The 2-5/8″ diameter, golden-amber, "pigeon" advertising ball has the embossed profile image of a two-wing pigeon featured on one side of the ball with its head and beak almost touching the mouth of the ball. The detail is so precise, you can count the feathers on the bird. The tail and wingtips reach down to the bottom area of the ball.
On the opposite side, the ball is embossed horizontally in four lines, 'AGNEW & BROWN' on the top line with 'CORNER OF 27TH' on the second line. The third line is embossed with '& SMALLMAN STS.' and 'PITTSBURGH PA.' is embossed on the fourth line.
The ball, in perfect condition, was made in a 3-piece mold and has a rough sheared mouth. It was probably made as a glasshouse sample to be given to special customers sometime around 1880. A story substantiating this is represented further below.
Our museum example was Lot 768 in the Ralph Finch Collection of Target Balls, Traps, and Shooting Ephemera auction catalog.

Agnew & Brown probably produced more target balls than any other glasshouse, ever. On November 19, 1880, a notice in the Pittsburgh Daily Post said "Agnew & Brown, Twenty-seventh and Smallman streets, are turning out glass balls at a rate of 50,000 per week."
We first see Agnew & Brown in 1879 located at Liberty and Twenty-Ninth streets with lubricating oil next to their Pittsburgh business directory listing. For some reason, they decided to go into a niche market and make target balls near the end of 1879.
By 1880, Agnew & Brown were listed as glassmakers at Twenty-Seventh and Smallman streets in what was called the Strip District. As early as the 1820s and 1830s, the Strip District was home to iron mills, gun works, foundries, and glass factories. After the Civil War, industrial development flourished and new construction continued to move east, with factories lining the Allegheny River. There is speculation that Agnew & Brown may have taken over the old Fahnestock & Gladdens vial works to assist them in tooling up and making glass balls in relatively short order. By 1882, Agnew & Brown was listed as a manufacturer of glass balls.
It is interesting to note that Agnew & Co. Glass Manufacturers were also located in Pittsburgh during the same time period. This would have been John Agnew and Sons. Daniel Agnew was a cousin of John.
Daniel Agnew and Samuel C. Brown constituted Agnew & Brown. Apparently Brown was a physician so that left Agnew to run the glassworks. He was born in 1825 and was a glassblower as early as 1850. In 1879 he installed a new type of glass furnace that he patented on April 1st of that year.
Agnew & Brown advertised that they were making their "Celebrated Pigeon Balls of All Colors." We can surmise that they had robust orders to make Bogardus target balls named after Capt. Adam H. Bogardus. One order in July 1880 was for one million Bogardus Glass Balls. The balls were produced in amber and blue glass. They also had a half-million target ball order from J. Palmer O'Neil & Co. Pittsburgh and probably once produced the J. H. Johnson Great Western Gun Works balls. They shipped their target balls in barrels packed with straw. There were 205 balls per barrel on a two hundred-ball order which allowed for expected breakage during the trip.
The advent of the clay pigeon most likely put a quick end to Agnew & Brown making glass balls. One can only imagine the number of glass shards left on the ground for roving livestock and the occasional barefoot child. Agnew & Brown realized this and started to produce druggist's prescription bottles by the first week of December 1880. They even began to produce flasks. By 1883, Agnew & Brown and Daniel Agnew all but disappear from the annual Pittsburgh city directory. In 1890, there are records of Daniel Agnew being a senior member of the firm Agnew & Co. (cousin John Agnew) who was still operating a glasshouse.
Primary Image: The Agnew & Brown "Pigeon Ball" imaged on location by Alan DeMaison, FOHBC Virtual Museum Midwest Studio
Primary Image: Auction Lot 768: (Pigeon) – "AGNEW & BROWN / CORNER OF 27TH / & SMALLMAN STS. / PITTSBURGH PA." Target Ball, a Pittsburgh glasshouse, 1875 – 1900. Golden amber, highly detailed, embossed image of a pigeon, 3-piece mold, rough sheared mouth, dia. 2 5/8", perfect! This is it! Considered to be the "Holy Grail" of target balls, the 'whole shootin match', so to speak. The combination of rarity, desirability, and eye-appeal, are second to none. Ex. Alex Kerr, Peter Frobouck collections. Est.: $15,000 – $30,000 – The Ralph Finch Collection of Target Balls, Traps and Shooting Ephemera, An Absentee Auction in Six Parts – 2017-2019, John Pastor and American Glass Gallery
Support: Reference to Glasshouses and Glass Manufacturers of the Pittsburgh Region: 1795 – 1910, Jay W. Hawkins, 2009
Secondary Image: The Pigeon – "Agnew & Brown / Corner Of 27th / & Smallman Sts. / Pittsburgh Pa." Target Ball is one of the rarest target balls in existence, with only two known examples. This example comes from the collection of Ann McMurphy, who discovered the target ball in her ancestral home in Southern Illinois. She believes the target ball was originally owned by her great-grandfather, Mr. George W. McMurphy (see card above), who was the original inhabitant of the property. George McMurphy originally resided in Springfield, Illinois where he was the owner of a large general store. His hobby, and secondary business, was raising and selling "High-Class Fancy Pigeons", as noted on the business card pictured above. According to Ms. McMurphy, "(George) did not trap shoot, nor would he in any way have desired to shoot a pigeon, glass or otherwise!" This target ball may have been a salesman's sample which George received, or perhaps a gift relating to his pigeon breeding hobby. The target ball was found in the McMurphy home along with a number of books relating to the raising of "high-class fancy pigeons", George W. McMurphy's business cards, antique pigeon carriers, and miscellaneous related supplies. This is certainly an exciting and rare target ball that carries an interesting and detailed history. This extremely rare target ball is being offered in our Premier Auction 159, March 19-28, 2018. – Norman C. Heckler & Company
Join the FOHBC: The Virtual Museum is a project of the Federation of Historical Bottle Collectors (FOHBC). To become a member.