From J.Q. Hill Apothecary Medicine Bottle
From
J. Q. Hill
Apothecary
John Quincy Hill, Worcester, Massachusetts
Olive Amber Bottle & Dose Glass
Provenance: Michael George Collection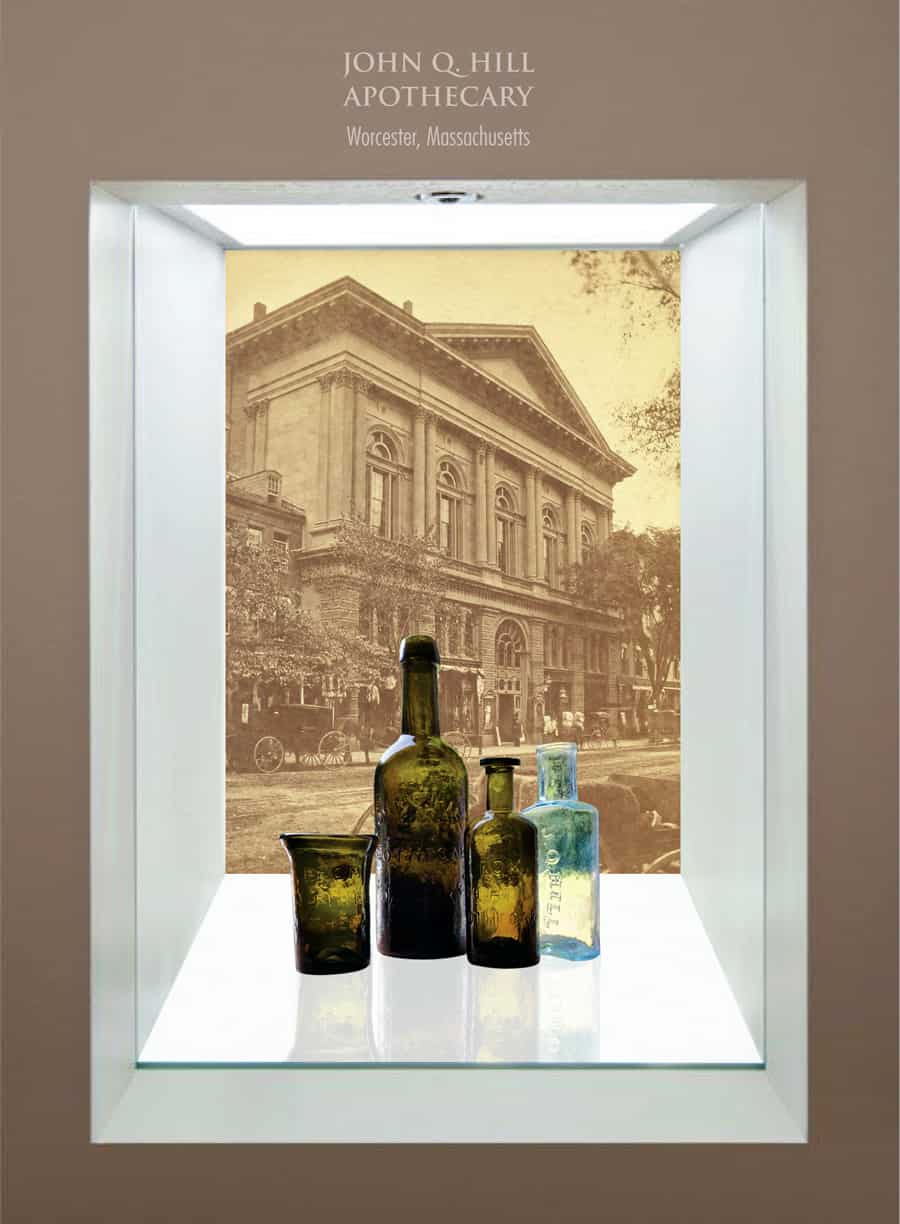 On loan to the museum is this wonderful embossed "From J. Q. Hill Apothecary" bottle and dose glass. The J. Q. Hill medicine bottle was dug by Carl Pratt in downtown Worcester, Massachusetts in the early 1980s during major road construction. Dan Baldwin bought it directly from Carl Pratt, who eventually sold it to the consigner, Michael George. It was considered unique then, and the bottle may still be unique today. The pieces were produced at a New England glasshouse such as Stoddard though there haven't been any shards excavated at the site. These pieces could be from a Connecticut glasshouse as well.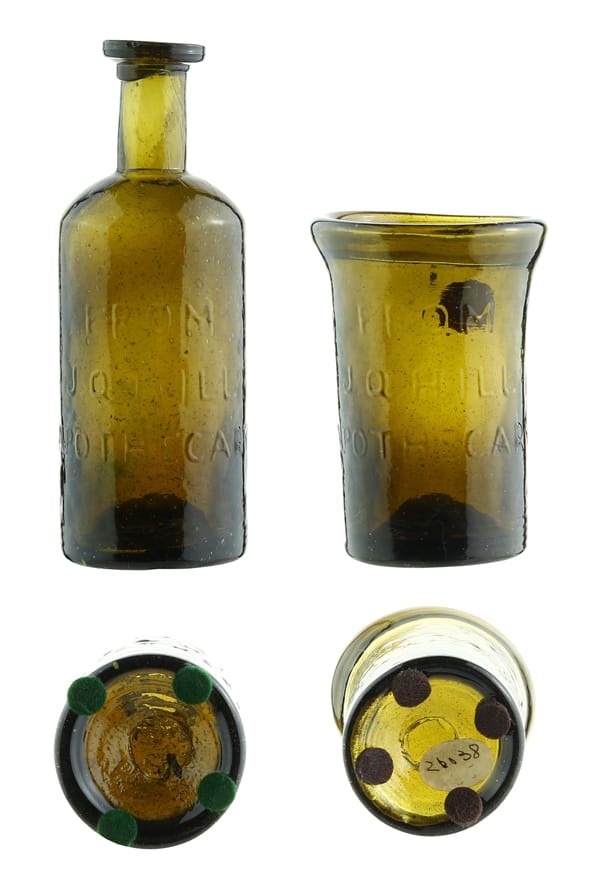 The dose glass, also considered unique, was made from the same mold as the medicine bottle. It was at one time or another in the George S. McKearin collection, Norman C. Heckler collection, and ended up in the Jim Chebalo collection. Jim and Michael always talked about these two pieces and said that both pieces should be together in a collection. When Jim became ill, he sent the bottle up to Michael as a gift, with a note saying "Thank you for being a friend," Jim passed shortly thereafter. Michael adds, "It was an incredibly touching gesture, and I have vowed to keep the bottles together. Yet another testament to the character of the bottle collector, and the camaraderie of this awesome hobby!"
See the museum example of the J. Q. Hill Apothecary dose glass
John Q. Hill
John Quincy Hill was born in Norton, Bristol County, Massachusetts on November 27, 1828. His father was Elias H. Hill (1784-1857) and his mother was Vercy Meacham Hill (1795-1847). He had a brother Jonathan Henry Hill (1818-1890) and sister Emeline H. Hill (1826-1913). He was married in 1854 to Mary Anne Sutton Hill (1831-1912). Hill and his wife lived throughout their lives in Worcester, Massachusetts. The couple would have two children, Mary S. and Walter Hill.
We first see a listing for John Q. Hill when he was 20 years old and working as a clerk at David Scott & Co. who were well-established druggists and apothecaries in Worcester, Massachusetts. Scott completed his education at the Leicester Academy, and at the age of seventeen began a four-year apprenticeship in the apothecary shop of Dr. James Green, of Worcester. After attaining his majority, Scott became a clerk in the store with Dr. Green and eventually learned as much as he could of medicine and surgery, as he was encouraged and helped by Dr. Green, who frequently took him along as an assistant in surgical operations.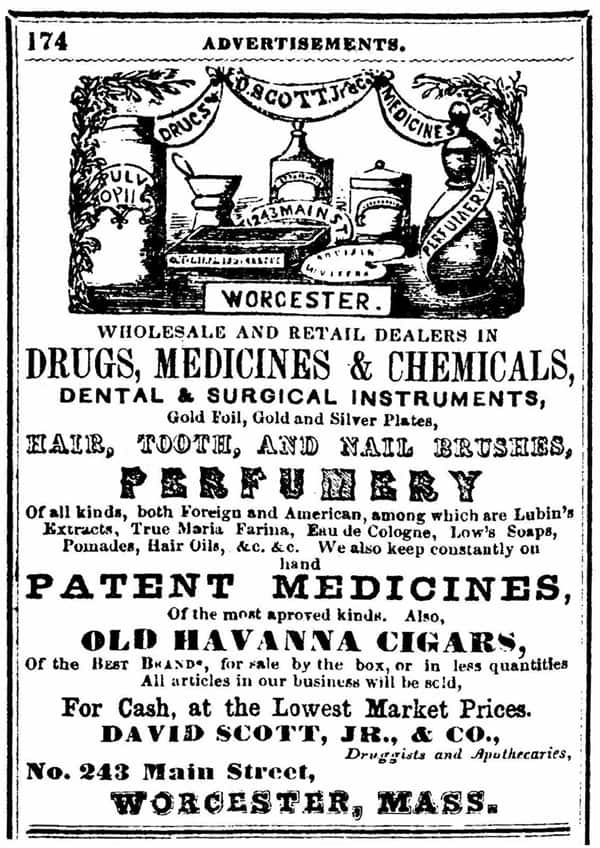 In 1845, David Scott opened a drug store on Main Street, near Exchange Street, where for five years he carried on a good business. Purchasing the interest of his partner in 1850, he moved to the corner of Main and Mechanic Streets, where he built up an extensive trade. He made money, and at a later time bought the four-story block where he was located. This proved a wise investment. The property has greatly increased in value so that it is now one of the most important business corners in the city. Scott subsequently began manufacturing and compounding many medicinal preparations, which found favor with the public, and in which for many years prior to his death he had a very profitable wholesale and retail trade, built up by his own ability and good judgment.
Now with enough experience as a druggist, John Q. Hill left Scott and went into partnership in 1853 with William W. Caldwell as Caldwell & Hill, apothecaries, located at 229 Main Street in Worcester. The next year J. Q. Hill married Mary Anne Sutton. By 1855, William Caldwell had left the partnership and the Worcester director that year listed John Q. Hill, druggist, 229 Main Street so Hill remained at the same location.
In 1856, John Q, Hill posted a notice in The Boston Medical and Surgical Journal, saying, "For Sale: In one of the pleasantest of Worcester County villages, the residence of a physician, consisting of house, office, barn, and sheds, an acre of land. For particulars inquire of J. Q. Hill, apothecary, Worcester, Mass."
The following year and up until 1863, John Q. Hill was listed as a druggist and owned an apothecary shop at Mechanics Hall Block. He sold all of the popular medicines of the day, including his own recipes and concoctions. He utilized the large storefront windows of this dramatic structure. According to advertisements, Mr. Hill had "a wonderful display… a splendid showcase filled with perfumery and extracts, most of which were put up by himself."
In 1857, Mechanics Hall was also home to the Worcester County Mechanics Fair. It was built in 1857 in the Renaissance Revival style and restored in 1977. Built as part of the early nineteenth-century worker's improvement movement, it is now a concert and performing arts venue ranked as one of the top four concert halls in North America and in the top twelve between Europe and the Americas.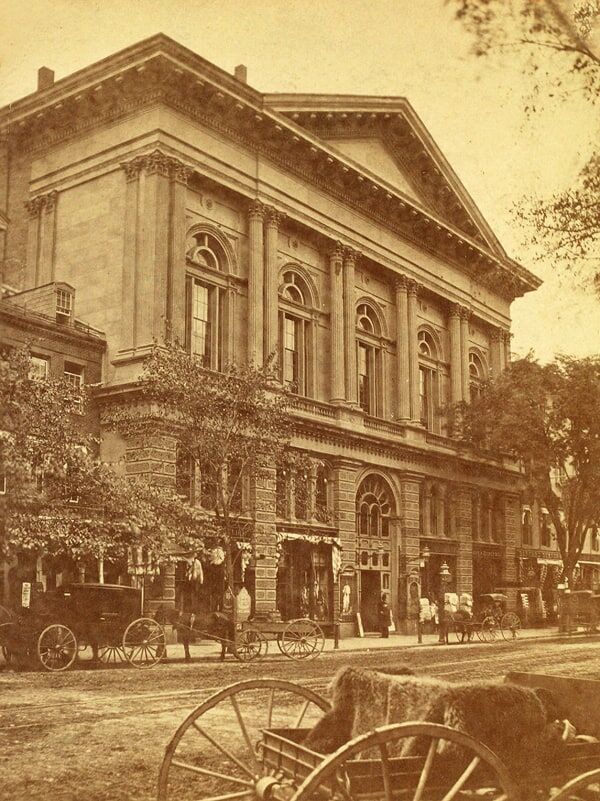 For the most part, John Q. Hill seemed to have private labeled other remedies and cures in his own packaging, which was a common occurrence in the retail environment of his day, as is still the case today. However, he did have a few noted products of his own, one of which was Hill's Mint Specific. Although we are unaware of any bottle with this embossing, it was likely distributed through the John Q. Hill, Apothecary bottles, and labeled accordingly. The mint specific was a cure for the balding and falling of the hair.
In 1863, John Q. Hill was 38 years old and was listed in the U.S. Civil War Draft Registrations Records. By 1867, Hill was still working out of Mechanics Hall on Bangs Block and "Perfumery" was his primary focus. By 1870, Hill was retired. He died on June 7, 1888, in Worcester.
Primary Image: The "From J. Q. Hill Apothecary" bottle and dose glass imaged on location by the FOHBC Virtual Museum midwest studio led by Alan DeMaison.
Support: Reference to American Bottles and Flasks and Their Ancestry by Helen McKearin and Kenneth M. Wilson, Crown Publishers Inc., New York, 1978.
Support Image: Photograph of museum example of "From J. Q. Hill Apothecary" bottle and dose glass – Michael George
Support Image: Photograph of four (4) J. Q. Hill Apothecary bottles – Michael George
Support Research: Michael George from a past magazine article on John Quincy Hill.
Support Image: John Q. Hill Apothecary, Mechanics Hall, Worcester advertisement – From The Heart of the Commonwealth by Henry Jenkins Howland · 1856
Support Image: Mechanics Hall, 1850 to 1930 (estimated), Warner, H. D. (Publisher), The Miriam and Ira D. Wallach Division of Art, Prints and Photographs, Photography Collection, The New York Public Library, Digital Collections