Dr. Wonser's U.S.A. Indian Root Bitters in Amber
Dr. Wonser's U.S.A. Indian Root Bitters
Amber
W 146

William Hawkins & I. H. Wonser
San Francisco, California
Provenance: Richard T. Siri Collection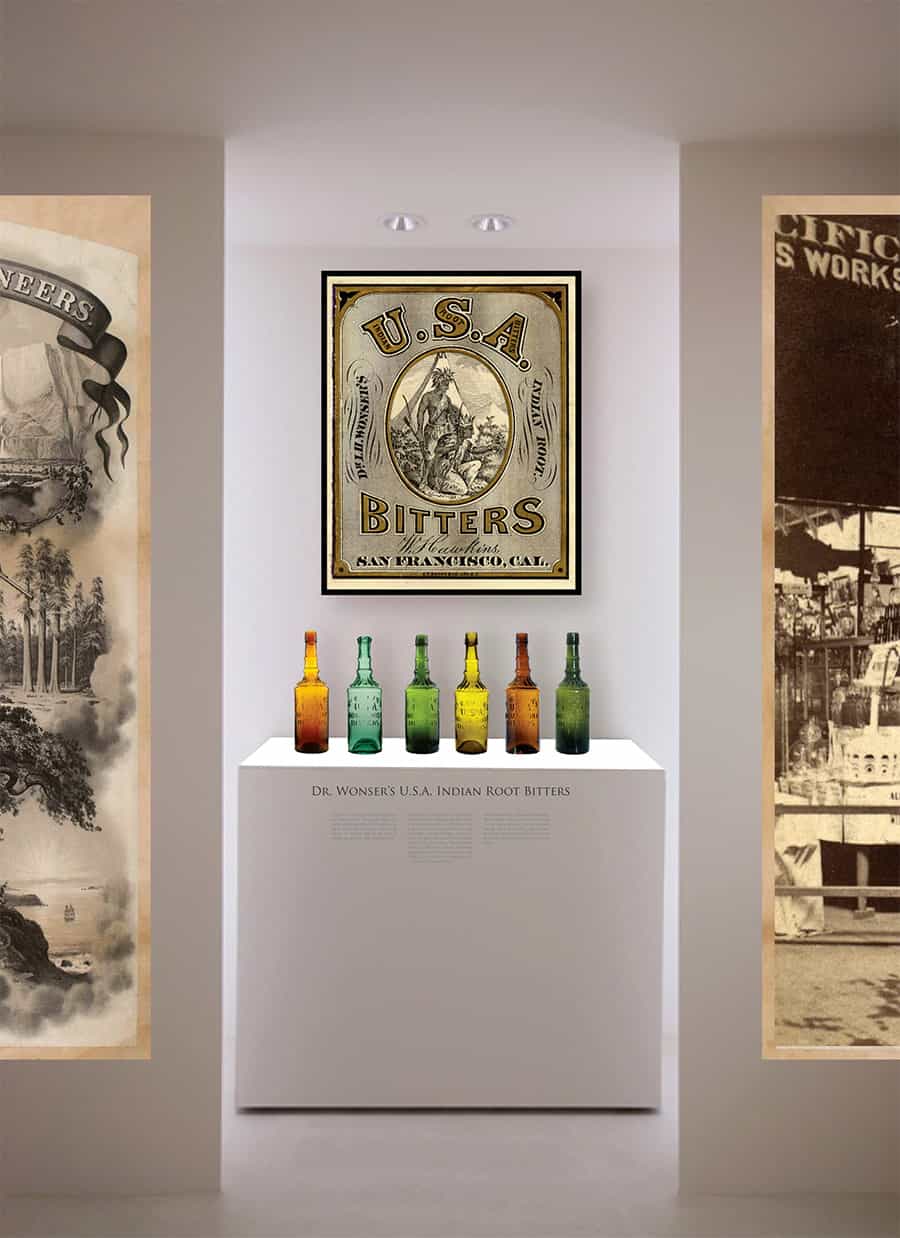 Our museum is fortunate to have a number of very fine examples of Dr. Wonser's U.S.A. Indian Root Bitters gracing our gallery. One in deep aqua, another in green, and this example in amber are featured. All from the Richard T. Siri collection in California. This is worth the price of admission alone if you ask any bitters or western bottle collector.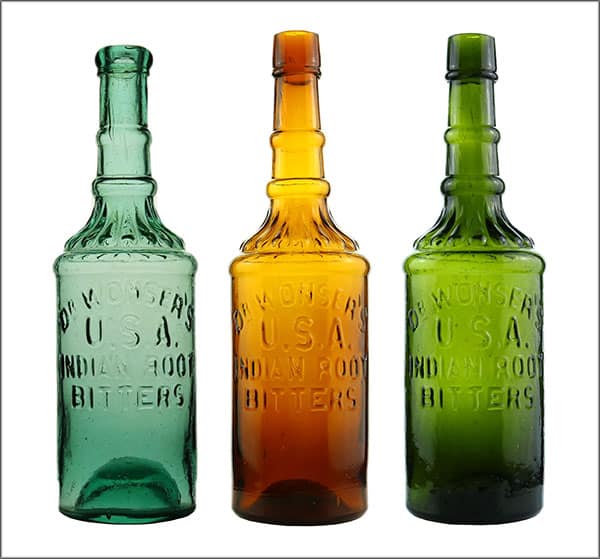 See the museum example of a Dr. Wonser's U.S.A. Indian Root Bitters in aqua
See the museum example of a Dr. Wonser's U.S.A. Indian Root Bitters in green
Dr. Wonser's is one of the top western bitters according to most advanced collectors. This unusually shaped round cylinder bottle has sixteen flutes on the shoulder and two rings on the neck and comes in some great colors and character. The interesting name and the pronounced embossed copy make these bottles stand out in a crowd.
Issac H. Wonser
Dr. Wonser's U.S.A. Indian Root Bitters was the invention of I. H. Wonser who lived in Milwaukee, Wisconsin. Whether he was really a doctor is unknown. In 1863 he was listed as Issac H. Wonzer (sic), Indian Root Bitters, s w c Spring and W. Water in the 1863 Milwaukee, Wisconsin City Directory. The spelling is odd because the 1868 Milwaukee directory lists an Israel H. Wonser, Bitters Manufacturer, rear 47 2d. In 1864, there is a Janesville, Wisconsin news clipping mentioning I. H. Wonser and his American Indian Root Bitters. This all is in reference to the predecessor of Dr. I. H. Wonser's U.S.A. Indian Root Bitters.
It was in Milwaukee that I. H. Wonser met William Hawkins. While they initially operated as partners, Wonser took more of a silent partner position and is not well documented historically.
William Hawkins
William Hawkins was born in 1814 in Rhode Island and moved to Milwaukee, Wisconsin in 1840 where he established himself as an accomplished machinist. He left his wife and family and moved to San Francisco somewhere around 1861 where he worked for the Union Foundry. Hawkins then went to the Reese River region of central Nevada for a period of time but soon returned to San Francisco and took up the machinist trade again until he partnered with I. H. Wonser to sell bitters.
The Dr. Wonser's U.S.A. Indian Root Bitters advertisements first appeared in The Gilroy Advocate (Gilroy, California) newspaper on June 25th, 1870 and the advertisement ran for three months. The manufactory and depot were listed as 645 Third St., San Francisco. Hawkins then would display seven dozen of his U. S. A. Indian Root Bitters at the San Francisco Fair on September 1st, 1870.
Hawkins placed a second, slightly different advertisement in the San Francisco Daily Examiner on December 17, 1870, and this ad ran for one month. The location of the manufactory and depot was now 418 Sacramento St., San Francisco.
William Hawkins applied for the trademark name of his bitters on June 3, 1871, as was reported in the Sacramento Daily Union on June 5th.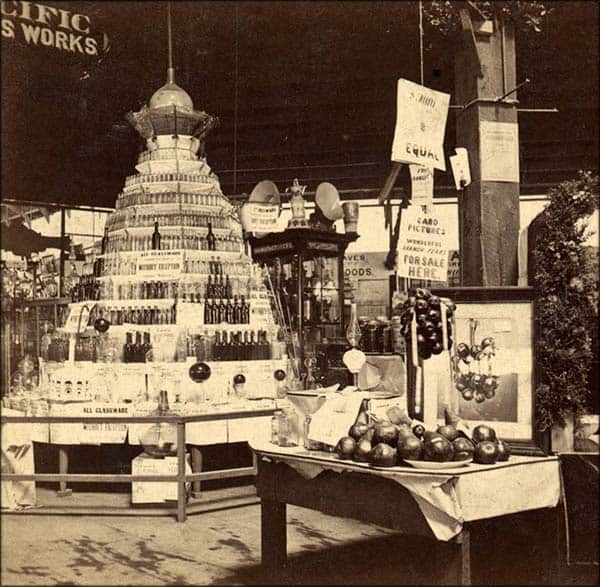 Hawkins entered his Wonser's U. S. A. Indian Root Bitters in the 1871 State Fair and on September 25th, 1871, received a diploma award. Another Wm. Hawkins advertisement appeared in the Wine Dealers Gazette, a monthly publication in the December 1871 issue.
This great remedy strikes at the root of every disease, which lies in the liver and the blood. They are not like the many poisonous compounds with which the country is flooded, under the name of Bitters, which are made of refined poison and gall, and seasoned up to suit the taste. They contain no alcohol, and their effects do not die out, but on the contrary, are lasting and beneficial. For Piles, Constipation, Chronic Coughs, Dyspepsia, Fever and Ague, Kidney, all Billious and Most Chronic Diseases.

W. M. Hawkins, 1871
By 1875, he had returned to his old profession of machinist until he died in 1884. He was buried in Milwaukee, Wisconsin. One has to wonder if he actually made the mold and took it west.
McMillan & Kester
By the mid 1870s, the Dr. Wonser's brand was sold to McMillan & Kester who were the successors of the Turner Brothers. In 1865. McMillan & Kester put out an aqua square bottle called Dr. Wonser's U.S.A. Bitters. We have an example in the museum.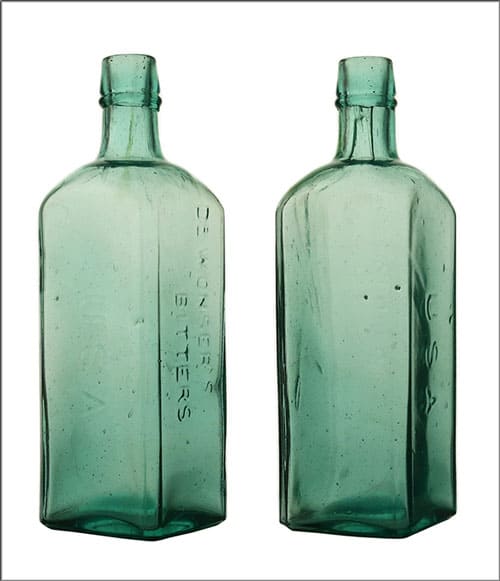 The Carlyn Ring and W.C. Ham listing in Bitters Bottles is as follows: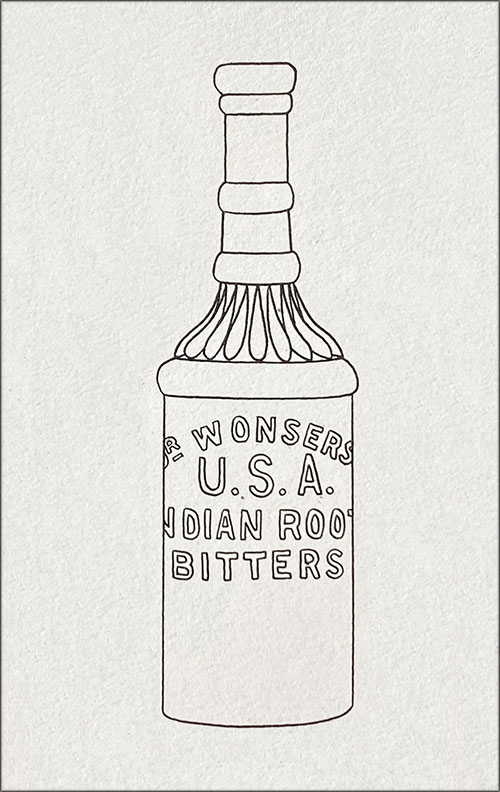 W 146 DR. WONSER'S ( au ) / U.S.A. / INDIAN ROOT / BITTERS // c //
L … Dr. I. H. Wonser's U.S.A. Indian Root Bitters, Distributor and Manufacturers, San Francisco
11 ½ x 3 (5 ½ ) LTC, Applied mouth, Amber (Yellow to Olive amber), Rare; Green, Extremely rare.
Deep kick-up, Aqua, Applied mouth, Rare
10 ½ x 3 (5 ½) CM,
Variation in height could be misleading. Other measurements indicate both bottles could have been blown in the same mold. Sixteen flutes on the shoulder, two rings on the neck.
The green color example is considered one of the "Top" Western Bitters. Green examples have been dug on the California-Nevada border and in Carson City, Nevada. A number of undamaged and many aqua examples were dug in Virginia City Nevada in 1998.
San Francisco Chronicle, August 8, 1871
Primary Image: Dr. Wonser's U.S.A. Indian Root Bitters bottles imaged on location by the FOHBC Virtual Museum midwest studio led by Alan DeMaison.
Support: Reference to Bitters Bottles Supplement by Carlyn Ring and W. C. Ham. Use of Dr. Wonser's U.S.A. Indian Root Bitters illustration courtesy Bill Ham.
Support Images: Various Dr. Wonser's U. S. A. Indian Root Bitters, Jeff Wichmann, American Bottle Auctions
Support Image: Auction Lot 31: DR. WONSER'S USA INDIAN ROOT BITTERS Chocolate amber W 146. The Dr. Wonser bottles are some of the most desirable western bitters known today. Given their trademark in 1871, these bottles were designed by William Hawkins the brother of James who together got Dr. Wonser, who lived in their building, to agree to use his name and together they designed the bottle, created the labels, and began producing these popular bitters. Today they stand as one of the most sought-after western bitters and for good reason. The amazing embossing design, the letters U.S.A. with the doctor's name all contribute to a truly remarkable bottle. On top of that, they had an aqua variant thought to have been produced first when they later went to the amber-shaped example with the whiskey-type top. It's likely the product did well since a large firm like McMillan & Kester stepped in to buy the rights. This example is a chocolate amber which we don't see often. It is in perfect condition and would certainly fit as one of the top bottles in any collection. This bottle was purchased at the Anderson show in 2017 and has everything you're looking for as far as crudity, color, and condition. It is an overall perfect condition example and grades a 9. – Jeff Wichmann, American Bottle Auctions, Auction 70, Part 1 of the Don Dwyer Collection
Support Image: Two amber and one aqua Dr. Wonser's U. S. A. Indian Root Bitters, Dave Kyle collection
Support: Reference to Dr. Wonser's Indian Root Bitters – Revisited, Western Bitters News, 2014
Read More: Dr. Wonser's U.S.A. Indian Root Bitters – Looking at Some Information and Colors