Dr Struble's Kidney Cure
Dr H A Struble's Kidney Cure
Himrods N.Y.
(Embossed Kidney)
Dr. Henry Albert Struble, Penn Yan, New York

Cobalt Blue Druggist Bottle
Provenance: Terry McMurray Collection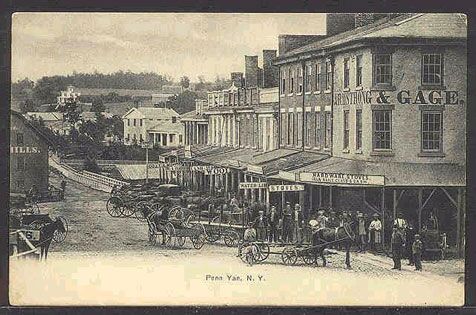 We are looking at a rare, Dr. H. A. Struble druggist-style bottle in cobalt blue from Himrod, New York which is a hamlet in Yates County (note: sometimes referred to as Himrods with an 's'). The community is 4.7 miles north-northeast of Dundee and 8.3 miles southeast of Penn Yan, N.Y., which was on the line of the old Pennsylvania railroad.
Penn Yan is embossed on a second rare aqua Struble bottle. That bottle reads, 'THE STRUBLE KIDNEY AND LIVER COMPANY, PENN YAN N.Y.' It also has an embossed kidney.
Dr. Henry Albert Struble was a druggist who was born in Himrod in 1842. Another document, the 1880 United States Federal Census, says he was born in 1852 and yet another document, a New York State Census, says he was born in 1860. This isn't the only fuzzy area relating to H. A. Struble as we will see later, something tragically happened to his mind as he snapped, killed a lifelong acquaintance, and then committed suicide shortly thereafter. We tend to think the United States Census report age is correct as Struble was living in Milo in 1880 and was listed as a druggist at 28 years old. He was most-likely using his kidney cure at that time. Milo was a small town on the west side of Penn Yan. We are unsure if Struble was really a doctor.
Henry's parents were Levi Struble (1812-1887) and Mary Mizner Struble (1819-1898). When Levi married Mary, they settled first in Starkey and a few years later near Himrod. A part of their farm was a part of his father's homestead. Their children were Hanford, Harrison, and Henry Albert. Hanford (1842-1903) was the District Attorney of Yates County and had a distinguished Civil War record.
The Struble Kidney and Liver Cure Company was incorporated in 1890 in Penn Yan, N.Y. having a capital stock of $50,000. According to their filing, the object of the company was and is to "furnish to suffering humanity a prompt and sure cure for diseases of the kidneys and liver." The liver and kidney cure medicine they referenced was the same as used for fifteen years by Dr. H. A. Struble in his professional work, so if true, dates the medicine to 1875 or so. The incorporators of the company were his brother Hanford Struble, H. N. Huntington, James Spicer, Henry Sherman, Fred U. Swarts, M. B. Shaw, and H. A. Struble. The officers were, Fred U. Swarts, president; M. B. Shaw, vice-president; H. C. Sherman, secretary; H. N. Huntington, treasurer; and H. A. Struble, general manager.
As mentioned previously, Struble killed his friend when his mind snapped. The clipping below may have been an early warning of his later years.

In a rather shocking end to the story, on August 1, 1917, a prominent citizen of Himrod was murdered. Garrett A Biggers was probably the wealthiest man in town and was previously the Justice of the Peace. He was 75 years old and a life-long acquaintance of H. A. Struble. Apparently, four barns burned down early one morning. Struble heard through the grapevine that his name was being associated with the fires. Whether he set them or not, he ran into his neighbor at the local post office and while walking up the road home together, got into a heated argument. They stopped along some New York Central tracks where Struble fired two shots instantly killing Biggers. Struble then returned home and promptly killed himself with three shots. Struble had been considered unbalanced for some time, according to neighbors and town folks.
Support: Reference to History of Yates County, N.Y., Lewis Cass Aldrich, D. Mason & Company, 1892