Hollister and Co., Honolulu
Hollister & Co.
Honolulu
Henry Reed Hollister, Honolulu, Hawaii
Blue Green Soda Water
Provenance: Craig Cassetta Collection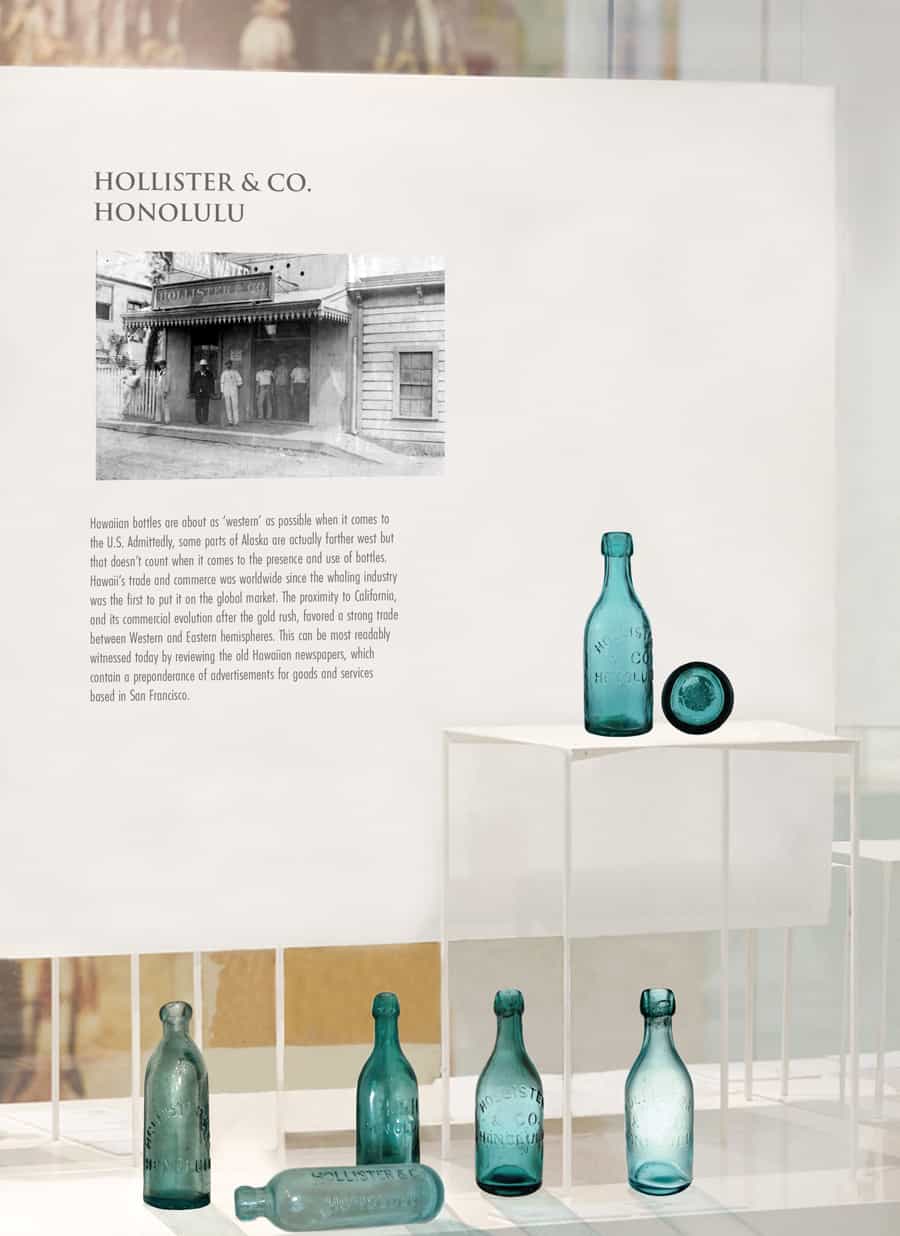 Henry R. Hollister spent a good portion of his life, 40 years, in Hawaii, where he was regarded with the highest respect. Along the way, Hollister made a fortune in Mexico though the government confiscated his property. He was also a sluice miner, had a restaurant in San Francisco, ran a tapioca farm in Kauai and was the proprietor of a successful soda water, tobacco, and drug store business in Honolulu.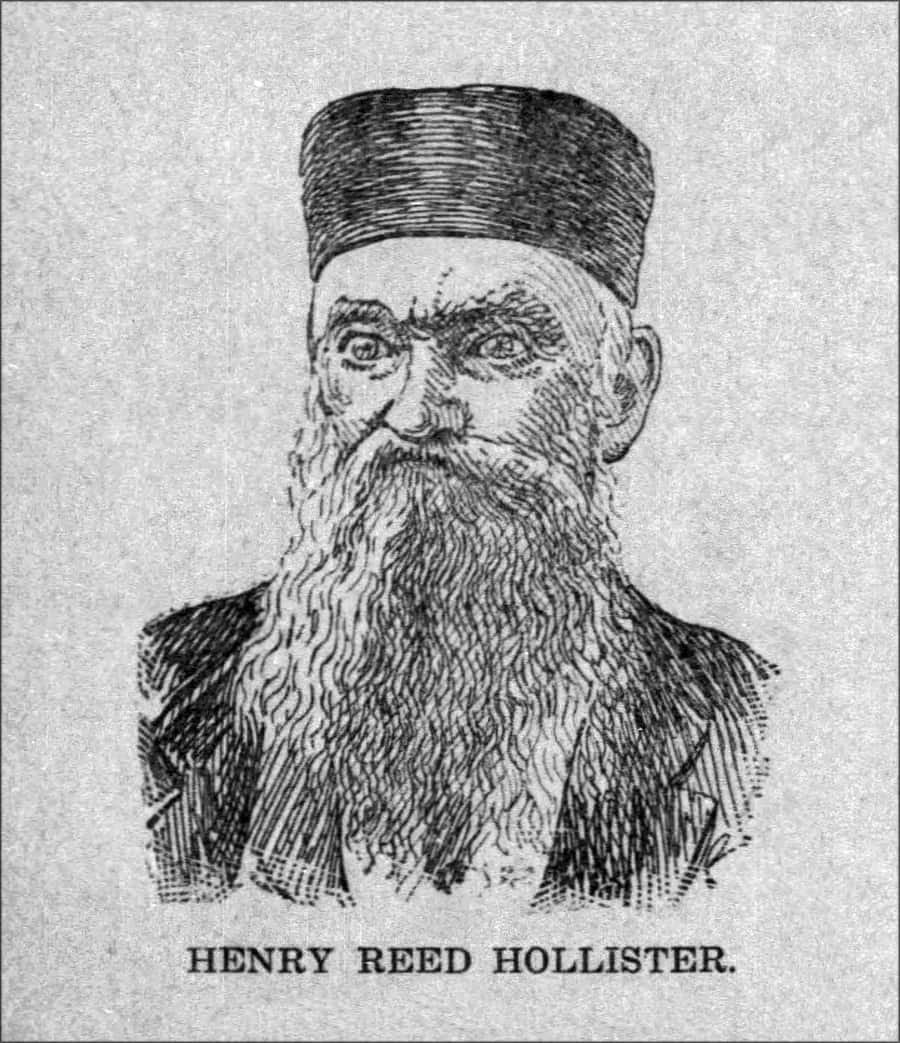 Henry Reed Hollister was born in Salisbury, Connecticut, on September 13, 1824. When he was just two years old, his parents moved to Le Roy, New York, in a lumber wagon, where he grew to manhood. From there, the family moved to Winchester, Scott County, Illinois, where Hollister engaged in mercantile business for himself and married Charlotte Pond, a native of Upton, Massachusetts. As a result of this union, there was a son who died in infancy and a daughter. Unfortunately, Hollister's wife died three months after the daughter's birth. These tragic events led Hollister to sell his stock of goods, and in 1849 he departed for Mexico, arriving after the conclusion of the Mexican–American War. Upon arrival, Hollister started new business ventures and had establishments in Texas and Mexico on both sides of the Rio Grande. Unsettled affairs in Mexico made it bad for Americans, and Hollister's extremely valuable property over the Mexican line was confiscated. He recovered though he left Mexico for Todd's Valley, California, where he engaged in sluice mining. This venture was unsuccessful, so Hollister uprooted again and moved to San Francisco, where he opened a restaurant.
At the time, his father was in Honolulu and advised his son to come to Hawaii and manage one of his sugar plantations. Hollister arrived in 1856 on one of the old packets plying between the ports. He set up in Kauai and initially engaged in blacksmithing and cooperage for plantations, as all sugar was shipped in barrels. Some time afterward, Hollister settled in Oahu, taking a position as a sugar boiler at Heeia plantation, and remained for several years. Again, Hollister returned to Kauai, where he started a plantation for growing tapioca at Kaloa, where he and his father lived for several years. That business became unprofitable, so Hollister sold out and came to Honolulu, starting a tobacco and soda water business on Nuuanu Street.
Hollister soda water first emerged in Honolulu in the late 1860s under Hollister & Hyland—a partnership consisting of Henry R. Hollister and Philip G. Hyland. These two New Englanders first advertised their business as tobacco merchants in 1869. The earliest documentation of the firm of Hollister & Hyland was an advertisement for their company selling a variety of tobacco products, with a small notation reading "Soda Water always On Hand! In Syphon or Soda Bottles."

It has yet to be determined when Hollister and Hyland first ordered their embossed bottles from a San Francisco glass works, and it is assumed that it was probably about 1869 when their partnership was created. Embossed 'H & H HONOLULU,' these bottles are relatively rare, as the Hollister & Hyland partnership, which initially seemed to have flourished, ended abruptly with Philip Hyland's death in 1871. An article in the Hawaiian Gazette, June 7, 1871, gives a rather detailed account of Hyland's tragic death:
On Monday of last week, at 9 o'clock P.M., while making a passage to Hilo in the Kate Lee, Mr. G. P. Hyland, of the firm of Hollister & Hyland, Tobacconists and Soda Manufacturers, fell overboard and was drowned, when the vessel was about fifteen miles from that port. Mr. Hyland, it seems, had been for some time suffering from ill health, and had undertaken the trip to Hilo with the hope that it might benefit him. Capt. West, of the Kate Lee, discovered on the evening in question that Mr. Hyland was suffering from an aberration of mind, being impressed with the idea that a person on board had intentions upon his life. Capt. West said all he could to calm his fears, assuring him that he would protect him, and used every persuasion to induce him to go into the cabin, but without effect. The Captain, on going into the cabin temporarily, gave orders to those on deck to keep strict watch on Mr. Hyland. Only a few minutes had elapsed after going below, when he heard the cry of "Man overboard!" and rushing immediately upon deck he saw Mr. Hyland struggling in the water, a short distance from the vessel. One of the crew immediately jumped overboard for the purpose of assisting the unfortunate man in keeping on the surface until a boat could be sent to his rescue. The man was, however, unable to effect his object, owing to the fact that the drowning man struggled so violently that he could not retain his hold upon him without imminent risk of his own life, and although a boat was lowered with every dispatch, when it arrived at the spot where Mr. Hyland was last seen, it was found that he had disappeared. It is supposed that Mr. H., who was sitting on the rail of the vessel when last seen on board, fell overboard during an epileptic fit, to attacks of which he was subject.
Hyland's strange reported actions suggest he suffered from physical or mental malady—or perhaps both. Either way, it was a disastrous circumstance. Henry R. Hollister gave official notice of the dissolution of the partnership on June 8, 1871, with the actual dissolution date of May 30, 1871, the day after Hyland's demise. Therefore, it is fairly certain that the "H & H Honolulu" soda water bottles would not have been blown after this date.
Hollister remained in business until the spring of 1878 when his father died. In December of that year, Hollister's son-in-law H. A. Parmalee and his family arrived in Honolulu from the States. They formed a copartnership to carry on the soda water and tobacco business shortly afterward, adding drugs to their other lines when they opened a drug store in 1880. This would account for the numerous prescription-type bottles with the embossed name Hollister & Co., as Parmalee was the silent partner.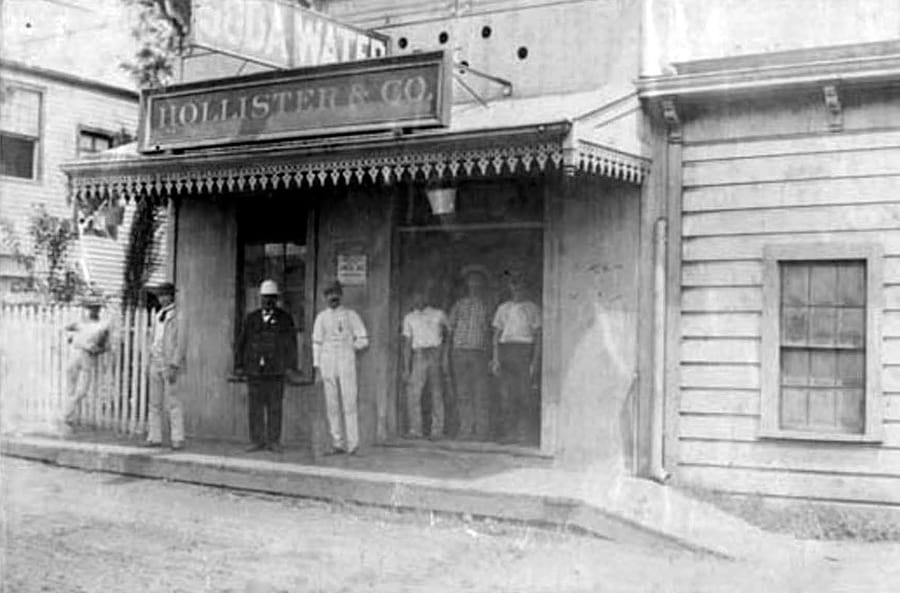 There were several blob-top "Hollister & Co. Honolulu" bottles with several minor variants. On the earliest variant, the area once carrying the "H & H" embossing is still visible. They are also found in an array of colors in a range of greens and light blue, but those colors have rarely made it to mainland collections. Note the curved leg on the letter "R," a nearly sure sign the bottles were blown in San Francisco. Hollister also used patent stoppered bottles, including the Mathews gravitating stopper, the Hutchinson wire stopper, and the British Codd stopper.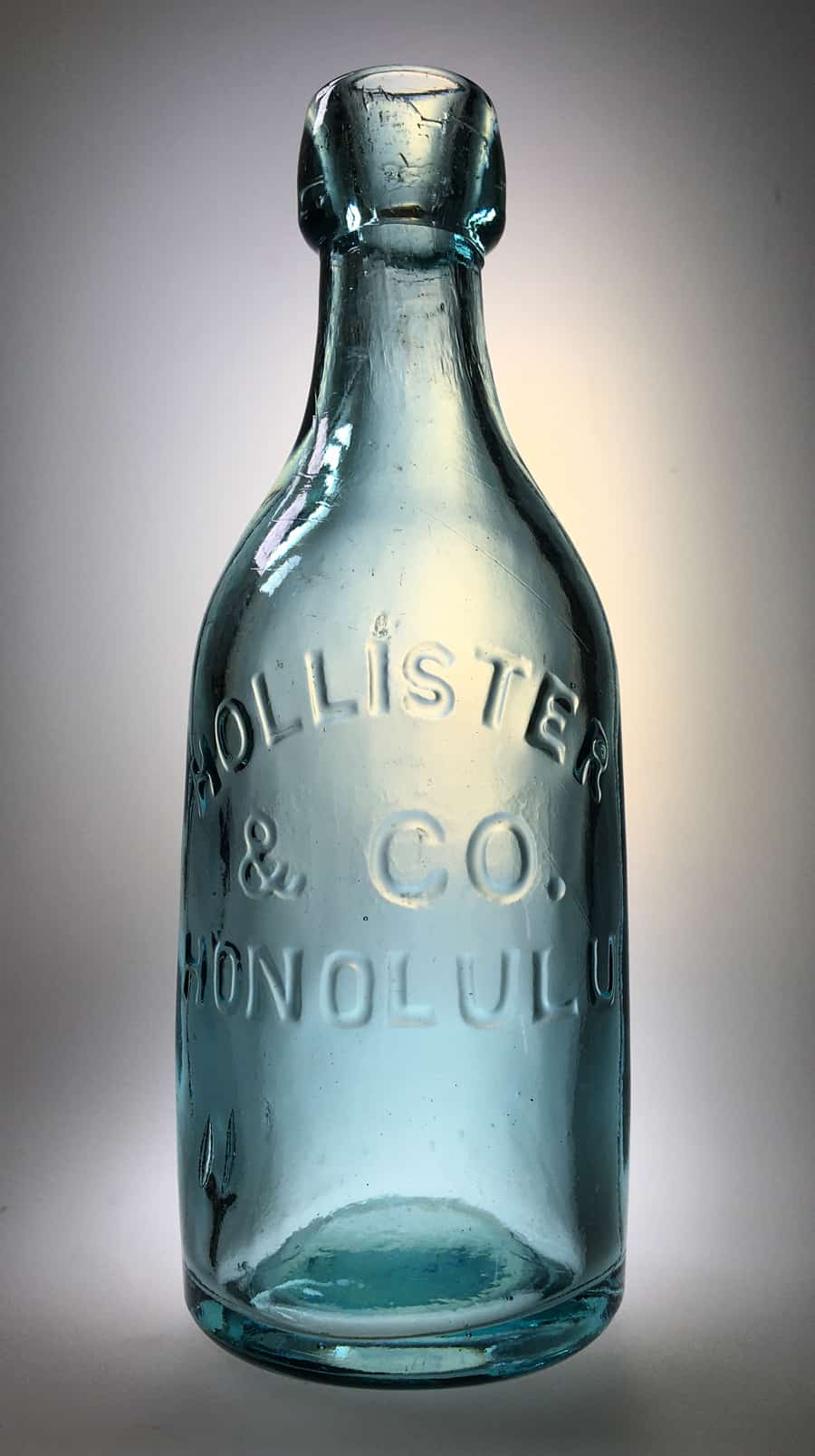 Our spinning blue-green cylindrical pony-shaped museum example measures 7 ½ by 2 ¼ inches. It is embossed in three centered lines in a sans serif typestyle 'HOLLISTER' (1st line arched), '& CO,' (2nd line horizontal), and 'HONOLULU' (3rd line horizontal). The bottle has a rounded tapered mouth and a smooth base.
In 1893 Hollister & Co. was incorporated as The Hollister Drug Company separating it from the tobacco business, which was removed to the corner of Fort and Merchant Streets and conducted under the old name of Hollister & Co., which continued to prosper until April 1900. The primary emphasis changed over time, with the tobacconist element shifting to secondary status under the drug business.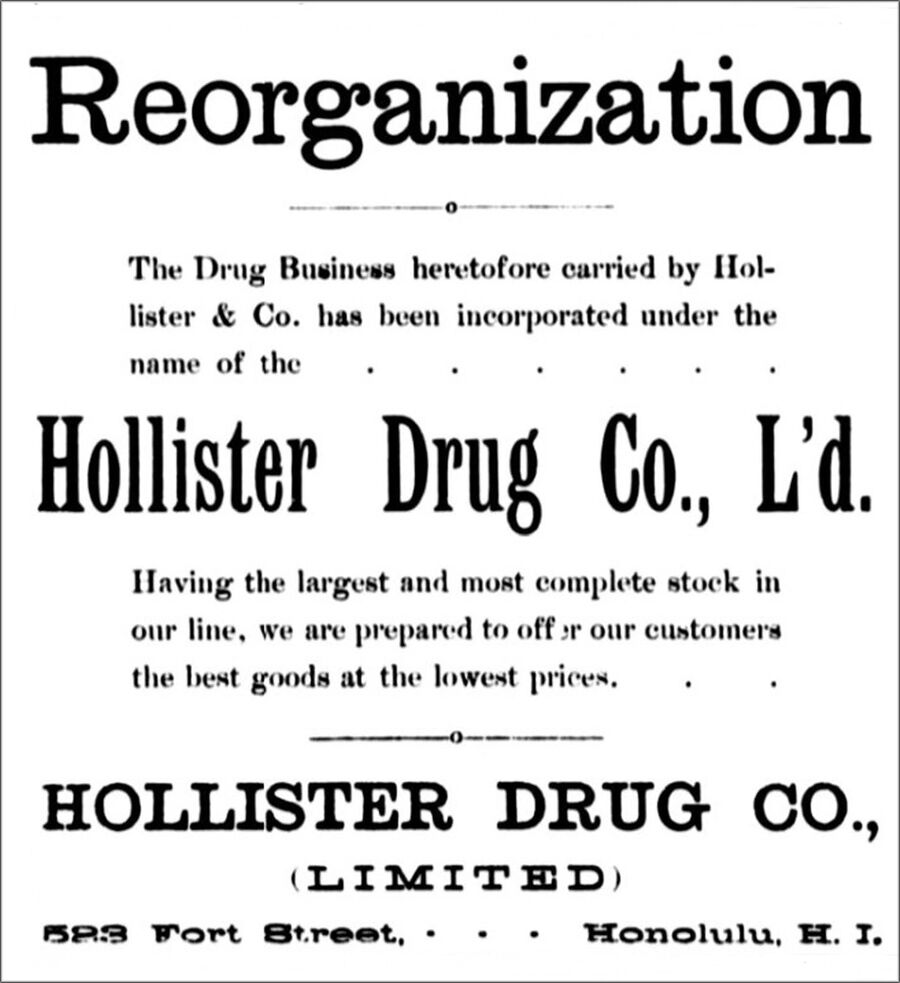 Hollister finally slowed down but continued to visit and work with his various businesses until his death. After a challenging, fascinating and successful life, Henry Hollister died in Honolulu, Hawaii, on May 12, 1896.
Primary Image: Hollister & Co. Honolulu imaged by Alan DeMaison at the FOHBC Reno 2022 National Antique Bottle Convention mobile imaging station.
Support Image: Hollister & Co. Honolulu in sky-blue glass from the Eric McGuire collection.
Support Images: Two Hollister & Co. Honolulu bottles from Jeff Wichmann, American Bottle Auctions.
Support: Reference to Western Bottle News, Hollister & Co. Honolulu by Eric McGuire, March 5, 2021. Museum research by Eric McGuire.
Support: Reference to Soda & Beer Bottles of North America, Tod von Mechow
Join the FOHBC: The Virtual Museum is a project of the Federation of Historical Bottle Collectors (FOHBC). To become a member.