Keyhole Sauce
Keyhole Sauce
Fancy Sauce Bottle
Old Amber
Provenance: Lou Pellegrini Collection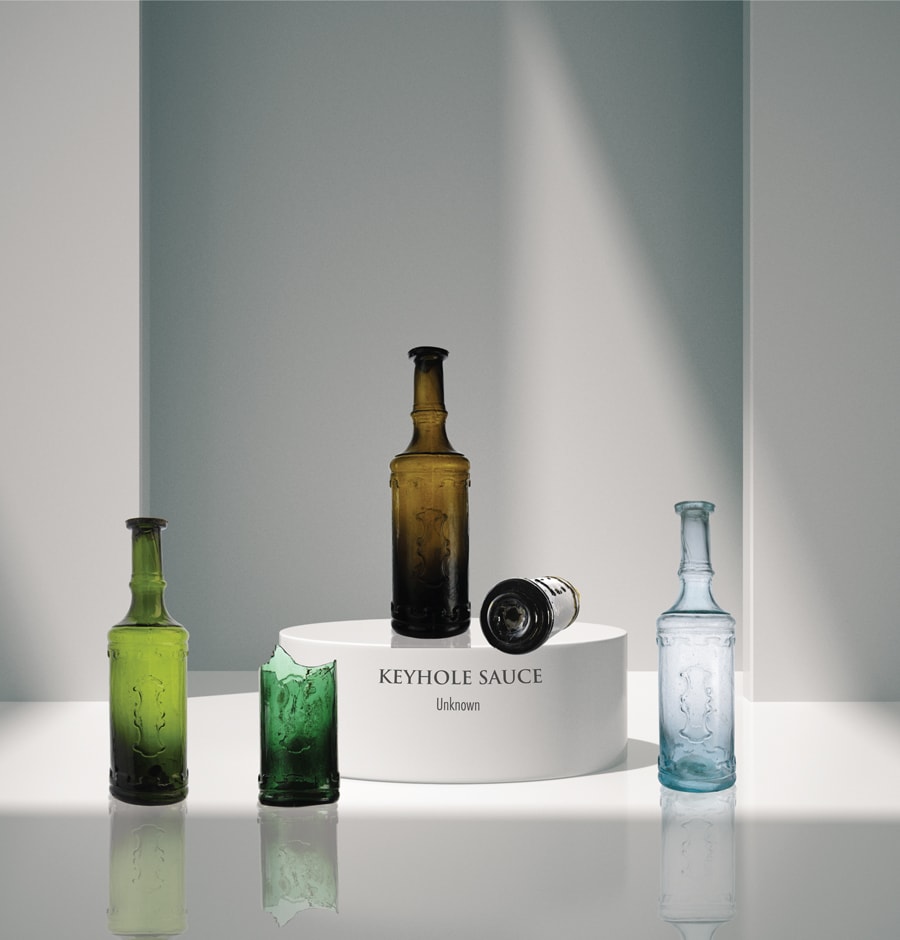 We are pleased to have four examples of pontiled Keyhole Sauce bottles on display, each in a different glass color. Those who attended the FOHBC 2022 Reno National Antique Bottle & Glass Convention would have seen these bottles on display. Our consignor, Lou Pellegrini, was awarded "Best in Show" with his exhibition.
Sauces and condiments for foods were marketed as a necessity before the food preservation advances of the 20th century. The foods available during the 18th and 19th centuries were often bland, of dubious quality and origin, and effective date-stamping did not exist. This led the way for the preparation and use of a wide variety of sauces to enhance the food flavor or cover up any off-flavors.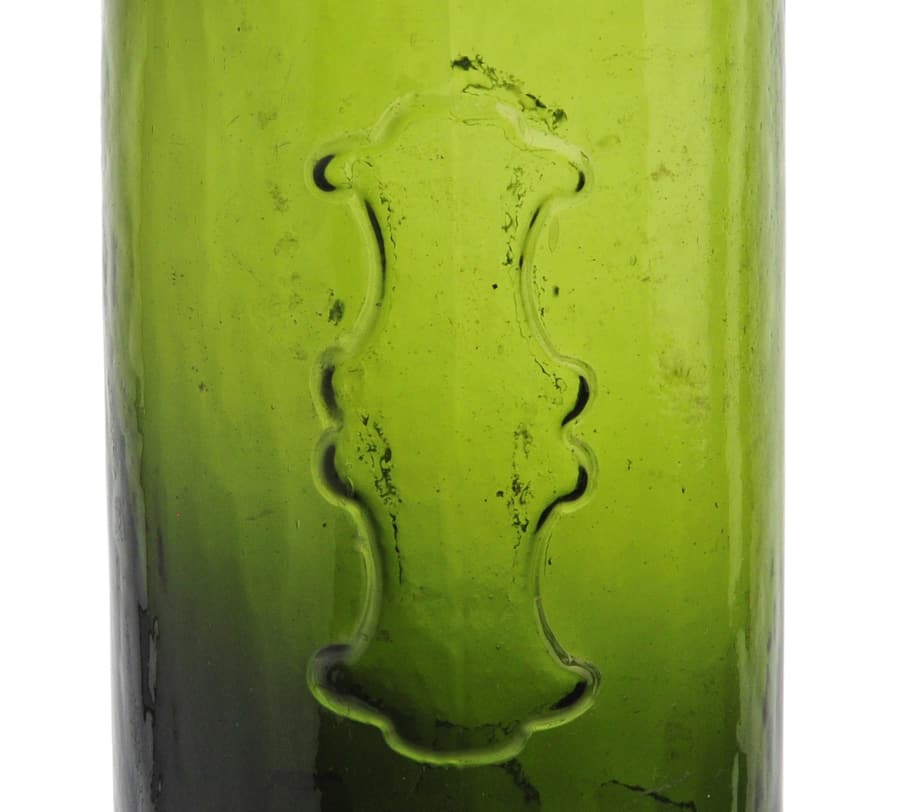 The key and keyhole symbol means so many things. It can be a symbol of personal knowledge, a key to unlocking inner strength and contentment. It can also symbolize virginity and virtue, two very important concepts in medieval and early modern times.
See the Museum example of an aquamarine GXIII-75 Key Shoo-Fly Flask.
This extraordinary, extremely rare, 9-inch-tall cylindrical Keyhole Sauce bottle is stunning. On the face of the old amber bottle is a pronounced embossed keyhole escutcheon motif with no other embossed typography. There is a severe rough pontil and an applied flat ring mouth. The neck is flared and bisected by a pronounced ring with two smaller rings above and below. The neck and body is separated by a large ring as well as the base and body. A decorative horizontal motif adorns the top and bottom of the bottle face.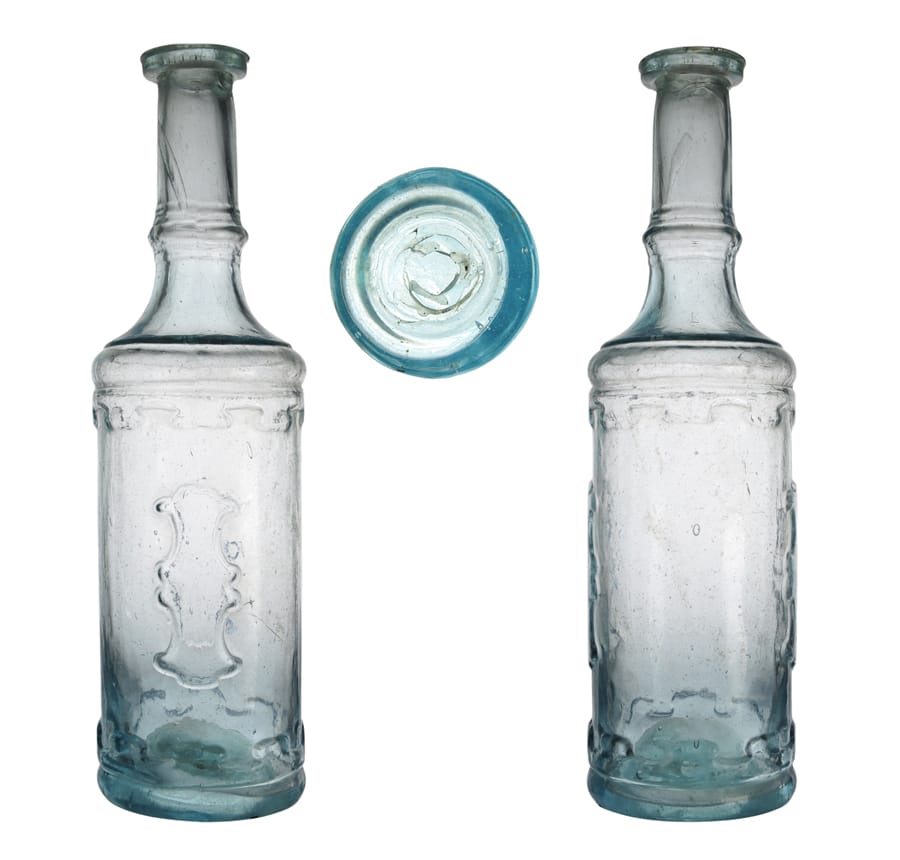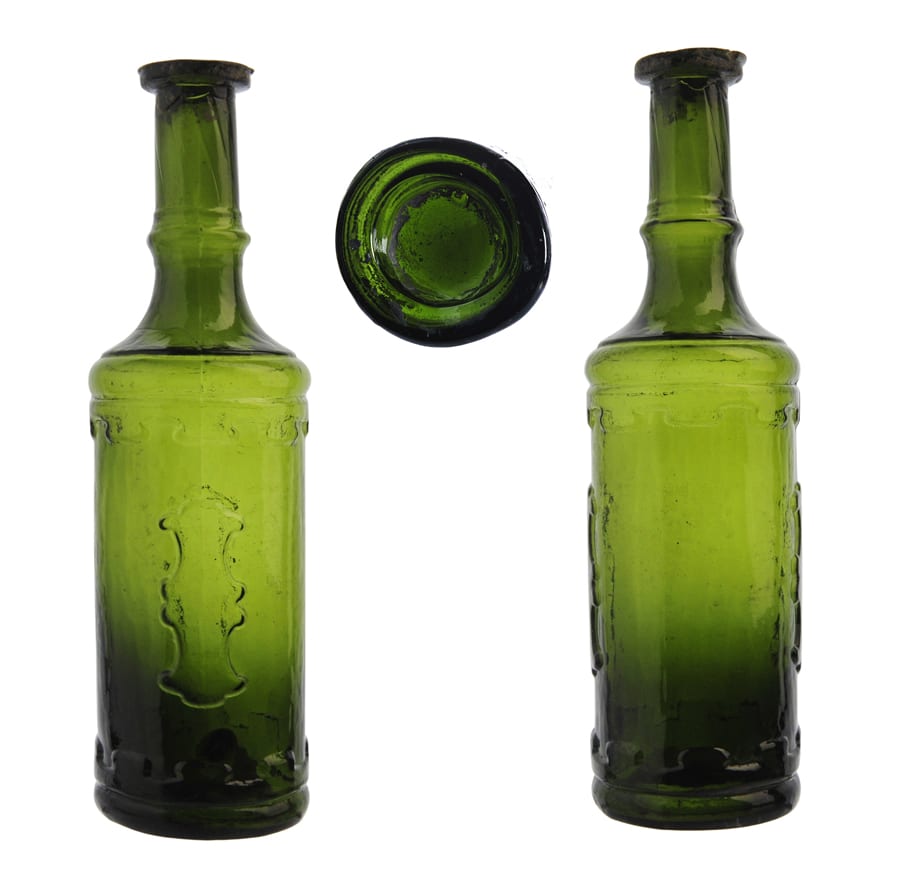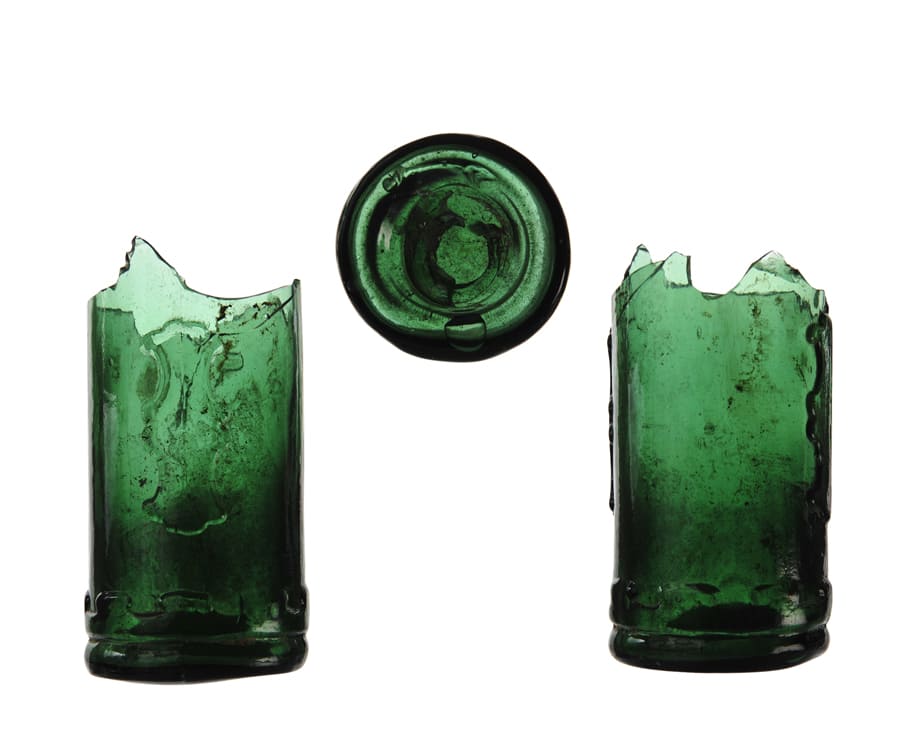 See the spinning Museum example of the aquamarine Keyhole Sauce bottle. Coming soon.
See the spinning Museum example of the olive green Keyhole Sauce bottle. Coming soon.
See the spinning Museum example of the broken blue-green Keyhole Sauce bottle. Coming soon.
Betty Zumwalt briefly pictures a small black and white picture of what looks to be an aqua example of a Keyhole Sauce bottle in her book Ketchup Pickles and Sauces 19th Century Food in Glass. The brief description says, "These 'sauce' types are seen in amber and aqua, both open pontil. An amber one was dug in Sacramento, Calif., and sold for $375." The book was published in 1980.
Our feature example is thought to be the example dug in California. We also have an aquamarine and two different green Keyhole Sauce examples in our Foods & Sauces Gallery. Even though it is broken, the blue-green example is extraordinary in its rawness and beauty.
It remains unknown which proprietor or proprietors used this bottle or which glasshouse produced it.
See the Museum examples of similar Paneled Sauce Bottles.
Primary Image: All four Keyhole Sauce bottles were imaged by Gina Pellegrini at her FOHBC Virtual Museum West Coast studio.
Support: Reference to Ketchup Pickles Sauces – 19th Century Food in Glass by Betty Zumwalt, 1980
Join the FOHBC: The Virtual Museum is a project of the Federation of Historical Bottle Collectors (FOHBC). To become a member.