Tyrolean Flask
Tyrolean Flask
Early European Blown Glass
Probably Germany or the Tyrol Region of Austria
Colorless Blown Three Mold
Provenance: Eric McGuire Collection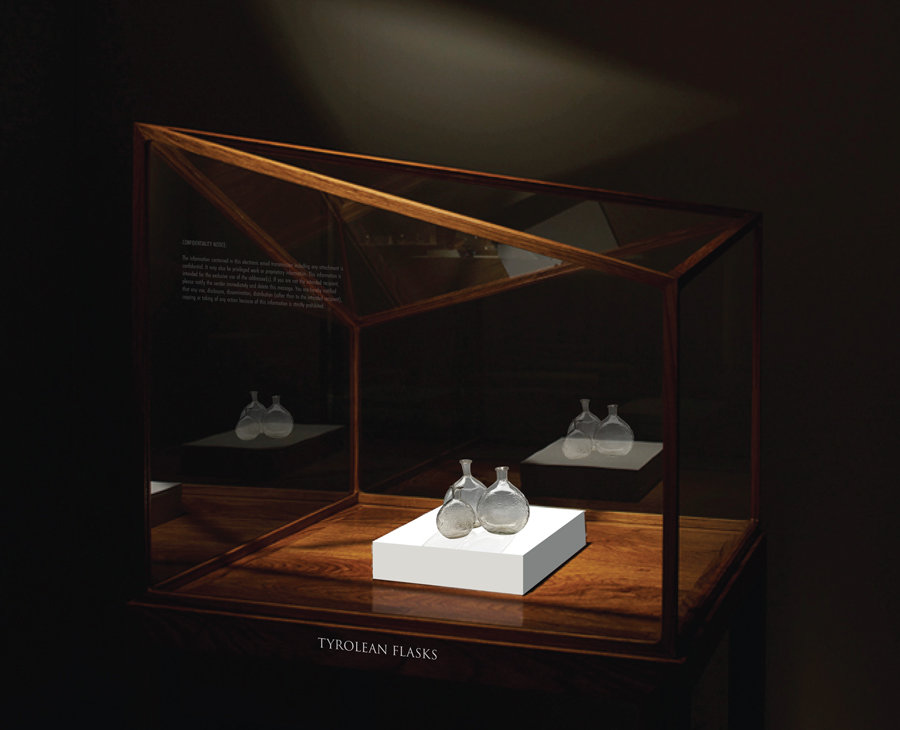 For over 500 years, the Tyrol region has been famous for its many glassware factories producing unique and popular glassware. This historical region comprises the Alps of Northern Italy and western Austria. The area was historically the core of the County of Tyrol, part of the Holy Roman Empire, Austrian Empire and Austria-Hungary, from its formation in the 12th century until 1919.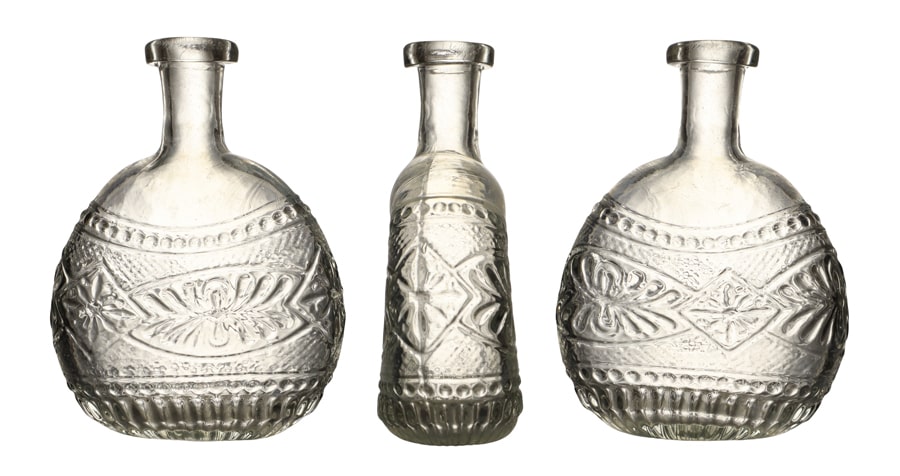 In 1919, following World War I and the dissolution of Austria-Hungary, Tyrol was divided into two modern administrative parts through the Treaty of Saint-Germain-en-Laye.
Our consignor notes that he does not possess many European bottles but has six or so of the subject flasks in his collection. He notes that the bottles are usually called Tyrolean flasks and are supposedly from that region. They are almost always three-piece molds and were thought to be made in about the same period as American-blown three-piece mold items. Visit the museum Blown Three Mold Gallery.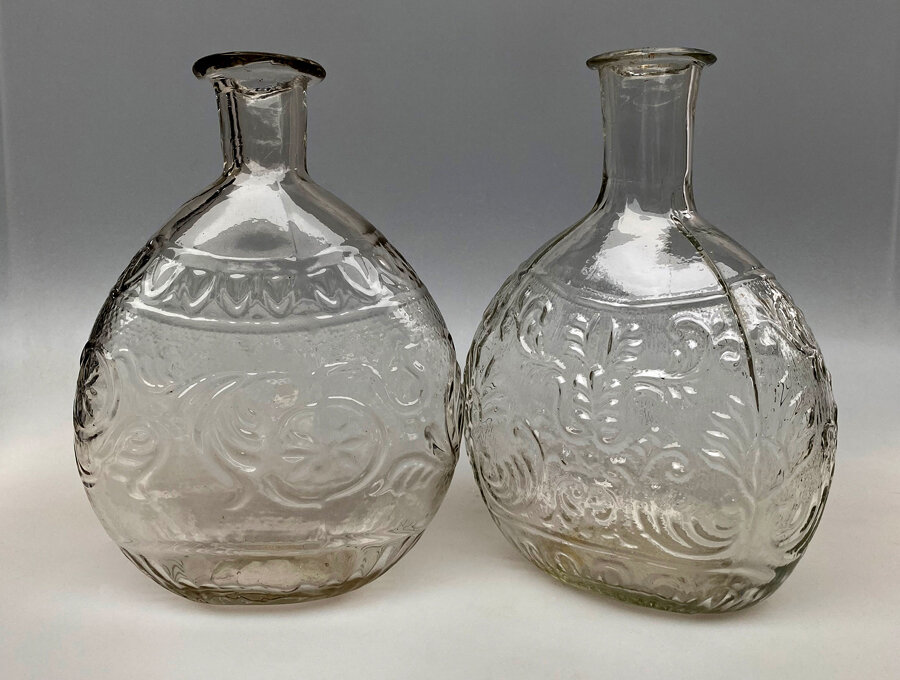 Our diminutive feature flask example is 4.75 inches tall, with some support examples measuring up to nine inches tall. All examples known are oval, blown in colorless glass and pontiled. The larger sizes have patterns that are less defined, which could mean they were all made in smaller molds and expanded, thus losing some of the definition. The flasks do appear to be regionally distinctive. The consignor notes that he has one example that is "double-dipped" or "half-post" in style.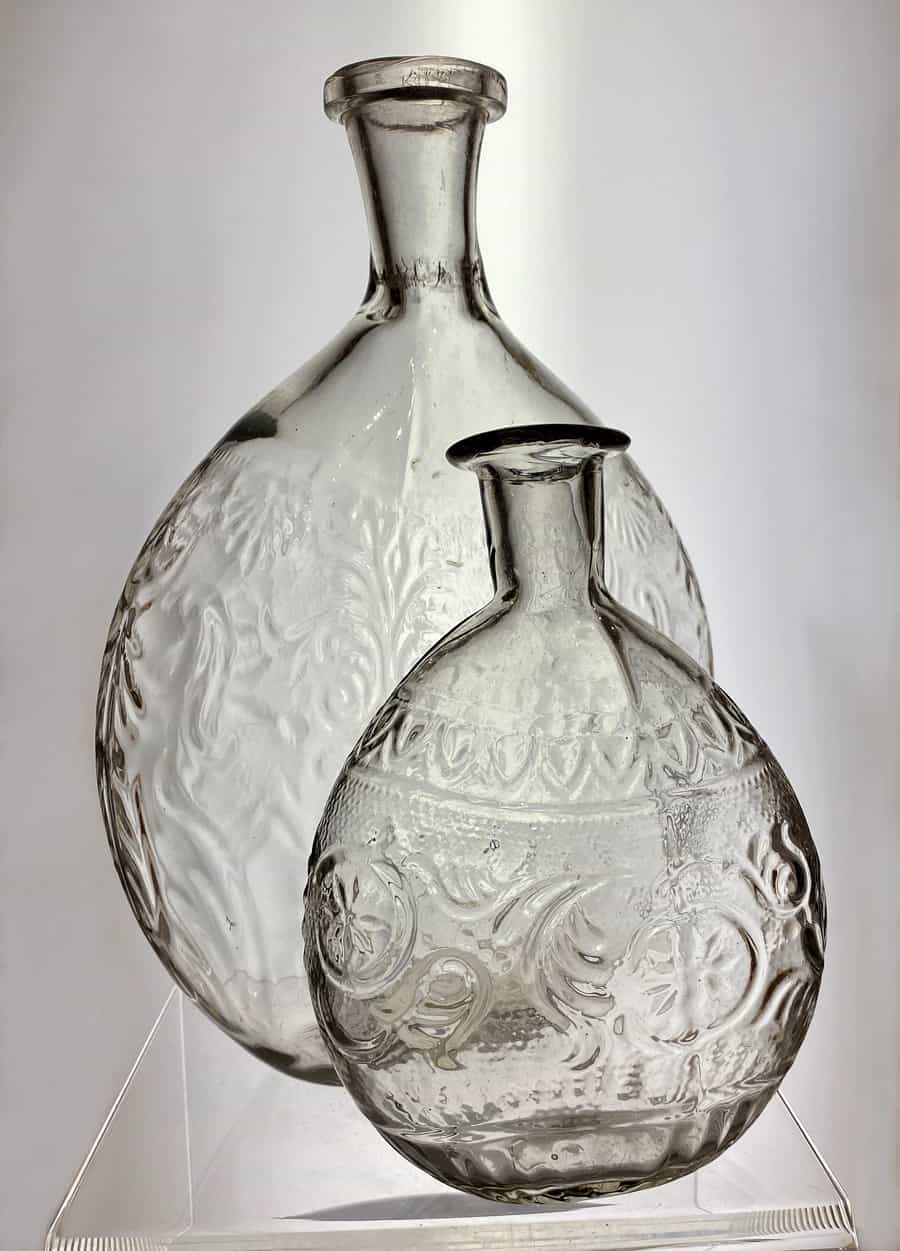 Primary Image: Tyroleon Flask imaged by Eric McGuire, FOHBC Virtual Museum West Coast Studio. Support images also from Eric McGuire.
Support: Reference to American Bottles and Flasks and Their Ancestry by Helen McKearin and Kenneth M. Wilson, Crown Publishers Inc., New York, 1978.
Join the FOHBC: The Virtual Museum is a project of the Federation of Historical Bottle Collectors (FOHBC). To become a member.