Best & Lothes Mineral Water Cincinnati
Best & Lothes Mineral Water
CIN O
Adam Best and Eberhard Lothes, Cincinnati, Ohio
Blue-Green Aquamarine Soda
Provenance: Doug Shutler Collection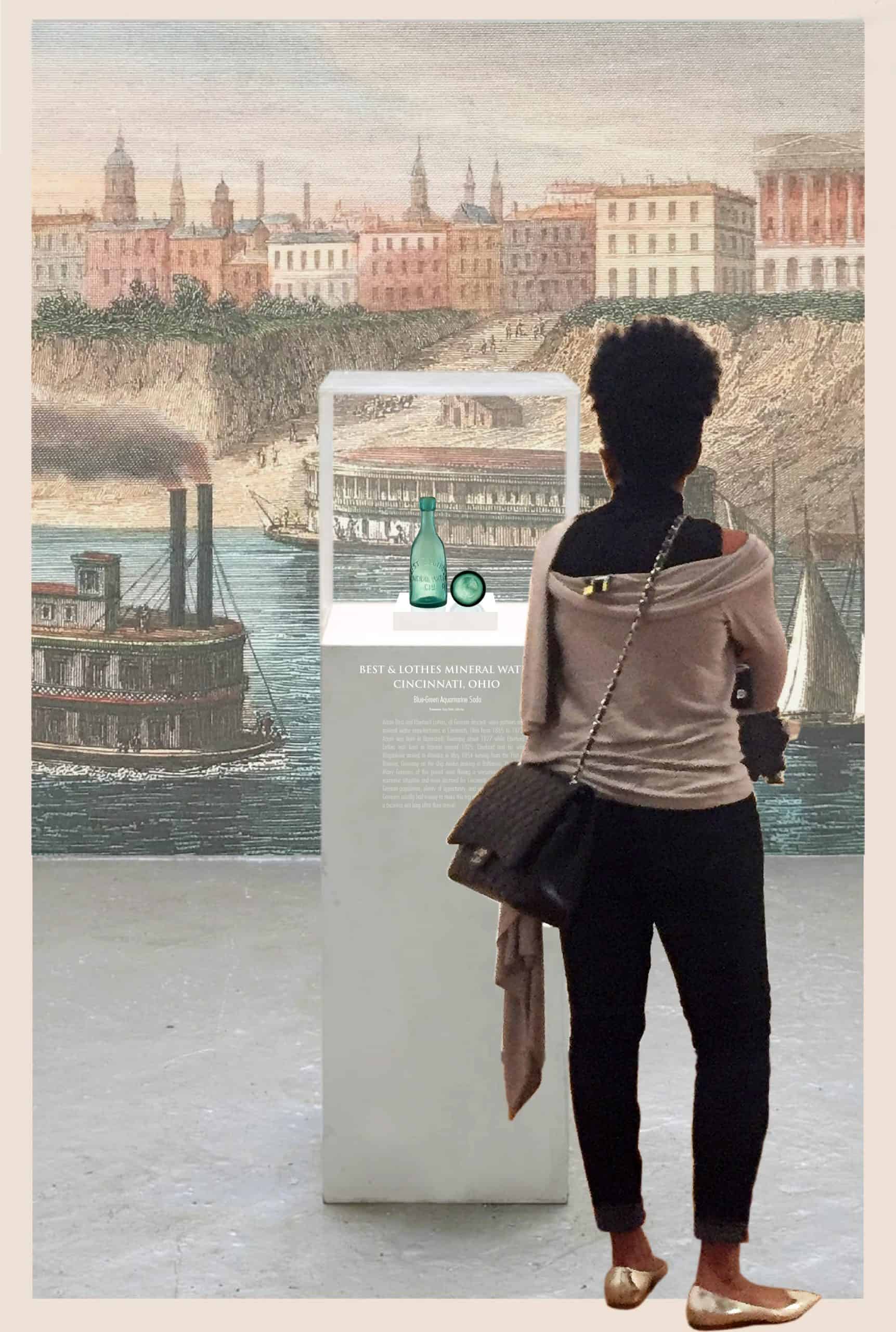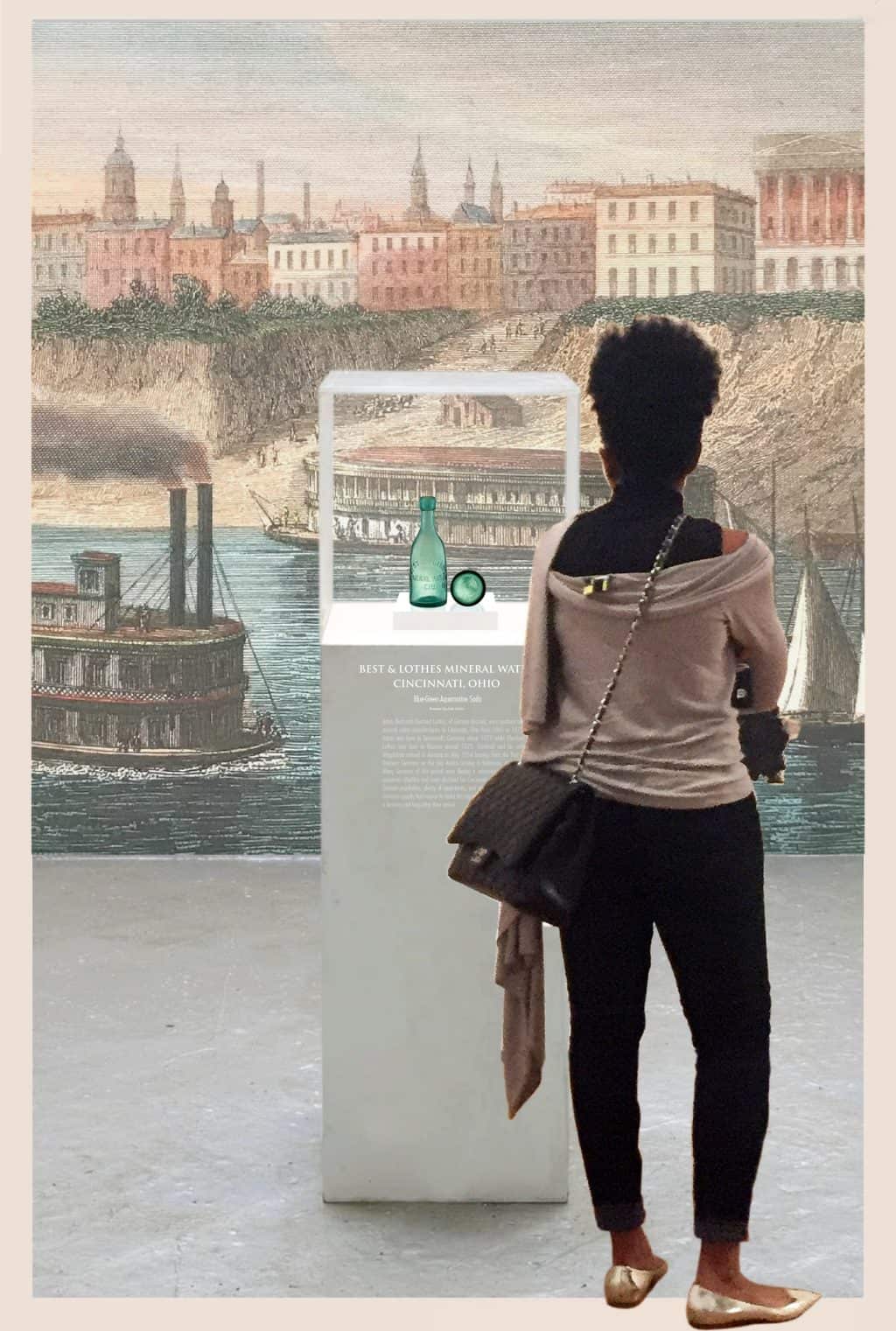 Adam Best and Eberhard Lothes, of German descent, were partners and mineral water manufacturers in Cincinnati, Ohio, from 1865 to 1873. Adam was born in Darmstadt, Germany, about 1827, while Eberhard Lothes was born in Bavaria around 1825. Eberhard and his wife Magdalena arrived in America in May 1854, leaving from the Port of Bremen, Germany, on the ship Aeolus arriving in Baltimore, Maryland. Many Germans of this period were fleeing a worsening political and economic situation. They were destined for Cincinnati, which had a large German population, plenty of opportunity, and wide-open lands. These Germans usually had money to make this trip and set aside funds to start a business not long after their arrival.
Adam and Eberhard must have been good friends as they and their families lived nearby in 1863. Adam Best at 279 Ham Road and Eberhard Lothes at 275 Ham Road. Adam was employed as a cooper, making or repairing wooden casks or tubs. He married Apollonia Votter on November 24, 1850, in Cincinnati. Jacob, John, Apollonia, Adam, August, and Henry were their children. Eberhard was a quarryman. His wife Magdalena, who Eberhard married in the 1840s, would bear five children, George, John, Barbara, Catharine, and Anton. When Adam and Eberhard went into business, Best & Lothes was addressed at 277 Ham Road, which is between both of their home addresses.
In the 1870s, Adam Best was listed both as a grocer and mineral water manufacturer. By 1877 his mineral water business was addressed at 277 McMicken Avenue, probably the same as 277 Ham Street. Growing cities typically have renaming and numbering adjustments to assist in logical street mapping. Adam would die on December 27, 1880, at a relatively young age of 52 or 53. His son Adam would continue the mineral water business. Eberhard and his son would continue in the mineral water business at two locations. Ebehard would die on December 25, 1877.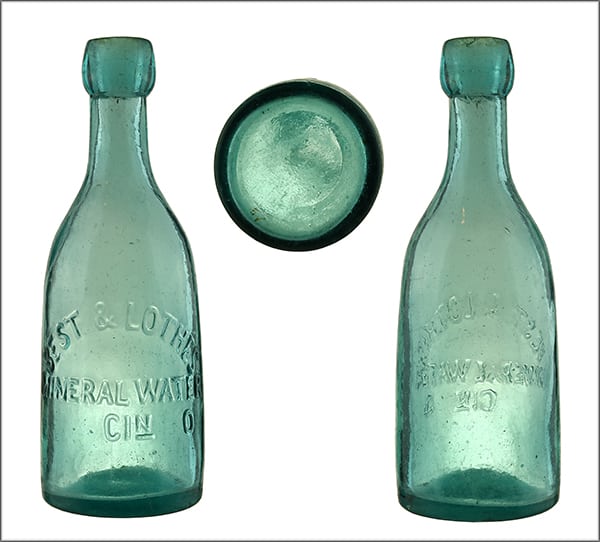 Our museum example of a 7 ½" tall cylindrical pony bottle was blown in a blue-green aquamarine glass. There is a smooth base and an applied glob top mouth. The embossed copy 'BEST & LOTHES' appears on the face of the bottle arched over straight-line copy reading 'MINERAL WATER.' The abbreviation 'CIN O' is embossed beneath in a third line. The 'N' is smaller, raised, and underlined. The 'O' does not have a period and is distanced from 'CIN.' There is no embossed copy on the reverse. The bottle is somewhat rare as we have not seen another example though a few others are recorded.
Adam Best has three similar bottles with just his name on the bottle. The first is embossed 'A. BEST CINCINNATI O.' in a round plate. The reverse is embossed 'THIS BOTTLE IS NEVER SOLD' and 'H. G. Co.' for Hemingray Glass Company. Another recorded bottle is embossed 'A. BEST CINCINNATI' in a horseshoe plate and 'D.O.C.' for Cunningham, Domenic O'Conner. The third known bottle is embossed, 'ADAM BEST MINERAL WATER (in converse and concave arches) and 'CINCINNATI. O.' all in a round plate. It appears to have been made at Hamilton Glass Works.
The difference between "soda water" and "mineral water" during the 19th century was often vague. Soda water was generally considered flavored artificial mineral water with the purposeful addition of carbonation and various compounds and flavoring. Mineral or spring water, as it was also called, would generally be natural waters from spring sources that were typically highly mineralized with carbonates like alkaline, sulfurous compounds, and or various salts, which often carbonated naturally. The confusion sometimes arises when mineral water is used as a generic term applied to various natural and artificially carbonated, non-artificially flavored waters, including many utilized for their perceived medicinal qualities. Please visit the museum Spring & Mineral Water Gallery.
When looking at the 277 McMicken Avenue address in the Over-the-Rhine district in Cincinnati, we find the 3-story building that Adam Best and Eberhard Lothes had their mineral water business. Over-the-Rhine (often abbreviated as OTR) was a working-class neighborhood and is among the largest, most intact urban historic districts in the United States. When these pictures were taken in 2019, the building was under renovation for residential purposes. Local real estate and news about the building refer to it as the Best & Lothes building. This building was done in conjunction with Appolonia House at 207 W. McMicken Avenue. Appolonia House was named for the wife of Adam Best, who originally owned the buildings.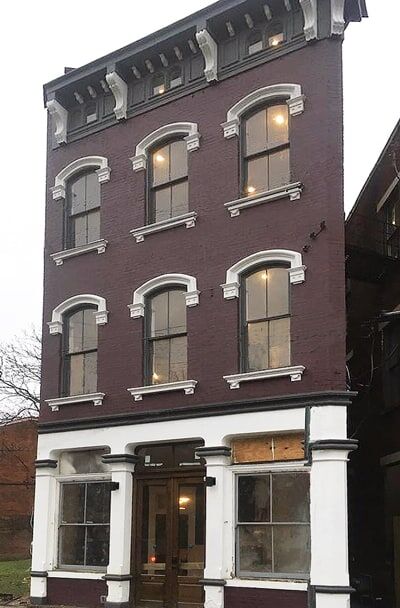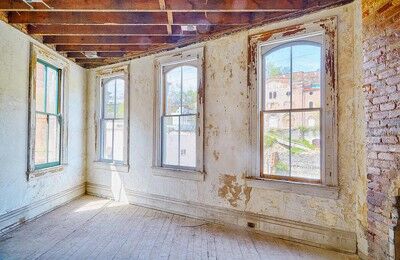 Primary Image: The Best & Lothes Mineral Water, Cincinnati bottle imaged on location by Alan DeMaison, FOHBC Virtual Museum Midwest Studio
Support: Reference to The American Pontiled Soda Database Project, Tod von Mechow
Support: Reference to Soda & Beer Bottles of North America, Tod von Mechow
Support: Reference to Co-living developer opens OTR apartments, Cincinnati Business Journal
Join the FOHBC: The Virtual Museum is a project of the Federation of Historical Bottle Collectors (FOHBC). To become a member.