GIX-12a • Scroll Flask
GIX – 12a
Scroll Flask

Midwestern Glass House

Dark Green Pint
Provenance: Alan DeMaison Collection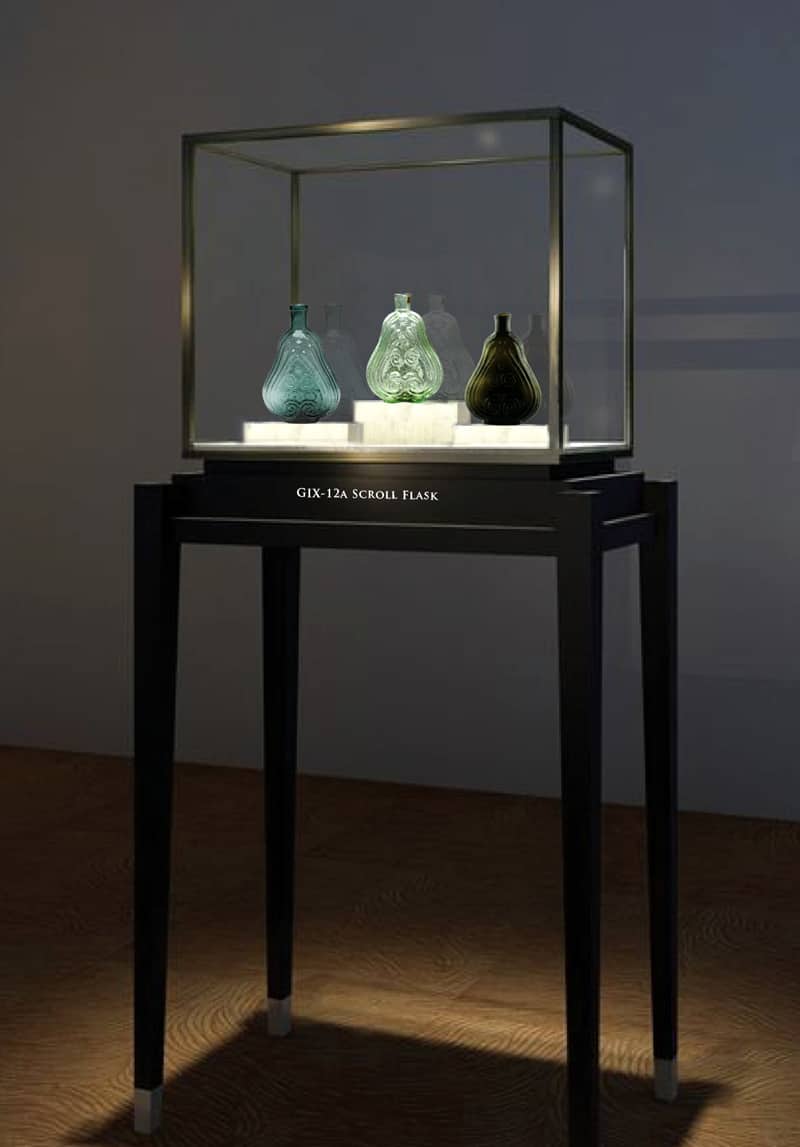 Most scroll flasks were blown at either Pittsburgh area or Louisville, Kentucky glasshouses between 1825 and 1860 and were commonly used to hold whiskey or other types of spirits. There is no other grouping in the McKearin charts that contain such a myriad of sizes and colors as the scroll grouping. Scroll flasks range in size from a mere 2-½ inch miniature to a giant gallon size with half-pints, pints, quarts, and half-gallon examples in between.
Our museum example is a pint scroll flask with a McKearin GIX-12a listing number. This is a variant of the comparatively scarce GIX-12 scroll flask. The GIX-12 has two medium 7-pointed stars. The GIX-12a differs in that the obverse has an upper-medium 6-pointed star over a medium 8-pointed star. The reverse has two medium 8-pointed stars. This particular example appears to have a medium 6-pointed star on the reverse side.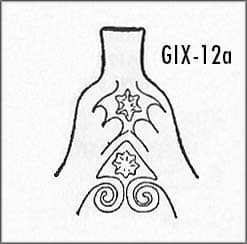 The GIX-12a has a plain lip and pontil mark. The flask can be found with an iron pontil though our flask looks to have a rough pontil. There is a vertical medial rib.
The GIX-12a is rare in aqua and cobalt-blue. This dark olive green with lighter shading is unlisted and would make it at least rare if not very rare to extremely rare.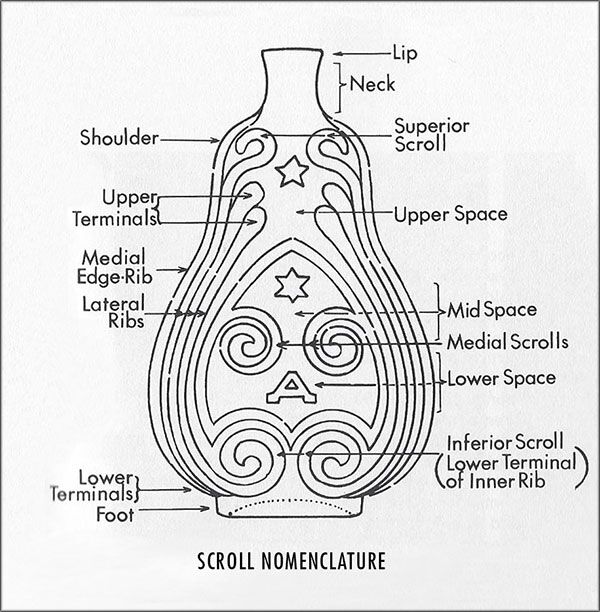 Primary Image: GIX-12a scroll flask imaged on location by the FOHBC Virtual Museum midwest studio led by Alan DeMaison.
Support Images: Auction Lot 58: Scroll Flask, probably Louisville Glass Works, Louisville, Kentucky, 1845-1860. Medium blue-green, sheared mouth – pontil scar, pint; (1/8 inch by 1/4 inch open bubble on neck). Probably GIX-12a, Unusual color. An attractive flask. Mike Roberts collection. – Norman C. Heckler & Company, Auction #105
Support Images: Auction Lot 180: GIX-12a, Scroll Figured Flask, one side with six-point star above an eight-point star, other with two eight-point stars, sheared mouth, large and deep red iron pontil mark. Bright yellow-green/citron, United States. Circa: 1840-1860. Condition: Undamaged with only minute wear to two stars. Size: 6 7/8″ H. Provenance: From the estate collection of Russell and Doris Evitt, Jackson, California. Ex-collection of Charles B. Gardner, New London, Connecticut (retains printed number label 134). Reference 1: Literature: McKearin/Wilson – American Bottles & Flasks, pp. 620, 621. – Jeffrey Evans, Jeffrey S. Evans & Assoc.
Support: Reference to Price guide to all flasks by Mike Roberts, 1981
Support: Reference to American Bottles and Flasks and Their Ancestry by Helen McKearin and Kenneth M. Wilson, Crown Publishers Inc., New York, 1978.