Minnehaha Laughing Water Martindale & Johnston Philadelphia
Minnehaha
Laughing Waters
Martindale & Johnston
Philadelphia
(Monogram)
Thomas Martindale & William Johnston
Philadelphia, Pennsylvania
Stoneware Whiskey Jugs
Provenance: Tod von Mechow Collection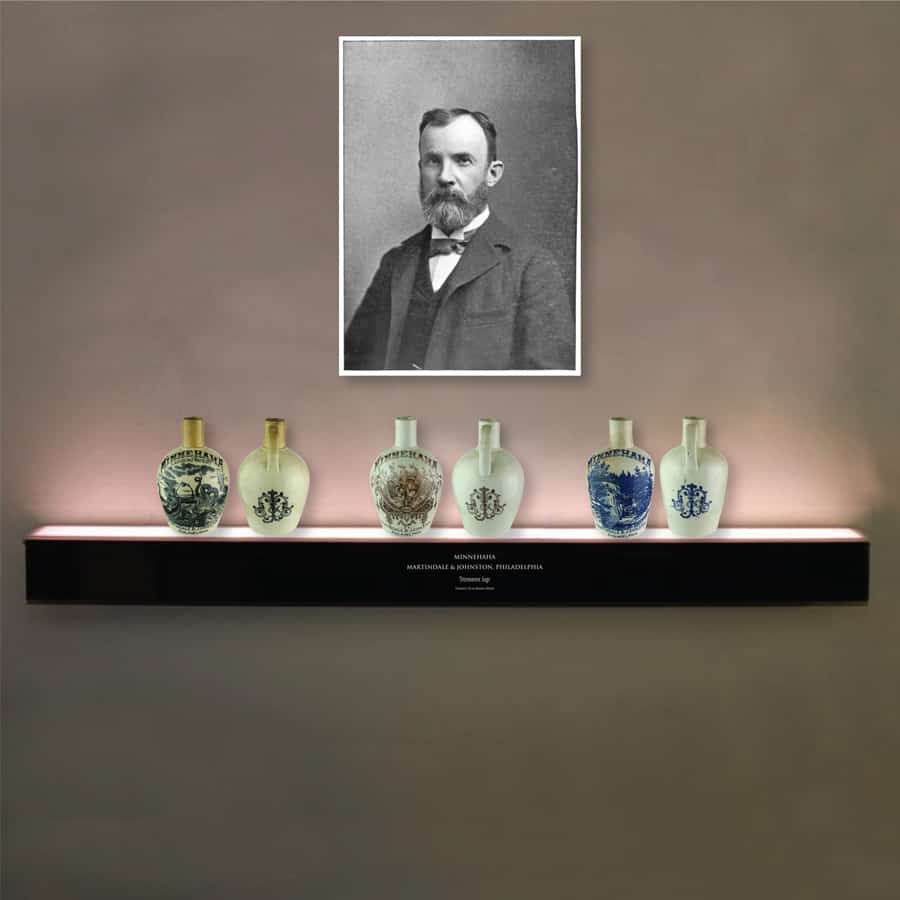 Thomas Martindale was a well-known grocer, civic leader, author, and big game hunter. Our interest here is when he was a Philadelphia merchant whose company, Martindale & Johnston, produced three of the most collector-sought American whiskey jugs. Founded in 1869, Martindale's is known as the first health food store in the United States. They are still in business today.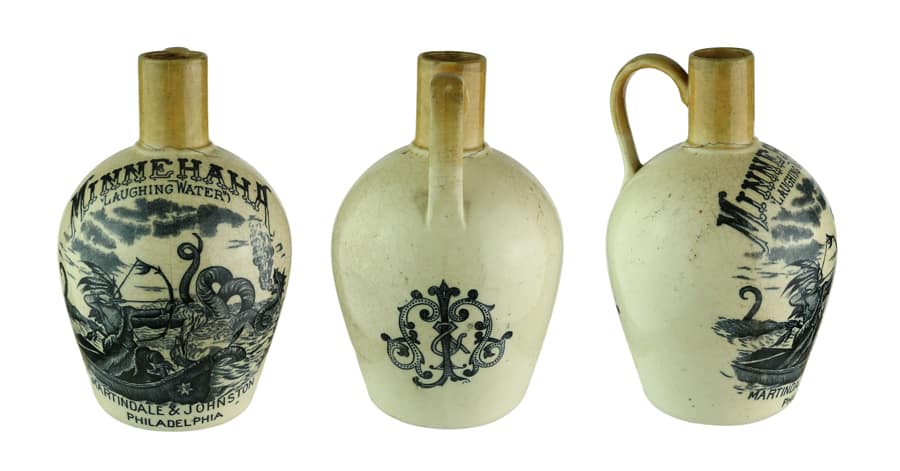 Our feature handled stoneware jug reads "Minnehaha Laughing Waters, Martindale & Johnston, Philadelphia." The jug uses a blue-black underglaze transfer design depicting an Indian brave in a canoe attacking a sea serpent with a bow and arrow. At the same time, a European gentleman lies prone at his side. The name "Minnehaha" is derived from the poem by Henry Longfellow called "Song of Hiawatha." It is a long epic tale about an Indian brave who does many heroic deeds to assist his tribe. Minnehaha was his sweetheart. The jug measures a little over 7 inches tall. The maker is unknown.
The poem was staple reading in American schools for decades and the characters would have been familiar to most people of the 19th and early 20th Century. We can assume that the Indian shooting the serpent is Hiawatha. This Indian brave frequently was depicted with a bow and arrow, often pointed at a deer though we see no historical reference to Hiawatha besting a sea serpent. Moreover, white men appear in the poem only at the very end and with little attention. The encounter depicted on the jug seems to have been the concoction of the artist, identity unknown.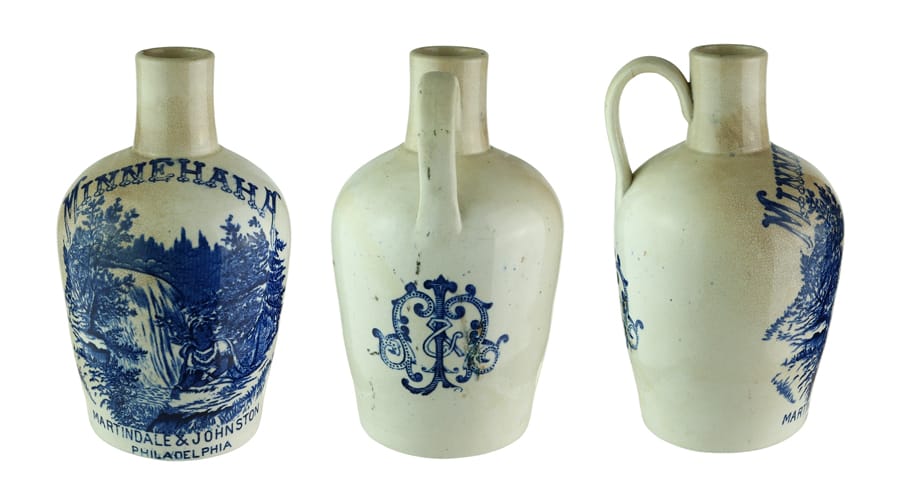 The second jug depicts the winsome Minnehaha sitting near a waterfall. It comes in two versions. In one, the title is the same as the first, and the illustration is crisp dark cobalt blue. The copy "Laughing Waters" is missing. This jug is also found in a sepia brown which is pictured in the museum. The jug measures a little over 7 inches tall. The maker is unknown.
See the spinning museum "Minnehaha and Waterfall" example of "Minnehaha, Martindale & Johnston, Philadelphia, (Monogram)" jug.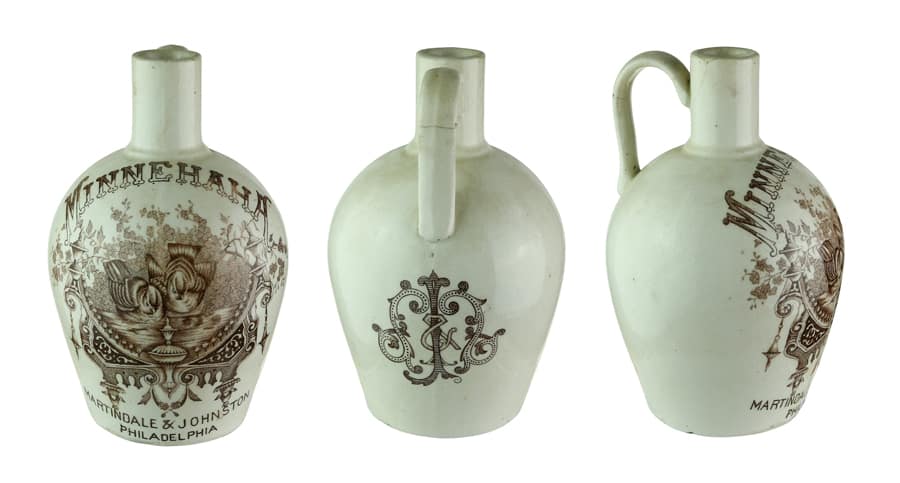 The third Minnehaha jug has nothing to do with Native Americans. It depicts two small birds looking intently at the ground amidst a floral background. On further inspection, it would seem that the birds are on an elaborate Victorian stage and illuminated by rows of footlights. The jug comes in sepia brown and blue. Like the others, it bears an ornate M&J monogram at the back. The "Laughing Waters" copy is also missing. The jug measures a little over 7 inches tall. The maker is unknown.
See the spinning museum "Two Birds" example of "Minnehaha, Martindale & Johnston, Philadelphia, (Monogram)" jug.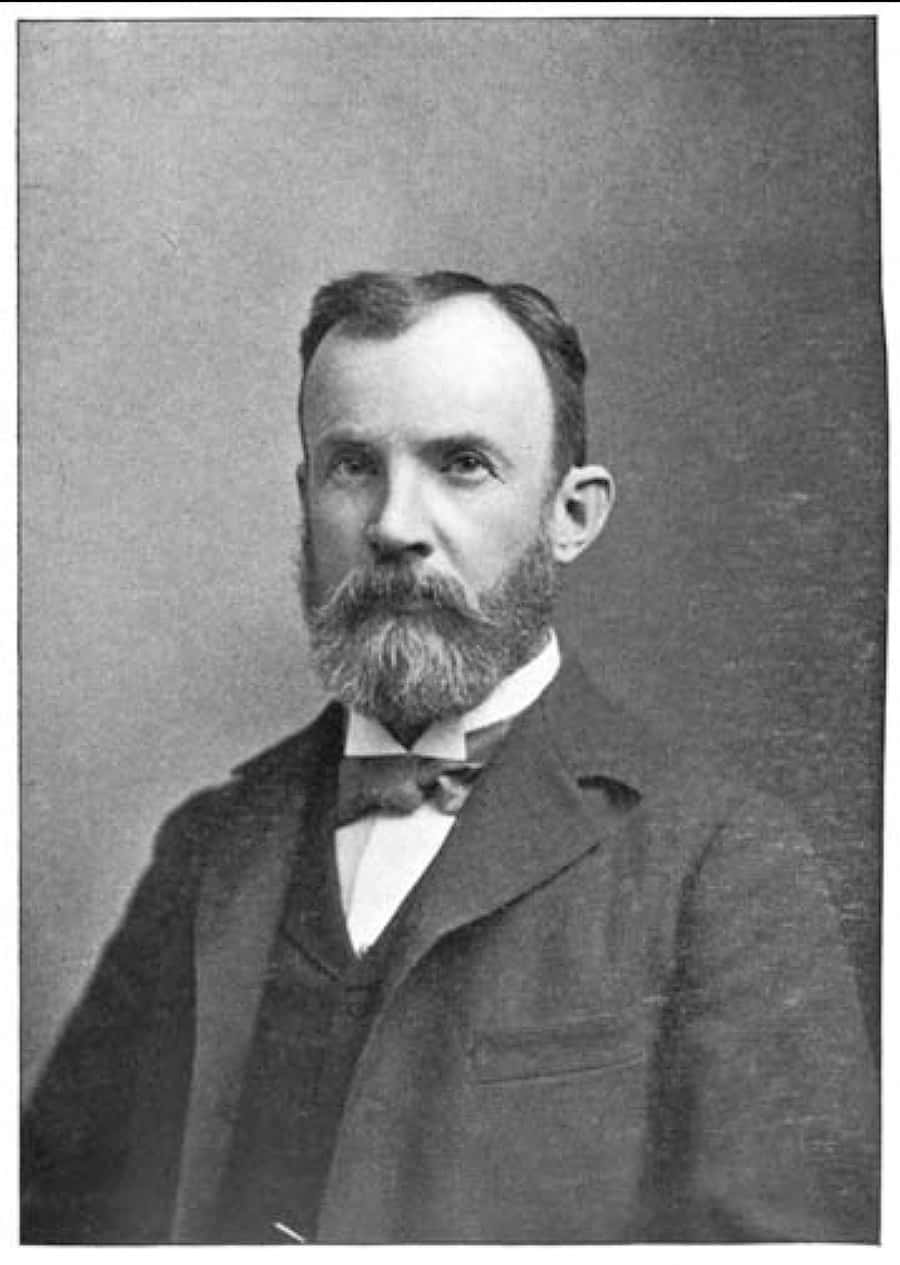 Thomas Martindale, the man responsible for these attractive containers, was born in 1848 to poor parents in England, emigrating to the United States at the age of eight with his family. After trying several occupations in his early years, Martindale entered the grocery business in 1869 in an area of Philadelphia known as "Old City." He bought a half interest in a small store but, in a short time, had built it into a leading grocery in the city and eventually bought out his partner. Martindale's store became known as "The Oldest Natural Food Store in the United States." Under the founder's leadership, according to company literature, the store included a lunch room, some office space, and a plant to manufacture a coffee substitute. The foods served in the lunchroom were salads, soups, Martindale's coffee substitute, tea, healthy baked goods sweetened with honey and maple syrup, and ice cream sweetened with honey.
During this period, Martindale married a local Pennsylvania-born woman named Rosanna Crum, commonly called "Rosie." They would have two children, Thomas C., born in 1873, and James, born in 1878. About 1880, he moved his growing family to an imposing house at 413 33rd Street. Built in 1859, the three-story, Italianate-style double, rough coat over brick featured central recessed entrances, outer pitched gabled towers, and a Victorian porch extending from the entrance. It still stands and has been listed on the National Register of Historic Places since 1985.
In 1883, Martindale teamed with a local named William Johnston to found a grocery at 10th and Market Streets in Philadelphia. Ironically, given his reputed prejudice against such food items as coffee and sugar, Martindale had no liquor compunction. His company was listed in business directories as "Importers, Grocers, Wine and Spirits Merchants." Whiskey was a mainstay. The flagship brand was "Dirigo," a Latin phrase meaning "I lead." The firm issued several shot glasses for that label. "Weardale" was another Martindale brand and, as we have seen, "Minnehaha."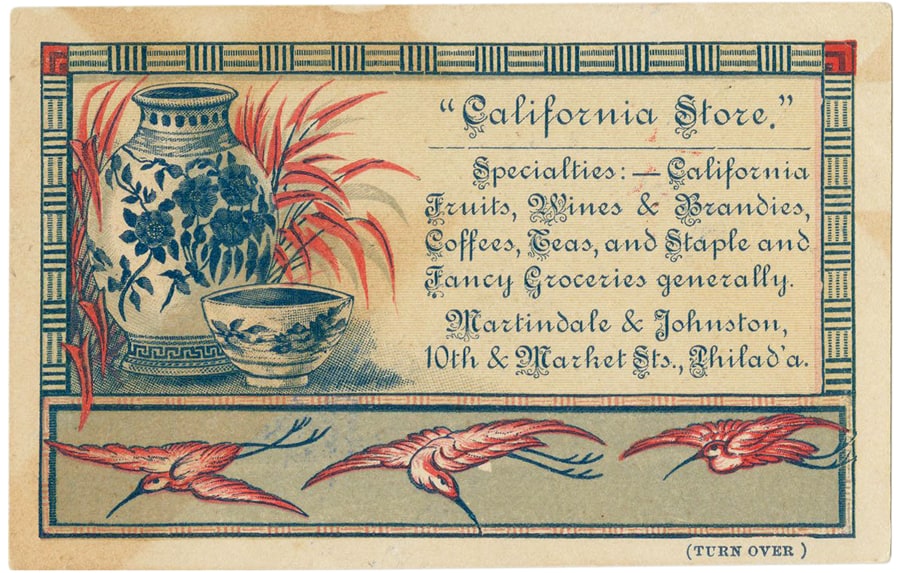 During the late 1880s, Johnston appears to have departed the partnership, and by 1887 the company changed its name to Thomas Martindale & Company. 1900 city directories show Martindale as president. He also made an impact on Philadelphia's civic life. He was the first president of the Poor Richard Club, a private club in Philadelphia whose members were mostly advertising industry members. It was founded in 1906 to promote and enforce ethical advertising guidelines but functioned mainly as a place to nurture business, social, and political relationships. He also founded the Philadelphia Trades League and was an active Retail Grocer's Association member.
With time, Martindale's passion turned to big game hunting. The interior of his home displayed a number of his wall-mounted trophies. An image exists showing Martindale on horseback on the frozen tundra as he was particularly avid for hunting in Alaska and the Canadian Northwest. Not only did he write books about his adventures, but he was also frequently asked to speak to men's groups. In January 1916, he gave a talk to a Philadelphia area college alumni association in which he was introduced as a "true man," at once a successful merchant and leading an active, masculine life. Martindale exhibited his hunting trophies, including caribou racks, polar bear pelts, and mountain sheep fleeces, while extolling the virtues of the outdoors and exercise.
Ironically, Martindale may already have been ill. Later that year, as he prepared for another hunting expedition in Northern British Columbia, according to an obituary, friends urged him not to go because of signs of bad health. His doctor disagreed, believing the open air would benefit the businessman. About one month into his trip, Martindale was beset with "boils and carbuncles and a facial disorder that his friends believe to have been paralysis." Failing rapidly, he died far from civilization, and his body was carried by his companions on a woodland trail to the nearest railroad line. A special train was dispatched that carried Martindale on to Skagway, where his body was embalmed and shipped to the United States by steamer. Following funeral services in Philadelphia, he was buried in Westminster Cemetery.
Before his death, Martindale had groomed his son, Thomas C., to take the reins of the grocery firm. The son, a lifelong bachelor, and natural foods advocate, proved to be an able manager while continuing to live with his widowed mother in the house on 33rd Street. When Prohibition was levied, Martindale alcoholic products disappeared forever. They are remembered still, however, through the fancy jugs that Thomas Martindale had decreed for them.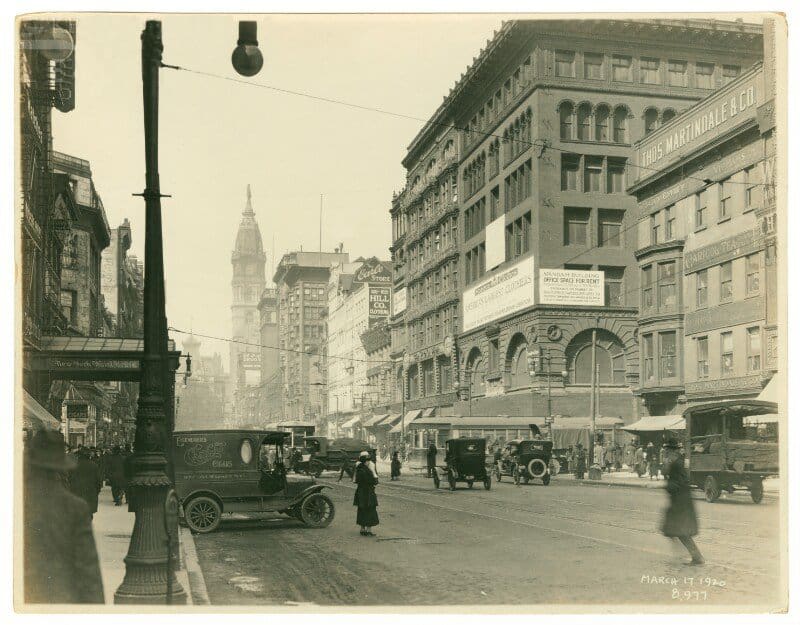 Primary Images: All three Minnehaha jugs were imaged on location by Alan DeMaison, FOHBC Virtual Museum Midwest Studio.
Support: Reference to Thomas Martindale: The Hunter and His Jugs by Jack Sullivan, Those Pre-Pro Whiskey Men!, January 28, 2013. Museum research by Jack Sullivan, FOHBC 2012 Hall of Fame.
Support Image: Illustrations of an Indian maiden looking contemplatively by the side of a waterfall. 'Minnehaha' is above and 'Martindale & Johnston/ Philadelphia' is below. The reverse features an elaborate 'M & J' monogram. All are transfer printed in sepia brown. Very good antique condition with no chips or cracks. Crazing throughout. At some point, the handle was either repaired or replaced. There is an interior anchor screw and painting on the handle & around contact points (see photos). Approximately 7″ x 4 1/2″ x 3″ (at base)/ 2 3/4″ (at mouth w/ handle) – Worthpoint
Support Image: "Thos. Martindale & Co. Importing Grocers, Tenth and Market Streets, Philadelphia." two-color stoneware jug from eBay.
Join the FOHBC: The Virtual Museum is a project of the Federation of Historical Bottle Collectors (FOHBC). To become a member.