Dr. Truxal's Sacred Elixir
Dr. Truxal's Sacred Elixir
N. W. Truxal, Washington County, Pennsylvania
Rectangular Aquamarine Medicine
Provenance: Chip Cable Collection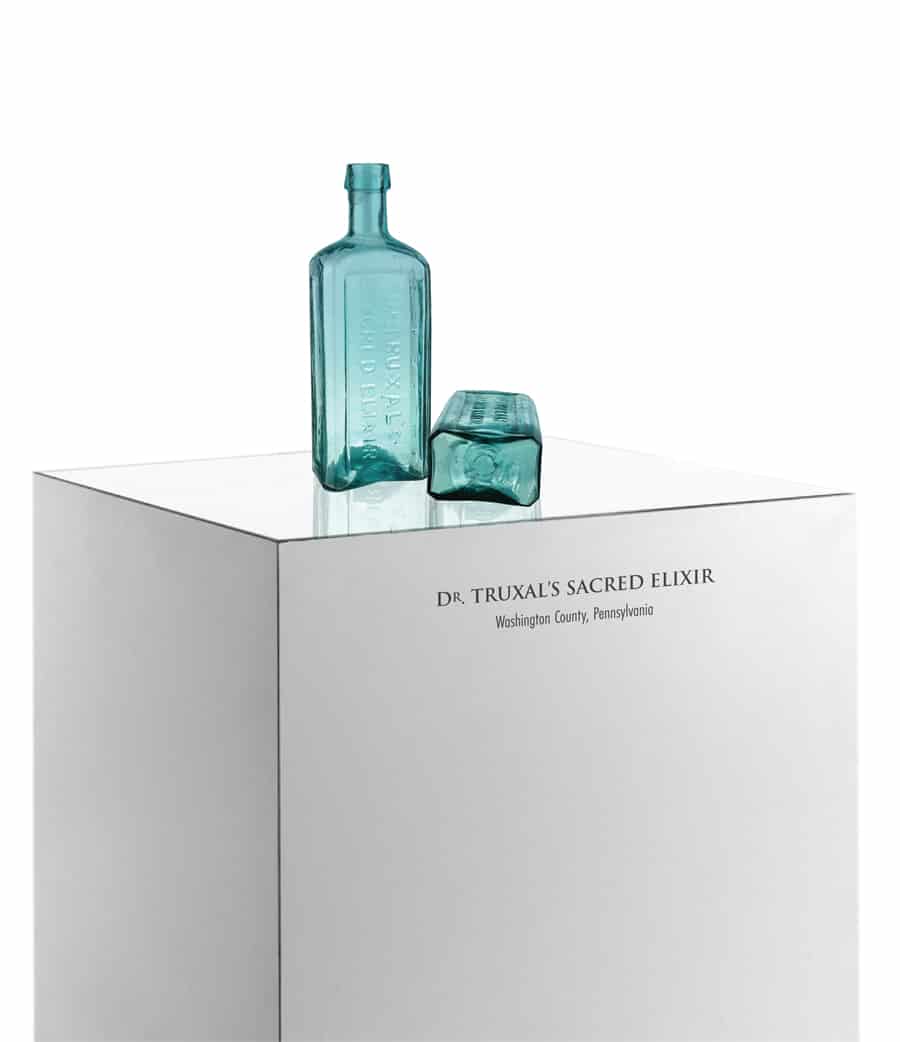 Our "Dr. Truxal's Sacred Elixir" bottle is extremely rare. It was found in a barn that was being torn down in Greene County, Pa, just down the river from where it was conceived in Washington County. These counties are both southwest of Pittsburgh, Pa. There were four or five other rare pontiled bottles found with the medicine bottle.
Dr. Truxal's Sacred Elixir was advertised briefly from April 1856 to mid-1857 in a series of notices placed in the Wheeling Daily Intelligencer by T. H. Logan & Co., who were general agents and druggists in Wheeling, Virginia. Wheeling is about 32 miles west of Washington, Pa. A few years later, West Virginia was accepted into the union on June 20, 1863.
A testimonial stated that Mr. Robert McKinely, of West Brownsville, Pa., aged 31, "sent to Masontown in the fall of 1851 for a bottle of Sacred Elixir, which performed a permanent cure." The same advertisement said that Dr. Truxal was a "regular physician and stands high in Washington County, Pennsylvania, in his profession and as a man." The medicine was sold for $1.00 a bottle and was said to be for "Dyspepsia alone."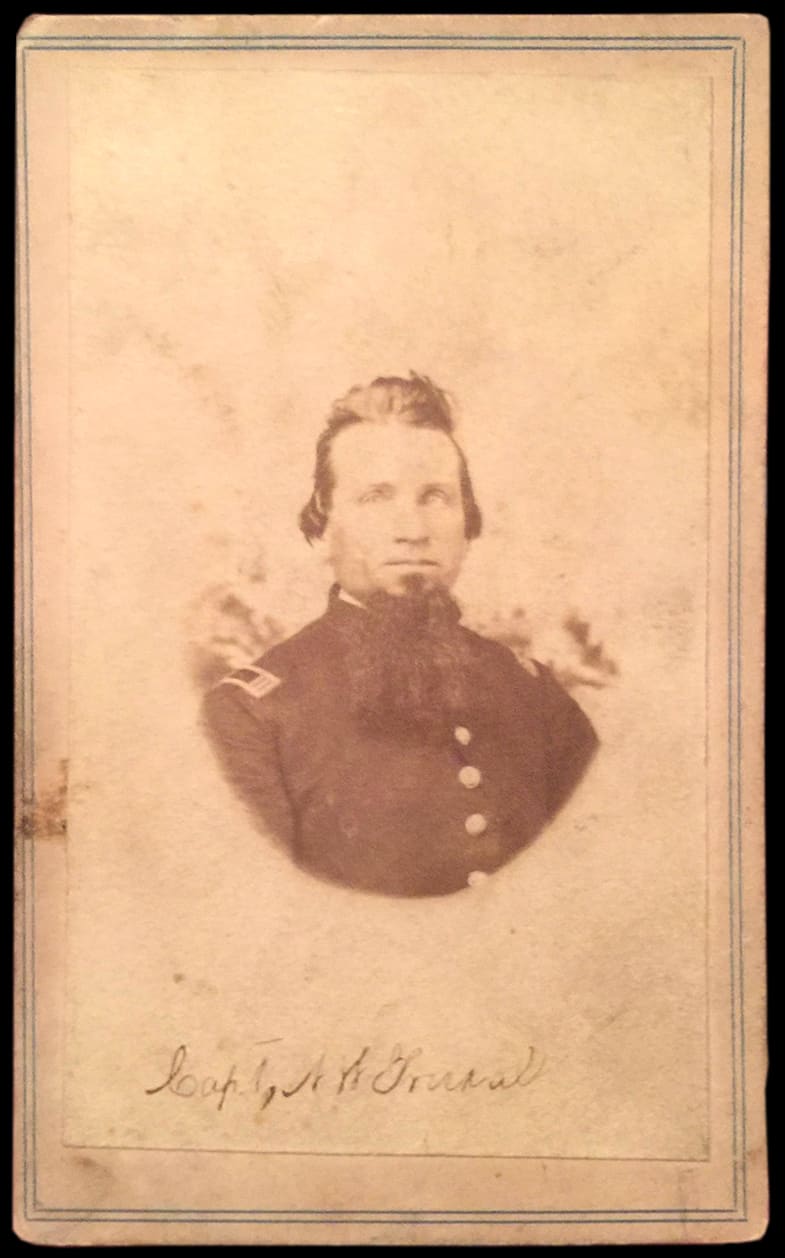 Dr. Norval Wilson Truxal was a prominent physician who practiced medicine in Washington County and Brownsville, Pennsylvania. He was born in Greensburg, Westmoreland County, Pa., in 1822. When he was a young man, he entered a printing office as an apprentice. He learned the art and afterward, published a paper for a time in Mount Pleasant, Pa. During this time, he studied medicine and commenced his practice in 1848 in Pittsburgh, Pa. He was considered part of the Eclectic School of Medicine.
When the Civil War broke out, Truxal responded to his country's call and served as captain of Company 1, 5th West Virginia Cavalry, until the close of the war. Later he moved to Masontown, Millsboro, and California, Pa. and in 1870, moved to Brownsville and practiced until his death on July 11, 1893. Along the way, he would marry Elizabeth Ellen Truxal. Their children were Henry Foster, Leander Moore, John Wilson, Dora Bell, Emma Katherine, and Mary Elizabeth Truxal.
Our rich aquamarine example is rectangular and measures 7 ½" inches tall by 2 5/8" inches wide by 1 ¾ inch. There is one indented beveled vertical panel with embossed copy reading from shoulder to base 'DR. TRUXAL'S SACRED ELIXIR' in a transition serif copy in two lines. The "R" of "DR." is smaller and raised. The "S" of "Sacred" is embossed very weakly. The side panels are also recessed. The opposite panel from the embossed face is smooth and would have been where the proprietor placed a paper label. The shoulder is rounded, connecting to a tall neck with an applied tapered collar. The base has a rough pontil mark. It would have been made in a Wheeling or Pittsburgh district glasshouse.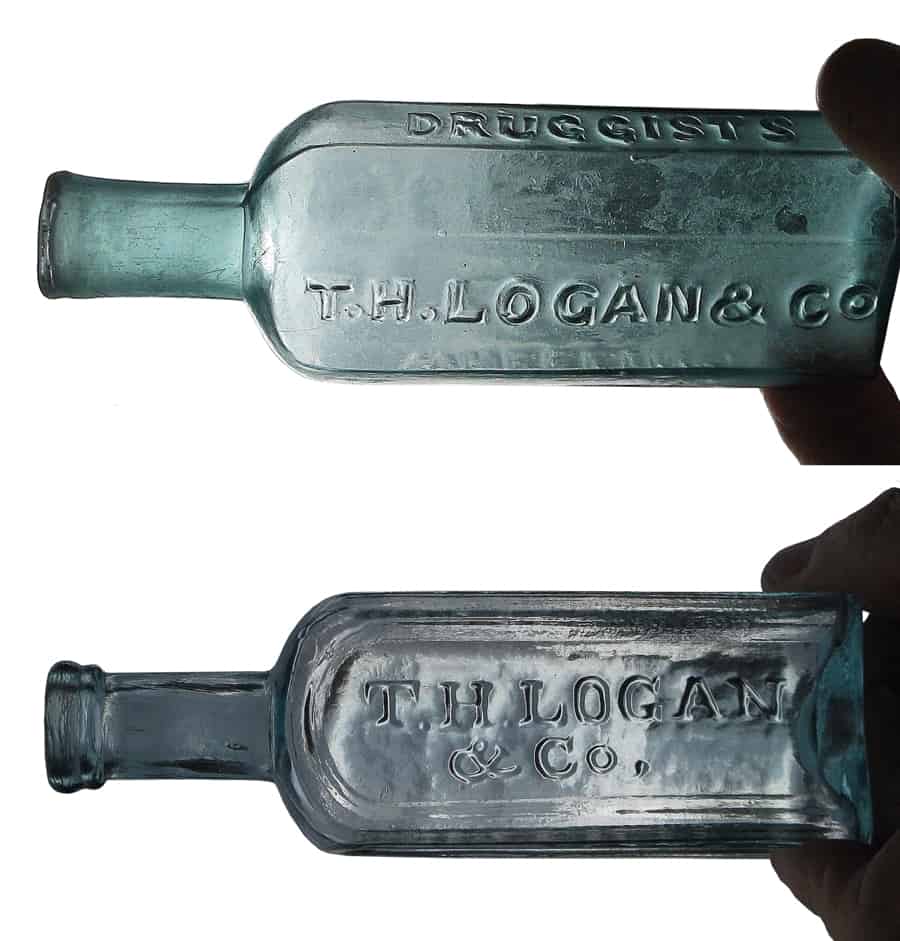 Primary Image: Dr. Truxal's Sacred Elixir imaged on location by Alan DeMaison, FOHBC Virtual Museum Midwest Studio.
Support: Reference to A History of the Medical Profession of Fayette County, Pennsylvania, Pennsylvania State University, 1924
Support: Reference to Hart's History and Directory of the Three Towns, Brownsville, Bridgeport, West Brownsville, John Percy Hart, W. H. Bright, 1904, Columbia University
Join the FOHBC: The Virtual Museum is a project of the Federation of Historical Bottle Collectors (FOHBC). To become a member.