The Canton Domestic Fruit Jar
The Canton Domestic Fruit Jar
Canton Glass Co., Canton, Ohio

Deep Cobalt Blue Quart
Provenance: Darrell Plank Collection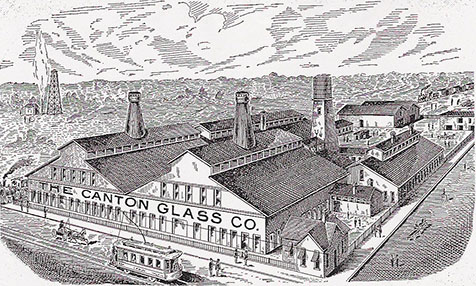 You don't come across too many cobalt blue glass fruit jars. When you do, like antique bottles, you are captured by its beauty and depth. The Canton Domestic Fruit Jar is no exception and has to be one of the most exciting colored jars in existence.
See the Mason's Patent 1858 jar in cobalt blue.
See the Lighting Putnam 451 jar in cobalt blue.
Three opportunistic men incorporated the Canton Glass Company in 1882. This included Joseph K. Brown of Beaver Falls, Pennsylvania, A. M. Bacon of Pittsburgh, Pennsylvania, and David Barker of Brilliant, Ohio. Though risky at the time, it took only fifty thousand dollars to begin one of America's most prosperous glass companies.
Over time, The Canton Glass Co. operated in five locations with initial production beginning on October 18, 1883, at 235 Marion Street in Canton, Ohio. The company published its first advertisement on June 7, 1883, in Crockery & Glass Journal publicizing their "Pressed, Brown, Cut and Engraved Table Glassware, Special French and Solid Ring Jars, Bar Goods, and Lantern Chimneys." Another newspaper advertisement in The Stark County Democrat, on July 14, 1887, specifically promoted The Canton Fruit Jar with an illustration of the jar and noting "Patent Applied For."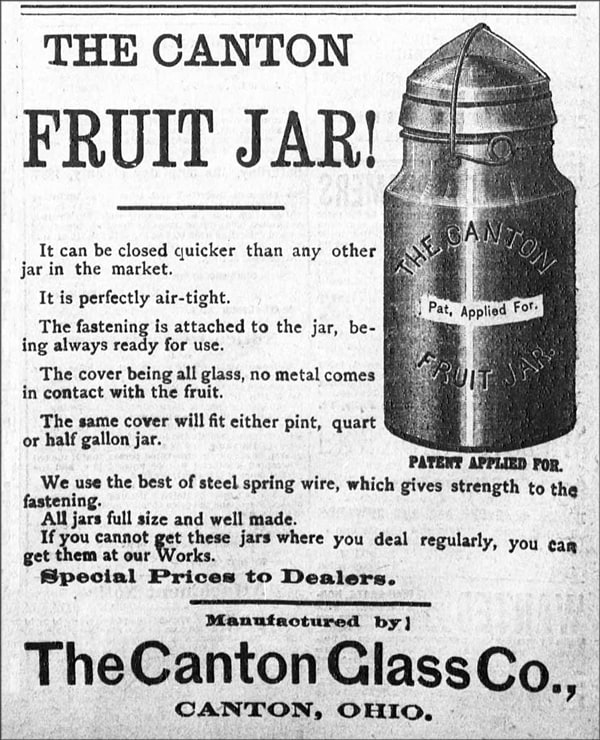 During this period, the company was growing and employed over 200 men, and children which was a common practice in those days. They were producing enough wares to keep the factory running at full capacity. This included the production of three major lines of fruit jars between 1885 and 1902, with two of those extending into the Cambridge Glass Co.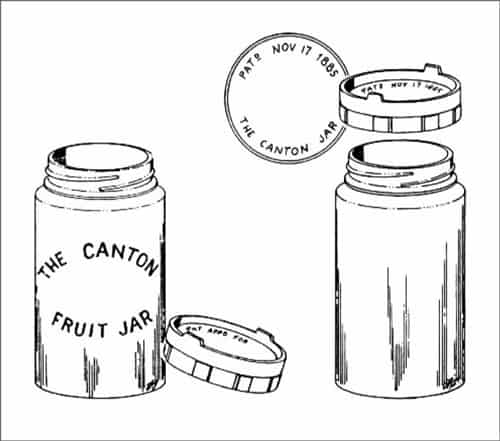 The earliest fruit jar series, based on David Barker's 1885 patent for a continuous-thread lid mold, was embossed 'THE CANTON FRUIT JAR' and had a screw cap. The original jar was either replaced by or offered contemporarily with the newer 'THE CANTON ELECTRIC FRUIT JAR' made from the Heston & Akers 1887 patent.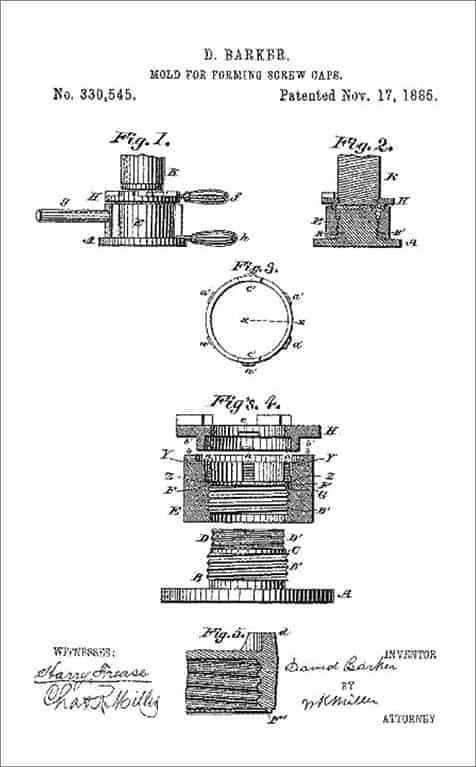 When Barker designed an improvement to the Heston & Akers closure, Canton Glass adopted the new format during 1889. At some point, probably early, the factory added the wording "DOMESTIC" between "THE CANTON" and "FRUIT JAR."
Our deep cobalt blue quart jar is hand-blown and has a ground lip. It is embossed on the face,' THE CANTON DOMESTIC FRUIT JAR.' The closure is a top seal using a straddle lip high finned glass lid and wire bail clamp that fits into dimples in the jar's neck. It can be found with a dome top that is embossed PATD DEC 31 1889 like our museum example, and a flat top lid embossed the same. Typically you find the jar in clear, colorless glass pints and quarts. The deep cobalt blue jars with matching cobalt blue lids command the top attention and prices. There are a number of jar molds, sizes, and embossing variations of non-cobalt jars.
Tragedy struck the Canton, Ohio plant in 1892 as a glass company's worst nightmare came to life when a terrible fire destroyed the glassworks. Their plant was destroyed but they managed to salvage portions of their molds. Since the molds were still in working condition, the management decided to move to an existing plant at Beaver Falls, Pennsylvania instead of rebuilding. In fact, when they decided to rebuild, the board chose to relocate altogether.
Marion, Indiana was the optimal choice due to the city's plentiful natural gas collection. The plan for the factory was published in China, Glass and Lamps on December 17, 1890, and was noted as follows, "it would be located on the 1800 block of Spencer Avenue, there would be the main building consisting of an 80' x 164' main room, a 12' x 12' shipping room, a 20' x 30' packing room, a 24' x 40' blacksmith shop, and a 40' x 100' machine shop with a mold room and grinding/polishing room. There was a 15-pot furnace in the main room." Also in the proposition but never built was a 20' x 50' cooper shop and a 250-barrel water tank. Another innovation at the Marion plant was its corrugated iron structure of the buildings and its steel roofs.
The company joined the National Glass Co. in 1899, but National closed the Marion plant in 1902 and moved to Cambridge, Ohio. Local businessmen revised the Canton Glass Co. name and a new factory at Marion, then moved to Hartford City, Indiana. All of the plants primarily produced tableware. Some of the fruit jars were continued by the Cambridge Glass Co.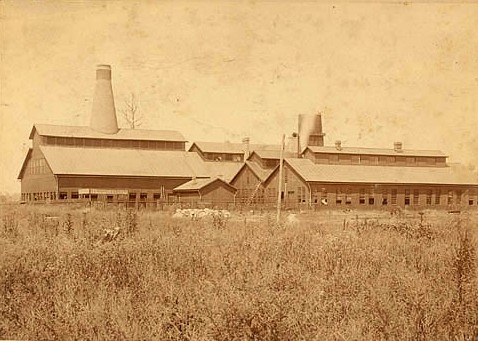 Support: Reference to Canton Glass Co. and the Cambridge Glass Co. by Bill Lockhart, Carol Serr, Beau Schreiver, and Bill Lindsey
Support: Reference to Red Book #11, the Collector's Guide to Old Fruit Jars by Douglas M. Leybourne, Jr. Use of Creswick illustration granted by same.
Support: Reference to Fruit Jar Annual 2020 – The Guide to Collecting Fruit Jars by Jerome J. McCann
Support Images: Auction Lot 1208: Dark Cobalt Blue Quart THE CANTON DOMESTIC FRUIT JAR, Closure: correct original exact matching dark cobalt blue glass lid and original wire clamp. Appearance: sparkling. Condition: no damage other than normal minor flaking of the ground mouth, and the glass lid has minor flaking on the bottom edge. Strength of Embossing: very strong. Base: unmarked. Age: late 1800's. Availability: rare and an outstanding example of this highly-appealing old jar. – Greg Spurgeon, North American Glass
Support Images: Auction Lot 8467: Cobalt Blue Quart THE CANTON DOMESTIC FRUIT JAR. Closure: original matching Cobalt Blue glass lid (one bottom edge flake on lid) and original shaped iron wire clamp. Appearance: sparkling glass with fine surface swirling all over. Condition: normal nicking of the ground mouth. Embossing: strong. Base: unmarked. Age: late 1800's. Availability: Extremely rare in this stunning color…..a beautiful jar. Only about a dozen examples are known. The patentee for this jar was David Barker of Canton, Ohio. The various Canton jars were made in the 1890s by the Canton Glass Co. of Marion, Indiana and Canton, Ohio, and by the Cambridge Glass Co of Cambridge, Ohio. – Greg Spurgeon, North American Glass
Support Images: Auction Lot 8705: THE CANTON DOMESTIC FRUIT JAR Quart Size, Colorless, Closure: original high-finned glass lid (chips on fin) and original wire clamp, Appearance: has some usage scratches, Condition: mouth is chipped, Embossing: strong, Base: unmarked, Age: late 1800's, Availability: uncommon – Greg Spurgeon, North American Glass
Support: Reference to WikiMarion.com