N.B. Glass Works Perth (Feather Filled Ball)
N. B. Glass Works Perth
(Feather Filled Ball)

North British Glassworks, Perth, Scotland
Light Cornflower Blue Target Ball
Provenance: Ex: Ralph Finch Collection, American Glass Gallery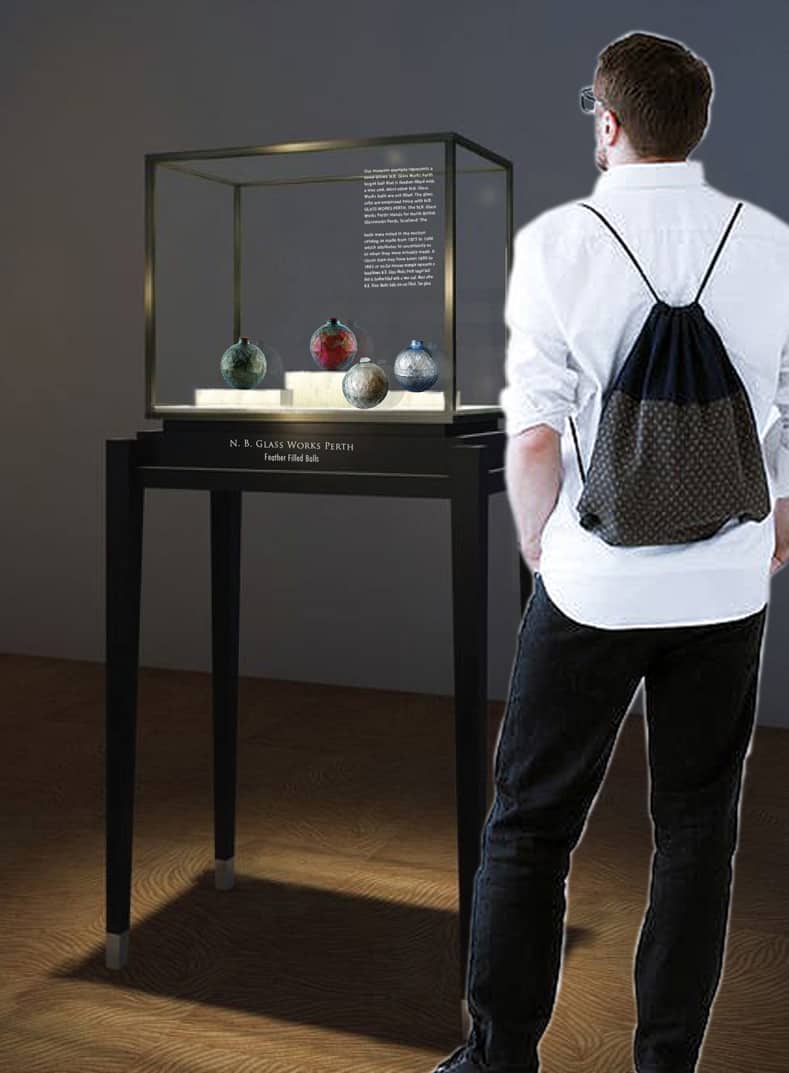 Our museum example represents a hand-blown "N. B. Glass Works Perth" target ball that is feather-filled with a wax seal. Most other N.B. Glass Works balls are not filled. The glass orbs are embossed twice with 'N.B. GLASS WORKS PERTH.' The "N.B. Glass Works Perth" stands for North British Glassworks, Perth, Scotland.
The target balls were noted in the auction catalog as made from 1875 to 1900 which attributes to uncertainty as to when they were actually made. A closer date may have been 1880 to 1885 or so.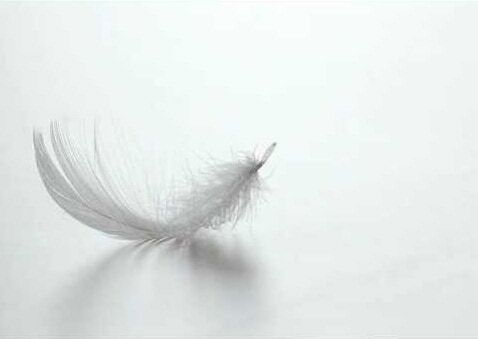 As noted above, these balls were filled with feathers to simulate a struck bird in flight when the glass was hit by a gun shell. There are quite a few examples that exist in greenish-aqua. At least four have been reported with multi-colored feathers and one with confetti. They have been found in England corked with an embossed wax seal. Some balls have a flat base and others a rounded base.
Our museum example is in a deep bluish aqua that is almost a light cornflower blue glass color. There is a quilted diamond pattern above and below the center band which contains the embossed copy. The diamond pattern of the balls was to help them break and prevent the shot from bouncing off them. The 2-5/8″ diameter ball is a 3-piece mold and has a rough sheared mouth. It is in perfect condition. This is the mold variation with a backward "S" in "GLASS" and "WORKS", and an upside-down "P" in "PERTH". It is considered rare with the original multi-colored feathers and embossed wax seal.
We also have in our Museum Target Ball Gallery a N.B. Glass Works Perth (Feather Filled Ball) in a shade deeper sapphire than our subject display ball. You can also see an N.B. Glass Works Perth in deep cobalt blue.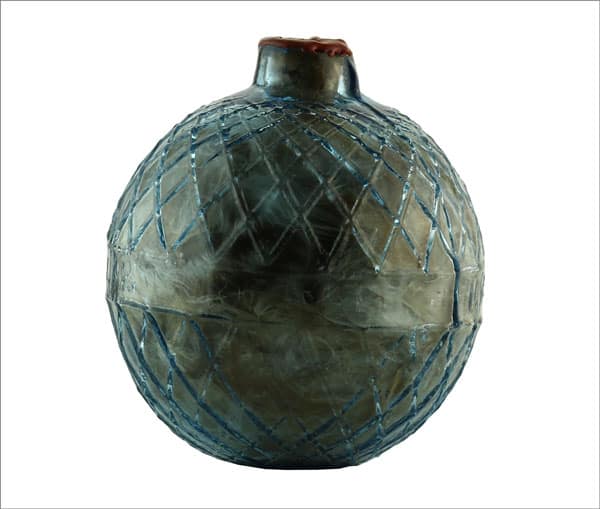 The N.B. Glass Works Perth target balls were made by John Moncrieff who was born in 1834 in Cherrybank, Perth, Scotland. Moncrieff was 13 years old when he started working at the Perth Ink Works in 1847, which was owned by John Todd & Co. In 1855, at the age of 21, he was appointed manager of the glassworks, where he remained until John Todd's death in 1865. John Moncrieff proved to be a very practical man taking on the job of building furnaces and experimenting with the glass being produced. Following the death of John Todd, Moncrieff decided to set up his own glassworks, initially naming it the North British Glass and Ink Works, which he established in 1865. The actual glassworks opened in 1868 at 189 South Street, Perth.
Moncrieff was a prolific producer of glass for the target balls used in shotgun competitions. It is not known when Moncrieff's started to make these balls, but an article in the "Hundred Years Ago" section of the Perthshire Advertiser, February 1st, 1982, states: "The annual glass ball shooting competition took place at Harrietfield, near Perth, on Saturday.' Consequently, it is likely that the balls were being supplied by Moncrieff in 1882.
As you might imagine, glass target balls break leaving glass fragments that can be stepped on or swallowed by grazing animals. To avert this problem, many times shooting exercises occurred over bodies of water and many of those missed balls can still be found in the bottoms of rivers, lakes, and ponds. The following excerpt attests to this condition.
Colin Mayor, Managing Director of Moncrieff's, was given a target ball by a diver who had been working on the construction of the Jubilee Bridge (1977) as part of the reconstruction of the A9 Perth-Inverness road that crosses the River Tay, just North of Dunkeld. The diver in question visited Moncrieff's works with a box containing about 40 target balls that he had recovered from the riverbed, including green, yellow/amber, and cobalt blue examples. He had only been working in an area of some two hundred yards either side of the bridge, but had still recovered about 40 complete balls. It would seem reasonable to conclude that the river still contains hundreds of them.

Frank Andrews & Mary Houston-Lambert, John Moncrieff's North British Glassworks
Primary Image: N. B. Glass Works Perth" feather-filled target ball imaged on location by the FOHBC Virtual Museum midwest studio led by Alan DeMaison.
Support: Reference to John Moncrieff's North British Glassworks by Frank Andrews and Mary Houston-Lambert
Support: Reference to The Ralph Finch Collection of Target Balls, Traps and Shooting Ephemera, An Absentee Auction in Six Parts – 2017-2019, John Pastor and American Glass Gallery
Support Images: Auction Lot 124: Two "Perth NB Glass Works" Target Balls, England, 1880-1900. Sapphire blue and pale yellow-green, crude sheared mouths – smooth bases, dia. 2 ¾ inches. Fine condition with the blue ball being somewhat weak in the embossing, the yellow-green ball has an unusual small circular flat base. – Norman Heckler, Norman C. Heckler & Company, Auction #98
Support Image: N.B. GLASS WORKS PERTH N.B. GLASS WORKS PERTH. Here is an English ball made for about 20 years from 1880 to 1900. This is the flat base variant, which makes for easy displaying and is About Mint. A fairly common ball but one that every collection should have. A fairly hefty ball at 3.2 ounces. – Jeff Wichmann, American Bottle Auctions
Join the FOHBC: The Virtual Museum is a project of the Federation of Historical Bottle Collectors (FOHBC). To become a member.