Cologne Bottle with Pewter Crown Stopper
Cologne Bottle with Crown Stopper
European
Dark Blue Milk Glass
Provenance: Cheryl Reynolds Collection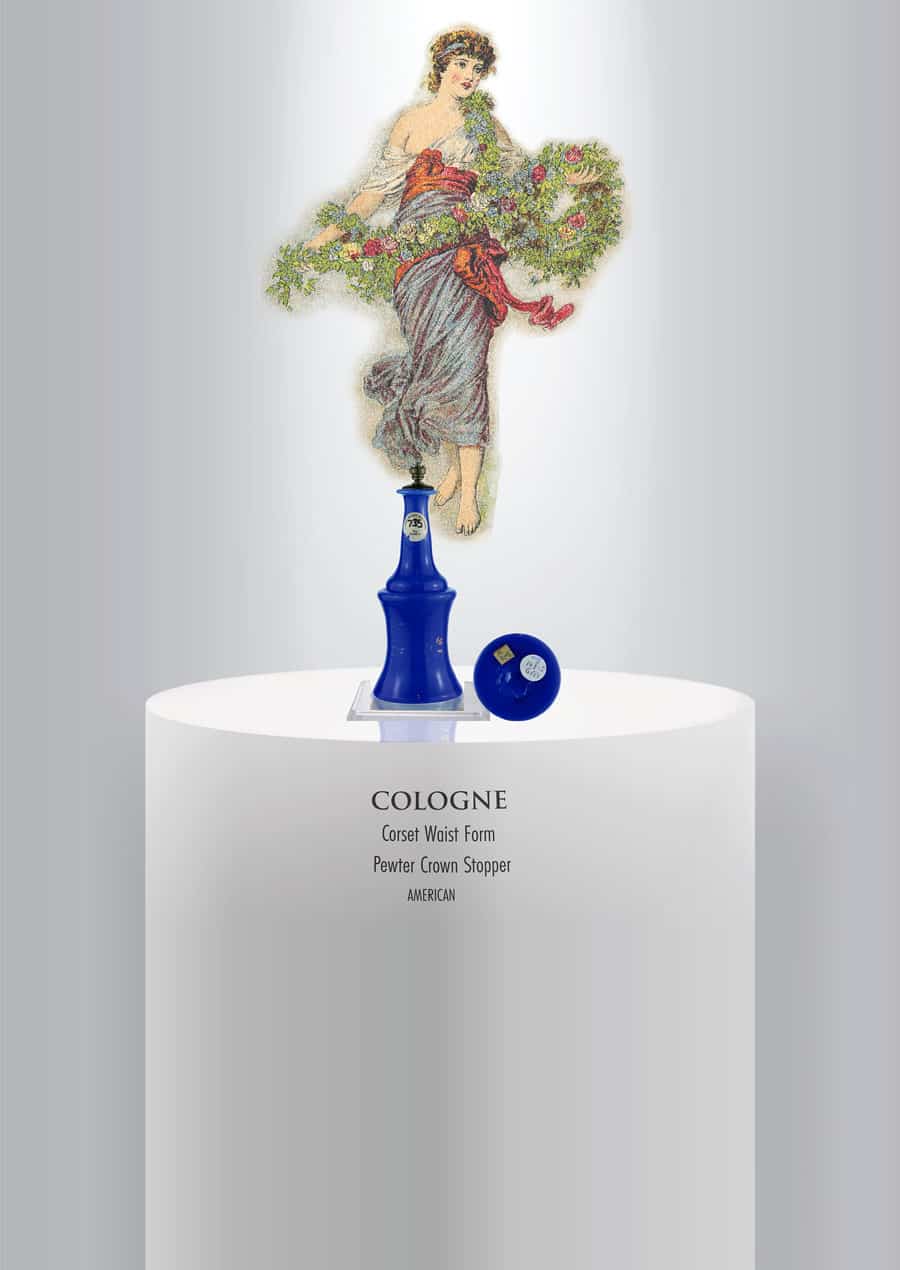 Perfume came from the Latin term "per fumum," which means "through smoke." The first use of perfumes was used to scent the air and were usually aromatic resins and oils that were burned to release an aroma. Early perfume distillation was developed in the East, while Arabic treatises spread the techniques to Europe, particularly Spain, Italy, and, most significantly, France.
Cologne was invented in Germany in 1709 and gained great popularity as a refreshingly light alternative to the stronger scents produced in France, which remained the center of perfumery for many years. Perfume and cologne were used as a status symbol, and smelling pleasant was once a luxury restricted to royalty and the nobility.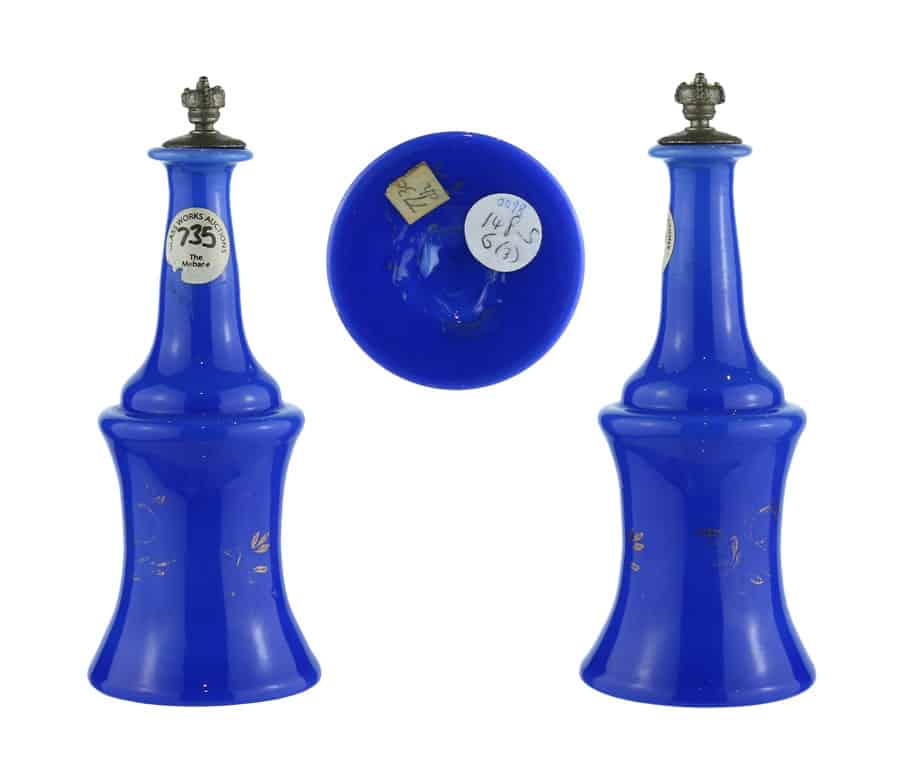 Not much is known about this cologne bottle with a pewter crown stopper. The consigner knew it was special when she saw it on eBay and subsequently added the bottle to her collection. The cologne bottle also has a Glass Works Auctions lot #735 sticker from the Mebane collection.
When looking at the hard-bound Mebane auction book from Glass Works Auctions, the lot description was "Cologne bottle, American, Circa 1870 to 1885. Opalescent dark blue milk glass. Corset waist form. Some original gold paint. 5 1/2 inches tall. Pontil scarred base. Tooled mouth. Perfect. Acquired at an Atlanta, Georgia, area bottle show." Though it is attributed American in the auction catalog, it is most likely European.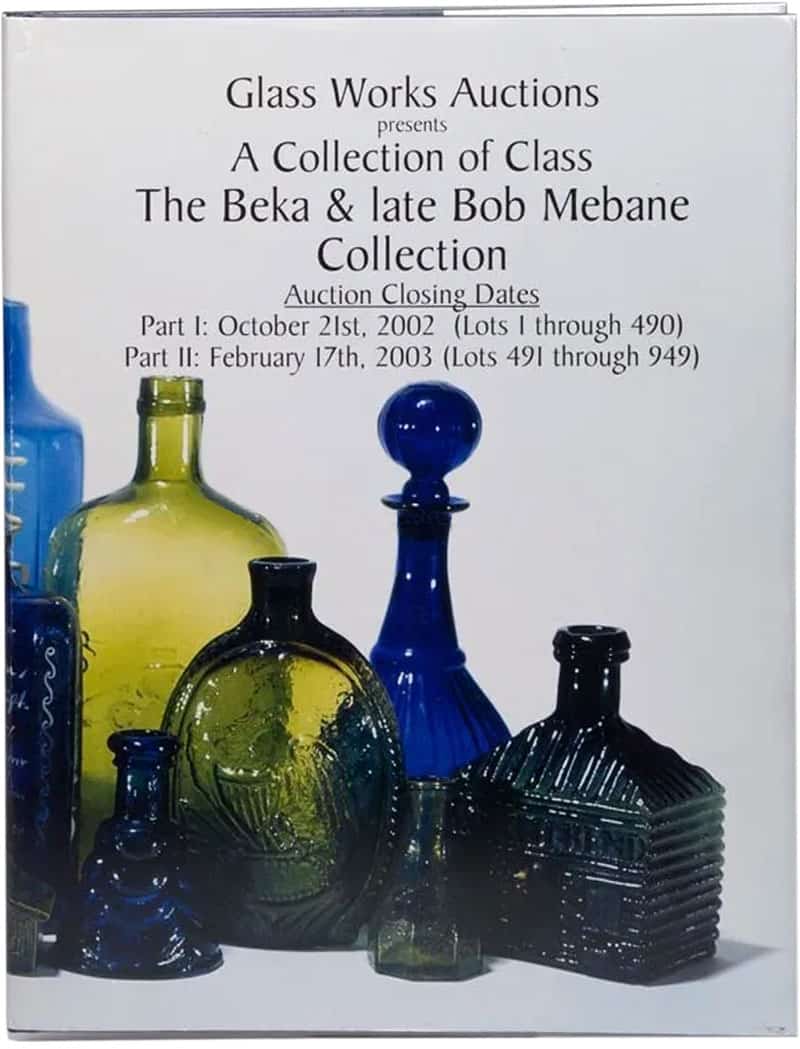 Primary Image: Cologne Bottle with Crown Stopper imaged by Alan DeMaison at the FOHBC Reno 2022 National Antique Bottle Convention mobile imaging station.
Secondary Image: Auction Lot 70: Lot Of Three Cologne Bottles, probably Boston and Sandwich Glass Works, Sandwich, Massachusetts, 1860-1880. Modified corset polygonal forms, cobalt blue, fiery opalescent blue, and opalescent robin's egg blue, tooled flared mouths – smooth bases, ht. 4 5/8 inches to 4 3/4 inches. Similar form MW plate 113 #6 Beautiful and rare colors. The Dr. Gary and Arlette Johnson collection. – Norman Heckler Jr. & Sr., Norman C. Heckler & Company, Auction #101

Join the FOHBC: The Virtual Museum is a project of the Federation of Historical Bottle Collectors (FOHBC). To become a member.