Lloyd & Bender Ginger Pop & Mineral Water
Lloyd & Bender
Ginger Pop & Mineral Water
Cin. O.
Henry T. Lloyd and John R. Bender, Cincinnati, Ohio
Aquamarine Pony
Provenance: Doug Shutler Collection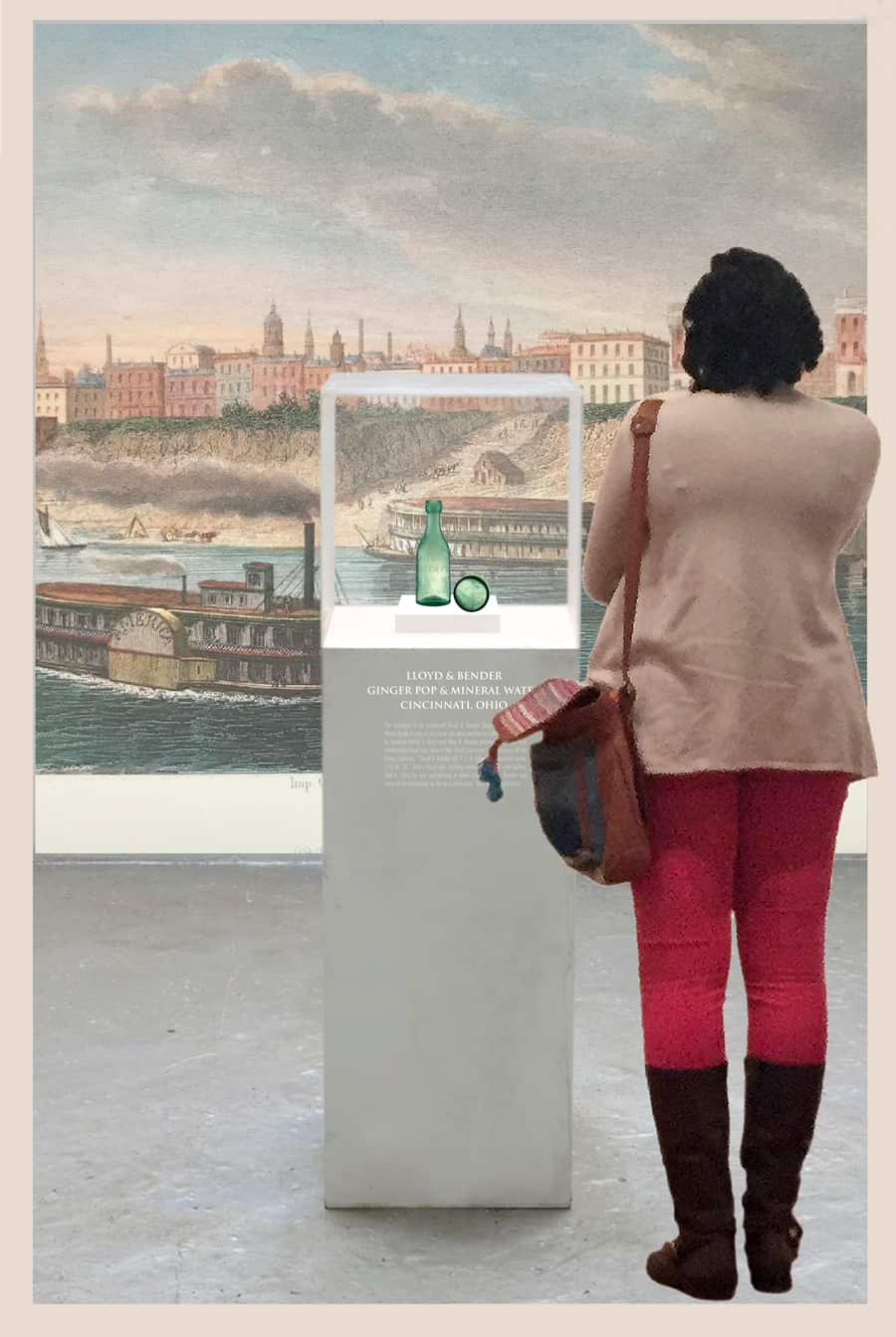 Our example of an embossed Lloyd & Bender Ginger Pop & Mineral Water bottle is rare as we have not seen another in collections. It might be because Henry T. Lloyd and John R. Bender partnered and had their relationship listed only once in the 1868 Cincinnati City Directory. All the listing said was, "Lloyd & Bender (H. T. L. & John R. B.) mineral water, 210 W. 2d." Henry Lloyd was making mineral water the year before, and in 1866 he was specializing in wines and teas. John Bender was more of an accountant as far as a profession. Both were Englishmen.
Before soft drinks, there was a significant mineral and soda water industry in the United States, populated mainly by regional manufacturers. Water quality was a considerable concern in the antebellum days of cholera epidemics. Mineral or soda water was considered safer than well or other flowing water.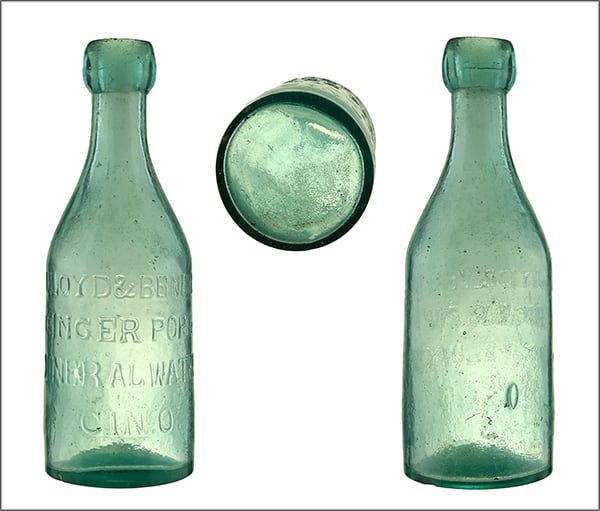 An unknown glass house made our 7 3/8″ cylindrical pony-style bottle. The term pony dates to the 19th century due to the diminutive size, being used earlier for a pony glass and similarly for a pony keg. The copy is embossed in a serif typestyle in four lines on the face of the bottle. The first line reads, 'LLOYD & BENDER', second line, 'GINGER POP &,' third line 'MINERAL WATER' and the fourth line, 'CIN. O.' There is an applied rounded tapered mouth and a smooth base.
The difference between "soda water" and "mineral water" during the 19th century was often vague. Soda water was generally considered flavored artificial mineral water with the purposeful addition of carbonation and various compounds and flavoring. Mineral or spring water, as it was also called, would generally be natural waters from spring sources that were typically highly mineralized with carbonates like alkaline, sulfurous compounds, and or various salts, which often carbonated naturally. The confusion sometimes arises when mineral water is used as a generic term applied to various natural and artificially carbonated, non-artificially flavored waters, including many utilized for their perceived medicinal qualities. Please visit the museum Spring & Mineral Water Gallery.
Primary Image: Lloyd & Bender Ginger Pop & Mineral Water bottle imaged on location by Alan DeMaison, FOHBC Virtual Museum Midwest Studio
Support: Reference to The American Pontiled Soda Database Project, Tod von Mechow
Support: Reference to Soda & Beer Bottles of North America, Tod von Mechow
Join the FOHBC: The Virtual Museum is a project of the Federation of Historical Bottle Collectors (FOHBC). To become a member.