Turner Brothers – Square
Turner Brothers
New York, Buffalo N.Y., San Francisco
Forest Wine Bitters
T 70

Malcolm, James, Thomas, Archibald, Robert, and George Turner

Red Amber Square
Provenance: Steven Hubbell Collection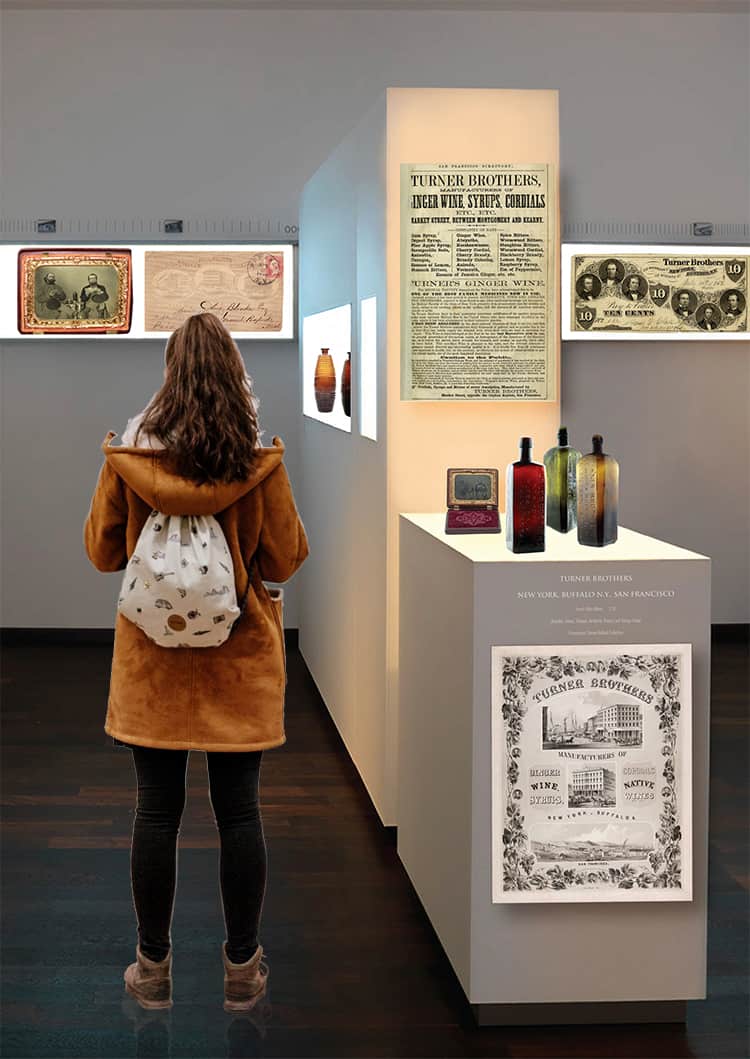 The first time we see Turners' Forest Wine Bitters in widespread newspaper advertising is in 1857 when the bitters are being sold by various merchants and agents in Buffalo, Baltimore, Washington D.C., Pittsburgh, and Louisville among other locales. The bitters product was taking the lead in advertising along with other Turner products such as Turners' Blackberry Brandy, Turners' Raspberry Brandy, Turners' Blackberry Syrup, Turners' Raspberry Wine, Turners' Blackberry Wine, Turners' Ginger Wine, Turners' Lemon Syrup and Turners' Extract of Sarsaparilla.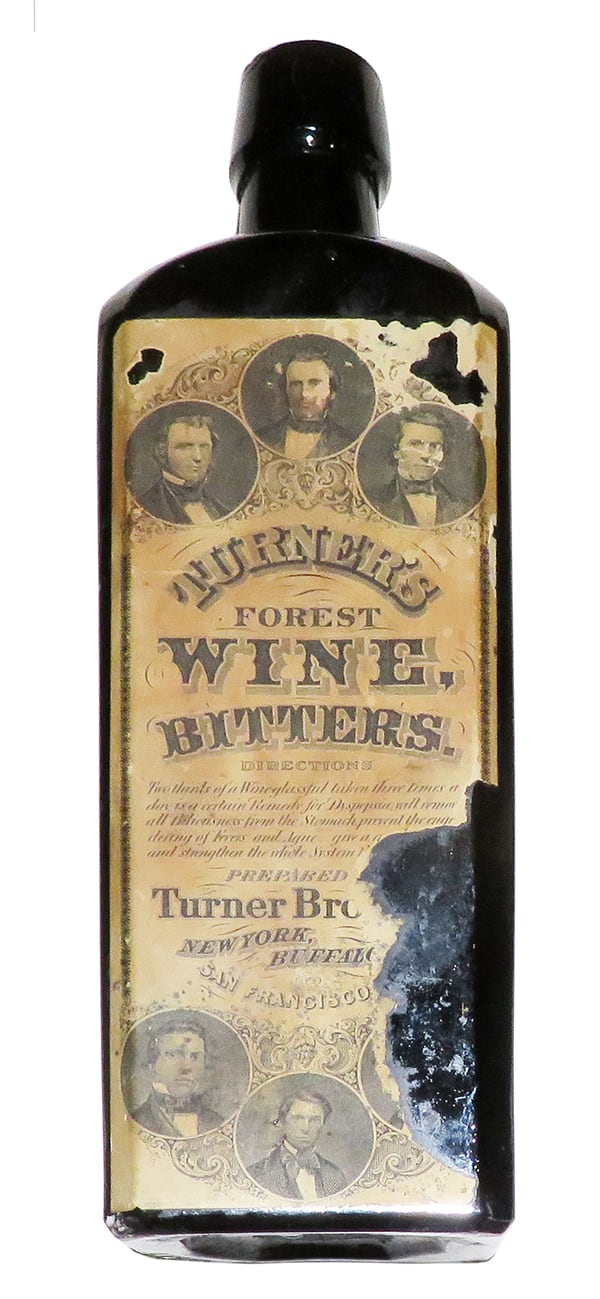 More specific newspaper advertising in 1858 calls out "Turners' Forest Wine Bitters" and notes "Turner Brothers, Importers, and Manufacturers of Ginger Wine, Syrups, Cordials, Bitters, Native Wines, &c. at New York, Buffalo & San Francisco." That same year in California, Turners' Forest Wine Bitters advertising was advertised widely in Santa Cruz, Sacramento, Marysville, and Petaluma newspapers. This advertising in the United States would be fairly common until 1863 when it all but disappeared. On a much smaller level, the Turner Brothers were also advertising and selling Spice Bitters and Wormwood Bitters during this same period.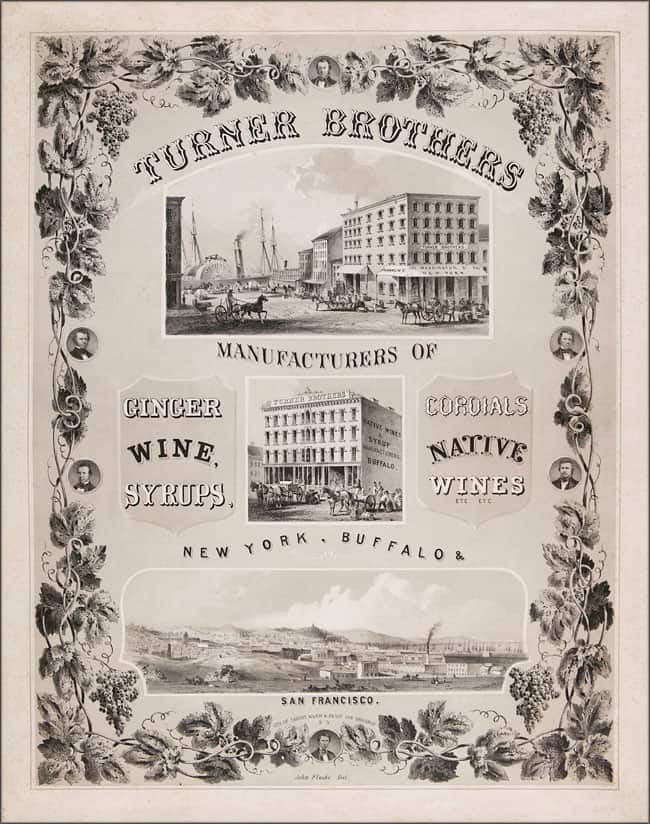 The progenitor of our Turner name was Duncan Turner who emigrated from Dunbartonshire, Scotland to Canada and then New York City in 1818. His wife Mary Shepard Clark had previously emigrated to New York from England three years earlier.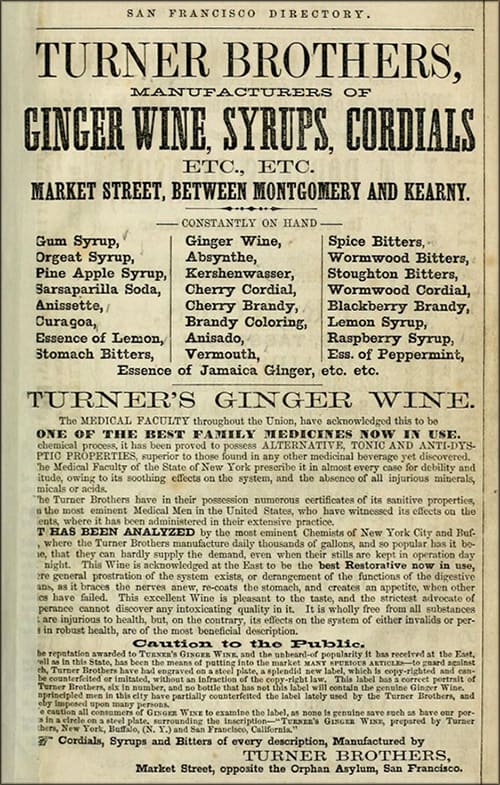 In 1819, Duncan and Mary moved to rural Delaware County, New York where other Scots had established farms. Mary and Duncan had six sons and one daughter; Malcolm, Margaret (known as Ellen), James, Thomas, Archibald, Robert, and George. They established themselves as tenant farmers in an undeveloped area that still had Indians living nearby. All the children were born in Delaware County, New York. Unfortunately, baby Margaret died at age 1-½ years in 1825. She was buried in the Kortright Parish Church cemetery in Kortright, New York. The only source for the death of Duncan Turner in 1834 at age 50 is the Turner obelisk in a Brooklyn cemetery.
According to the 1850 United States Federal Census, Mary Turner was widowed and her sons were living in Buffalo, New York running a spirits, wines, and cordials factory. By the mid-1850s, the brothers had also established factories in San Francisco and New York City. Robert ran the San Francisco business as R. Turner & Brothers at Broadway and Front Street; James was in charge of the factory in Buffalo, New York named J. Turner & Brothers on Niagara Street; and Malcolm was president of the Turner Brothers factory in New York City named M. C. Turner & Brothers located at 350-352 Washington Street, at the corner of Franklin Street (present-day Soho/Tribeca). The other three brothers, George, Thomas, and Archibald were partners in the national business.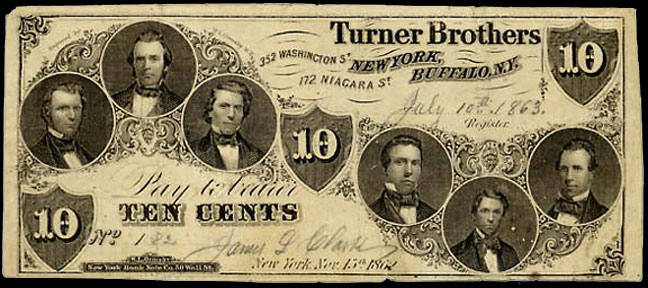 On the west coast, the Turner Brothers sold their wine, spirits, and cordials business to the firm of McMillan and Kester in 1865, thereafter McMillan & Kester started advertising that they were the proprietors of the Turner brands. The Turner Brothers then established the Turner Brothers Bank headquartered in New York City, sometime in the mid-1860s during the railroad expansion and boom. Later, Malcolm Turner traveled to Europe to establish overseas bank branches in Germany, Paris, and London. As managers of the overseas branches of the Turner Brothers' Bank, Robert and Rebecca Turner lived in Europe in the early 1870s.
Later, due to having overextended their investments in the railroad boom, the outbreak of the Franco-Prussian War in Europe, and the U.S. Panic of 1873, the Turner Brothers were forced to declare bankruptcy in 1876. Archibald and Thomas Turner sold their partnerships prior to the declaration of bankruptcy and thereby saved themselves from insolvency. Archibald later became president of several banks in New York City.
There are two primary variants of the Turner Brothers square bottle which are called the "four-line" and "three-line variants." Our museum bottle, in a claret glass color, is embossed 'TURNER BROTHERS.' (1st line) 'NEW YORK' (2nd line) 'BUFFALO. N.Y.' (3rd line) and 'SANFRANCISCO. CAL.' (4th line). Make special note of the periods and lack of word spacing in San Francisco. The other three side panels are blank. There is an aqua four-line variant pictured below with a space between "San Francisco" and a dash between "Francisco" and Cal." and other typographic differences.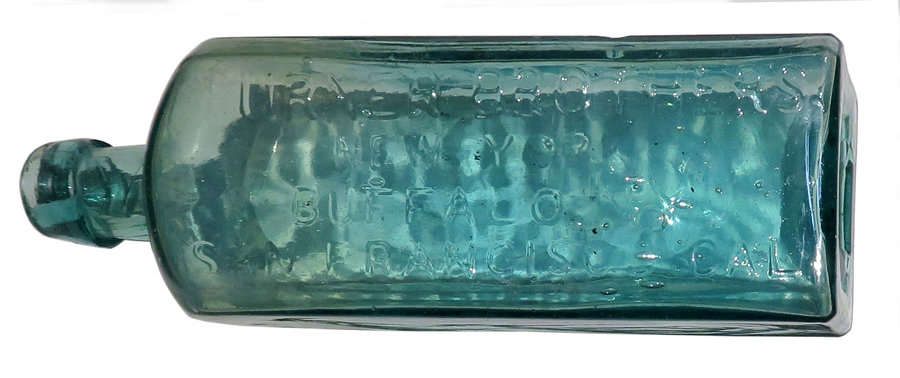 Another Turner Brothers variant, usually found in olive green glass, is embossed in three lines on one panel 'TURNER BROTHERS' (1st line) 'NEWYORK, BUFFALO, N.Y.' (2nd line) and '& SAN FRANCISCO CAL.' (3rd line). There is no space between New and York.
We have no direct evidence that this square bottle was used for bitters such as a surviving label or advertising showing the bottle, but it certainly looks like a bitters bottle from that period and a container would have been needed to contain the Forest Wine Bitters that was advertised so broadly. The square bottle could have held other Turner products though it does not look like a cordial, wine or syrup bottle. These products may have been sold in Turner Brothers figural barrels.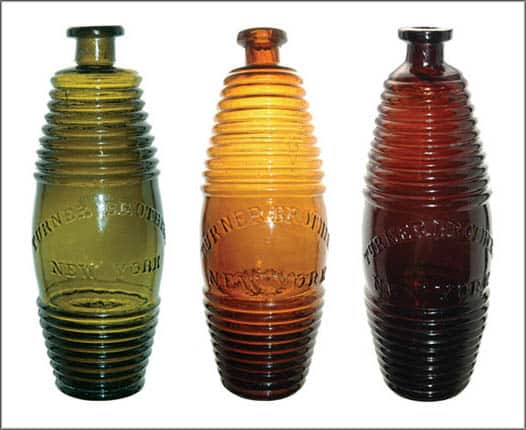 The Carlyn Ring and W. C. Ham listing in Bitters Bottles Supplement is as follows: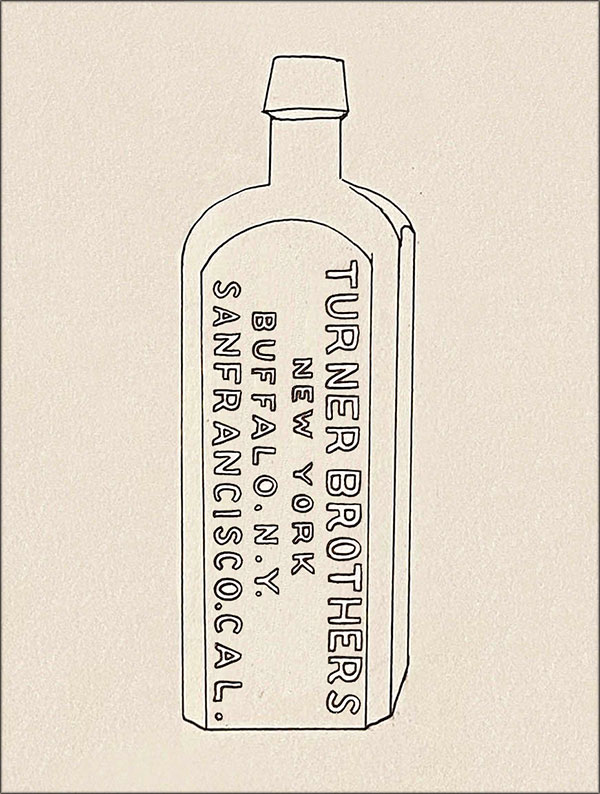 T 70 TURNER BROTHERS / NEW YORK / BUFFALO. N.Y. / SAN FRANCISCO. CAL. // f // f // f //
9 ½ x 2 7/8 (7 7/8)
Square, LTC and LTCR, Applied mouth; Olive amber and Olive green, Rare, Amber and Aqua, Metallic pontil mark, Extremely rare
There are at least four variations of this embossing known as the "Four line variant." The amber pontiled variant has a period after "N" and "Y", and there is no crossbar in the "A" of "CAL."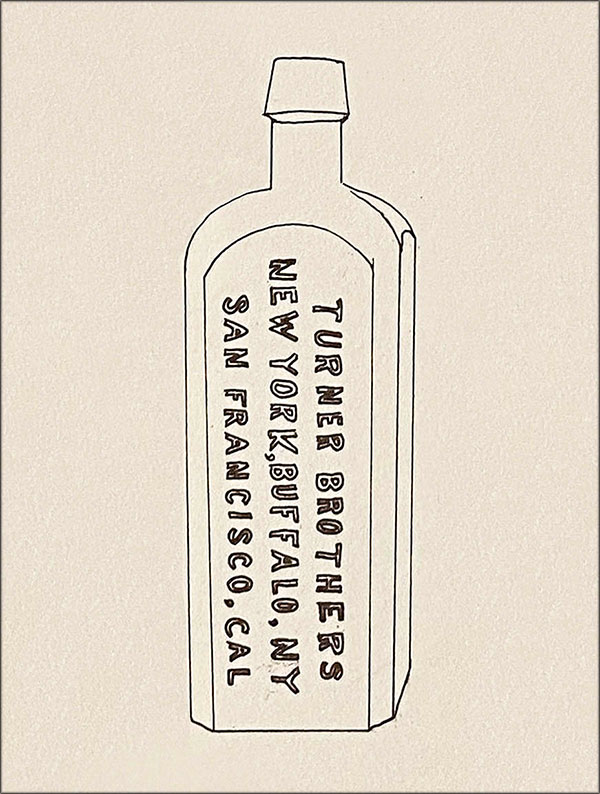 T 70.5 TURNER BROTHERS / NEW YORK, BUFFALO, NY / SAN FRANCISCO. CAL. // f // f // f //
9 ¾ x 2 ½ (7 ½)
Square, Olive, and Olive green, LTC and LTCR, Applied mouth, Rare
There are at least two different variants of this embossing often referred to as the "Three line variant." These bottles were used for bitters and other products.
Buffalo Directory 1859, Oroville, California newspaper 1865.
Label: Portraits of three men at the top and bottom of the label. Two…of a wine-glassful taken three times a day is a certain remedy for dyspepsia, will remove all Biliousness from the Stomach, prevent the engendering of Fever and Ague, Give a … and strengthen the whole system. Prepared by Turner Bros. New York, Buffalo, San Francisco.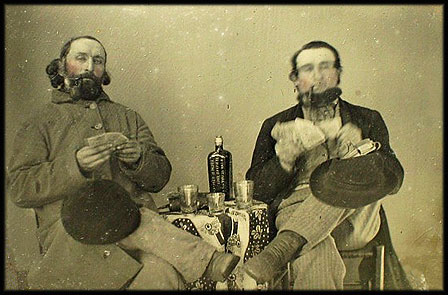 Primary Image: Turners Brothers bottle imaged on location by the FOHBC Virtual Museum midwest studio led by Alan DeMaison.
Support Images: Both postal covers and the facsimile currency from the Ben Swanson collection.
Support Images: Turner Brothers claret 4-line variant from Jeff Wichmann and American Bottle Auctions.
Support Image: Two gentlemen playing cards, smoking pipes, and sharing a bottle of Turner Brothers bitters from the Jeff Noordsy collection.
Support Images: Turner Brothers olive green 3-line variant from Jeff Wichmann and American Bottle Auctions.
Support: Reference to Bitters Bottles Supplement by Carlyn Ring and Bill Ham. Use of bottle illustrations courtesy of Bill Ham.
Support Images: Three Turner Brothers New York figural barrels and example of 3-line olive green Turners Brothers square from the Ferdinand Meyer V collection.
Support Image: Auction Lot 85: TURNER BROTHERS NEW YORK, BUFFALO, NY & SAN FRANCISCO CAL. Applied top and smooth base. Variant T 70.5. The Turner bottles are divided up into two different variants with two variants of each. One is the 4-line and the other is the 3-line which is what we see here. The Turner bottles have the beveled base corners and are typically crude and have a lot of character. This one has the larger embossing and is an amber with loads of whittle and crudity. Sitting next to each other, this bottle appears just a little bigger and is a different mold than the next lot. Overall a striking example. The Turner Bros. were quite the talk of the town during their day. This one is in unusually great condition and grades a 9. – Jeff Wichmann, American Bottle Auctions, Auction 70, Part 1 of the Don Dwyer Collection
Support Image: Auction Lot 86: TURNER BROTHERS NEW YORK, BUFFALO, NY & SAN FRANCISCO CAL. Applied top and smooth base. T 70.5 This is the other variant of the 3-line examples with smaller embossing in olive green. A fairly deep green example, it is not as crude as the previous lot but has some nice overall appeal. Although these early bitters in this variant aren't listed with pontils, it is thought that the first variant identified as T 70 does. Here's a great condition example with some haze on the interior but super nice condition on the exterior. Neither of these bottles appear to have been cleaned. Grades an 8.5. – Jeff Wichmann, American Bottle Auctions, Auction 70, Part 1 of the Don Dwyer Collection
Support Image: Labeled Turner's Forest Wine Bitters – Richard T. Siri collection
Support Image: Aqua, 4-line variant "Turner Brothers – New York – Buffalo N.Y. – San Francisco – Cal" – Richard Siri collection