National Bitters (Coffin)
National Bitters
C. C. Jerome & Co.
Detroit
A.C. 1865 S.W.
N 10

Charles C. Jerome, Detroit, Michigan

Dark Amethyst Coffin Form
Provenance: Sandor P. Fuss Collection
This museum example of the coffin-shaped National Bitters bottle is unique and without a doubt, one of the most desirable bitters bottles due to its form, rarity, and history. The dark amethyst color certainly adds to the allure.
Charles C. Jerome was best known by western railroad men as the inventor of Jerome Metallic Packing which at the time was used on most of the locomotive engines west of Pittsburgh.
Charles C. Jerome was born in 1833 in Canada, and in his early days, studied medicine in Toronto. He practiced medicine for a time at Port Huron, Michigan, and entered the Civil War as a surgeon in a Michigan regiment. It was during this period that he came up with his National Bitters that also has 1865 embossed on the bottle.
An 1866 newspaper advertisement read, "These Bitters are prepared under our own supervision and are made after a formula of one of the oldest and most eminent physicians in the United States. Prepared by C. C. Jerome & Co., Detroit and sold by all druggists and liquor dealers in the United States." This is a fairly broad statement considering only one bottle is known to collectors. His bitters were "purely vegetable" and used "triple distilled rye whisky, as pure as can be made." The Jerome & Co. principal depot was 32 Woodward Avenue in Detroit, Michigan.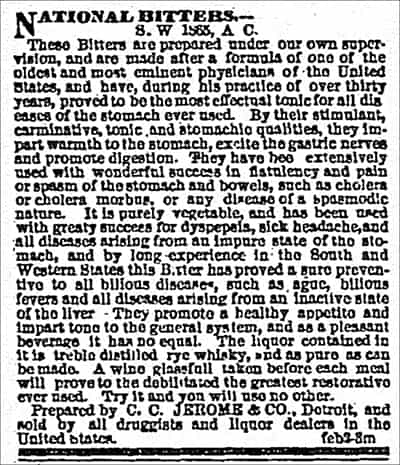 The Carlyn Ring and W.C. Ham listing in Bitters Bottles is as follows: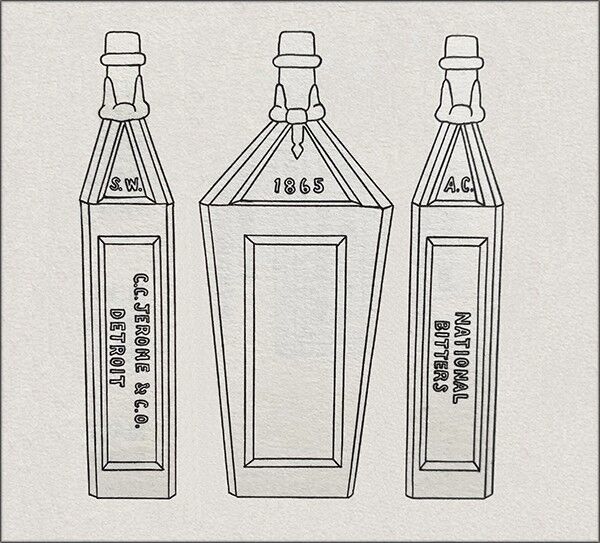 N 10 sp // NATIONAL BITTERS // sp // C. C. JEROME & CO. / DETROIT // // s // sp // A.C. // 1865 // S.W. //
10 ¾ x 3 x 1 5/8 (6 ¼) 3/8
Rectangular coffin, Amethyst, ARM, Applied mouth, 4 sp, Extremely rare
C.C. Jerome & Co. was also responsible for the triangular black amethyst bottle embossed National Bitters that is also considered extremely rare. Two (2) examples are extant and are pictured below. Notice the difference in neck lengths.
After the close of the war, Jerome remained at Port Huron until 1869 when he came to Chicago, where he accumulated a considerable fortune. In 1880 he became interested in the business by which he is best known and conducted the business in a way that yielded large returns and made Jerome Metallic Packing widely known. During this period he was addressed at 35 and 37 South Canal Street. Jerome was also known among doctors as the inventor and manufacturer of the Chicago Sanitary Flour. Additionally, he invented the Jerome Horse Shoe which was used by many owners of fast horses.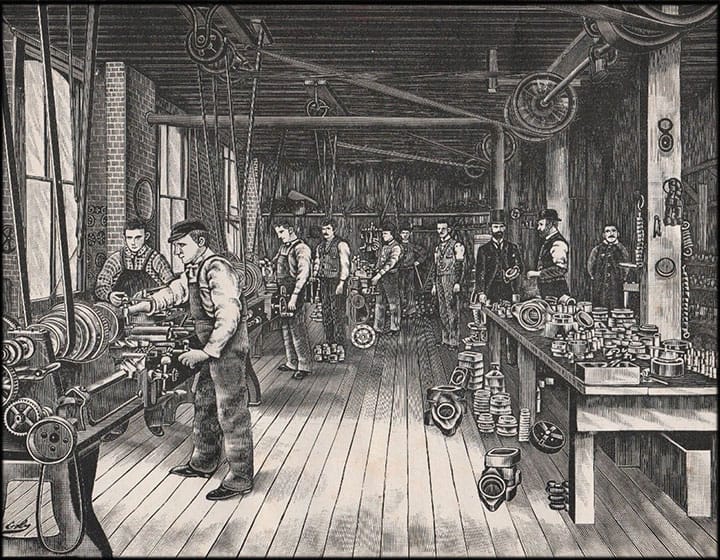 Jerome died in Nauheim, Germany in 1901, where he had gone with his wife. The illness which resulted in Jerome's death is said to be brought on by exposure during the trip across the Atlantic. He left a wife and three children, among them George C. Jerome, who later ran the Jerome Metallic business.
Primary Image: National Bitters imaged on location by the FOHBC Virtual Museum midwest studio led by Alan DeMaison.
Support: Reference to Bitters Bottles by Carlyn Ring and W. C. Ham. Use of National Bitters illustration courtesy Bill Ham.
Support: Two examples of the triangular National Bitters (N 9) – Jeff Scharnowske collection.
Read More: National Bitters C.C. Jerome & Co. Detroit