I. Covert's – Balm Of Life
I. Covert's
Balm Of Life
Isaac Covert, Auburn, New York
Olive Green Rectangular Medicine
Provenance: Richard S. Ciralli Collection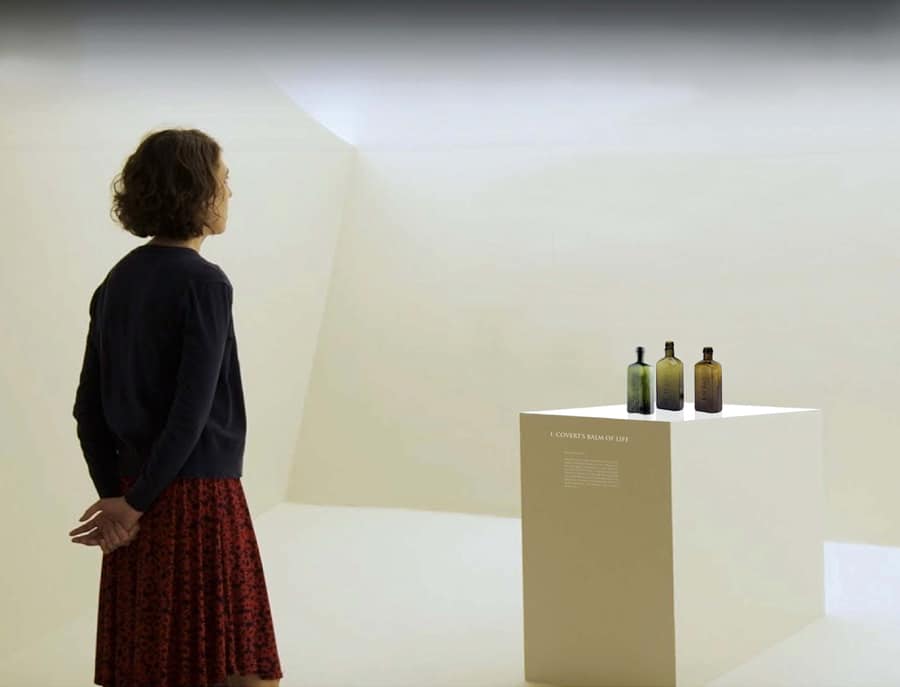 Our museum example of an "I. Covert's – Balm Of Life" medicine bottle is very rare, especially in this rich pure olive green color. Typically, a more yellow-olive glass is found. The proprietor of the Balm of Life was Rev. Isaac Covert, a physician from Auburn, New York. He would advertise and sell his popular medicine from about 1838 to 1845. The bottle is attributed to Mt. Vernon Glass Works in Vernon, New York.
The 6″ tall bottle is rectangular with wide beveled corners, arched shoulders, and has a pronounced rough pontil scar. There is a tall neck terminating into an applied short tapered mouth. On one face of the bottle is embossed 'I. COVERT'S ' in a serifed typestyle vertically from shoulder to base. The opposite side is embossed in a similar manner 'BALM OF LIFE.' The bottle is in exceptional condition.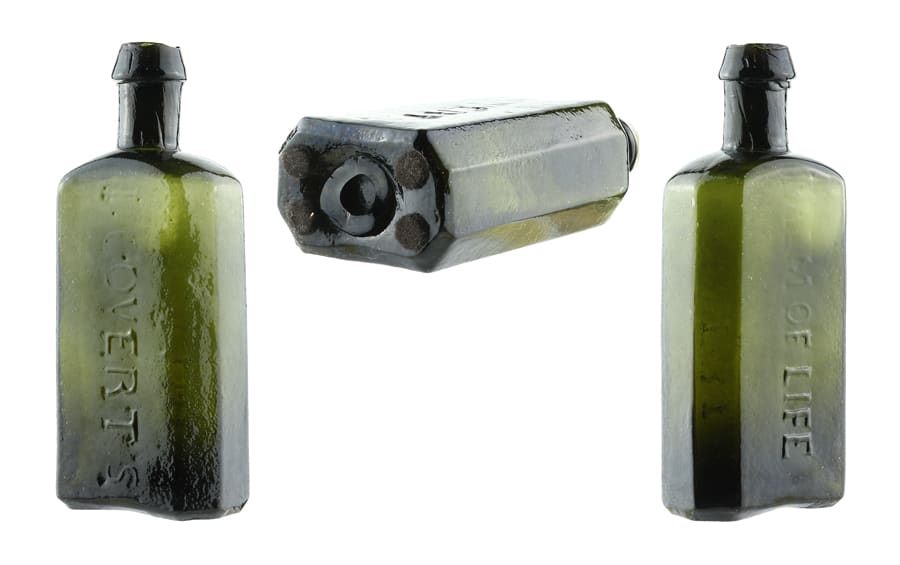 Not much is known about Isaac Covert though we see from an 1850 United States Federal Census that he was a physician born about 1802 in New York. He was practicing in New York City at that time and was 48 years old married to Adaline Covert (46), with children Lewis B. (22), Chas K. (20), Ann M. (14), Stephen A. (25), Caroline E. (29), Frederic (5), and Ida (2). There must have been a previous wife.
In the late 1830s, Isaac Covert was living in Auburn, New York. We see the first full-column newspaper advertising for "Rev. I. Coverts' Balm of Life – A New and Valuable Remedy for those who are afflicted with acute and chronic diseases of the Lungs' and Windpipe." Covert would use many testimonials in his ads, many saying that the person had first tried Covert's Balm of Life in 1838. Advertising was appearing in cities and towns in Maryland, Massachusetts, Michigan, New York, Ohio, as Vermont, among others.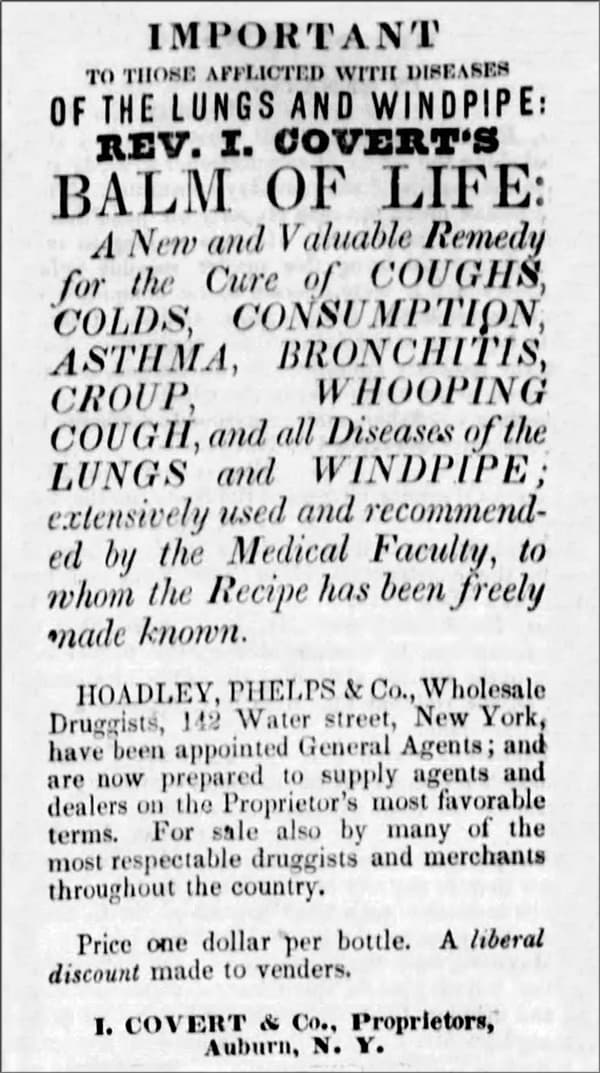 In 1840, new advertising announced that Hoadley, Phelps & Co., had been appointed General Agents for the medicine. They were wholesale druggists located at 142 Water Street in New York. Isaac Covert's Balm of Life advertising said that they were now prepared to supply agents and dealers on the proprietor's most favorable terms and that Covert's Balm of Life was also sold by many of the most respectable druggists and merchants throughout the country. The balm was priced at one dollar per bottle. Ads further said that a liberal discount would be made to vendors. The bottom of the ad was marked Covert & Co. Proprietors, Auburn, N.Y., one door west of the Auburn House. By 1842, this address was described as I. Covert & Co., Druggists, 8 Demaree Block, Auburn, N.Y.
Issac Covert made the move to New York City in 1843. For the next seven years or so he was listed as a physician located at various addresses like Rev. Isaac Covert, medicines, 35 Nassau, (1843-45), Rev. Isaac Covert, medicines, 154 Canal, (1846), Isaac Covert, physician, 154 Canal, (1847) and Isaac Covert, physician, 111 Spring (1850). Notice the transition from "medicines" to "Physician." It is not known where or when Isaac Covert became a Reverend.
Primary Image: I. Covert's Balm of Life imaged on location by the FOHBC Virtual Museum Midwest studio led by Alan DeMaison.
Support Image: Auction Lot 19: "I. Covert's" – "Balm Of Life" Medicine Bottle, America, 1840-1860. Rectangular with wide beveled corners, light to medium yellow olive, applied sloping collared mouth – pontil scar, ht. 5 3/4 inches. AAM pg. 119 Here's an exceptional example in terms of condition, strength of embossing and a lighter than normal color. Fine condition. – Norman Heckler Jr. & Sr., Norman C. Heckler & Company, Auction #177
Support Image: Auction Lot 457: Olive Green "L. COVERT'S BALM OF LIFE" Glass Medicine Bottle. Olive Green "L. COVERT'S BALM OF LIFE" Glass Medicine Bottle, c. 1850, rectangular form with applied double collared mouth, embossed vertical lettering, pontil scar, (tiny lip chip), ht. 5 7/8 in. – Skinner Auction, American Furniture & Decorative Arts 2444, Boston, February 15, 2009
Support Image: Auction Lot 175: "I. Covert's" – "Balm Of Life" Medicine Bottle, America, 1840-1860. Rectangular with beveled corners, bright yellowish olive green, applied sloping collared mouth with ring – pontil scar, ht. 6 1/8 inches. AAM pg. 119 A pristine example with thin glass and a bright color. Fine condition. – Norman Heckler Jr. & Sr., Norman C. Heckler & Company, Auction #158
Support Image: Auction Lot 164: "I. Covert's / Balm Of Life" Medicine Bottle, America, 1840-1850. Rectangular with wide beveled corners, yellow olive, applied sloping collared mouth with ring – tubular pontil scar, ht. 6 inches. N #142, PME p. 92 and 93 Beautiful and clean example with the embossing stronger than usually found on this bottle. – Norman Heckler Jr. & Sr., Norman C. Heckler & Company, Auction #99
Support Image Item PM185, I COVERT'S – BALM OF LIFE, olive green, Open Pontil, 6″ high, tapered applied top, lots of bubbles in the glass, perfect condition, a nice example of this scarce bottle from Auburn, New York, circa 1840 to 1850 – GreatAntiqueBottles.com, The website of Ed & Kathy Gray