Old Gilt Edge OK Bourbon
Old Gilt Edge OK Bourbon
OK (Embossed Crown)
Wichman & Lutgen
Sole Agents
San Francisco
Henry P. Wichman & John Lutgen

Amber Fifth
Provenance: Ken Schwartz Collection
We are looking at an extremely rare variant "A" Old Gilt Edge Bourbon from San Francisco, California. This amber applied top fifth is like variant "B" but is missing "& Co." which is embossed beneath the arched "Wichman & Lutgen" copy. It is also a different mold. Though later made, both variants can be rather crude like earlier made bottles.
On the evening of March 31st, 1906, a farewell banquet at a fine downtown San Francisco restaurant was given to Mr. and Mrs. John Lutgen of Alameda, California. Associate members and employees of Wichman, Lutgen & Co. Inc. were there to see off the couple who was leaving for a tour of the world for six months. Senior members Henry P. Wichman and Fred Staude would run the firm in John's absence.
Sometimes it is all about timing as a few weeks later, the Great San Francisco earthquake struck the coast of Northern California at 5:12 a.m. on Wednesday, April 18, 1906, with an estimated magnitude of 7.9. Over 80% of the city of San Francisco was destroyed.
Wichman, Lutgen & Co.
Wichman, Lutgen & Co. were wholesale liquor dealers who were established in San Francisco in October 1875. They were one of the most successful and conservative business firms in California. On the 13th day of January 1904, the partnership of Wichman, Lutgen & Staude was incorporated, composing the firm of Wichman, Lutgen & Co. (Inc.). This would be the variant "B" bottles.
Wichman, Lutgen & Co. specialized in importing foreign goods from ports all around the world. Always growing in size, they were initially located at 809 Montgomery from 1877 to 1878, then 321 Clay from 1879 to 1888 and then 314-322 Clay from 1889 to 1903. From Clay Street, they relocated yet again to a large and commodious four-story building located at 29 and 31 Battery Street in San Francisco. They were back again at 431-439 Clay from 1907 to 1911 and finally 134-140 Sacramento from 1912 to 1919.
Wichman, Lutgen & Co. filed an Application for Dissolution on January 21, 1921. That's a pretty long run.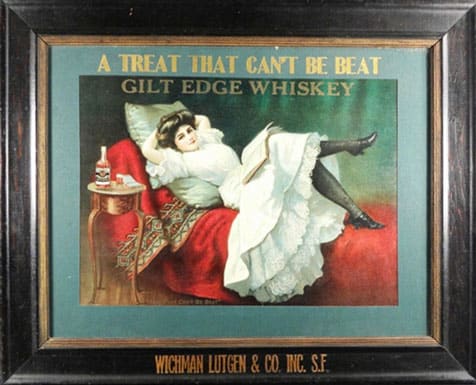 Primary Image: The Old Gilt Edge OK Bourbon bottle imaged on location by the FOHBC Virtual Museum midwest studio led by Alan DeMaison.
Secondary Images: Courtesy Jeff Wichmann, American Bottle Auctions.
Support: Whiskey Bottles of the Old West by John L. Thomas, 2002