Mason's Patent 1858 Tudor Rose Pickle Pusher
Mason's Patent Nov. 3oth 1858
Tudor Rose Emblem
"Pickle Pusher Jar"

Yellow Half Gallon
Provenance: Darrell Plank Collection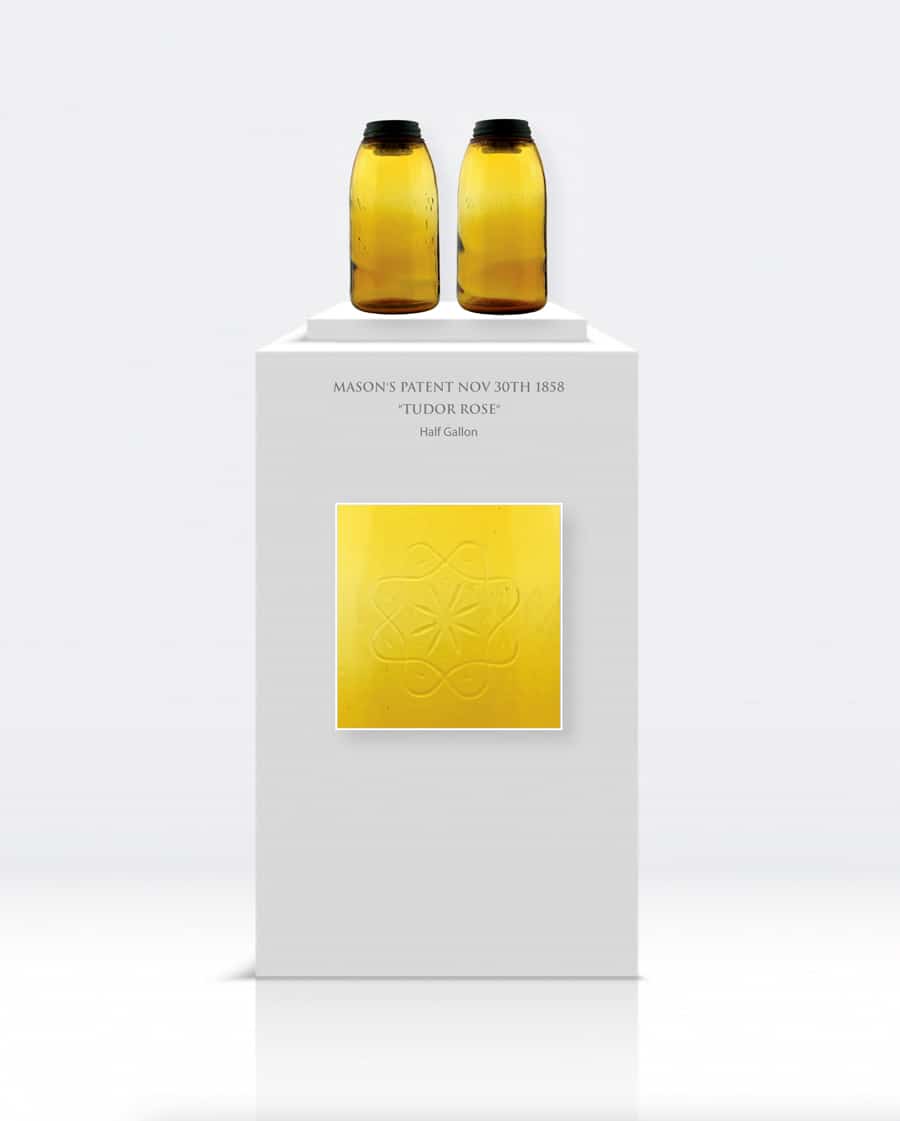 This large half-gallon jar is in a brilliant yellow-amber glass and is a sight to behold. With a richer color than most known examples, it is very rare. The jar is sometimes referred to as a "Pickle Pusher Jar" because it has a zinc Disk Protector Cap with a milk glass pickle-pusher or immerser within. It was always difficult to get that last cucumber in and to keep the pickles immersed in liquid.
This front of the jar is embossed 'MASON'S PATENT NOV. 30TH 1858' while the reverse depicts an image of a snowflake or "Tudor Rose" emblem. There is an "A32 over B7" embossed on the base.
According to jar authority Doug Leybourne, the "Tudor Rose" jars can be found in clear and aqua midget pints, quarts, and half gallons. There is also a quart that comes in "Ball Blue" which is pictured above. Sky blue quarts are also reported. These jars can be found if carefully looking. There are also rarer midget pints in apple green, light olive green, yellow-olive green, and medium olive green. When you start looking at rarer colored quarts and half gallons, the price increases. The amber (quart and half-gallon), yellow-amber (quart and half-gallon), and even olive green jars (quart) are highly desirable to jar collectors.
There is conjecture that the emblem is a flower or poppy seedling representing Demeter who in ancient Greek religion and mythology, is the goddess of harvest and agriculture, presiding over grains and the fertility of the earth. Demeter was frequently associated with images of the harvest, including flowers, fruit, and grain. It could also represent the Greek Goddess Ceres and bountiful harvests.
The pickle pusher incorporated into the cap is interesting as it was usually an effort to get the last pickle in a jar. Pickles are created by immersing fresh fruits or vegetables in an acidic liquid or saltwater brine until they are no longer considered raw or vulnerable to spoilage. When we think of pickles, cucumbers commonly come to mind.
Early in the 1850s, the Scottish chemist James Young patented paraffin wax, which created a better seal in jars used to preserve food. Then in 1858, John Mason of Philadelphia patented the first Mason jar, made from a heavyweight glass that could withstand high temperatures during the canning process. Mason's patent expired in 1879, but manufacturers of similar jars continued to use the Mason name. Though the proprietor is unknown, this would represent a jar that was ordered from a major eastern glasshouse in the last quarter of the 18th century.
See other Mason jars including expanded history in the FOHBC Virtual Museum Jar Gallery.

• Mason's CFJCo Improved – Clyde, N.Y.
• Mason's GCCo Patent 1858 Jar
• Mason's Improved Jar
• Mason's Improved Jar – Australian
• Mason's Patent Crowleytown Jar
• Mason's Patent Nov. 30th 1858
• Mason's Patent 1858 CFJCo Midget Jar
• Mason's Patent 1858 Straight Sided
• Mason's Patent 1858 Jar in Cobalt Blue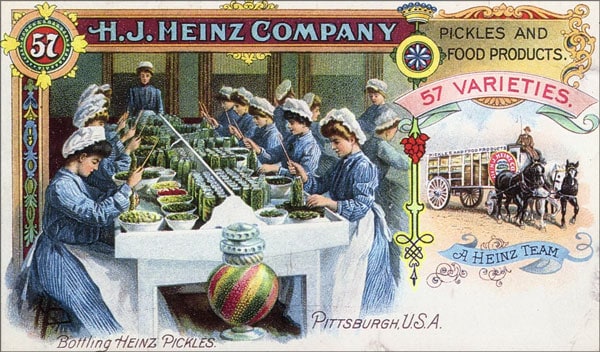 Primary Image: The Mason's Patent "Tudor Rose" jar imaged on location by the FOHBC Virtual Museum midwest studio led by Alan DeMaison.
Support: Reference to Fruit Jar Annual 2020 – The Guide to Collecting Fruit Jars by Jerome J. McCann
Support: Reference to Red Book #11, the Collector's Guide to Old Fruit Jars by Douglas M. Leybourne, Jr.
Support Images: Quart in Ball Blue. Closure: Good original lugged Mason Disk Protectector Cap with milk glass pickle-pusher. Some small nibbles on the lower edge of the zinc. Appearance: Sparkling glass. Condition: Edge chips on the ground mouth. Embossing: Strong Tudor Rose side, Medium Mason side. Base: "A / 45" Age: Late 1800s. Availability: Scarce in this appealing color. – Greg Spurgeon, North American Glass
Support Images: Size: Midget Pint. Color: Aquamarine, Closure: Fine correct original disk immerser cap with milk glass pickle pusher insert. Appearance: Shiny with a seedy glass character. Condition: Nice condition including a good ground rim with very little flaking. Strength of embossing: Tudor Rose is strong, Mason's lettering is medium. Base: "A1" Age: late 1800s – Greg Spurgeon, North American Glass.
Support Images: Amber Mason's 1858 Tudor Rose Half Gallon. A rare yellow-amber colored half gallon. A sharply embossed Tudor Rose or Snowflake emblem is on the reverse. Sparkling glass with no damage or stains. Has normal roughness of the ground mouth. Comes with a good complete correct pickle-pusher cap. An extremely rare jar with great shelf appeal. – Greg Spurgeon, North American Glass.