Plow's Sherry Bitters
Plow's Sherry Bitters.
P 111

Plows, Harris & Upham
Chicago, Illinois

Amber Figural Bunch of Grapes
Provenance: Ferdinand Meyer V Collection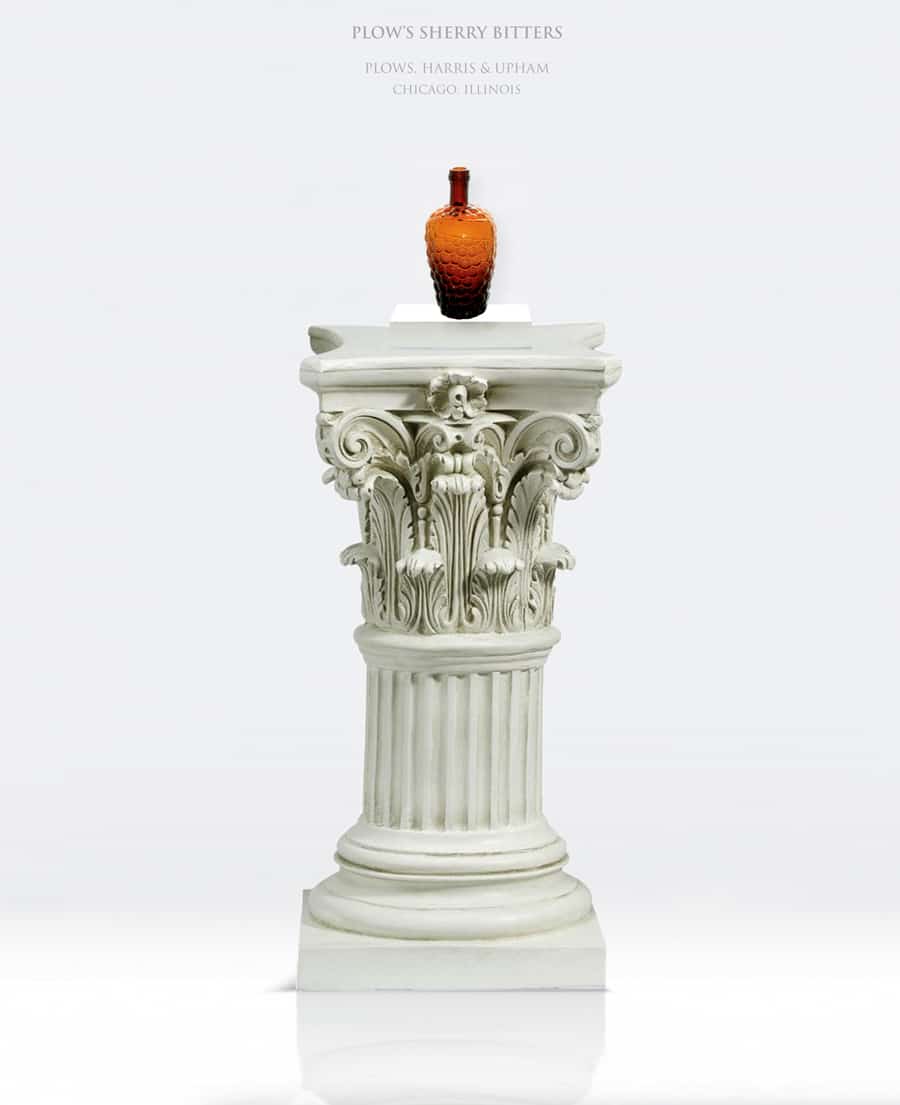 Here is a wonderful figural bottle representing a cluster or bunch of grapes with a reverse label panel that is shaped like a grape leaf. The glass coloration shades from medium amber on the shoulder to a darker amber towards the base of the bottle. The neck is crooked with an applied ring mouth. The base is smooth. The embossed copy reads, 'PLOW'S SHERRY BITTERS.' in two lines set within a small banner. There is a period after the word "Bitters." There is no indication of the proprietor or manufacturer's name, nor a city where the bottle was produced.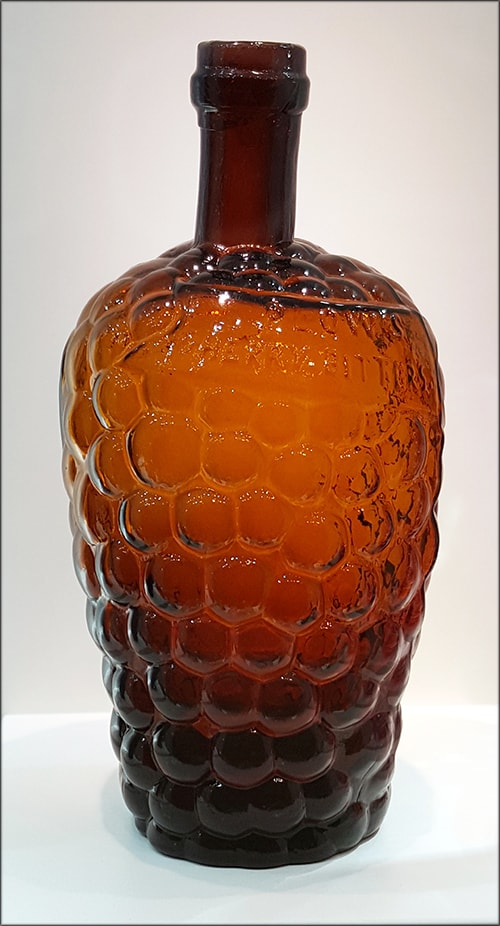 For many years, bitters collectors were puzzled as to where this bottle came from as no advertising, surviving label, advertising trade card, or any other ephemera that might assist in identifying the bottle could be found. Eventually, the 1st Chicago Bottle Club solved the puzzle when they posted a Chicago, Illinois city directory advertisement on their website.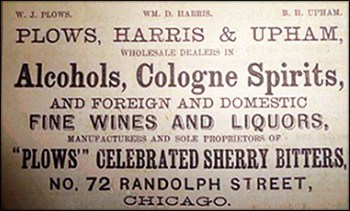 The advertisement read, PLOWS' CELEBRATED SHERRY BITTERS, Plows, Harris & Upham, W. J. Plows, Wm. D. Harris, B. H. Upham, Wholesale Dealers in Alcohols, Cologne, Spirits and Foreign and Domestic Fine Wines and Liquors. Manufacturers and Sole Proprietors of "Plows'" Celebrated Sherry Bitters, No. 72 Randolph Street, Chicago.
William J. Plows
William J. Plows was born in New York around 1831. In 1855, he was living in New York with his wife Olivia and one child according to the New York State Census. Five years later, an 1860 United States Federal Census listed him working in a saloon in Milwaukee, Wisconsin. At that time, William J. and his wife were listed with three children, Olivia age 6, Edward age 4, and Gertrude age 2.
Wm. J. Plows would leave Milwaukee and is next found in Chicago in 1866 where he is a partner at Smith & Plows. William J. and Charles R. Smith are selling wholesale wines and liquors at 103 S. Water Street. This partnership ended on March 27, 1867, according to a Chicago Tribune notice. Plows left while leaving the newly named C. R. Smith & Co. to continue with the liquor business. He might have been bought out leaving him some money to finance his Plow's Sherry Bitters.
Plows must have, in quick order, gone into business with William D. Harris and B. H. Upham as Plows, Harris & Upham is listed in 1867 as liquor dealers located on 72 Randolph street according to the John C. W. Bailey's Business Directory of Chicago. This is pretty much the same information on the advertisement posted by the 1st Chicago Bottle Club except their advertisement also notes that Plows, Harris & Upham were Wholesale Dealers in Alcohols, Cologne Spirits, and Foreign and Domestic Liquors and that they were the Manufacturers and Sole Proprietors of "Plows'" Celebrated Sherry Bitters. The bottle was probably ordered only once in a group and sold wholesale and retail in 1867. This is why it is extremely rare.
This partnership would end as Plows is next listed as a partner with Plows, Abel & Humiston (William J. Plows, John Abel, and Len S. Humiston) who were liquor dealers located at 154 Dearborn. They were listed both in 1867 and 1868. There is some overlap here as William Plows must have had a few irons in the stove. A newspaper "Dissolution Notice" for Plows, Abel & Humiston occurred on April 20, 1869. The notice said that W. J. Plows would continue the wholesale liquor business at 154 Dearborn.
Bitters collectors might be familiar with the names John Abel and Len S. Humiston as they put out Mountain Root Bitters. See Abel, Humiston & Co.'s Mountain Root Bitters!
In 1869, W. J. Plows put out notices that he was wanting to sell his old wholesale liquor stand cheap so he could go into distilling and rectifying. The 1870 Federal Census lists him as a distiller and all other available listings after this date note that Plows was in the distilling business. His son Edward would join him as a clerk and accountant. In 1875, Plows buys, at a government auction, the distillery of the Union Copper Distilling Company.
In 1878, William J. Plows is listed as the proprietor of Vienna Coffee located at 65 Dearborn with a summer residence at Zurich Lake in Illinois. Plows would die in the early 1880s leaving his wife a widow and antique bottle collectors with a great bottle.
The Carlyn Ring and W.C. Ham listing in Bitters Bottles is as follows: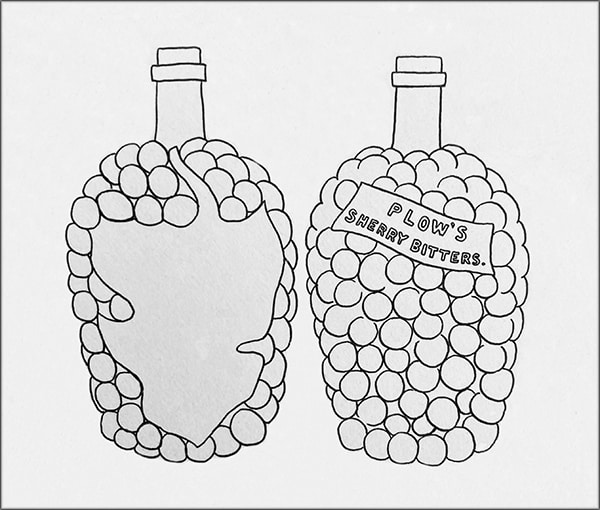 P 111 PLOW'S ( cd ) / SHERRY BITTERS. ( cd ) // c //
8 x 2 5/8 (5)
Round-bunch of grapes, Amber, NSC, Applied mouth, Extremely rare
Label panel is shaped like a grape leaf.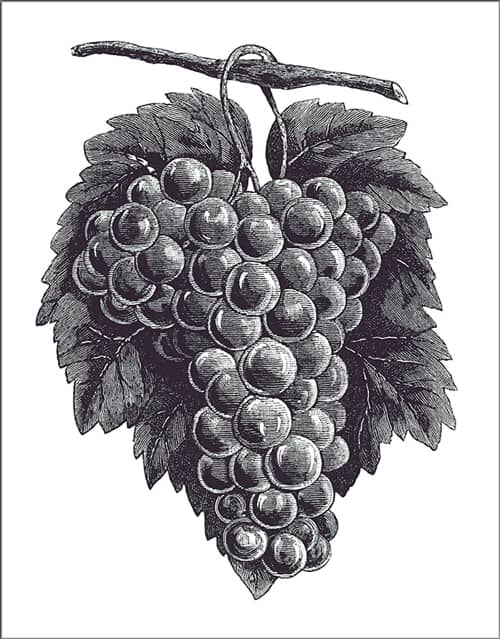 Primary Image: Plows Sherry Bitters imaged on location by the FOHBC Virtual Museum midwest studio led by Alan DeMaison.
Support: Reference to Bitters Bottles by Carlyn Ring and W. C. Ham. Use of Plow's Sherry Bitters illustration courtesy Bill Ham.
Support Image: Auction Lot 2: "PLOWS / SHERRY BITTERS", (Ring/Ham, P-111), American, ca. 1870 – 1880, amber cluster of grapes, 8" h, smooth base, applied ring mouth. A tiny 3/16" by 1/16" sliver type chip is off the inside edge of the lip. Extremely rare, one of the most difficult to find of the true figural bitters! Sidney Genius Collection. – Glass Works Auctions, Auction #130.
Read More: Plows Celebrated Sherry Bitters
Join the FOHBC: The Virtual Museum is a project of the Federation of Historical Bottle Collectors (FOHBC). To become a member.