GI-94 Franklin / Dyott Portrait Flask
GI – 94
"Benjamin Franklin" And Bust – "T.W. Dyott, M.D." And Bust Portrait Flask

Kensington Glass Works, Philadelphia, Pennsylvania

Golden Yellow Pint
Provenance: Anonymous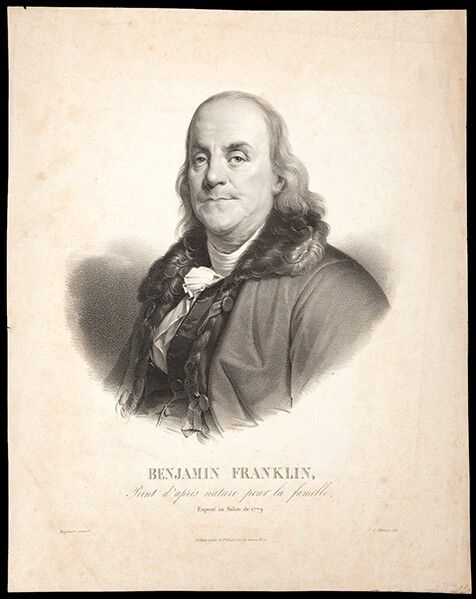 Thomas W. Dyott, the self-proclaimed "king" of American patent medicine, was a great entrepreneur who took advantage of political events and slogans from the times and interpreted them onto his pictorial flasks. This was a clever marketing ploy that netted him great profits with his customer base and audience.
This astute merchandising is very evident on our GI-94 flask as Dyott capitalized on the popularity of Benjamin Franklin. He even puts his own portrait and name on the opposite side of the flask with the name of his Kensington Glass Works embossed on the flask further branding his interests. Just about every possible area on both sides of the flask was used to convey the messages.
See our museum example of a GIV-34 Frigate "Franklin" Sailors Rights flask made by T. W. Dyott.
The Franklin – Dyott historical flask features a large, three quarter Benjamin Franklin portrait looking to the left. Embossed copy reading 'BENJAMIN FRANKLIN' is presented in a horseshoe surrounding the head. The bust and inscription is enclosed in an oval frame.
The reverse of the flask pictures a three-quarter T. W. Dyott portrait facing right. The embossed copy reads, 'T. W. DYOTT, M.D.' and occurs in a horseshoe shape over the head. The Dyott portrait and the embossed copy is enclosed in an oval frame.
The sides of the flask have three vertical ribs and a heavy medial rib. The flask edge towards Benjamin Franklin has the embossed copy, 'WHERE LIBERTY DWELLS THERE IS MY COUNTRY.' This quotation can be attributed to Benjamin Franklin. The flask edge toward the Thomas Dyott portrait has the embossed copy, 'KENSINGTON GLASS WORKS PHILADELPHIA'.
The flask has a plain lip and pontil mark. You can find this historical flask in aquamarine, light emerald green, light yellow-green, reddish amber, dark brownish amber, and golden yellow which is considered extremely rare. The flask was produced by the Kensington Glass Works in Philadelphia, Pennsylvania from 1830 to 1850.
Helen McKearin, in her landmark book, Bottles, Flasks, and Dr. Dyott went through extensive research to determine the few certain facts that we know about Thomas W. Dyott who was born in 1777 in England (or possibly Scotland). Dyott immigrated to Philadelphia sometime between 1795 and 1805 and quite likely his travels took him from working for a pharmacist there to the West Indies, and finally to Philadelphia. During his lifetime, Dyott himself claimed to be the grandson of the celebrated Dr. Robertson of Edinburgh. Unfortunately, not only is there no evidence that he was Dr. Robertson's grandson, but also there is no record of a Dr. Robertson practicing in Edinburgh during the time. There is also no evidence that Thomas W. Dyot, M.D. was actually a doctor.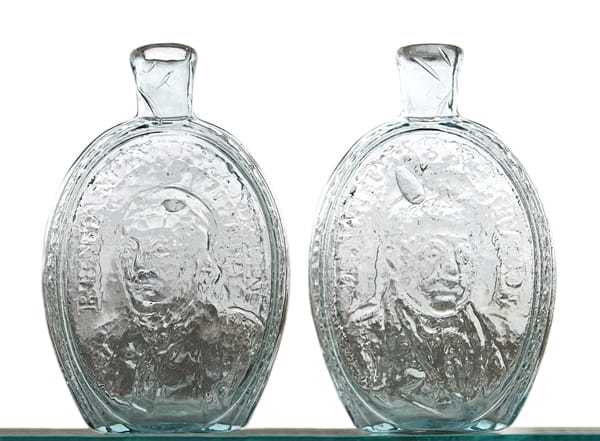 Primary Image: The Benjamin Franklin" And Bust "T.W. Dyott, M.D." And Bust Portrait Flask imaged by the FOHBC Virtual Museum midwest studio by Alan DeMaison.
Support: Reference to Bottles, Flasks, and Dr. Dyott by Helen McKearin.
Support: Reference to American Bottles and Flasks and Their Ancestry by Helen McKearin and Kenneth M. Wilson, Crown Publishers Inc., New York, 1978.
Support: Reference to GIV-34 Masonic Frigate, No More Room – Colorful Kensington flasks are the picture of U.S. history, Mark Vuono, Antique Bottle & Glass Collector, March 2011
Support Images: Auction Lot 62: "Benjamin Franklin" And Bust – "T.W. Dyott, M.D." And Bust Portrait Flask, Kensington Glass Works, Philadelphia, Pennsylvania, 1830-1850. Aquamarine, sheared mouth – pontil scar, pint; (professionally cleaned with light remaining wear, pontil chip comes to base edge). GI-94 Strong mold impression. Fine condition. – Norman C. Heckler & Company
Support Images: Lot 109: "Benjamin Franklin" And Bust – "T. W. Dyott, M.D." And Bust Portrait Flask, Kensington Glass Works, Philadelphia, Pennsylvania, 1820-1840. Medium orange amber, sheared mouth – pontil scar, pint; (just a hint of exterior high point wear). GI-94 Numerous large and small bubbles. Detailed mold impression. Rare color. Fine condition. – Norman C. Heckler & Company
Support Image: Auction Lot 309: "BENJAMIN FRANKLIN" / BUST OF FRANKLIN – "WHERE LIBERTY DWELLS – THERE IS MY COUNTRY" – "T.W. DYOTT, M.D." / BUST OF DYOTT – "KENSINGTON GLASS WORKS, PHILADELPHIA", (GI-94), Kensington Glass Works, Philadelphia Pennsylvania, ca. 1825 – 1835, aqua pint, open pontil, sheared and tooled lip. Some spotty internal milky stain, otherwise perfect. – Jim Hagenbuch, Glass Works Auctions | Auction #147
Support Image: Engraved Portrait of Benjamin Franklin after the painting by Joseph Siffred Duplessis. [Paris: ca. 1790] – Heritage Auctions