Eureka N.O.F. Patd Dec 27th 1864
Eureka
N.O.F.
Patd Dec 27th 1864
Unknown Maker
Blue Aquamarine Quart
Provenance: Phil Smith Collection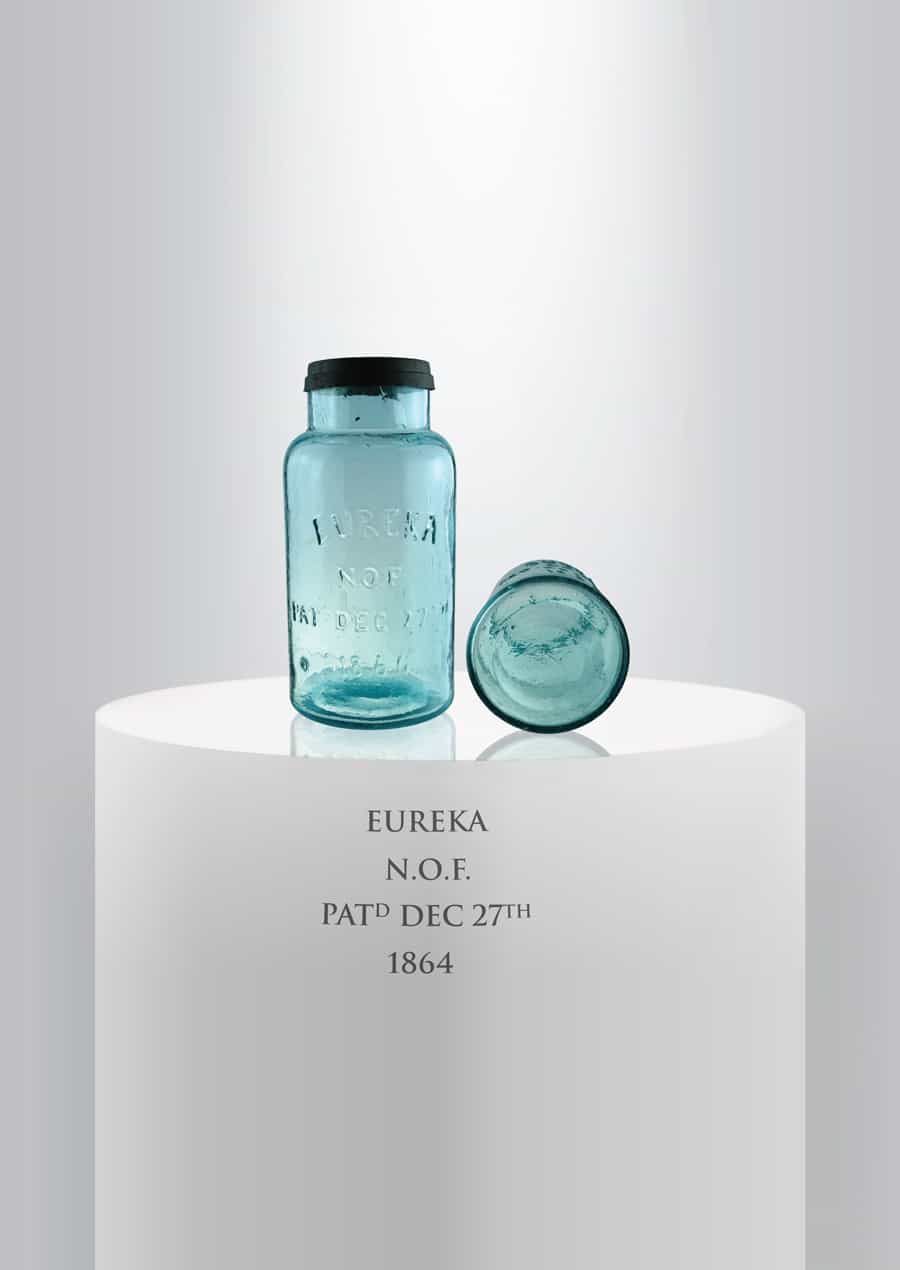 There are two variations of the 1860s Eureka jar. Each is similarly embossed in a flared transitional serif type and represented in the illustration below. Our blue-aquamarine quart example, in outstanding condition, is the second variant embossed in four lines on the face of the jar. The first line reads, 'EUREKA' in a convex arch. The second line has the initials, 'N.O.F.' in a straight horizontal line. The third line is 'PATd Dec 27th.' The "D" and "TH" is smaller and raised. There is no period after "Dec." The fourth line is embossed '1864.' The jar is hand blown with a ground lip. The closure is a side seal, push-down tinned iron cap. The cap is stamped "Patd July 18 1854 May 22d 1860 Reisd Nov 24th 1863."
As noted, our jar has 'N.O.F.' embossed under 'EUREKA' in place of a number as the left variant illustrated above. The initials may represent N. O. Fansler, who was a jobber in Cleveland, Ohio, from 1865 to 1869. There is a very similar-looking jar embossed, "Manufactured for N. O. Fansler Cleveland Ohio."
John F. Griffen advertised Eureka Fruit Jars as early as 1865 and said he was the proprietor. Because the address was in lower Manhattan—an improbable manufacturing location—it was unlikely that the jars were made there.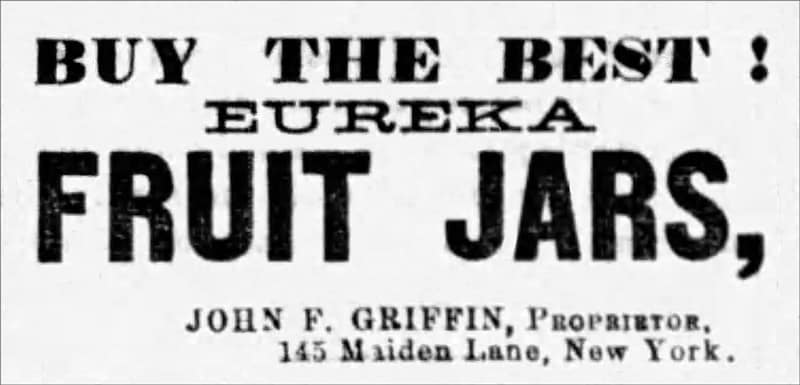 John F. Griffen was first listed as a crockery dealer at 82 Maiden Lane in New York City, N.Y., in 1850. He had formed the partnership of Griffen & Titus with Stephen R. Titus by 1852. The firm moved to 48 John Street in 1858. The pair advertised Ludlow's Self-Sealing Jars in tin, china, and glass by at least July 15, 1859, but by June 22, 1865, Griffen had sold his share to R. F. Haviland, and Haviland & Titus, who then operated the firm.
See the museum example of Ludlow's Infallible Patent Sealer Jar.
Griffen reentered business alone at 9 Barclay Street and advertised himself as "Proprietor and Manufacturer"—although he was certainly still a jobber in fruit jars and possibly other goods. He had moved to 145 Maiden Lane by 1867.
The patents related to our Eureka Fruit Jar include:
1. James Spratt, Cincinnati (1854)
2. Theodore Sellers, East Birmingham, Pennsylvania (1860)
3. John Griffen, New York, assigned to Theodore Sellers (1863)
4. John F. Griffen, New York (1864)
Primary Image: The "Eureka N.O.F. Patd Dec 27th 1864." imaged on location by Alan DeMaison, FOHBC Virtual Museum Midwest Studio.
Support: Reference to Red Book #11, the Collector's Guide to Old Fruit Jars by Douglas M. Leybourne, Jr. Eureka jar comparison illustration by Creswick. Use granted by Doug Leybourne.
Support Image: Black and white photographs of Eureka variant 1 jar. – Greg Spurgeon, North American Glass
Support: Reference to Fruit Jar Annual 2020 – The Guide to Collecting Fruit Jars by Jerome J. McCann.
Support: Reference to Eureka Jars and Their Makers by Bill Lockhart, Beau Schriever, Bill Lindsey, and Carol Serr
Join the FOHBC: The Virtual Museum is a project of the Federation of Historical Bottle Collectors (FOHBC). To become a member.