The Indians Panacea
The Indian's Panacea
Haviland, Harral & Allen, Charleston, South Carolina
Forest Green Medicine
Provenance: Michael George Collection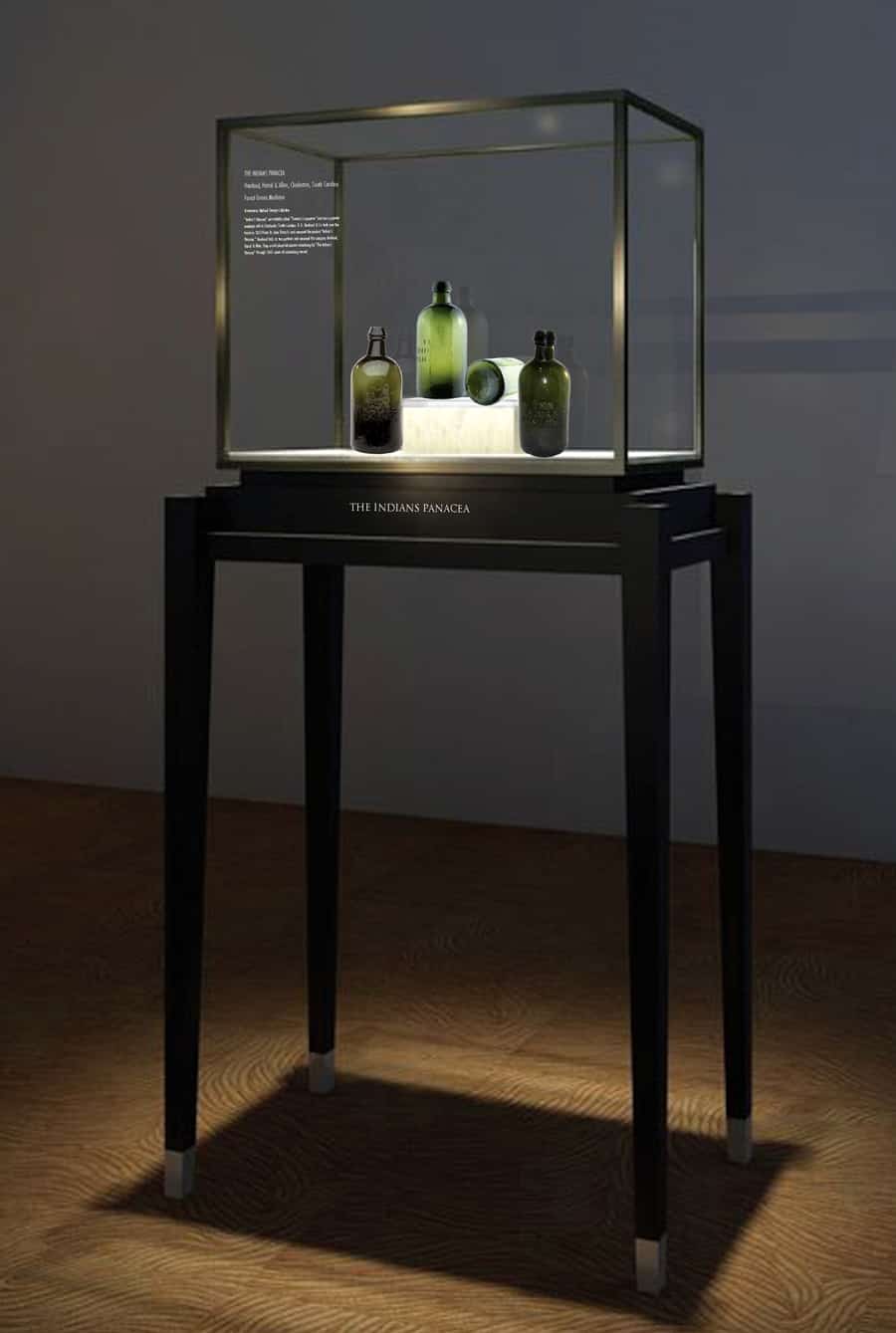 "Indian's Panacea" was initially called "Swaim's Conquerer" and was a popular medicine sold in Charleston, South Carolina in the early 1830s. D. G. Haviland & Co. took over the brand in 1833 from Dr. John Thorp Jr. and renamed the product "Indian's Panacea." They thought that the new name was less invidious and more appropriate. Haviland took on two partners and renamed the company Haviland, Harral & Allen. They would place full-column advertising for "The Indian's Panacea" from 1837 through 1841 when all advertising ceased.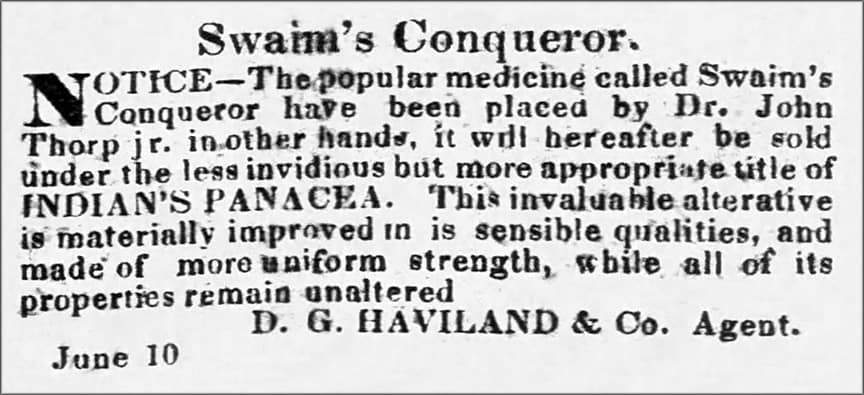 Our rare to very rare museum example is a 7-½" tall, clear forest-green glass cylindrical bottle that is embossed 'THE INDIANS PANACEA' in three centered lines in a serifed typestyle. A faint embossed outlined circle is above the copy. The opposite side of the bottle has an embossed arched "slice of bread" border meant to contain a paper label. The forest-green glass shades to a darker green glass in the shoulder, mouth, and base of the bottle. There is a crude, applied squatty double tapered collar, and a light sand type pontil. The bottle was probably blown in a Northeastern glasshouse and shipped south.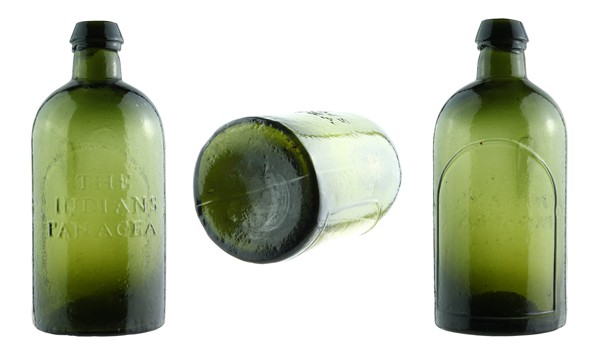 There are a few different bottle molds for "The Indian's Panacea." Our museum example is an "attic-type" bottle and "best possible example" that has never been in the ground as most surviving examples were dug in the South, and retain heavy surface wear. The name embossing is also pronounced on the face of our museum bottle while the character, color, and condition are outstanding. This lighter and brighter forest green color has less olive-colored glass than you typically see in the half dozen or so bottles known to exist.

Primary Image: The Indian's Panacea bottle was imaged on location by the FOHBC Virtual Museum midwest studio led by Alan DeMaison.
Support: Reference to the Southeast Bottle Club March 2003 Newsletter by Reggie Lynch. Terry Faulk image and caption of The Indians Panacea that he and Doug Williams had dug in Wilmington, North Carolina.
Support Image: The second example pictured was retrieved from the Internet and was noted as being in a clear medium olive shading to deep olive near the base.
Support Image: The third example pictured is from We Love Old Bottles. It was noted as being dark green, with a pontil scarred base, 8 inches high with an applied sloping double collar lip and an indented, arched label panel on the reverse. The bottle has swirl lines throughout the glass.
Support Information: John Pastor, American Glass Gallery auctioned a clear medium olive example that was 8-¼" tall. He noted it as being N #324, Odell p. 125, ex Roger Long. AGG #7, Lot 160, November 2011.