E. Wideman & J. Chappaz
E. Wideman & J. Chappaz
Alpine Stomach Bitters
A 35.5

E. Widemann & J. Chappaz, Marysville, California
Apricot Amber Cylinder
Provenance: Steven Hubbell Collection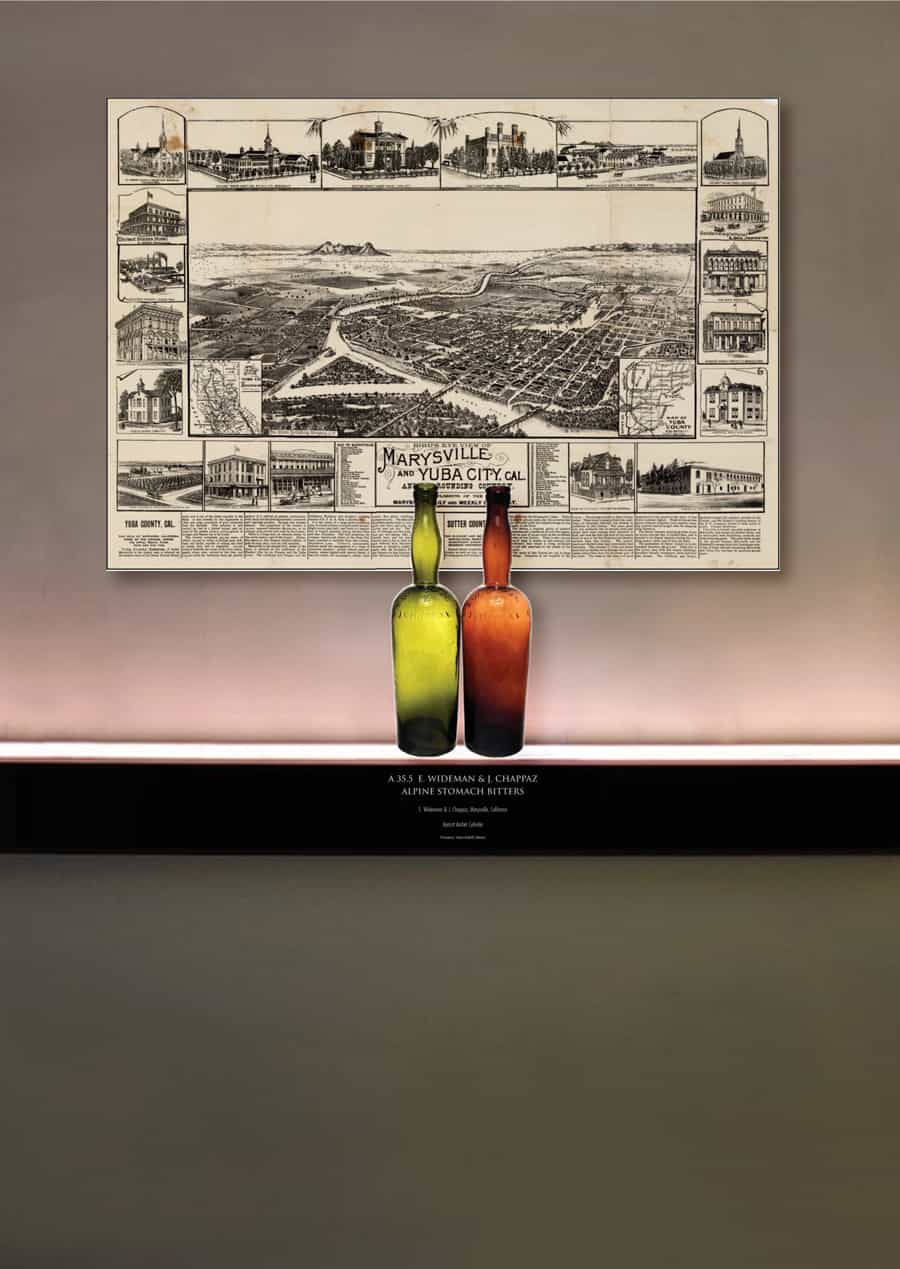 The Widemann & Chappaz bottle is considered one of the earliest western manufactured bitters. The label, if one could be found, might read "Alpine Stomach Bitters."
The embossed copy reading 'E. WIDEMAN' is missing the last "N" on the bottle shoulder. It should be 'WIDEMANN' with two "N's." The 'J. CHAPPAZ' embossed copy has a backward "Z." Most research interprets this as a "Z" though others say it is an "S." Even period advertising and newspaper notices use an "S."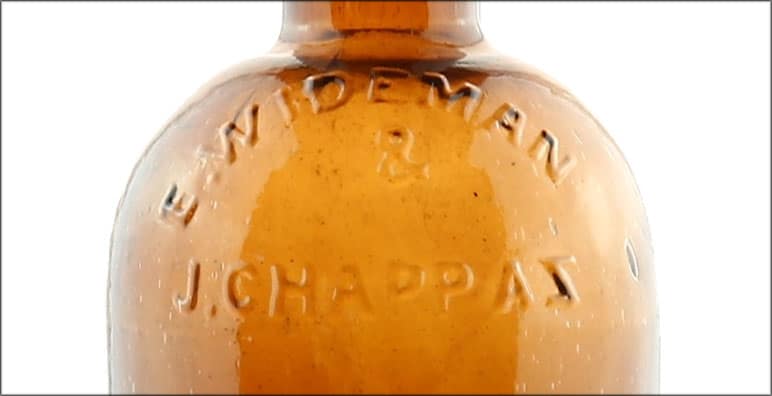 We first see an 1855 Marysville Daily Herald notice on October 13, 1855, for "Widemann" saying he is an Importer and Wholesale Dealer in Wines and Liquors located at Wisconsin House, Corner of B and 3d street in Marysville, California. He was also an agent for Hostetter's Celebrated Stomach Bitters in 1858 and 1859. We believe this to be Frederick Edward Widemann according to an 1860 United States Federal Census. He was born around 1810 in Saxony, Germany, immigrated to Yuba County, America in 1857, and resided in Marysville, Califonia. He was a prosperous liquor dealer who amassed quite a fortune.
The first non-natives to settle the Marysville area were trappers from the Hudson Bay Company in 1828. Eventually, gold was discovered not far away and Marysville was called the "Gateway to The Gold Fields." In 1850, the townsfolk decided to name the new town Marysville after Charles Covillaud's wife, Mary Murphy Covillaud, the former wife of William Johnson of Johnson's Ranch, and one of the surviving members of the Donner Party. A post office was established at Marysville in 1851. This was also the year of the great Marysville fire.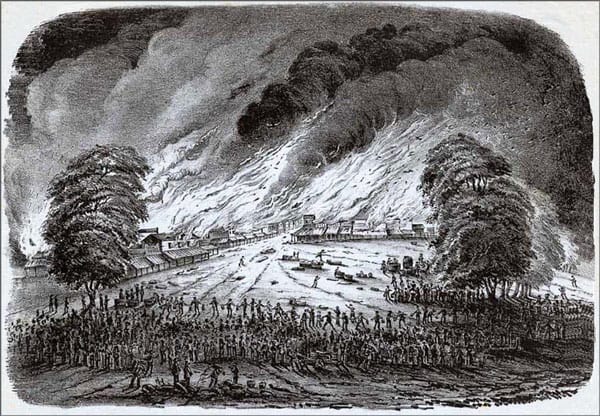 By 1853, the tent city had been replaced by brick buildings. In addition to the brick merchant buildings, Marysville had developed mills, ironworks, factories, machine shops, schools, churches, and two daily newspapers. The population was almost 10,000. By 1857, Marysville had become one of the largest cities in California, due to its strategic location. Over $10 million in gold was shipped from the banks in Marysville to the U.S. Mint in San Francisco. The city's founders imagined Marysville becoming "The New York of the Pacific." This did not happen and Marysville is now known as "California's Oldest 'Little' City."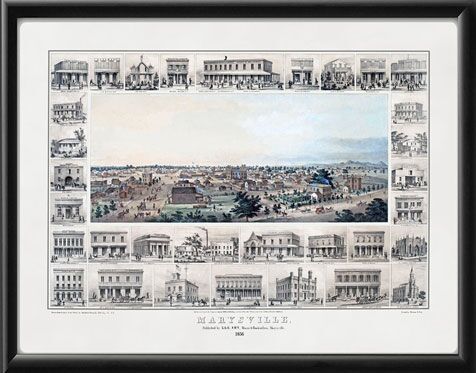 The Wideman & Chappaz bottles were very short-lived which attests to their rarity. Apparently, J. Chappaz was a jeweler in Marysville when a partnership was formed with E. Widemann. This could have been Frederick Edward Widemann the successful Marysville liquor wholesale and retail liquor dealer or his brother Emil Widemann. Either or both could have been the E. Widemann. Sometimes advertising just said "Widemann."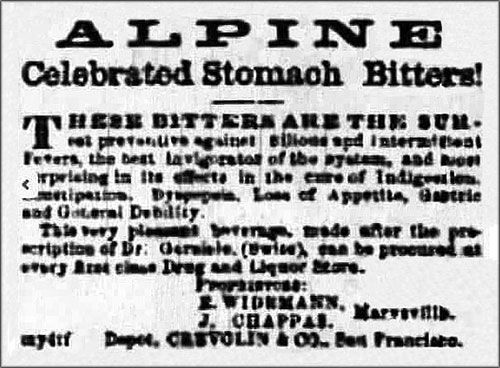 Alpine Stomach Bitters in the Wideman & Chappaz bottle was likely distributed only during the year 1864, as the partnership was short-lived. They lasted only five months from May 1864 to early October 1864 when Widemann bought out Chappaz. J. Chappaz would all but disappear.
Widemann would continue until early 1872 when E. Barthe and B. Pache, bought out the concern. Frederick Edward Widemann would die in October 1871 so the timing is right. He left an extensive Last Will and Testament and left quite a bit of money and assets to his youngest brother Henry in Saxony, sister Jane, sister Amelia, brother George, brother William, brother Emil, brother Julius, and sons Marius Edward and Gustave Romeo Widemann in Paris.
The Carlyn Ring and Bill Ham Bitters Bottles Supplement listing is as follows:
A 35.5 L … Alpine Celebrated Stomach Bitters
// s // E. WIDEMAN ( au ) / & / J. CHAPPAZ
11 5/8 x 2 ¾ (5 7/8)
Round-lady's leg, ARM, Applied mouth, Puce, Very rare; Green, Extremely rare.
The spelling in advertisements is WIDEMANN. On the bottle, the embossing is WIDEMAN which is slightly off-center with a blank space where a second N could have been embossed.
Assumed identity, no labeled bottle known.
Widemann & Chappaz was located at the Wisconsin House Corner B and Third St., Marysville, California for five months in 1864.
Most known examples were dug in Marysville.
Primary Image: The E. Widemann & J. Chappaz bottle imaged on location by the FOHBC Virtual Museum midwest studio led by Alan DeMaison.
Surrprt: Reference to: The Widemann & Chappas Alpine Stomach Bitters – Marysville at peachridgeglass.com
Support: Reference to Bitters Bottles by Carlyn Ring and W. C. Ham.
Support Images: Picture of two bottles together courtesy Jeff Wichmann, American Bottle Auctions
Support Image: Auction Lot 61: E. WIDEMANN & J. CHAPPAZ applied ring. A 35.5. Bright medium apple green. 1860's. Here is another of the half dozen or so bitters with the name "Alpine." Specifically, this product was called ALPINE CELEBRATED STOMACH BITTERS and was believed to have been distributed in and around Marysville, CA. Most of the known examples were found at the site where the bottles were filled in Marysville. Like the Salutaris Bitters, these come in two colors of varying shades of green and puce. This one has a new neck from the shoulder up. The neck thankfully was in the outhouse hole with the broken bottle along with other specimens. Finding a new neck in any other situation would be almost impossible. No grade but appears mint. – Jeff Wichmann, American Bottle Auctions, Auction 70, Part 1 of the Don Dwyer Collection