Willington Cathedral Pickle
Willington Cathedral Pickle
West Willington, Connecticut

Gothic Design – Medium Blue-Green
Provenance: Rick Ciralli Collection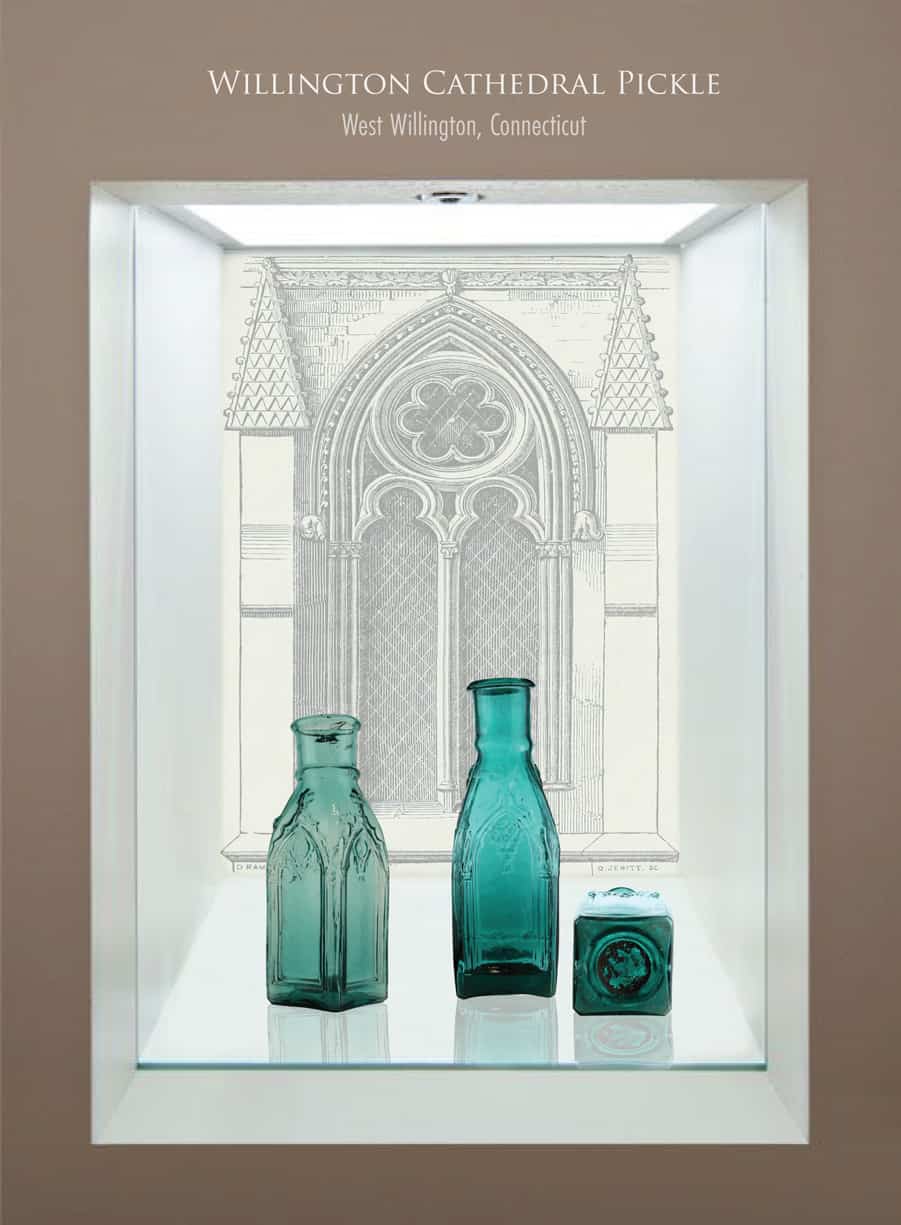 We are looking at what collectors affectionately call a "cathedral" pickle bottle. This "Willington Cathedral" is exceptional because of its rich blue-green color and widened neck. It also comes with solid provenance and history.
Many of the early American pickle bottles and jars of this style were made in the 1840s and up to the turn of the century. They were used to preserve food for out-of-season use and long journeys, especially by sea or across the country by wagon. We know this because many of these types of bottles have been found at Civil War dumps, old forts, and shipwrecks, adding to their allure.
Glassmakers developed these distinctly American Gothic-style bottles to appeal to consumers. The bottles traditionally have high arched windows, intricate framing, and curvilinear details with a wide opening designed to retrieve its content easily. These details mimicked architectural trends found in homes, churches, and other buildings and tied to nature and religious iconography.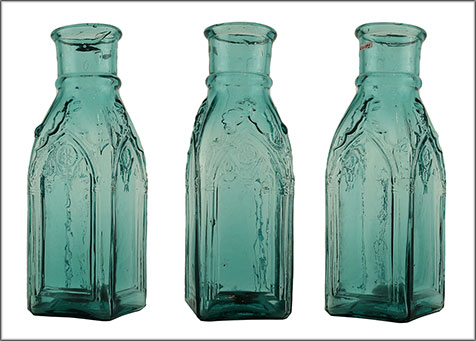 Originally this bottle would likely have included a cork stopper, perhaps sealed with wax and metal foil. One side of the bottle was usually left undecorated and flat, leaving an area that would have held a paper label advertising the bottle's contents. As expected, the earlier examples have pontiled bases and exceptional character. Over time, "Cathedral" has overtaken "Gothic" as a more descriptive name for these bottles.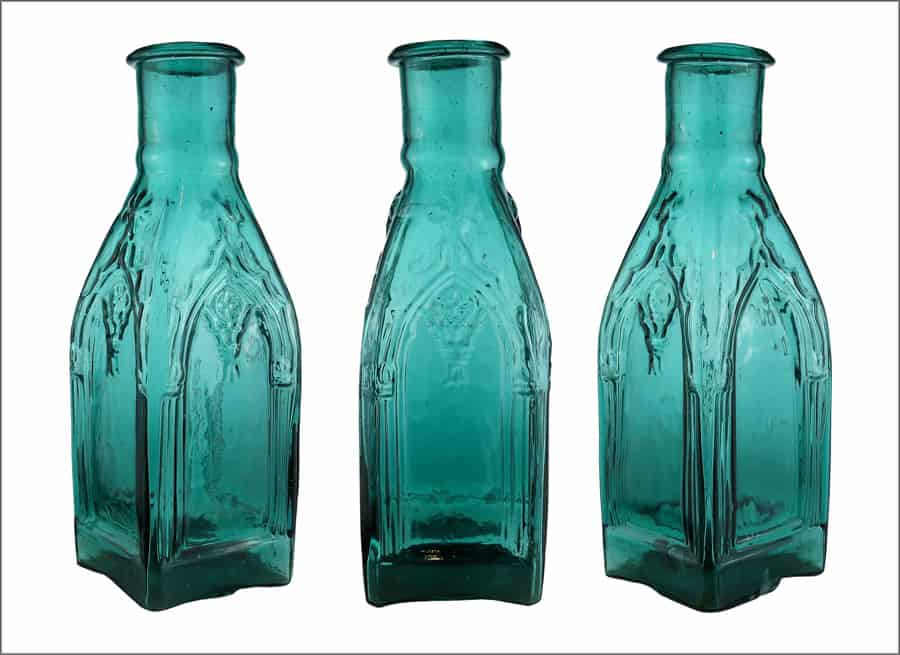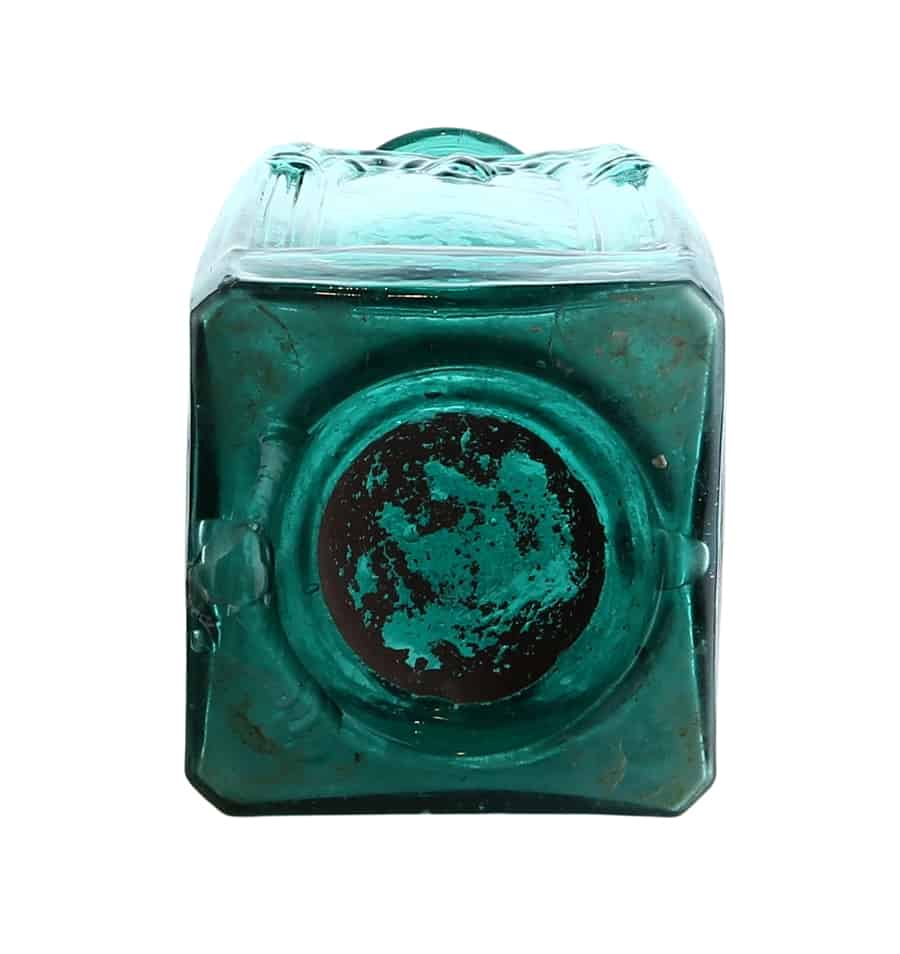 See the second museum example of a teal blue, 14 ½ inch tall, iron pontiled Willington Cathedral Pickle.
West Willington Glassworks
The Museum of Connecticut Glass notes the following for the West Willington Glassworks (1814-1872).
In 1814, a stock company was formed by John Turner, Ebenezer Root, and Frederick Rose, all presumably from Coventry, Connecticut, and Roderick Rose, Stephen Brigham Jr, Elisha Brogham, and Spafford Brigham, all of Mansfield, Connecticut. Abiel Johnson Jr. was also said to have been part of the organizing group competing against the Pitkin glassworks, the John Mathers glassworks, and the Coventry glassworks.
They remained the owner until 1828, when Gilbert, Turner & Company acquired the glassworks and the Coventry works. This company operated the Willington glassworks until 1847. A Hartford agent named Lee, Hopkins & Butler advertised Willington porters in 1829. In 1847, Gilbert, Turner & Company sold the works to a group of six men, Harvey Merrick, Elisha Carpenter, William M. Still, William and Francis Shaffer, and James McFarlane.
The first output of glass bottles consisted of inkwells, snuffs, demijohns, chestnuts, and flasks, including some Pitkin types. There were reportedly a few rare sealed bottles as well. As far as we know, there were no marked bottles or flasks before 1849. From this date to 1872, demijohns dominated the sales with wines, some bitters, and even a booze bottle cabin figural.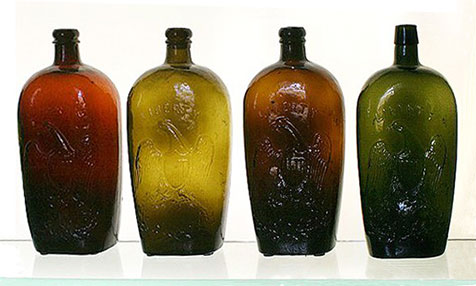 Perhaps the most famous wares are the Willington gothic cathedral-type pickle jars of varying sizes and colors. They also produced base-embossed cylindrical bottles (nine variants known), different sizes of berry bottles in olive amber and olive green colors. They also produced the popular Liberty Eagle marked flasks in ½ pint, pint, and quart molds.
See the museum example of a quart GII-61 "Liberty" Eagle "Willington Glass Co. West Willington Conn" flask.
The Willington glassworks also produced utility bottles, insulator types, rolling pins, and assorted tableware. The colors of the glass were similar to Pitkin's and Coventry's, but the shades of greens are among the most beautiful glass ever produced in this country.
The Willington Historical Society has many members interested in local and Connecticut glass. They have regular meetings with guest speakers and presentations. A glass display and a historical museum are in the works.
Primary Image: The Willington Cathedral Pickle bottle was imaged on location by the FOHBC Virtual Museum midwest studio led by Alan DeMaison.
Secondary Image: Second museum example of a teal blue 14 ½ inch tall Willington Cathedral Pickle from the Dennis Rogers collection. Imaged at the Reno 2022 National Antique Bottle Convention by the FOHBC Virtual Museum midwest mobile studio led by Alan DeMaison.
Support: Reference to Ketchup Pickles Sauces – 19th Century Food in Glass by Betty Zumwalt
Support Images: Auction Lot 193: Cathedral Pickle Bottle, probably Willington Glass Works, West Willington, Connecticut, 1845-1860. Square with beveled corners and fancy cathedral arches, medium blue-green, tooled round collared mouth – iron pontil mark, ht. 7 1/4 inches; (professionally cleaned with light remaining wear marks, dull exterior surface, interior has been coated to mask stain). Similar in form and construction to Z pg. 456, top right A very appealing jar in mold design, color and size. Generally fine condition. Dr. Charles and Jane Aprill collection. – Norman C. Heckler & Company
Support Image: Photograph of a group of five cathedral pickle bottles by Ed & Kathy Gray.
Support Images: Two photographs of a group of three Willington cathedral pickle bottles. Rick Ciralli.
Join the FOHBC: The Virtual Museum is a project of the Federation of Historical Bottle Collectors (FOHBC). To become a member.