All Right Patented Jan. 25th 1868
All Right
Patd Jan 25th 1868.
Salmon B. Rowley, Philadelphia, Pennsylvania
Newton O. Fansler, Cleveland, Ohio
Cornflower Blue Quart
Provenance: Phil Smith Collection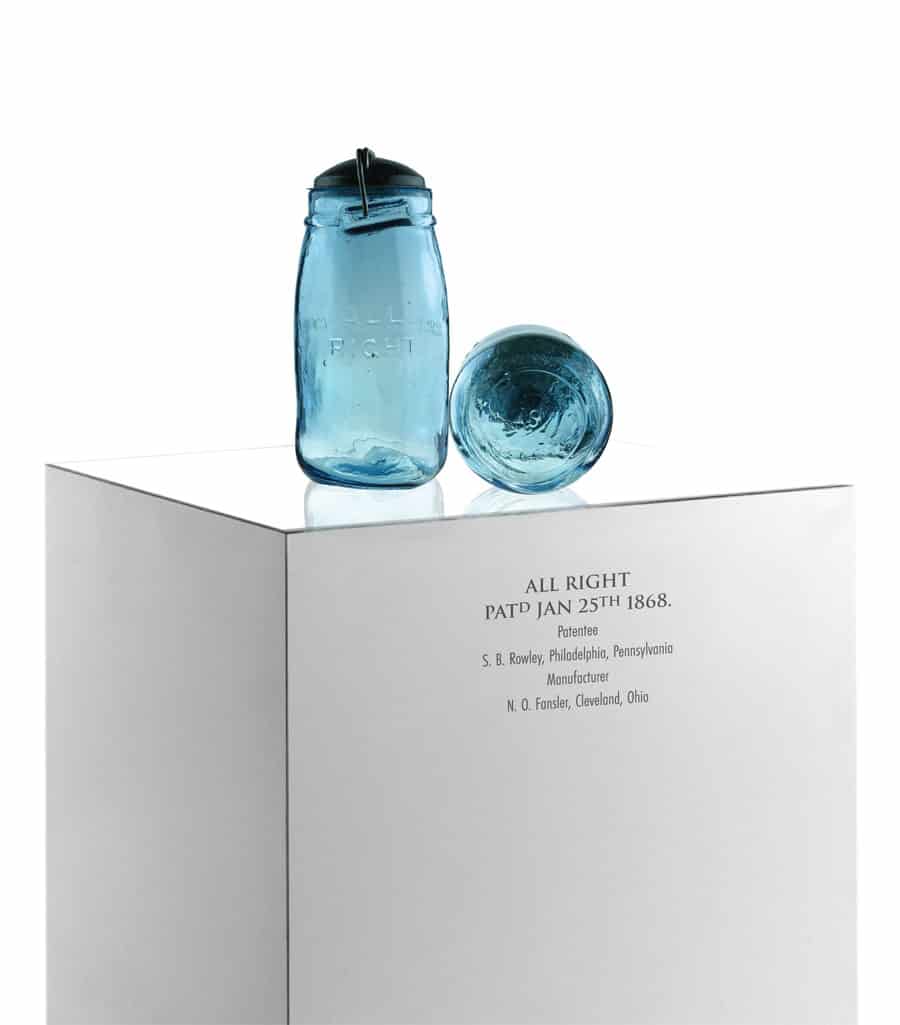 The aptly named "All Right" Fruit Jar was produced from about 1866 to 1875. The finish and form of the jar is quite unusual, and the base does not have the embossing around the resting point that was common in later jars. Salmon B. Rowley was the proprietor and held the jar patent. Newton O. Fansler was the manufacturer in Cleveland, Ohio.
Salmon B. Rowley's first recorded involvement with jars was in 1864, when he sold Excelsior jars as a jobber, shortly before he enlisted in the Union Army during the Civil War. When hostilities ceased, he became a jobber in jars at least as early as 1866. The "All Right" fruit jars were probably made at the Lockport Glass Works, Lockport, New York. Rowley purchased the Lockport plant on January 16, 1869—as part of the Hero Glass Works and operated the factory until he sold it to Alonzo J. Mansfield in 1872.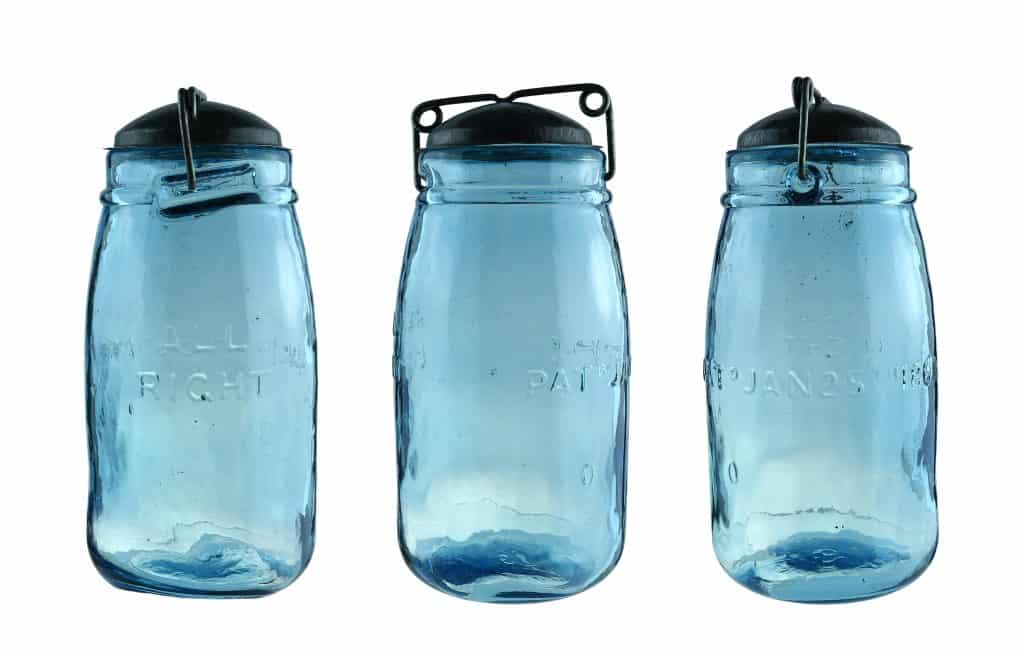 When looking at our quart cornflower blue example, the word 'ALL RIGHT' is embossed in two centered horizontal lines in a sans serif typestyle. The reverse side is embossed 'PATD JAN 25TH 1868' in a single line. The jar is hand blown with a ground lip. The closure is a top seal, straddle lip over a domed metal lid and wire clamp that engaged notched, diagonal slots in jars neck. The lid is stamped 'PATENTED NOV. 4th 1862 & FEB. 11th 1868′ on gold lacquered tin plated cap. The base is embossed '19' and 'PAT NOV 26 1867.'
The patentees were T. G. Otterson of Millville, New Jersey (1862), S. B. Rowley of Philadelphia, Pennsylvania (1867 and February 11, 1868) and W. L. Imlay of Philadelphia, Pennsylvania (January 28, 1868).
"All Right" jars are available in aquamarine quarts and half-gallon sizes. Original lids in good condition are very scarce and desirable.

This newspaper account from the Cleveland Leader in 1868 sheds light on Newton O. Fansler who was the manufacturer of the "All Right" fruit jars.
All day yesterday, there was a scene in front of Worthington's Block on Water Street that would have done honor to New York or Chicago at their busiest season. Immense tiers of boxes were arranged along the sidewalk on either side and an army of clerks and laborers were loading and handling them away on several two-horse drays while from the cellars beneath the building, the boxes came tumbling up so fast that the piles remained undiminished. A little closer inquiry revealed our enterprising young fellow citizen, N. O. Fansler, in command of the gang, and a glance at the labels on the boxes showed that each contains six dozen of the "All Right Fruit Jar," which leads us back a little.
About two years ago, some genius in a happy moment, hit upon the most felicitous plan yet devised for a perfect fruit jar. Not less apt and fitting was the name with which he christened it the "All Right."
Trial proved it more perfect than even the inventor had thought. Simpler and cheaper by $3 a gross than any other first class jar of its specie; it can be used with perfect certainty by any housekeeper or servant or even the most ordinary intelligence.
With such an invitation as this at command, it is not surprising that an immense establishment was reared for its manufacturer, nor that Mr. Fansler should have detected its merits and interested himself in the Company. During the last fall and winter, the works were kept in constant operation and the stock accumulated is immense. The rush of yesterday announces the opening of the shipping season and far exceeds anything of a similar nature which we have ever noticed in Cleveland.
No less than fourteen hundred large cases were shipped yesterday, some by rail, others by boat, and destined variously to nearly every part of Ohio, Michigan, Wisconsin, Minnesota, Iowa, Illinois and Pennsylvania. Mr. Fansler keeps constantly in store 2,000 gross of these unrivaled fruit jars and gives his personal attention to all orders received by the mail, express or telegraph.
Besides the All Right his stock of sealing wax, jelly tumblers and cans, cement, and every article pertaining to the fruit preserving idea, is immense. The unparalleled success of the All Right is due to three causes. It is a perfect article in itself; it is cheaper than any other ready first class jar, and lastly, it has in Mr. Fansler a live man for a general. Three causes which similarly combined have worked wonders in trade time out of mind
Notwithstanding Mr. Fansler 's immense supply, it looks now as though the capacities of the "All Right" manufactory would be taxed to the utmost. Immense orders are yet to be filled, and as the fruit trees are steadily emerging from the danger of frost and our peaches, plums, pears and berries become a sure crop, the jar trade receives an additional impetus
Canning is the great modern improvement over preserving and sugar and the people only wait to find out the best fruit jar to buy them by the carload. We congratulate Mr. Fansler on his successful venture and housekeepers everywhere on their ability to possess so admirable a fruit jar as the justly named "All Right".
Primary Image: The "All Right" fruit jar imaged on location by Alan DeMaison, FOHBC Virtual Museum Midwest Studio.
Support: Reference to Fruit Jar Annual 2020 – The Guide to Collecting Fruit Jars by Jerome J. McCann
Support: Reference to Red Book No. 12, the Collector's Guide to Old Fruit Jars by Douglas M. Leybourne, Jr.
Support: Reference to The Hero Glass Firms by Bill Lockhart, Beau Schriever, Bill Lindsey, and Carol Serr
Join the FOHBC: The Virtual Museum is a project of the Federation of Historical Bottle Collectors (FOHBC). To become a member.