Crane & Brigham San Francisco (Embossed Leaf)
Crane & Brigham
San Francisco
(Embossed Leaf)
Henry A. Crane & William R. Brigham, San Francisco, California
Yellow Amber Bay Rum
Provenance: Eric McGuire Collection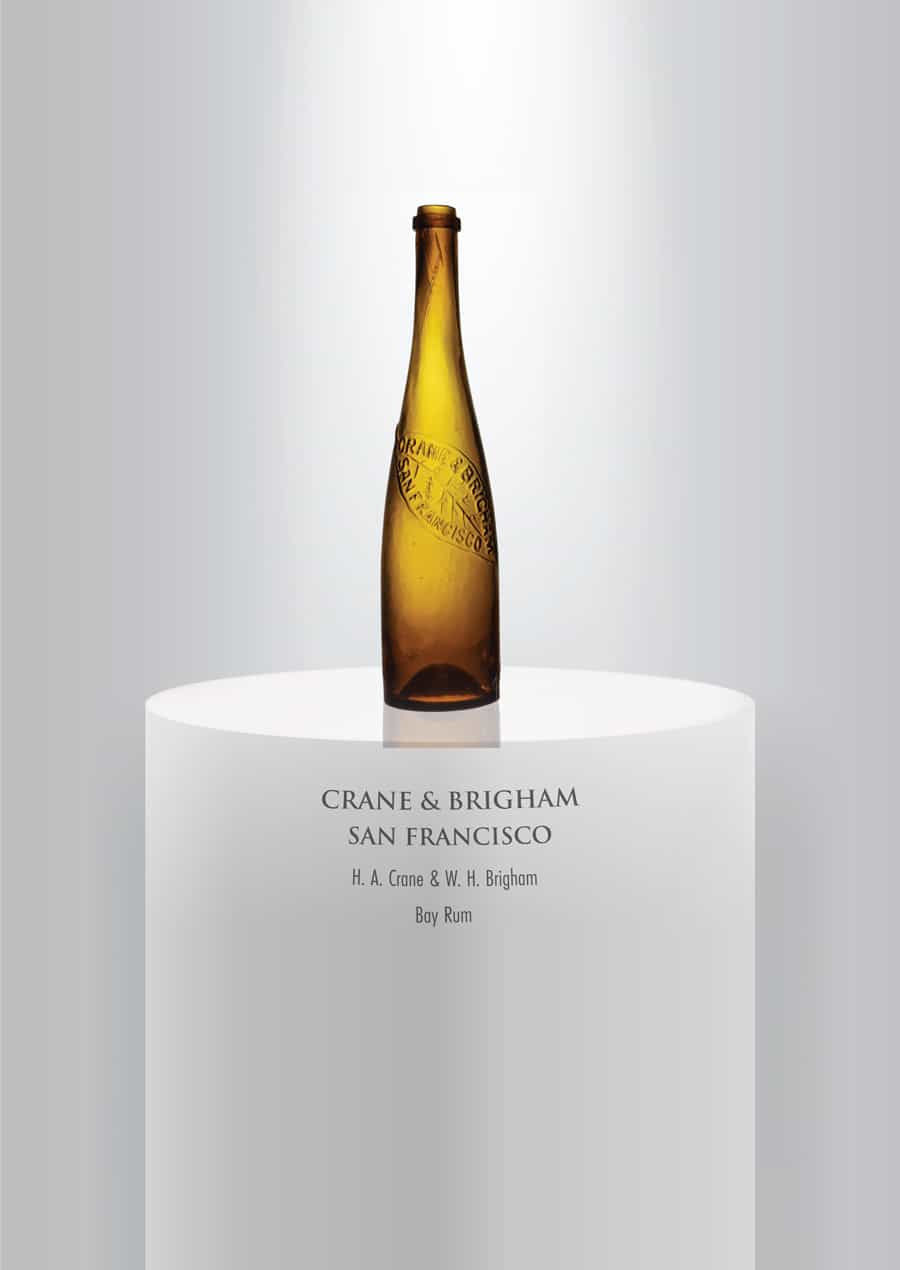 Our "Crane & Brigham, San Francisco" bay rum with the embossed bay leaf is a great and elegantly shaped Western bottle you rarely see. In one image, we have compared it with similar "Redington & Co. San Francisco (monogram)" and "W. E. Mayhew S. F." bay rum bottles. These bottles are pint size and have the Western curved "R's." The Crane & Brigham, Redington & Co. and W. E. Mahew bottles may be California's only embossed bay rums. Interestingly, two companies were neighbors at one time as Crane & Brigham was located at 520 Market Street and Redington & Co. at 529 Market in San Francisco.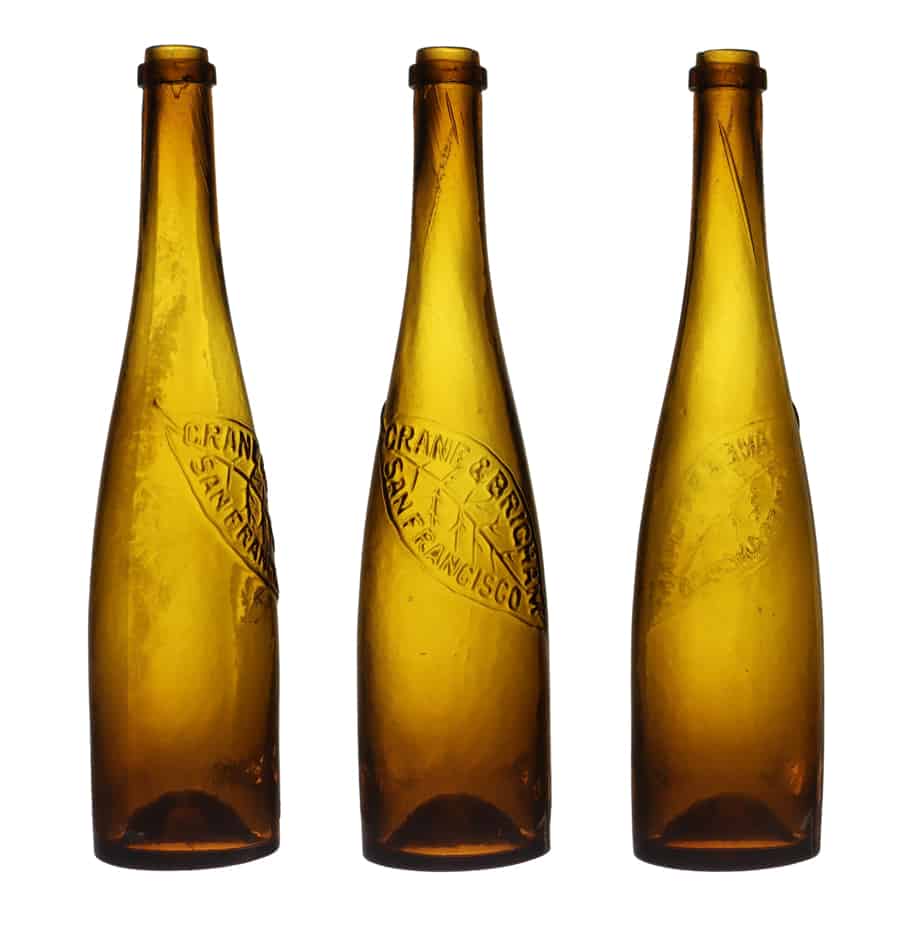 See the museum example of the W.E.M. S.F. (Mayhew) Bay Rum bottle.
Bay rum is a type of cologne and aftershave lotion with a high content of alcohol. Other uses include under-arm deodorant, a fragrance for shaving soap, and a general astringent. Bay rum is a distillate made initially in Saint Thomas and probably other West Indian islands from rum and the leaves and or berries of the West Indian bay tree, Pimenta racemosa.
Henry A. Crane and William H. Brigham were born in New York, Crane in November 1833 and Brigham in October 1814. Brigham began his career as a druggist in the Bowery, where he must have met and partnered with the younger Crane. Both headed west to San Francisco, where they joined Eugene Crowell, an established retail druggist in 1856, as Crowell, Crane & Brigham, wholesale druggists. Crowell, Crane & Brigham were advertising, importing, and selling foreign and domestic drugs, patent medicines, perfumery, fancy articles, chemicals, and dyes at 131 Commercial Street, also known as Long Wharf.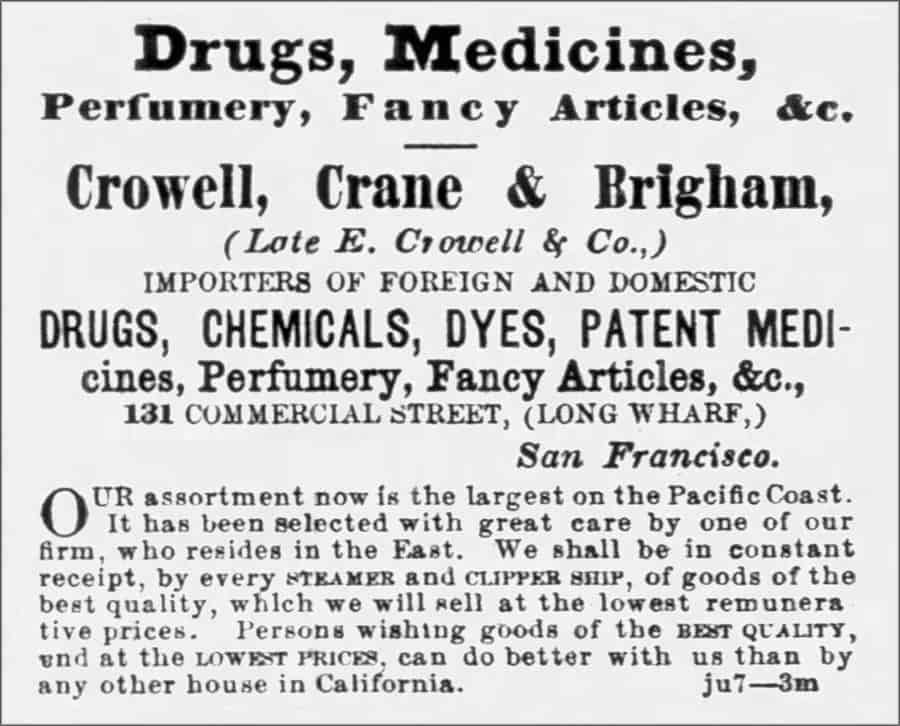 Crowell, Crane & Brigham were responsible for two extremely rare 1850s Gold Rush era embossed bottles from San Francisco; the cobalt blue, mug-based, iron pontiled soda water bottle embossed "C C & B San Francisco" and the rectangular, blowpipe pontiled medicine bottle embossed on three sides with "Crowell, Crane & Brigham – Sarsaparilla & Yellow Dock." There were no glass manufacturers in the West (or even west of the Mississippi) at that time, so these bottles were blown somewhere in the East and shipped to San Francisco. Crowell, Crane & Brigham remained in business until 1858 when Crowell sold out, and they repositioned as Crane and Brigham, Wholesale Druggists.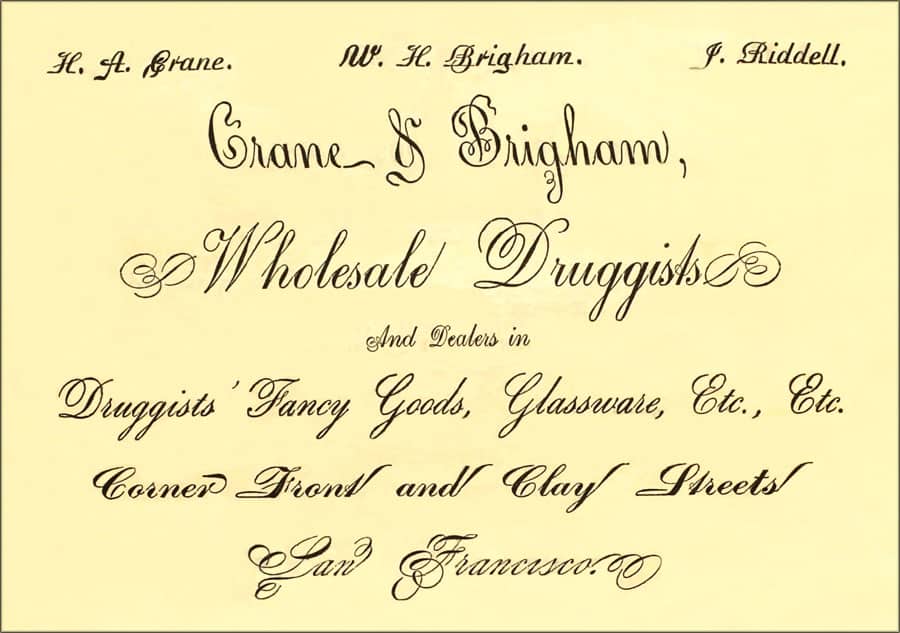 Brigham would travel back and forth to New York, where he represented the firm. Crane & Brigham's west coast advertising stated that the products they represented were "selected with great care by one of our firm, who resides in the East. We shall be in constant receipt, by every Steamer and Clipper Ship, of goods of the best quality, which we will sell at the lowest remunerative prices. Persons wishing goods of the Best Quality and at the Lowest Prices can do better with us than by any other house in California." While on a trip to New York in 1865 on the steamer Ariel on which he and his family were passengers, Brigham was stopped by the Confederate cruiser Alabama but was released when Commander Semmes learned that Ariel carried no treasure. In time Crane & Brigham would become one of if not most important drug houses on the Pacific Coast.
Crane retired in 1883 and died in 1919 in San Francisco. Brigham died in 1894 in New York.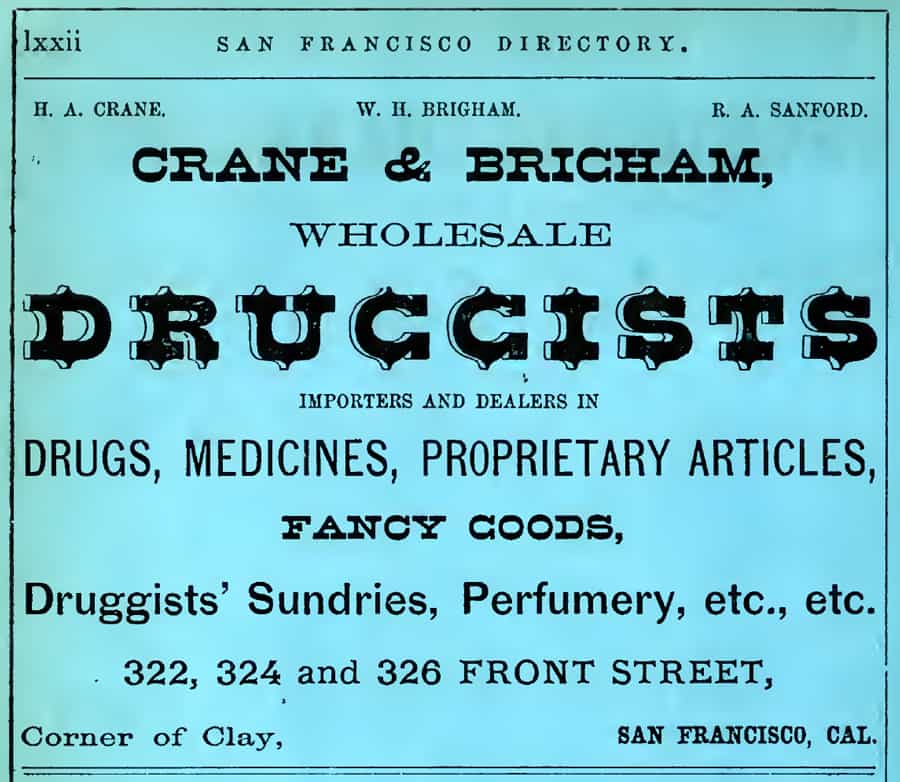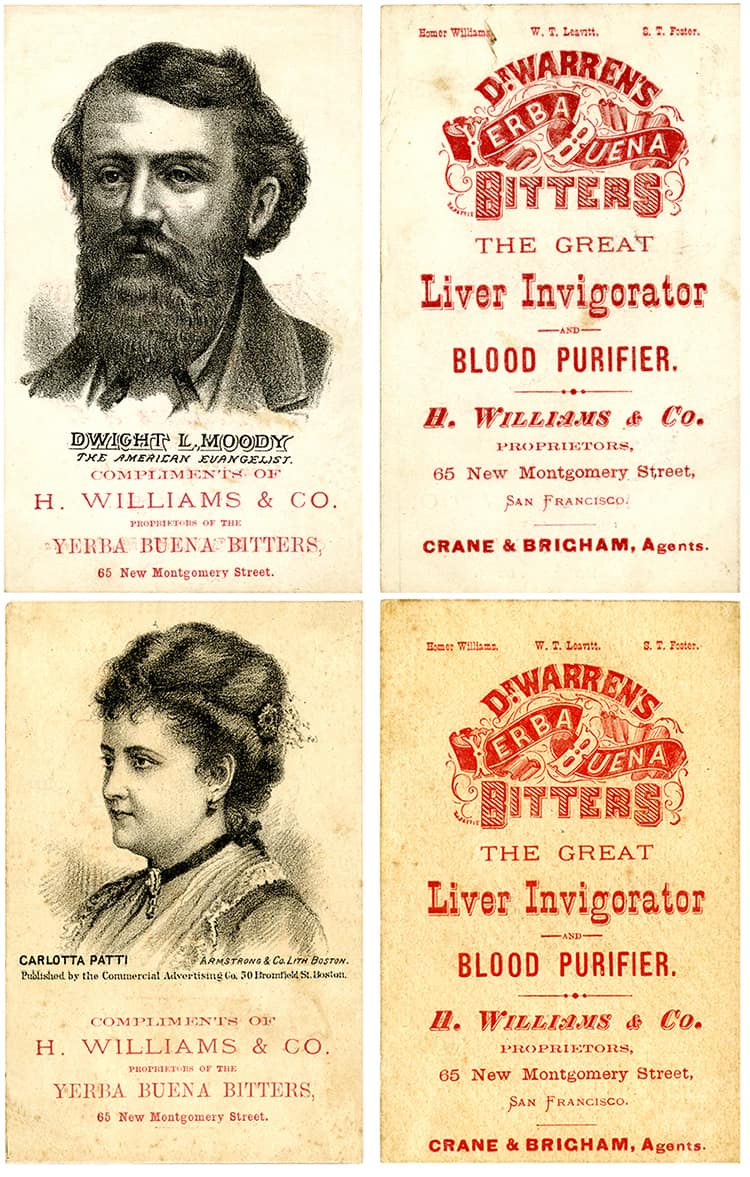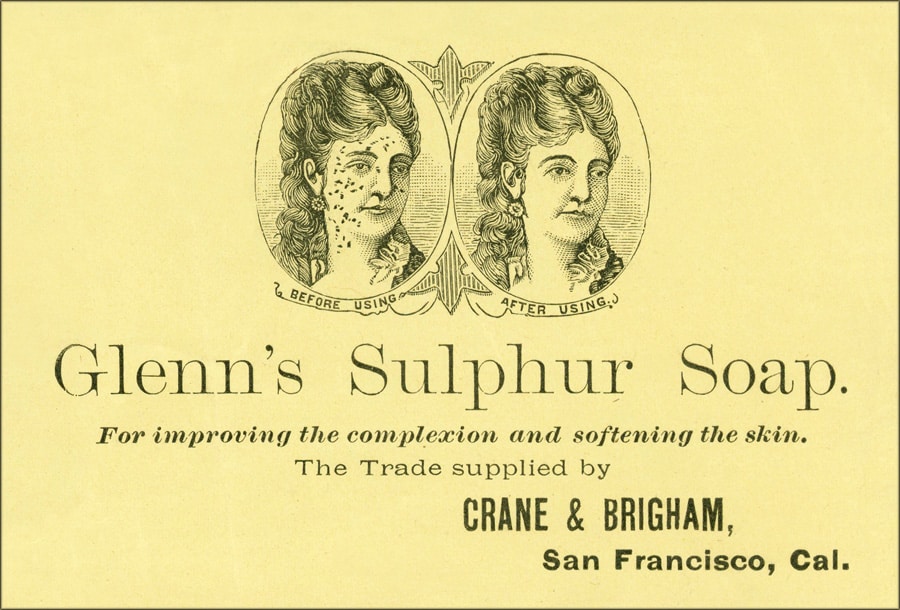 Primary Image: "Crane & Brigham San Francisco" Bay Rum bottle imaged by Eric McGuire, FOHBC Virtual Museum West Coast Studio.
Support Image: W.E.M. S.F. bay rum in green glass imaged by Eric McGuire, FOHBC Virtual Museum West Coast Studio.
Support Image: Opalescent Crane & Brigham S.F. extract bottle – Antique-Bottles.net
Support: Reference to Crane & Brigham Florida Water Bottles, High Desert Historic Bottle Website
Support: Reference to 19th Century Medicine in Glass, Bill & Betty Wilson, 1971
Support Image: Trade Cards: Y 3 DR. WARREN'S YERBA BUENA BITTERS, Portrait on front of Dwight L. Moody, The American Evangelist (card 1) and Carlotta Patti (operatic soprano) (card 2). Compliments of H. Williams & Co. Proprietors of the Yerba Buena Bitters, 65 Montgomery Street. Reverse: Dr. Warren's Yerba Buena Bitters, The Great Liver Invigorator and Blood Purifier. H. Williams & Co., Homer Williams, W. T. Leavitt, S. T. Foster, Proprietors, 65 New Montgomery Street, San Francisco. Crane & Brigham, Agents – Daily Dose, Joe Gourd, Atwater Collection at the University of Rochester, PeachridgeGlass.com, 2019
Join the FOHBC: The Virtual Museum is a project of the Federation of Historical Bottle Collectors (FOHBC). To become a member.