The Chief
The Chief

Isaac Kendrick, Philadelphia, Pennsylvania
Aquamarine Quart
Provenance: Jerry McCann Collection
This museum example of an extremely rare "Chief" jar has embossed copy reading 'THE CHIEF' in two lines on the front of the jar. The jar is typically found in aquamarine and comes with and without an embossed monogram 'K' on the reverse face of the jar. In 1872, it was advertised as the only wide-mouth jar made.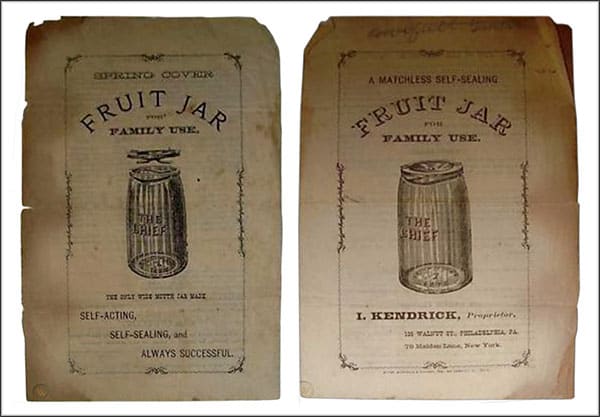 The base of The Chief fruit jar is embossed 'PAT'D NOV. 29 1870' with a number in the center. The jar is hand-blown and has a ground lip. The closure is a top seal on the ground lip and has a lacquered tinned iron lid with a wire clamp soldered to the underside of the lid that engages two recesses on the inside of the neck of the jar. The lid is stamped CHAS. G. IMLAY & SON. The patentees were Charles G. and William L. Imlay of Philadelphia, Pennsylvania. The jar was sold in the early 1870s.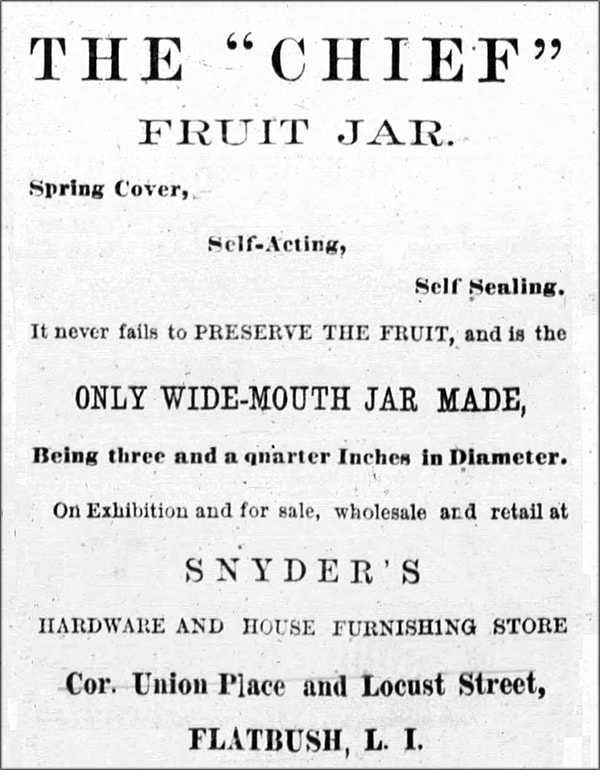 As noted, some of these jars have a fancy script 'K' on the reverse. This could mean Keystone Glass Works or stand for Kendrick, the manufacturer, and proprietor of the jar.
Isaac Kendrick was born in 1817 somewhere in Pennsylvania. In 1855, we see Kendrick listed as a merchant in the Philadelphia City Directory. By 1864, he is specifically listed as a commercial oil merchant and a dealer in "burning and paraffine lubricating oils" located at 125 Walnut in Philadelphia. By 1868, he also had a shop at 81 Maiden Lane in New York City. An 1870 New York State Business Directory lists, Oil Merchant: I. Kendrick, 125 Walnut, Philadelphia, Manufacturer and Dealer in Paraffine, Lubricating Oil, Wool, Lard, Sperm, Whale, Headlight and Signal Oils. It is interesting to note that by 1874, the Consolidated Fruit Jar Co. was located at 49 Warren, New York, New York. That same year, George W. Kendrick, Isaac's son, was listed as an agent for "The Chief," manufactured by I. Kendrick of Philidelphia, 78 Maiden Lane, New York, New York. Isaac Kendrick would die in 1890.
Support Images: Auction Lot 131: "The / Chief" – "K" Fruit Jar, America, 1870-1890. Cylindrical, aquamarine, ground mouth – smooth base embossed "Patd Nov. 29 / 1870", quart; (minor manufacturer's flakes on edge of ground mouth, no closure). RB #594 A scarce jar with an unusual and attractive closure design. Bold embossing and a nicely whittled surface. Generally fine condition. – Norman C. Heckler & Company, Auction #161
Support Images: Auction Lot 7545: THE CHIEF Reverse K in Script. Quart. Aquamarine. Replica cap. Sparkling glass with a few usage scuffs. Shallow chipping of the ground mouth. Strong embossing both sides. Base embossed "PATd NOV 29 1870" encircling a "4". Circa 1870s. Very scarce and a fine-looking example – Greg Spurgeon, North American Glass
Reference: Reference to Fruit Jar Annual 2020 – The Guide to Collecting Fruit Jars by Jerome J. McCann
Reference: Reference to Red Book #11, the Collector's Guide to Old Fruit Jars by Douglas M. Leybourne, Jr.