Schuler & Rebold – Cincinnati O
Schuler & Rebold
Cincinnati O
Jacob Schuler and John Rebold, Cincinnati, Ohio
Light Teal Aqua
Provenance: Doug Shutler Collection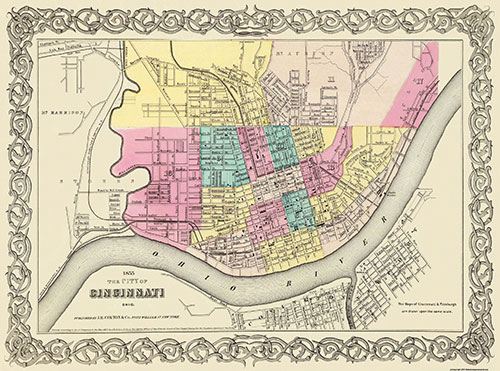 Our light teal-aqua bottle is embossed 'SCHULER & REBOLD' (1st line arch) centered over the word 'CINCINNATI' (2nd line horizontal) and 'O' (3rd line horizontal). The 'O' is placed directly beneath the last 'i' of Cincinnati. The reverse is plain. The cylindrical form is in a porter style. The bottle dimensions are 7 3/8 tall x 2 ¾ wide and 3 ¼ tall for the body. The bottle is hand-blown in a two-leaf mold and has an iron pontil base with an applied tapered mouth intended for a cork stopper. The glass house is unknown.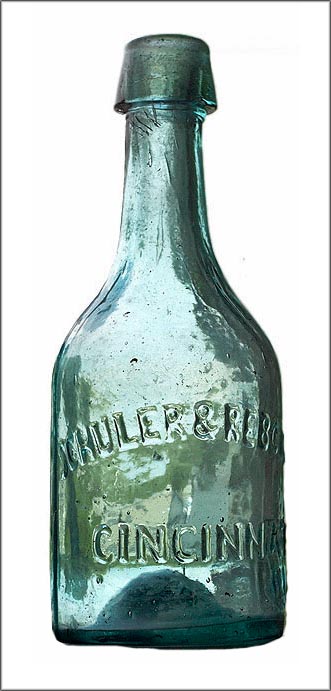 In 1851, the mineral water business was very competitive in Cincinnati, as the city was host to eight mineral water factories with 64 employees who produced over one $100,000 in annual output. The difference between 'soda water' and 'mineral water' during the 19th century was often vague and interchangeable. Soda water was generally considered flavored artificial mineral water with the purposeful addition of carbonation and various compounds and flavoring. Mineral or spring water as it was also called, would generally be natural waters from spring sources
When we start looking for Schuler & Rebold in the early 1850s in Cincinnati, we do not see anything until 1855 when a listing in the Williams Cincinnati Directory reads, Jacob Schuler, mineral water, 150 Ham. (Hamilton Road). There is also a separate listing for John Rebold, Main Street Hotel, 160 Ham. The 1855 only date would explain the rarity of our bottle.
In the business listings under Mineral Water Manufacturers in the same directory, we see Chauncey B. Owen, 55 Vine c. 2d., H & J. Alwes, John Damm, Charles M. Hartwell, Hornman & Co., H & C. Overdick, John Postel, A. Ritters, Jacob Schuler and Wm. Wilke & Co., Directories consulted in the following years do not list Schuler or Rebold until 1861 when we see Jacob Schuler listed as a brewer.
See our museum example of a H. Verhage Cincinnati soda.
See our museum example of a C. B. Owen & Co. Bottler Cincinnati soda.
Support: Reference to Soda & Beer Bottles of North America, Tod von Mechow
Support: Reference to The American Pontiled Soda Database Project, Tod von Mechow
Primary Image: Schuler & Rebold bottle imaged by the FOHBC Virtual Museum midwest studio led by Alan DeMaison.