GI-34 Washington / Jackson Portrait Flask
GI – 34
"Washington" And Bust – "Jackson" And Bust Portrait Flask

Coventry Glass Works, Coventry, Connecticut
Olive-Green Half Pint
Provenance: Anonymous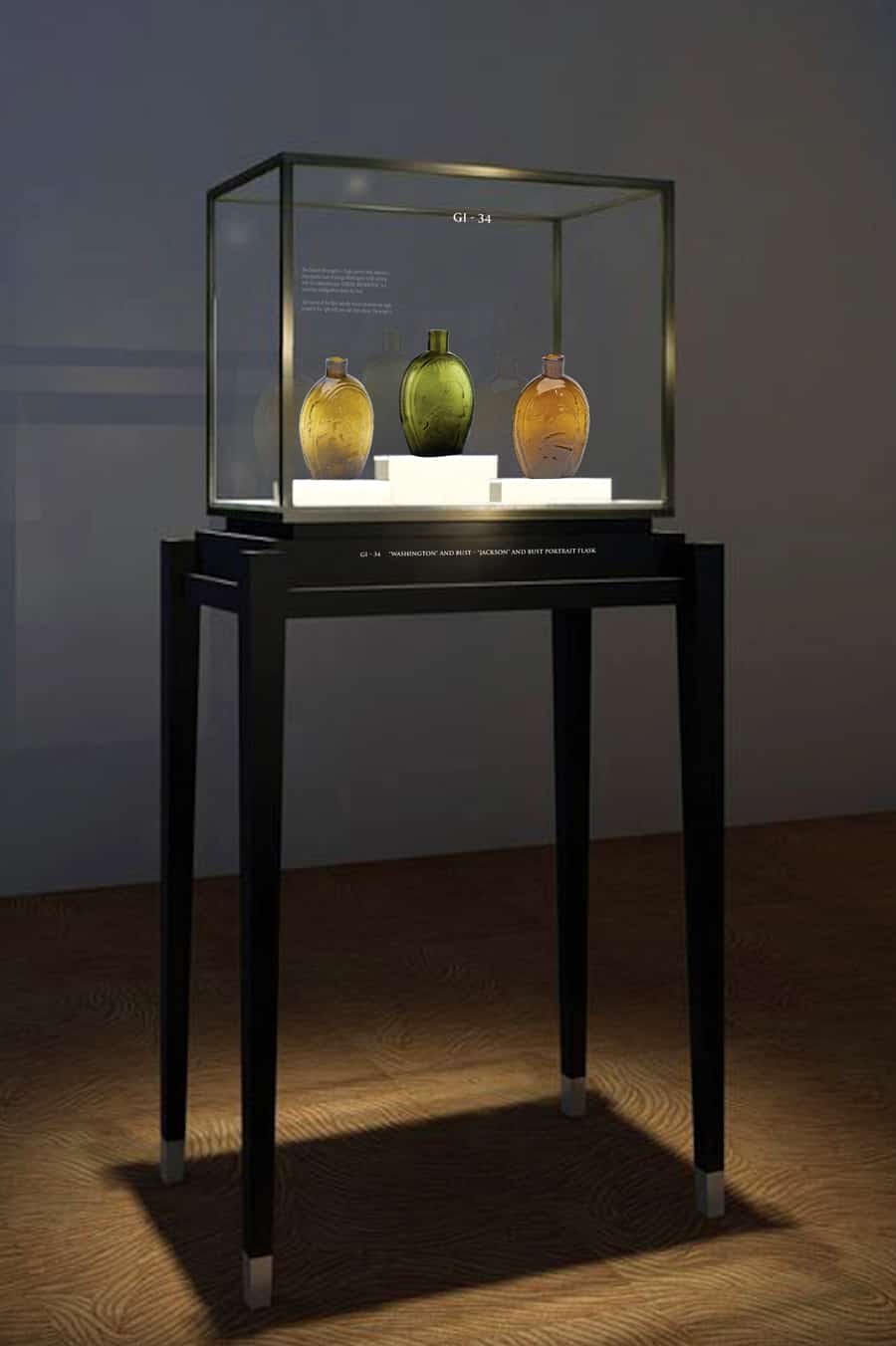 George Washington was immortalized in glass more than any other distinguished American. Flasks with his portrait contained hard liquor such as whiskey or bourbon. In many cases, the image depicts Washington as commander in chief of the Revolutionary Armies liberating our country. Many others depict him as a statesman and first president of the United States. He is paired on our flask with the portrait bust of Andrew Jackson who was an American soldier and statesman who served as the seventh president of the United States. Before being elected to the presidency, Jackson gained fame as a general in the United States Army and served in both houses of the U.S. Congress.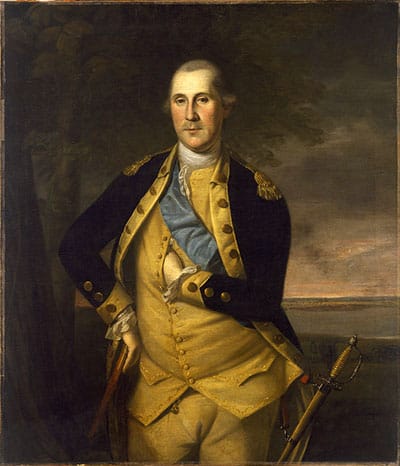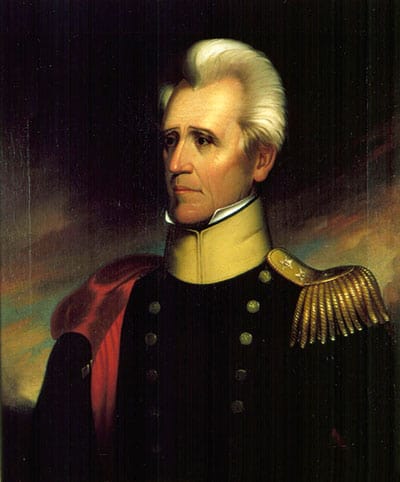 The GI-34 Washington – Jackson portrait flask depicts an embossed full side bust of George Washington facing right. Washington has a braid of hair or queue worn hanging at the back of the head and a shoulder piece or epaulet on the coat or jacket of his uniform. The embossed copy 'WASHINGTON' occurs in a semicircle above the bust of Washington. The relief is quite strong on this flask.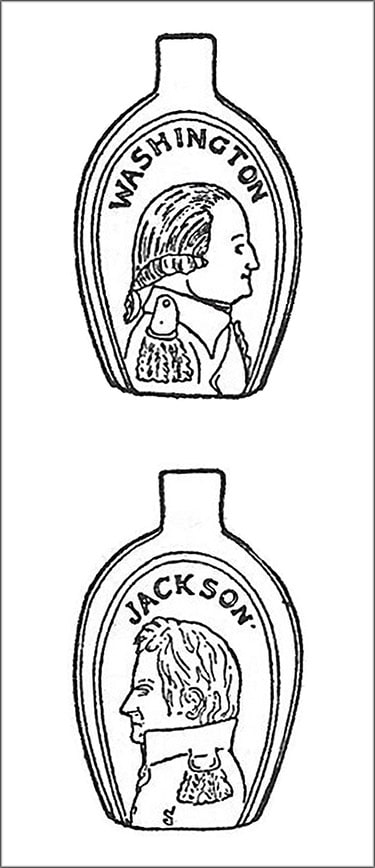 The reverse of the GI-34 flask has an embossed side portrait of Andrew Jackson facing left. Jackson's collar is raised and he has an ornamental shoulder piece or epaulet on the coat or jacket of his uniform. 'JACKSON' is embossed in a semicircle above the bust.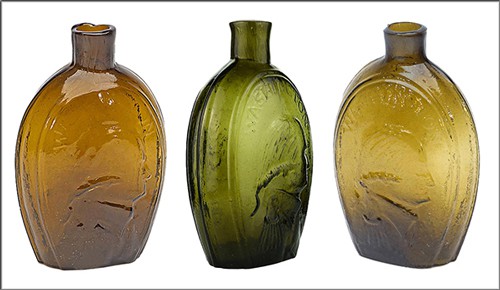 There are three vertical ribs with a heavy medial rib. The half-pint flask has a broad neck, plain lip, and a pontil mark. Known glass colors are amber, yellow-amber, and olive-amber which is somewhat common. Our museum example in olive-green is considered comparatively scarce to rare.
Coventry Glass Works is given credit for producing the flask sometime from 1832 to the end of the decade. Fragments were found at the glass works site by early American glass collector and researcher Harry Hall White during his well-documented excavations.
History of Coventry Glass Works
Seven men agreed to erect a glass factory in Coventry, Connecticut on January 14, 1813, along the Willimantic River. Four of the men, Captain Nathaniel Root, Ebenezer Root, Nathaniel Root Jr., and Joseph A. Norton all of Coventry, were not glassmakers. The group included Eli Evans, Thomas W. Bishop, and Uriah Andrews, glassblowers from East Hartford that had the experience to run the day to day operations. Eli, Thomas, and Uriah were to use their expertise where needed in the glass factory and be compensated at $26 per month and $45 for each year they worked in the plant. In 1816, there was an agreement to expand by adding buildings. Thomas Stubbins was operating the glass works by 1820. The Lafayette flasks having embossed "T. S." were made between 1820 and 1824.
One of its owners, Thomas Stebbins, has been credited as the first to make historical flasks embossed with busts of famous people – in this case the Marquis de Lafayette."

Bill Lockhart, Beau Schriever, Bill Lindsey,and Carol Serr
The brother of Thomas may have entered the business sometime in 1825. The "S. S." on some Lafayette flasks could be the entry of a brother to the glass works or possibly a mistake. Later in 1825, Rufus B. Chamberlain joined the firm and they were now Stebbins & Chamberlin. The "S & C" is found on some flasks. In 1828, Jasper Gilbert, John Turner, and Rufus B. Chamberlan with John Turner's brother Levi took control forming Gilbert Turner & Company. Lack of wood is said to be the reason for the glass works closing in 1848, but accounting books seem to indicate sales into 1849.
Primary Image: The GI-34 Washington – Jackson flask imaged by the FOHBC Virtual Museum midwest studio by Alan DeMaison.
Support: Reference to American Bottles and Flasks and Their Ancestry by Helen McKearin and Kenneth M. Wilson, Crown Publishers Inc., New York, 1978.
Support: Reference to Coventry Glass Works by Bill Lockhart, Beau Schriever, Bill Lindsey, and Carol Serr.
Support Images: Auction Lot 108: "Washington" And Bust – "Jackson" And Bust Portrait Flask, Coventry Glass Works, Coventry, Connecticut, 1830-1848. Bright yellowish olive amber, sheared mouth – pontil scar, half-pint. GI-34. A bright, clean, and crude example in fine condition. – Norman Heckler, Norman C. Heckler Auctions
Support Images: Auction Lot 141: "Washington" And Bust – "Jackson" And Bust Portrait Flask, Coventry Glass Works, Coventry, Connecticut, 1830-1848. Bright yellowish olive amber, sheared mouth – pontil scar, half pint; (light exterior high point wear). GI-34. Beautiful color. Fine condition. Ex Dr. Burton Spiller collection. – Norman Heckler, Norman C. Heckler Auctions
Support Images: Auction Lot 85: Washington / Jackson portrait historical flask (GI-34), amber half-pint, Coventry Glass Works. – Merrill's Auctioneers & Appraisers, March 23, 2019, Williston, Vermont