A.E. Bray Fruit Jar
A. E. Bray
(Embossed Four-leaf clover)
PAT. PEND'G

Bray Fruit Jar Company

Annie Eliza Bray, Los Gatos, California

Red Amber Pint
Provenance: Jerry McCann Collection
Here is an interesting fruit jar that may be unique. It was patented by Annie Elizabeth Bray who has her first and middle initial and last name prominently embossed over a four-leaf clover on the face of the jar.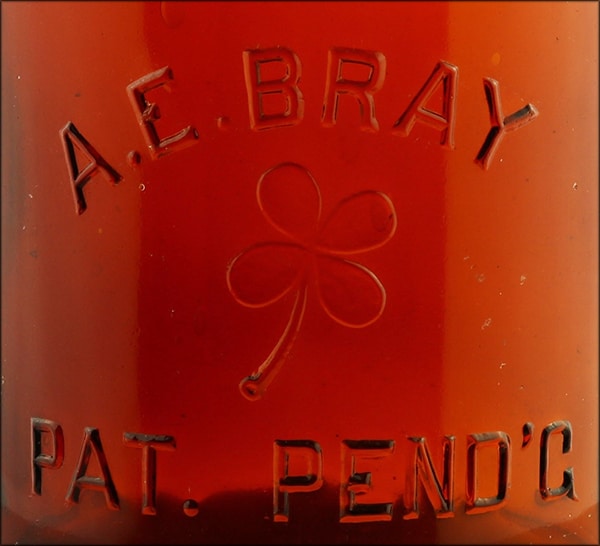 Our museum example of a red-amber pint fruit jar is embossed 'A. E. BRAY' in an arch on the face of the jar. Beneath this copy is an embossed image of a four-leaf clover. The copy 'PAT. PEND'G' is centered and embossed beneath the clover. There are eight (8) small decorative outlined squares embossed in a row surrounding the top shoulder of the jar.
Typically these jars have the words 'Fruit Jar' embossed horizontally above PAT. PEND'G and straddling the stem of the clover. Our example is reported to be the only known amber example without the words Fruit Jar. The jar is hand-blown with a ground lip. The closure is a top seal (on ground lip) glass lid, and metal screw band with four soldered on wrench lugs.
The jar patentee was Annie Eliza Bray of Los Gatos, California who held a patent dated June 25, 1901. Annie E. Bray was issued another patent on June 2, 1903, to cover the glass lid and metal screw band closure. A third patent was dated January 6, 1914 for a fruit jar clamp.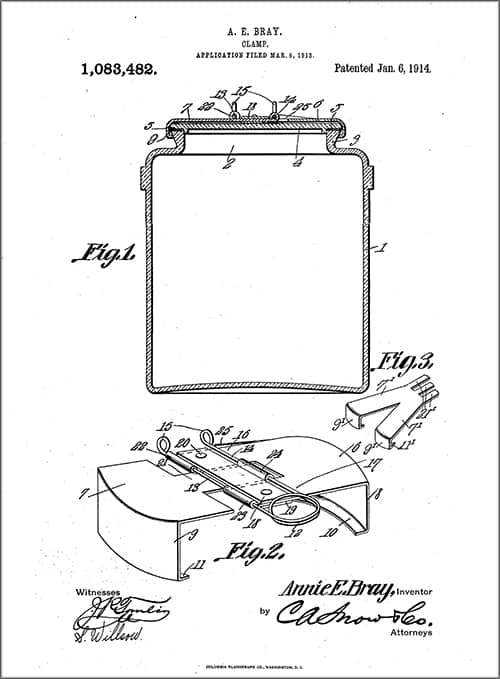 Not much is known about Annie Bray other then she was born in Missouri around 1841 as Anna Harrison. She would marry Ferdinand Theophilus Bray on September 21, 1866 in Crawford, Missouri. Sometime in the mid 1870s the Bray's came to California settling in San Simeon which is a small town in San Luis Obispo County. Its name is forever intertwined with the Hearst family, as it is the location of Wm. Randolph Hearst's castle. Ferdinand initially worked as a blacksmith where Annie became a trustee for San Luis Obispo Santa Rosa School District in 1877. For many years, Annie was listed as a housekeeper and was parenting five children while Ferdinand moved into carpentry. It is not known how Annie moved from housekeeping to being a patentee for a fruit jar other than for need and her residence location. From the mid 1890s well into the 20th century, the Santa Clara Valley was the source for fruit in the United States whether fresh, dried, or canned. Many entrepreneurs started new companies to become rich off prunes, dried apricots, and fruit cocktail, and some of those tiny companies grew and dominated their respective industries.
Our jar was made for the Bray Fruit Jar Company of Los Gatos, California. A few of these jars were made by an unknown glass house sometime prior to May 1901. At this time, the Bray Fruit Jar Company sent three sample jars, a pint, half-pint and one-gallon size to the Ball Brothers Glass Manufacturing Company of Muncie, Indiana to get a price quote for making the jars, closures and wrenches. No records have been found showing that Ball ever made these jars or that they even answered the letter.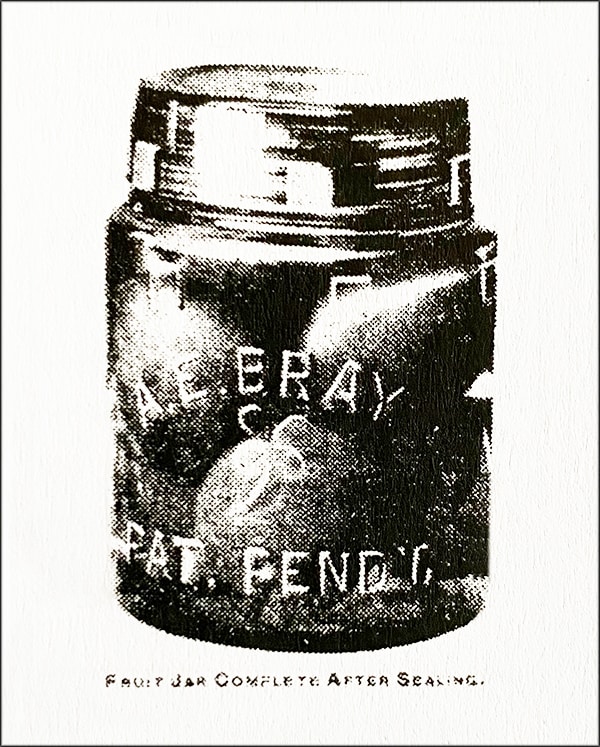 On an early 1901 Bray brochure, the jar closure was illustrated and described as a "glass screw cover" but a handwritten correction changed this to "metal screw ring and glass cover." The brochure also described a pair of flexible metal bands used to tighten and loosen the closure. The glass screw cap illustrated had square projections molded onto it as did the jar. No doubt the glass screw cap caused sticking problems and was changed at an early date to the white milk glass lid and metal screw band closure found on these jars. Crystal and amber jars were mentioned with the amber being "better for keeping fruit, especially tomatoes."
This rare California jar is most often found without the lid and band. In 1994, Alex Kerr noted that he was aware of about twenty-five (25) amber quarts, one amber pint and one amber half-gallon, and the clear glass examples were only known in quart size.
Support: Reference to Fruit Jar Annual 2020 – The Guide to Collecting Fruit Jars by Jerome J. McCann.
Support: Reference to Red Book #11, the Collector's Guide to Old Fruit Jars by Douglas M. Leybourne, Jr.
Support: Lot 6272: A.E. BRAY FRUIT JAR PAT PENDg Dark Amber Squatty Quart, Closure: missing, has a temporary make-do closure only, Appearance: shiny glass with some spots of haze, Condition: No damage including a nice ground mouth with very little nicking. In the shoulder of the jar is a hard-to-see manufacturer's pot stone with a single faint radiation through it. Tough to notice due to the location and the dark glass color., Embossing: strong, Base: unmarked, Age: c1901, Availability: rare, ex Phil Robinson collection – Greg Spurgeon, North American Glass
Support: Lot 761: AE BRAY FRUIT JAR Patent Pending. Quart. A rare dark amber squatty quart-sized jar embossed with a pictorial of a 4-leaf clover and "A.E. BRAY FRUIT JAR PAT PEND'G". Good condition with some scattered spots of deposit but no damage. In the shoulder of the jar is a hard-to see pot stone with small legs. Very hard to spot due to the location and the dark glass color. Excellent ground rim with very little nicking. The jar comes with only a make-do type closure, as the original has been lost. The color shown in the photo looks lighter due to this being a window shot….the color will appear much darker on a shelf. Base: unmarked. – Greg Spurgeon, North American Glass