Barkhouse Bros. & Co. Gold Dust Kentucky Bourbon
Barkhouse Bros. & Co. Gold Dust Kentucky Bourbon
TradE Mark (Embossed Horse)
John Van Bergen & Co. Sole Agents

John Van Bergen & Co., San Francisco, California

Yellow-Olive Fifth
Provenance: Richard T. Siri Collection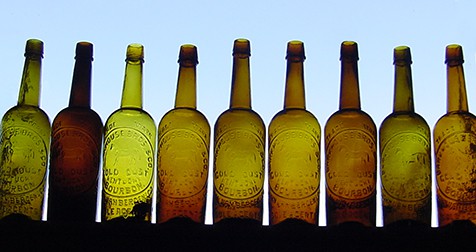 We are fortunate to have a top example of a Gold Dust Kentucky Bourbon in our museum collection. These bottles have it all with a great name, history, and bottle design. The typography and embossing are spectacular and the bottles come in great glass colors.
John Van Bergen, from Germany, is first noted in Sacramento, California in 1850. He had come around the Horn in his own ship with his father. By 1851 he was selling "liquors, merchandise and provisions" with his partner Allrich Scheper in San Francisco. Scheper left the firm in 1858 and returned to New York, where he died in 1866. John Van Bergen returned to his home in New York in May of 1858 but came back to San Francisco in November 1859 and created a new company styled John Van Bergen & Co., which included his brother Nicholas and Henry Voorman.
In 1863, John Van Bergen's health was impaired by a sunstroke while he was in Sacramento Valley, and he went to Germany where he spent most of his time. With the removal of Voorman in 1865, a new partnership was formed which consisted only of brothers John and Nicholas Van Bergen, under the style of John Van Bergen & Co. In 1868, John Van Bergen & Co. purchased the wholesale wine and liquor business of Taylor & Bendel of San Francisco. Taylor & Bendel kept its grocery business as well as the agency for Dr. Hufeland's Swiss Stomach Bitters. Van Bergen later purchased the bitters brand. The business continued under the partnership of the two Van Bergen brothers until 1874 when John sold his interest to his brother, and it became N. Van Bergen & Co. John Van Bergen re-connected with his old company on January 1, 1877, with the business name continuing as N. Van Bergen & Co.
John Van Bergen's last trip to San Francisco was in 1891. He would die in Germany in 1904 when he was 86 years old leaving a widow and seven children. His estate was said to be worth $1,000,000.
See the related Old Woodburn Whiskey bottle on an adjacent shelf within the Spirits Gallery.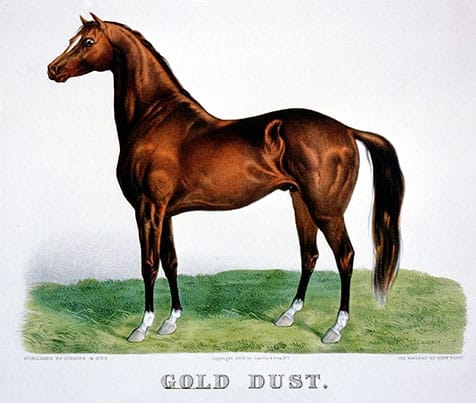 Born in 1855, the Morgan-Arabian crossbred "Gold Dust" became one of the most famous Kentucky horses of his time. As a trotter, he raced only three times and won them all. He sired his own 'breed' that were often well known for their speed, and the Gold Dust name proudly noted in their lineage. The Louisville-based Barkhouse Brothers (Louis and Julius) applied for and received federal trademark No. 2,513 on January 9, 1872, for their Gold Dust brand of bourbon, which is accompanied by a cut of a horse. The drawing of their official registration looks very much like the central feature on the fifth whiskey bottle of the Van Bergen's. The image used above is one of several representing the famous horse. It is a Currier & Ives print copyrighted in 1874 and is similar to the figure on the whiskey bottle.
While there is much speculation whether the Gold Dust bottles were blown in the earlier years of the 1870s, soon after the trademark was registered, we can only be sure that those lettered with the name of John Van Bergen were blown first, but no later than July of 1874 when he sold his interest in the business to Nicholas Van Bergen. Logic would posit that the examples embossed with the name of N. Van Bergen would soon follow the change in ownership of the company. In fact, it would seem likely that the company change would indicate that the John Van Bergen bottle variant would have been blown closer to the 1874 date.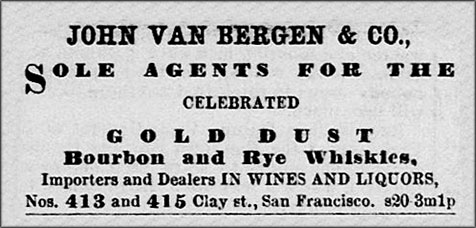 Support: Research by Eric McGuire.
Support Images: Secondary bottle images courtesy Jeff Wichmann, American Bottle Auctions, and Peachridge Glass.
Support: Reference to Whiskey Bottles of the Old West by John L. Thomas, 2002.