Dr. Fleschhuts, Celebrated Stomach Bitters Laporte Pa
Dr. F. Fleschhut's
Celebrated Stomach Bitters
Laporte Pa
F 54
Dr. Frederick Fleschhut, LaPorte, Pennsylvania
Aquamarine Square
Provenance: Chip Cable Collection
Ex Gardner Collection and The Carlyn Ring Bitters Collection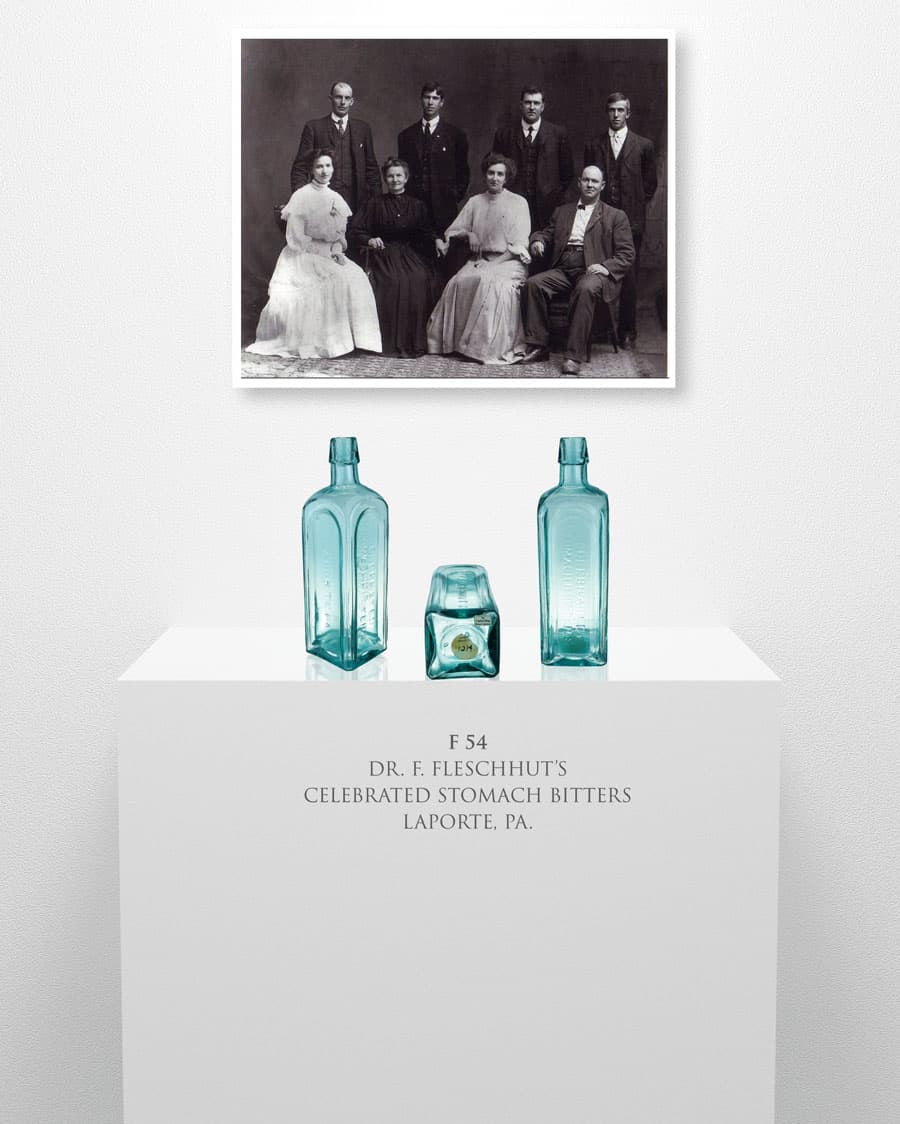 The consignor recalls that his grandparents had a cottage on a lake just outside of Laporte, Pa. when he was a child. That's when he learned about bottle collecting and the local Dr. Fleschhut bottle. He would dig under the porch of Dr. Fleschhut's office and found hundreds of his bottles, all broken, up to 3 feet deep. It took him 15 years to find his example represented in the museum.
Our scarce Dr. Fleschhut's Stomach Bitters bottle is 8 5/8 inches tall, square in form and aquamarine. There is a smooth base and an applied sloping collar mouth. The side panels have pronounced recessed chamfered arched insets. The first panel has embossed bold serifed copy reading from shoulder to base, 'DR. F. FLESCHHUT'S.' The second panel is embossed in a similar manner 'CELEBRATED STOMACH BITTERS' in two centered lines. The third pane reads, ' LAPORTE, PA' with the "A" in "PA" smaller and raised. The fourth recessed panel has no copy and is where Dr. Fleschhut would have placed his paper label. The bottle is listed as:
F 54. DR. F. FLESCHHUT'S // CELEBRATED / STOMACH BITTERS // LA PORTE. PA // sp //
8 3/4 x 2 5/8 (6 1/2) 1/4
Square, Aqua, LTC, Applied mouth, 4 sp, Scarce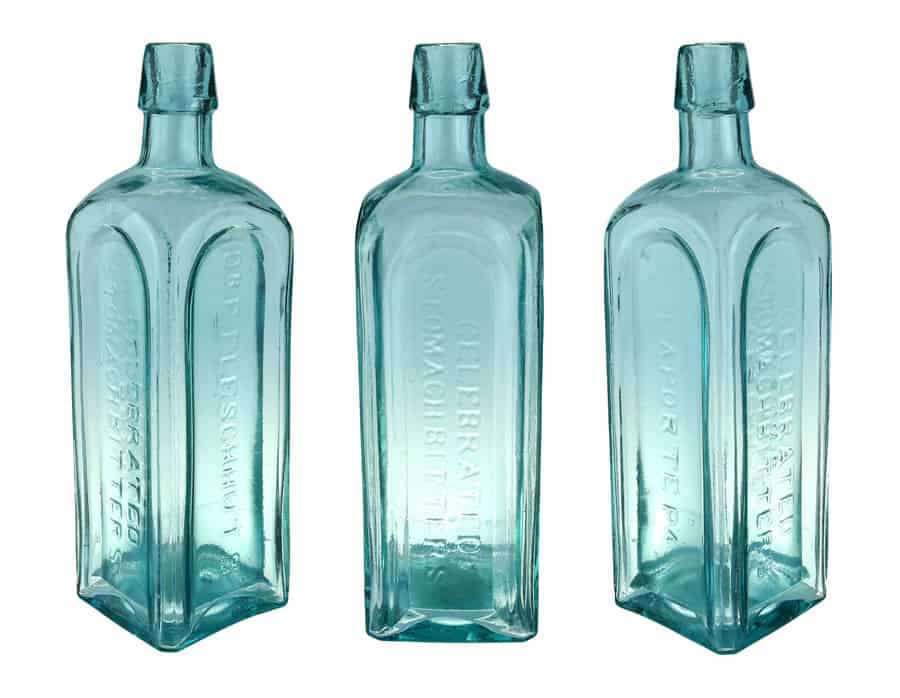 Dr. Frederick Fleschhut
Dr. Frederick Fleschhut was born in France on March 5, 1818. He received his education, eventually graduating from a university in France in the late 1840s. Fleschhut came to America sometime around 1850 and settled in Laporte, Pennsylvania, in 1855.
Laporte is a mountain resort founded in 1847 and is named after John Laporte, who was once a Surveyor General of Pennsylvania. Laporte was a lumbering and tannery center and is known for the wide verandas in front of many of the houses.
Dr. Fleschhut was the Laporte town physician for over 42 years and created his medicinal Dr. Fleschhut's Celebrated Stomach Bitters using plants and herbs from his gardens. A small advertisement in the Tunkhannock Republican on July 16, 1880, touted, "If you are suffering from fever and ague, dyspepsia, cholera morbus or any derangement of the stomache, invest a dollar in a bottle of Dr. Fleschhut's Stomach Bitters and note the remarkable effects after taking. The medicine produces the most agreeable effect on the Stomache and Kidneys. It creates a good appetite, aids digestion, and cleans the Stomache of all acid matter. For sale in Tunkhannock by Hatfield, the Druggist."
The 1860 United States Federal Census reported that Dr. Fleschhut had real estate valued at $60,000 and his personal estate valued at $10,000, so it appears that he was successful in his endeavors. This newspaper account reports on one of his real estate ventures. The Wilkes Barre Telephone. July 16 1887, "Dr. Fred Fleschhut of Wilmot, one of the most popular physicians in this part of the State, is contemplating putting up a large and handsome building at Harvey's Lake, where he intends to call the "Invalid's Home" and where the sick and afflicted from all parts may come to be treated for their maladies. There is no doubt but this would be a great institution, and would be largely patronized, for no healthier or cheerful place could be found anywhere within a radius of 100 miles from here."
Fleschhut enlisted on the Union side of the Civil War on December 12, 1863 as a Private in Company G, 188th Infantry in Pennsylvania. His muster out date was December 14, 1865 in City Point, Virginia. Dr. Fleschhut was married twice and the father of eight children by his first marriage and ten by the second. He passed away at the age of 70 on January 13, 1888 while in Wilkes Barre and is buried in Laporte, Pa.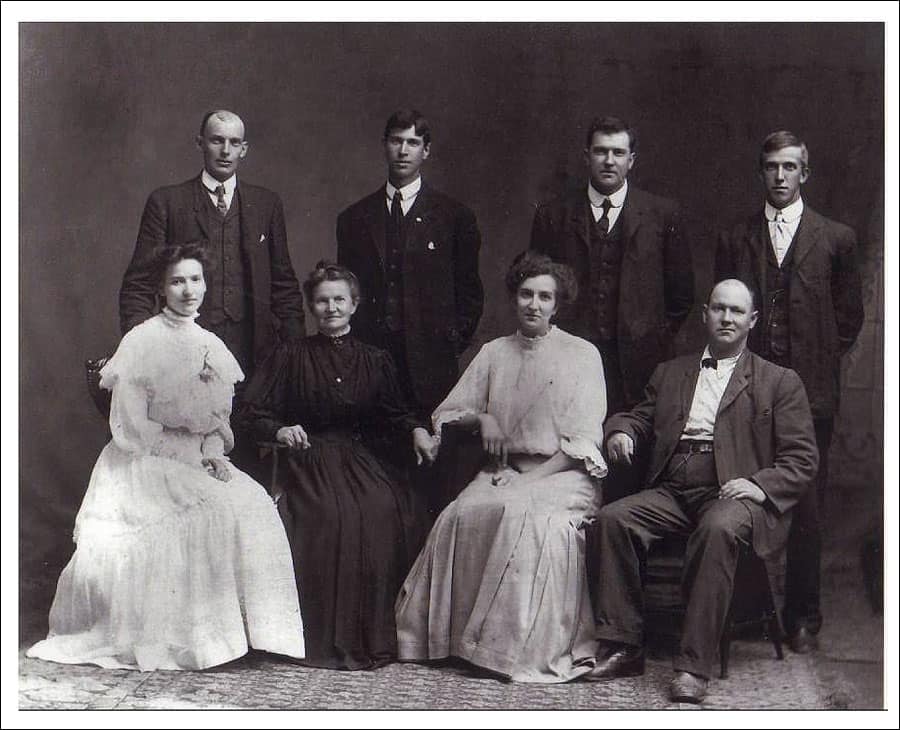 Primary Image: Dr. F. Fleschhut's Celebrated Stomach Bitters bottle imaged on location by Alan DeMaison, FOHBC Virtual Museum Midwest Studio.
Support Image: Second example of a Dr. F. Fleschhut's Stomach Bitters Laporte, Pa. Bluish aqua with a subtle streak of olive yellow color across several panels, 8 5/8", smooth base, applied sloping collar mouth. A rare bottle from a small Pennsylvania town. Dr. James Carter Collection. Jim Hagenbuch, Glass Works Auctions, Auction #82, Lot 149, Ferdinand Meyer V collection.
Support Image: Dr. Fleschhut family, Sullivan County Museum.
Support Image: Dr. Fleschhut (pictured) cabinet card. Chip Cable collection.
Support: Reference to Federal Writers' Project, "Part III: Tours," Pennsylvania: A Guide to the Keystone State, 1940.
Support: Reference to History of Pennsylvania Volunteers, 1861-1865.
Support: Reference to United States Federal Census Reports for 1850 through 1890.
Join the FOHBC: The Virtual Museum is a project of the Federation of Historical Bottle Collectors (FOHBC). To become a member.