Star Glass Co. – New Albany
Star Glass Co.
New Albany IND.
Wax Sealer Jar

Star Glass Works – J. B. Ford & Sons, New Albany, Indiana
Yellow-Olive Half Quart
Provenance: Jerry McCann Collection
In the mid-1860s, Louisville, Kentucky was the epicenter of glass production and commerce in the midwest. Just across the Ohio River from Louisville, is New Albany, Indiana where our museum example representing a Star Glass Company groove ring wax-sealer jar is from. These "Star Wax Sealing Jars" were advertised circa 1865 by J. B. Ford & Sons, proprietor of the Star Glass Works in New Albany.
This jar can be found in quarts and half-gallons in glass colors such as aqua, cornflower blue, light green, olive green, and sun-colored amethyst. The jar is hand-blown with a tooled, smooth lip. The closure is a groove ring wax sealer with a tin lid with a wire clamp embossed with a star. Our deep olive-yellow example is extraordinary with its color, pronounced striations, and glass bubbles. These conditions add a lot of character and desirability to the jar.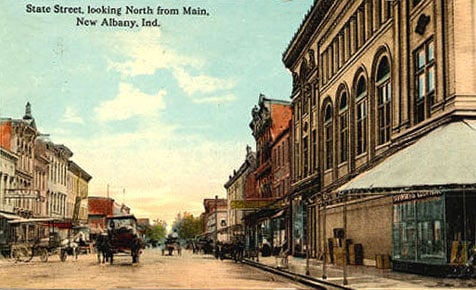 Fruit jar authority Dick Roller once noted that a jar exists that appears to have a ghosted star figure below STAR GLASS Co. His observation was converted into variation "a." An aqua quart has also been reported with four dots between the lines of wording. A hand-drawn "X" is on the base of our museum jar. Other production bottles, including strap-side flasks and ales, are known from the area and are marked with a boldly embossed five-point star on the base. These can be safely attributed to Star Glass Co.
J. B. Ford & Sons
In 1867, John Baptiste Ford (1811-1903) joined his sons Emory and Edward in the operation of a glassworks company in New Albany, Indiana. The father would also inject much-needed capital, as the year earlier, there was a fire that almost destroyed the operation. Ford was an entrepreneur and philanthropist whose innovations advanced the glass industry in the United States. This new company, J. B. Ford & Sons launched the area's glass-making industry.

Ford began his career in Floyd County and by 1837 lived in Greenville, Indiana where he owned the Station Building property. After moving to New Albany in the 1850s, he built up a fleet of steamships. During the Civil War, "Captain" Ford profited from government shipping contracts. By 1867, J. B. Ford & Sons glassworks had changed their name to the New Albany Glass Works.
Immediately upriver was the Star Glass Company, which was owned by the same John B. Ford and Washington C. DePauw, a local businessman, and cousin of Fords. They had started these glassworks around 1869 primarily for the purpose of manufacturing rough and polished plate glass, window glass, and fruit jars. This included our wax sealer fruit jar embossed in two lines 'STAR GLASS CO.' and 'NEW ALBANY, IND.' The "Star Glass Co." copy is arched in a serifed typestyle over a centered sans-serif "New Albany, Ind." in a horizontal straight line.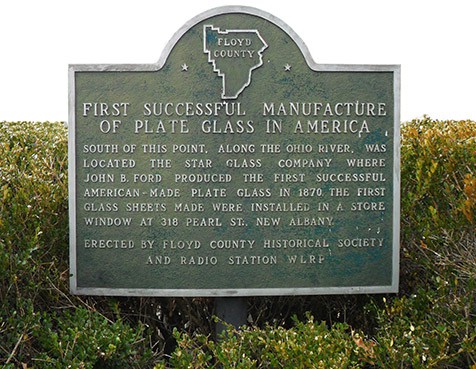 John Ford in all his efforts was extremely successful and produced the first plate glass in the United States in 1870. There were advertisements in newspapers from all across the country touting the New Albany Glass Works and the Star Glass Co. and their plate glass. Previously, plate glass had been imported primarily from France and England.
From the New Albany Daily Ledger on November 20th, 1869, we see this paragraph talking about Ford and his Star Glass Co.
His last enterprise, now in successful operation, the Star Glass Works, is meeting his most sanguine anticipations. This manufactory is one of the largest in the United States, and when all of the machinery and appliances have been adjusted, will have a capacity equal to the largest manufactories of the world. The ground occupied by the Star Glass Works covers about seven acres in the upper end of the city and is entirely enclosed by substantial fencing. Upon these grounds have been erected three capacious furnaces, one of which will be exclusively used for the production of plate glass. Other buildings, for tempering, flattening, and manufacturing the necessary articles for the making of glass, with packing houses, &c, cover a large portion of the remainder of the ground."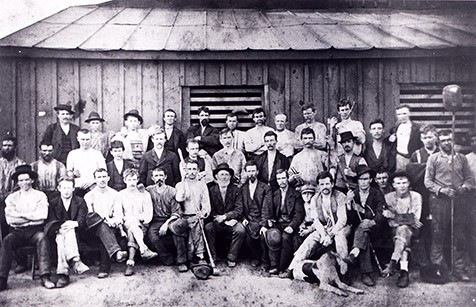 In October 1871, The Star Glass Company purchased the New Albany Glass Works stock and fixtures for $13,000. This effort was led by W. C. DePauw who had bought out Ford.
On June 4, 1874, the boiler at the Star Glass Works exploded. The boiler was an upright one with an engine attached. It was thirty-two inches in diameter, six feet long, and weighed about 1,200 pounds. The force of the explosion lifted it to an altitude of 100 hundred feet and carried it a distance of 1,010 feet from the shed in which it was placed. When it struck the ground, it rebounded 108 feet. Three men were badly injured which seems quite fortunate considering the force of the explosion.
Sometime before 1880, the Star Glass Company changed its name to the W. C. DePauw Glass Company (DePauw's American Plate Glass Works), and operated under that name until June of 1893, when the Panic of 1893 took its toll and the plant was shut down. Subsequent sporadic attempts during the next two or three years to revive the works failed, and the property (along with another DePauw plant at Alexandria, Indiana) was finally sold by the receiver to the Union Trust Company of Indianapolis in May of 1898.
Primary Image: Star Glass Co. New Albany Ind. jar imaged on location by Alan DeMaison, FOHBC Virtual Museum Midwest Studio
Support: Reference to Fruit Jar Annual 2020 – The Guide to Collecting Fruit Jars by Jerome J. McCann
Support: Reference to Red Book #11, the Collector's Guide to Old Fruit Jars by Douglas M. Leybourne, Jr.
Support Image: Star Glass Works (W. C. DePauw Glass Co.) employees. Photo courtesy of the Stuart B. Wrege Indiana History Room, New Albany-Floyd County Public Library
Support: Reference to Louisville Glass Factories of the 19th Century – Part 1 by David Whitten, Spring 2005, Bottles and Extras
Join the FOHBC: The Virtual Museum is a project of the Federation of Historical Bottle Collectors (FOHBC). To become a member.