GXII-13 • "Union" and Clasped Hands "L F & Co" Eagle "Pittsburgh"
GXII – 13
"Union" and Clasped Hands "L F & Co" Eagle "Pittsburgh, Pa"
Historical Flask
Lippincott, Fry and Company Manufacturers, Pittsburgh, Pennsylvania
Copper Amber Quart
Provenance: Brian Bingham Collection
The consignor recalls that ten or so years ago, he saw a tiny sign and stopped at a garage sale in a trailer park in Oceanside, California. It was a Saturday. He didn't know why he stopped as it wasn't something he usually did. He looked around and saw all kinds of typical old folk's stuff without much value. For some reason, he opened a little kitchen cabinet above the wall oven and saw three bottles. At the time, he didn't collect bottles and knew very little about them, but he participated in reenacting, and a flask with clasped hands looked like he could use it as a whiskey bottle prop. He took it up to the front. It was marked "300" on the bottom, so the lady charged him $3. He went home, researched, and realized the flask was genuine. The following day he went back and grabbed a yellow-green scroll flask. It had "600" on the bottom, and being Sunday, it was half off. He paid $3 for it as well. Sadly, he passed on the third bottle, a Fisch Bitters. He thought it was an Avon bottle.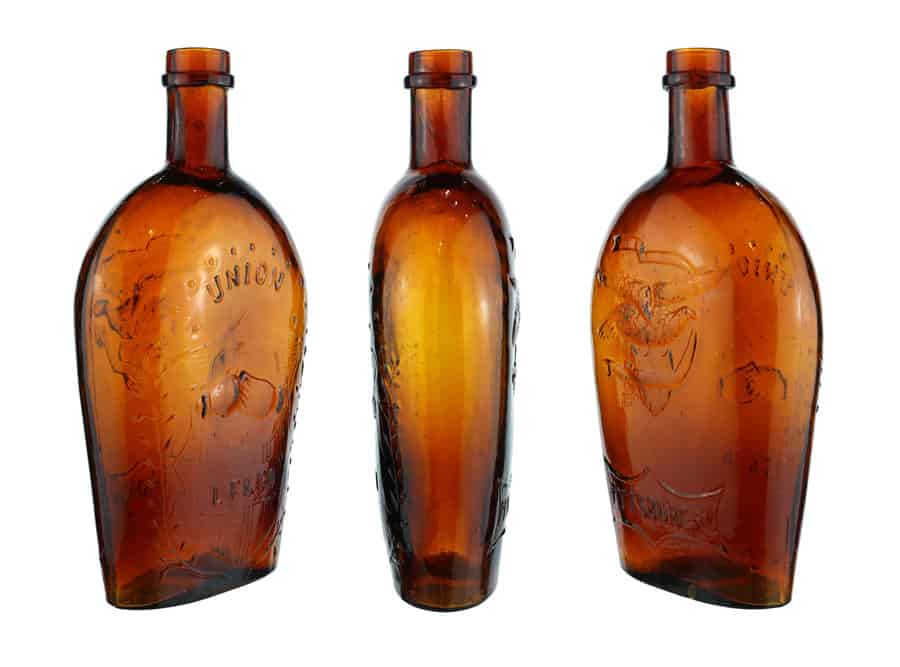 The general meaning of the symbol of the clasped hands motif can be found on funerary monuments and reliefs from ancient Greece, through the Roman period, and right up until the 18th and 19th centuries when it became increasingly popular with those of the Christian faith. During the Classical Greek period (fourth and fifth century B.C.), the clasped hands motif is thought to have represented the bond between the living and the dead. Clasping hands are a symbol of human unity. It is a nearly-universal gesture signifying solidarity, teamwork, peace, friendship, togetherness, and union, which is embossed on our flask. It complements "shaking hands" and is essential for completeness. In America, during the 1860s and into the 1870s, clasped hands represented the struggle to preserve the Union during the Civil War.
The flask also depicts a small flying eagle or peace dove. The term peace dove attribution was thought of and brought to light by Jim Bender, a knowledgeable collector and authority on Union Clasped Hands flasks. Whether it's an eagle or, most likely, a peace dove indeed represents the post-Civil War period. A more detailed accounting of the GXII-13 quart follows: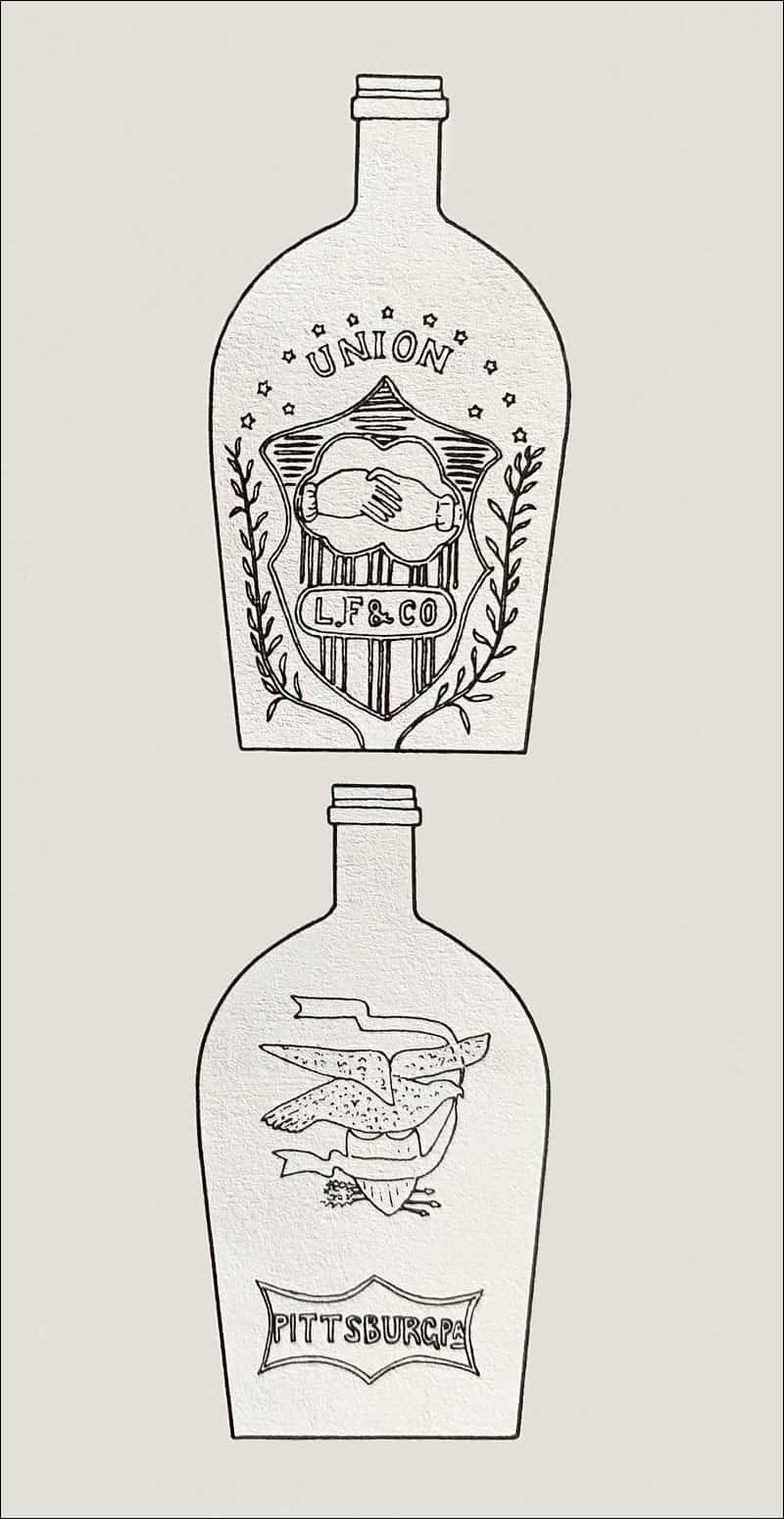 The obverse side of the flask presents a large, tall shield with narrow molding, shallow ogival top, and ogival sides with a high, wide point at the top. The point at the bottom of the shield is about 7/16 inches from the base. There is a long deep upper curve on the shield sides with three groups of horizontal bars above and at the upper sides of the wide frame (about 1 11/16 x 2 7/16 inches). Clasped hands with short cuffs and vestige of sleeves are positioned in a 6-arc framed oblong cloud. There are five groups of short vertical bars beneath the cloud to the top of a round-ended oblong panel with 'L F & CO' (Lippincott, Fry & Company) embossed within. Three groups of three vertical bars are below the oblong shape. The shield is flanked by tall spindly laurel branches with 22 leaves on the left and 24 on the right. The stems of the laurels close at the flask bottom, which they touch. There are 13 tiny stars above the shield. 11 of the stars are in a semicircle, with those at the ends near the top leaves of the branches. Two stars flank the shield's top point beneath the other stars. 'UNION' is embossed in a serif typestyle beneath the stars in a curved downward arc. The letter "I" is slightly left of the sixth star and the point of the shield.
The reverse side of the flask depicts an eagle or dove flying right—the feathering of the neck, body, and wings by dots and dashes. There is minimal or no tail feather or eye definition. The wings are raised in flight. The dove's head is slightly raised with a large beak. The wings are shorter; the left is blunt-ended; the right is more pointed. There are no legs. The points of the shield top are touching the body. There are nine vertical bars above the crossing pennant and six below. The arrows of the thunderbolt are closer together. The pennant is long, forked, and flows left parallel with the dove, above and below. A long horizontal frame about 1 1/2 inches at center points x 3 1/4 inches at corner points contains embossed 'PITTSBURGH Pa' copy with a smaller 'A" that is raised and underlined. The large frame has narrow molding with deep ogival top and bottom, incurved ends, and points at corners.
The flask has an oval base with a horizontal mold line and a depressed circle and a tall neck with an applied band. The sides are smooth. Long tapered collars are also seen. The flask is considered scarce to rare and can be found in amber, golden orange, yellow and tobacco amber, ice blue, blue aquamarine, yellow, and yellow-olive glass.
See the museum example of a GXII-10 "Union" and Clasped Hands – Eagle historical flask
See the museum example of a GXII-15 "Union" And Clasped Hands – Eagle And "E. Wormser & Co Pittsburgh PA" historical flask
Henry Clay Fry
Henry Clay Fry was born in Lexington, Kentucky, on September 17, 1840. Fry went to the local public schools in Lexington when he grew up. Fry got his first job at age sixteen as a shipping clerk in the glass manufacturing firm of William Phillips & Company in Pittsburgh, Pennsylvania. In 1862, he enlisted in the 15th regiment of Pennsylvania cavalry of the American Civil War, where he remained until the close of the war. In 1868/69, Fry partnered with Jesse H. Lippincott as glass manufacturers initially called Lippincott, Fry & Company in Pittsburgh. Lippincott, Fry & Co. only lasted a year which helps date our flask. The company next became Fry & Scott and then Fry, Semple & Reynolds in short order.
Henry C. Fry got his first recorded patent for cut glass on November 3, 1868. He sold his interest in Fry, Semple, and Reynolds in 1869 and became general manager of O'Hara Glass Works in Pittsburgh. Fry with his family moved in 1872 to Rochester, Pennsylvania. He formed Rochester Tumbler Company with some local businessmen, a glass manufacturing facility. He became their first president, and his brother George W. Fry became the vice president. They built extensive structures on 10 acres of land they purchased. The company manufactured pressed and blown glass tumblers, being the largest such manufacturer in the world. They sold these tumblers throughout the United States and worldwide. The coming decades saw Fry invest in many glass manufacturing firms in various degrees. In 1901 he organized with his sons H. C. Fry Glass, a glass manufacturer with state-of-the-art techniques, and made all kinds of glass. He made heat-resistant glassware in 1916 under an agreement with Corning Glass Works. The glass is now a collector's item of historical significance, and there is an H. C. Fry Glass Society to study and preserve his glass.
Primary Image: GXII-13 "Union" Clasped Hands "L F & Co" – Eagle and "Pittsburgh, Pa" historical flask imaged by Alan DeMaison at the FOHBC Reno 2022 National Antique Bottle Convention mobile imaging station.
Support: Reference to American Bottles and Flasks and Their Ancestry by Helen McKearin and Kenneth M. Wilson, Crown Publishers, New York, 1978.
Support Image: Auction Lot 167: "UNION" / CLASPED HANDS / "L.F & CO" – EAGLE WITH BANNER / "PITTSBURGH, PA," (GXII-13), probably blown at a Pittsburgh District Glass Works, ca. 1860 – 1870, golden amber quart, smooth base, applied ring mouth. About perfect (a few light scratches). A scarce mould in a rare color! Ex. Beadle Collection. – Jim Hagenbuch, Glass Works Auctions, February 2020
Support Image: Auction Lot 51: "Union / (Clasped Hands) / L. F & Co" – Eagle And "Pittsburgh, Pa" Historical Flask, Lippincott, Fry and Company Manufacturers, Pittsburgh, Pennsylvania, 1866-1867. Ice blue, applied mouth with ring – smooth base, quart; (1/8 inch open surface bubble on shoulder). GXII-13 Listed as comparatively scarce but must be considered rare as the company was in business for only one year. Beautiful color and strong embossing. – Norman Heckler Jr. & Sr., Norman C. Heckler & Company, Auction #135
Support Image: Auction Lot 46: "Union / L.F & Co" And Clasped Hands – Eagle And "Pittsburgh Pa" Historical Flask, a Pittsburgh glasshouse, Pittsburgh, Pennsylvania, 1860-1870. Brilliant yellow, applied sloping collared mouth – smooth base, quart; (3/8 inch bubble on shoulder has a 1/8 inch opening in cover glass). GXII-13 Strong embossing. Fantastic rare color. Fine condition. Mike Roberts collection. – Norman Heckler Jr. & Sr., Norman C. Heckler & Company, Auction #106
Join the FOHBC: The Virtual Museum is a project of the Federation of Historical Bottle Collectors (FOHBC). To become a member.